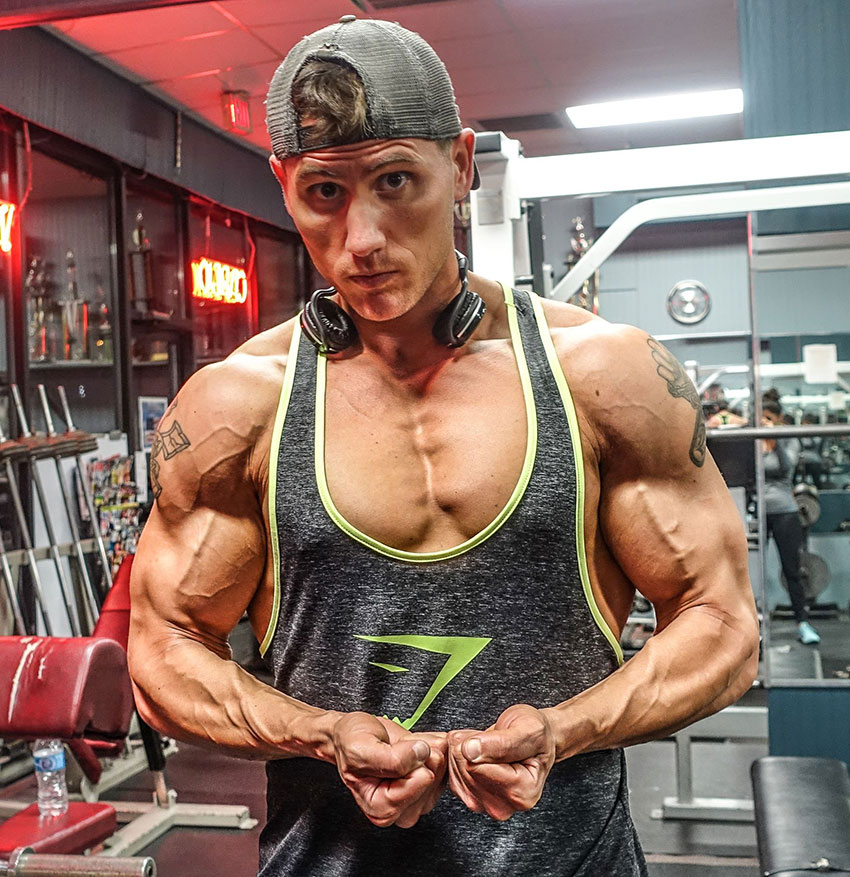 Matty Fusaro
Social Media Celebrity, Online Coach, Sponsored Athlete, Entrepreneur
Matty Fusaro, also known as 'Fusaro Fitness', is well known for his lean, shredded physique. Ever since he started his YouTube channel in 2011, he's become an internet sensation – growing a substantial online following over the years.
However, things weren't always sunshine and rainbows for Matty. Despite his consistent training in the gym, Matty's poor eating habits soon caught up with him, as he began to gain weight rapidly throughout his late teens. Consequently, Matty's self-confidence took a downward tumble.
But one day, Matty set out to make a change in his life, after he became unhappy with his body. Just a few years later, Matty was able to build the great physique he's now famed for.
After he reached his own fitness goals, Matty has dedicated his life to helping others follow in his footsteps – becoming an online training and nutrition coach to achieve just that. Further down the line, he became a sponsored athlete – which allowed him to move to the next level in his fitness career.
This is his story:
---

Athlete Statistics
Full Name: Matty Fusaro
Weight
Height
Age
Date of Birth
185 - 195lbs (83.9 - 88.5kg)
6' (183cm)
36
November 9, 1987
Nationality
Profession
Era
American
Social Media Celebrity, Online Coach, Sponsored Athlete, Entrepreneur
2010
| | |
| --- | --- |
| Weight | 185 - 195lbs (83.9 - 88.5kg) |
| Height | 6' (183cm) |
| Age | 36 |
| Date of Birth | November 9, 1987 |
| Nationality | American |
| Profession | Social Media Celebrity, Online Coach, Sponsored Athlete, Entrepreneur |
| Era | 2010 |
---

Accomplishments
Social Media Celebrity
Online Coach
Sponsored Athlete
Entrepreneur
---

Biography
Matty's Fitness Beginnings
Born in Long Island, New York in 1987, Matty Fusaro has been involved within fitness since his youth, taking part in a variety of competitive sports throughout his high school years.
Matty began to lift weights at the age of 17, developing an interest in maintaining a healthy lifestyle. But at the start, Matty admits that he didn't take his training in the gym seriously. In his own words: "I never really trained with purpose or intention; it was just a hobby".
During this period, Matty paid little to no attention to his diet, which caused him to gain a huge amount of weight – regardless of the fact he trained in the gym on a regular basis.
Soon enough, Matty reached a point in his life where his weight gain caused him to feel unhappy about the way he looked. Consequently, his self-esteem was lower than ever. Here's Matty recalling this time:
"Going into my Senior year of high school, I realized it was time to change my life.  My wardrobe consisted of 15 hoodies because I was too insecure to wear a t-shirt most of the time".
---

Matty Fusaro before compared to how he looks now.
Making a Change
Further down the road, Matty made the decision to gather a collection of 'before' photos, which gave him the motivation to move on from insecurities about his body.
However, Matty's poor fitness knowledge quickly became a problem, as he initially failed to make progress. As Matty said: "I went through a few phases of diet obsessions, over eating and under eating, but as time went on I continued to learn". 
After a while, Matty developed a deeper understanding of fitness, after he conducted research about training and nutrition. From this point, training in the gym was no longer just a hobby for Matty, it became so much more.
As Matty says: "Fitness and health became a priority in my life and I loved the challenge of building my education, surrounding myself with positivity and always working hard to improve my quality of life". 
Becoming a Social Media Celebrity
As a result of his determination, Matty quickly made significant progress in his quest to lose weight – building a great physique in the process. Immensely proud of his achievements, Matty looked back on just how far he'd come since the start of his fitness journey. As Matty says: "It felt damn good to go back into that folder of before pictures and visually see the transformation".
After he began to share his story online with others, Matty's videos on his YouTube channel soon racked up the views. As a result of this, Matty became determined to provide his fitness expertise to others – setting up his own online coaching business.
It didn't take long for Matty's business venture to take off. This allowed him to positively influence the lives of others, helping them to reach all of their fitness goals. In Matty's own words: "My mission is to inspire people to become the strongest version of themselves mentally and physically".
---

Training
Mixture of Training Methods
Matty trains in the gym five days per week, giving himself two rest days. He works with different training phases, which adds variety to his workouts. In turn, this keeps Matty motivated to continually build upon his shredded physique. Regardless of the training phase he's in, Matty's workout sessions are always of a high intensity.
Here's Matty talking about his training methods:
"I follow a mix of DUP (daily undulating periodization), Russian strength methods, tempo training, and exercise sequencing".
Below is a list of the common exercises which Matty performs in the gym:
Matty's Common Exercises
Pull-Ups
Barbell Hip Thrusts
Prone Raises
Face Pulls
Leg Curls
Rows
Skullcrushers
Barbell Curls
Calf Raises
Chest Flyes
---

Nutrition
Flexible Dieting
Matty follows a 'flexible diet', which is commonly known as IIFYM. Although this allows him to treat himself to foods which are considered 'unhealthy', Matty ensures that 80% of his diet is based on clean, whole foods – allowing his body to absorb essential muscle-building nutrients.
Matty's Diet Staples
The foods which Matty eats most often are listed below – consisting of healthy fats, lean proteins, and complex carbohydrates:
Chicken
Sweet Potatoes
Lean Beef / Turkey
Oatmeal
Egg Whites
Rice Cakes
Greek Yogurt
Almond Butter
Supplement Stack
Here's the supplements which Matty consumes daily to continually build lean muscle:
Fish Oil
Vitamin D
Multivitamin
Whey Protein
Creatine Monohydrate
Beta Alanine
Citrulline Malate
Caffeine
Melatonin
---

Idols and Influences
Matty has learned to become a self-motivated individual throughout his fitness career, driven by the solid results that his hard work and determination delivers. As Matty himself said:
"Waking up every morning is enough motivation for me.  I refuse to live a mediocre life, so I am always looking for new ways to challenge myself mentally and physically to set myself apart from the average.  The ability to take control of my own life drives me to always put forth 110% effort in everything I do". 
One of the sporting icons who Matty greatly admires is Muhammad Ali, who sadly passed away in 2016. Here's Matty talking about one of his idols:
"He was a character of wit, an icon to many and he always believed in himself no matter what and I respect his attitude".
---

What we can learn from Matty Fusaro
What we can learn from Matty Fusaro is that his 'never give up' attitude allowed him to go far in his fitness career – overcoming his low self-esteem along the way. Because of his determination to live his life more positively, he was able to sculpt the incredible physique he'd always dreamed of.
If there's one thing we can take from Matty's story, it's that it takes time to reach your fitness goals. The keys to success come in the form of patience and consistency. In Matty's own words: "Fitness should enhance your life, not take away from it" – Matty Fusaro