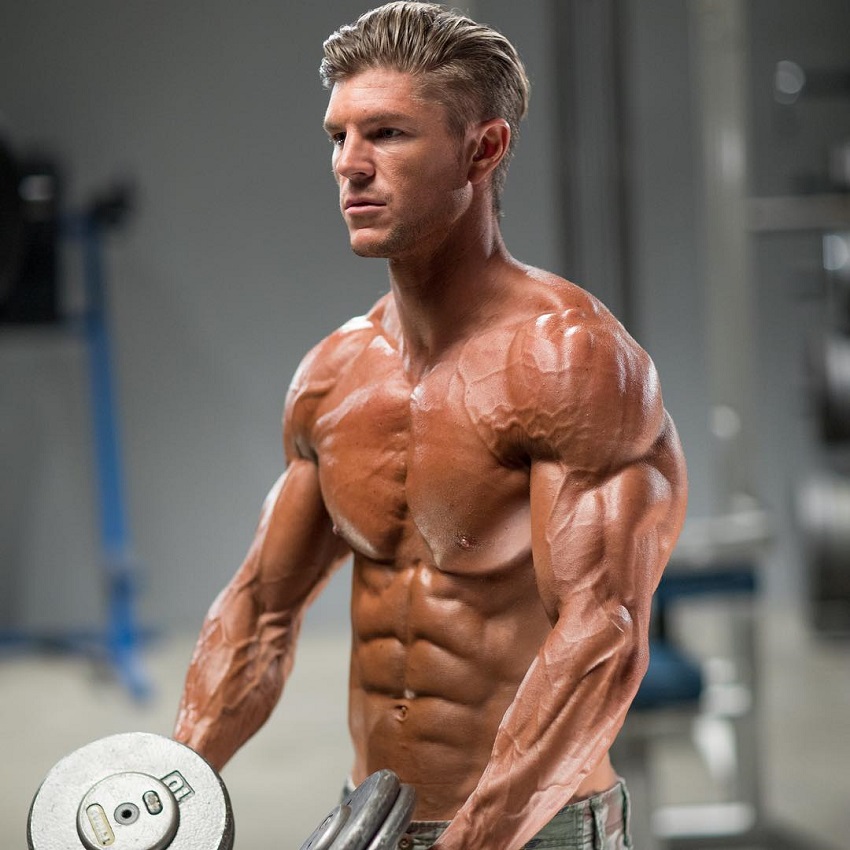 Mark Robinson
Dietitian, Fitness Cover Model
Mark Robinson or Health Man Mark is an Australian fitness coach, cover model, and dietitian.
With years of study in exercise science and dietetics, Mark has reached the pinnacle of his fitness journey. He uses his extensive knowledge to keep improving his body. But also, help clients and fans achieve their own greatest physiques.
Mark is also a recognized fitness competitor who boasts titles such as the "World Fitness Model America" title, which he won at the Vegas Musclemania & Fitness America Championships.
He shows no signs of slowing and continues to share his knowledge with everyone online. His fitness advice has helped many of his fans build their own dream physiques.
---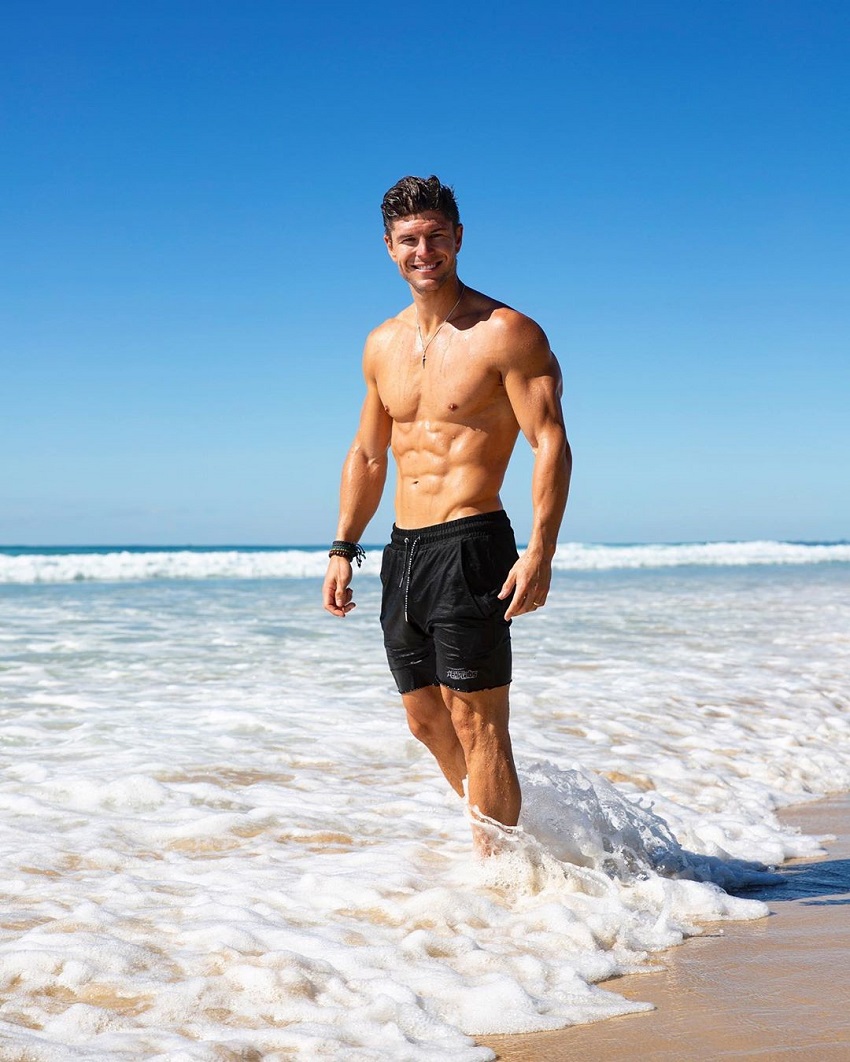 "It takes years of consistency, motivation, discipline and knowledge…"
Athlete Statistics
Full Name: Mark Robinson
Weight
Height
Age
Date of Birth
185 - 195lbs (83.9 - 88.5kg)
5'11" (180cm)
36
July 17, 1987
Nationality
Profession
Era
Australian
Dietitian, Fitness Cover Model
2010
| | |
| --- | --- |
| Weight | 185 - 195lbs (83.9 - 88.5kg) |
| Height | 5'11" (180cm) |
| Age | 36 |
| Date of Birth | July 17, 1987 |
| Nationality | Australian |
| Profession | Dietitian, Fitness Cover Model |
| Era | 2010 |
---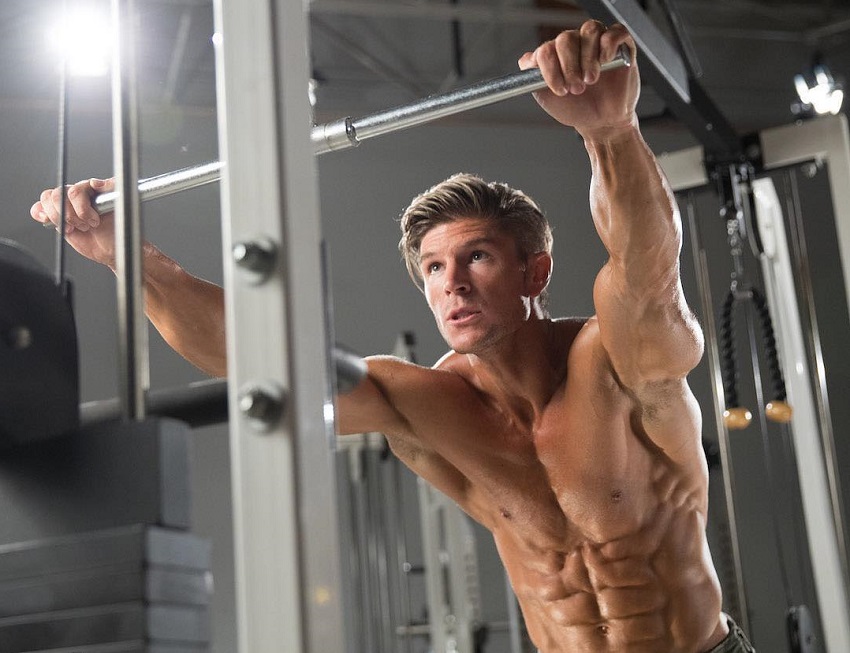 "I don't know what it is you're trying to figure out or what your goals are…but it's a fact that almost every one of us on these social media platforms takes some kind of pride in our appearance. And this will include your physical shape!"
Accomplishments
Dietitian (Masters Degree in Nutrition and Dietetics)
Online Coach
Bachelor Degree in Exercise & Psychological Sciences
Published Fitness Model
Nutrition and Fitness Author
Competitions
2010 ANB Queensland Championships, 3rd place
2010 NABBA Championships, 3rd place
2013 ANB Asia Pacifics Muscle Model, 2nd place
2013 Vegas Musclemania & Fitness America Championships, 1st place – won the "World Fitness Model America" award.
---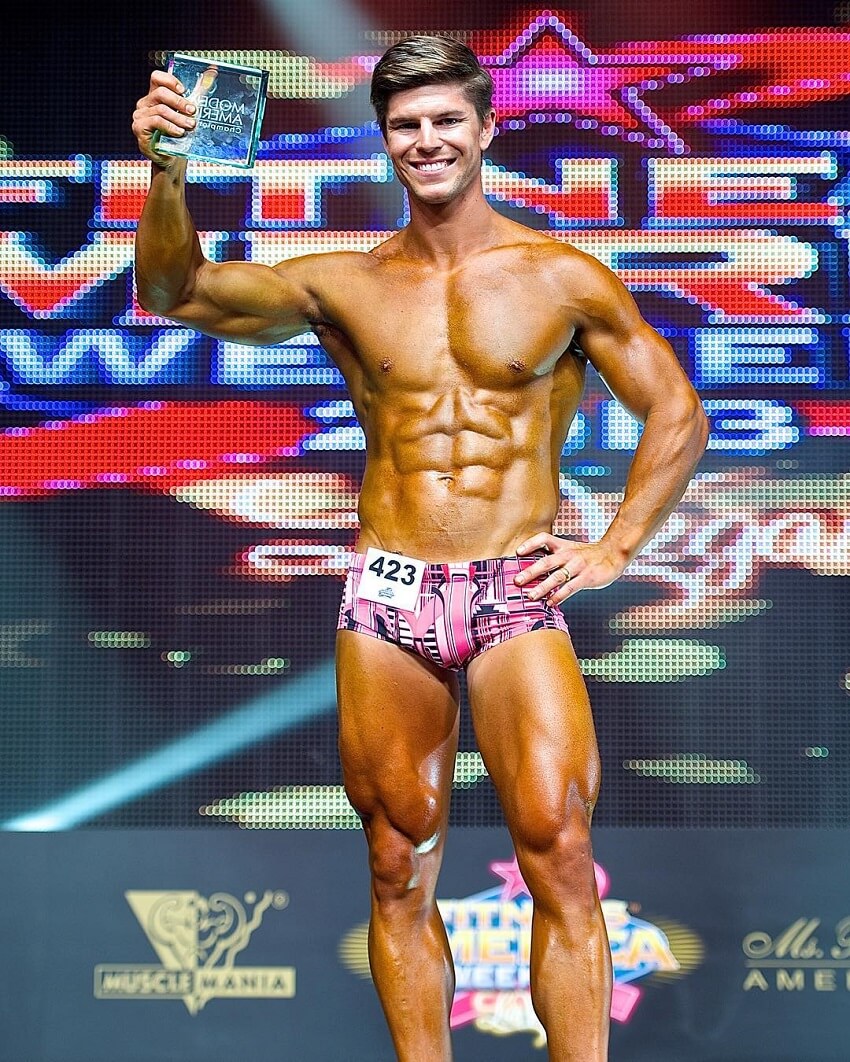 Biography
Mark has made a name for himself as a muscle model, bodybuilder, and a leading dietitian.
Originally from Australia, Mark's journey to the top began in 2010, when he began competing in fitness shows. He placed 3rd in his first show in 2010, followed by another top 3 spot in the NABBA ANB Queensland show.
Mark's passion for competing and improving himself daily only kept growing stronger. By 2013, he already had a number of awards under his belt. This includes earning a place in the Australian Natural Body Magazine which took his modeling career to new heights.
After qualifying for the 2013 Vegas MuscleMania & Fitness America Championships, Mark achieved what he had been working hard on for years – the overall World Fitness Model America Title.
Needless to say, this gave Mark a huge amount of exposure in the industry, which he now uses to promote fitness as a healthy way of life. He's also coaching many other people towards their own success and operates as a guest judge in contests around the globe.
---
Training
Mark's favorite body part to train is shoulders, and he likes to finish it off with biceps and triceps. He always includes shoulder side raises and keeps the training volume high.
Specifically, Mark is looking to do 6-7 sets of 10-15 reps to build those full rounded caps. He also loves the pump that shoulder exercises give him, and believes that shoulder raises are one of the best exercises to develop that highly coveted V-taper.
High Intensity & Short Duration
As for other muscle groups, Mark looks to keep the intensity as high as possible. He achieves this by keeping short rest between sets but also adding drop sets and super sets. Such an intense workout not only keeps the muscles 'burning' but also saves Mark a lot of time.
In terms of weight, Mark keeps it moderate-to-heavy, depending on his condition. When preparing for a show, he'll reduce the weight and increase the reps to reduce body fat. But in the 'off-season,' he'll lift heavier weights to pack on muscle mass.
Sample Training Routine
Here's what a week of training might look for an athlete like Mark Robinson:
Monday: Chest

Bench Press
Incline Press
Cable Flys
Tuesday: Legs

Leg Extensions
Squats
Leg Press
Lying Leg Curls
Calf Press Supersetted with Calf Raises
Donkey Calf Raises
Wednesday: Back

Bent Over Rows
Cable Pulldowns
Cable Rows
Deadlifts
Single Arm DB Rows

Thursday: Shoulders

Shoulder Press
DB Lat Raises
Front Raises
Barbell Shrugs

Friday: Arms

Close Grip Bench Press
Preacher Curls
Cable Pushdowns
Hammer Curls

Saturday: Rest
Sunday: Legs

Leg Extensions
DB Walking Lunges
Calf Press Supersetted with Calf Raises
Donkey Calf Raises
---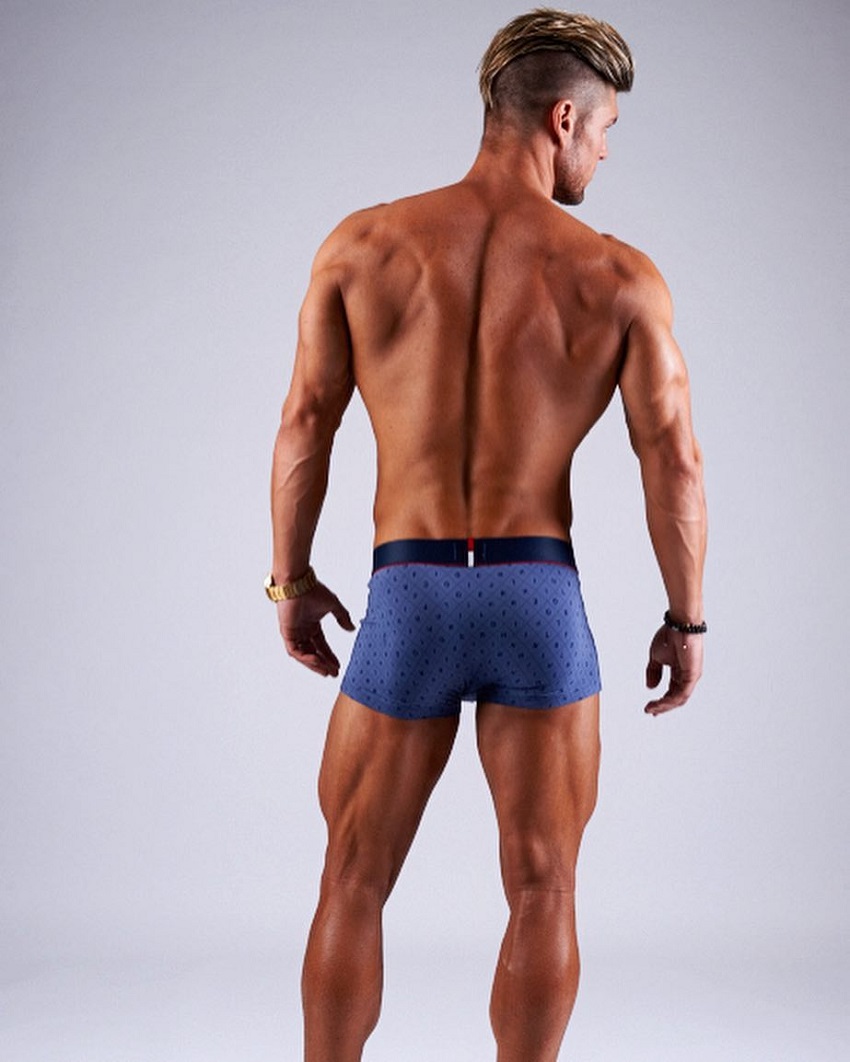 ---
"Healthy food can still be tasty. There are so many options at the moment, and good wholesome, home-cooked food is always the winner!"
Nutrition
As a dietitian, Mark is well aware of the importance that nutrition plays in his health. He'll eat a variety of foods, including:
Legumes
Plants
Lean meat such as chicken and pork tenderloins
Eggs
Whole grains such as oats
Salmon
Blueberries
Avocados
Olive oil
By keeping his diet colorful, healthy, and varied, Mark ensures that his body is constantly supplied with all the nutrients he needs. This also enables him to cut back on unnecessary supplements.
While protein-rich foods help Mark build muscle, minerals, vitamins and antioxidants protect and keep his health in check. Carbs and fats are there to give him the energy for his workouts.
Mark's Five Top Foods For Staying Healthy & Lean
Mark often shares his tips on social media regarding fitness and nutrition. Here are the five most important foods in his diet:
Red Capsicum. Mark says these are high in vitamin C which supports his immune system and helps with iron absorption. It's one of his staples in his stirfries or simply as raw vegetable sticks.
Broccolini. This food is high in DIM which Mark says helps him with fat loss.
Tuna. It's Mark's favorite protein source, and it provides him with healthy fatty acids too.
Yogurt. A little bit of dairy doesn't hurt, according to Mark, who loves having two serves of low-fat yogurt with strawberries each day.
Natural Muesli. This is a high fiber, low-sugar meal that kickstarts Mark's metabolism in the morning and keeps him fuller for longer.
Staying Fit Year Round
Unlike some fitness models, Mark Robinson rarely ever bulks up or cuts weight. He loves to stay lean throughout the entire year. While this obviously means he has to make some sacrifices with his diet, Mark believes that staying at a healthy body fat percentage is no rocket science. According to him, it all comes down to three key things:
Total calories consumed
Macronutrient ratio's
Timing
In Mark's own words:
"My 3T Formula to Nutrition is easy! Total (Calories 'how much'), Type (Macronutrient Ratio's 'what'), and Timing ('when'). I've never complicated it and I've never believed in not being in optimal shape every day of the year."
Cheat Meals
For Mark, eating healthily is a hobby and a lifestyle. Still, he does have something that would be considered less healthy once per week. As he trains hard and often, he'll easily burn through any excess calories from this one meal.
His favorite 'cheat' meal is pizza stuffed with everything Mark loves; from eggs, bacon to cheese. This kind of meal replenishes Mark's body with calories that he loses through his hard training – directing them to his muscles instead of fat stores.
---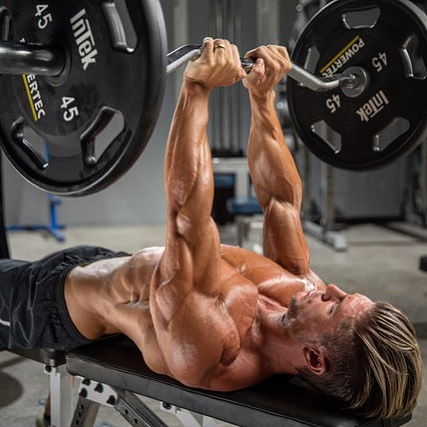 ---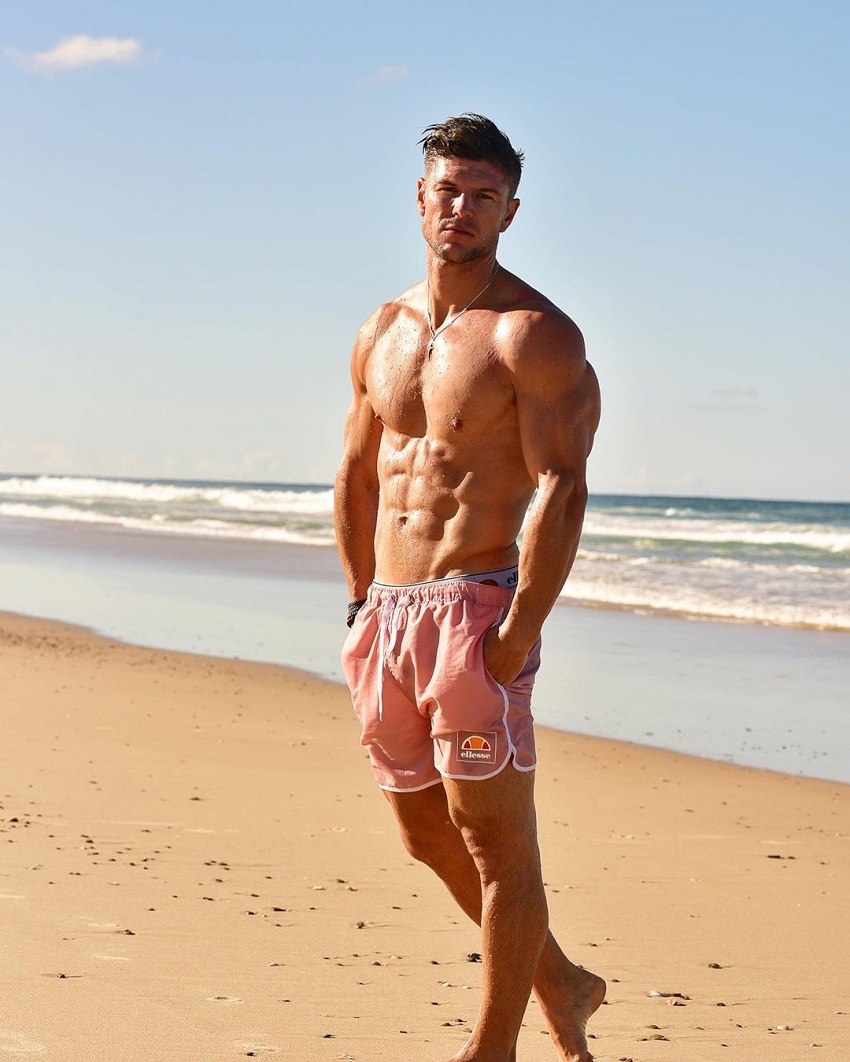 What we can learn from Mark Robinson
Mark's list of achievements as a fitness model and competitor continues to grow. Not only is he a successful athlete, but Mark is also one of Australia's leading dietitians. He uses his extensive knowledge and experience in this field to help others achieve a lean and healthy body.
If there's something that Mark Robinson has shown us, it's that fitness doesn't have to be an isolated journey. It's just about the community of people getting closer together, and motivating each other to become a stronger and fitter version of themselves.