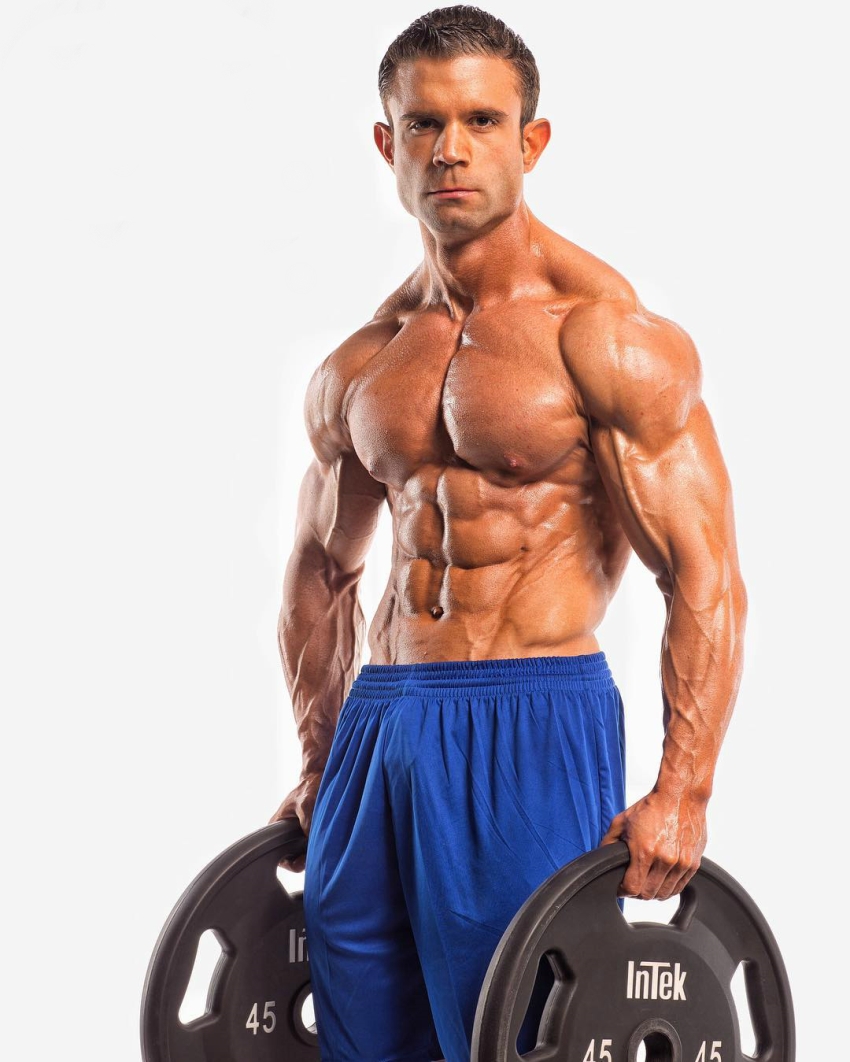 Marco Laterza
Personal Trainer, Nutritionist, Fitness Model, Entrepreneur
Marco Laterza was a promising gymnast growing up. However, when he was 16, Marco injured his knee during one of his training sessions. The injury prevented him from training for over a year, and his doctor said that he may never properly bend his knee again.
Needless to say, the news left Marco devastated. But he was determined not to give up on his dream of becoming a great gymnast. One year later, he found himself a physical therapist who started him on a free weights training routine. Marco's knee improved, and his overall body responded very well to training – so well that he got in shape rather quickly.
After that point, Marco slowly lost his passion for gymnastics, and became obsessed with weight training. He's since become a fitness persona and a certified personal trainer – being featured on the front cover of some international magazines.
This is Marco's story:
---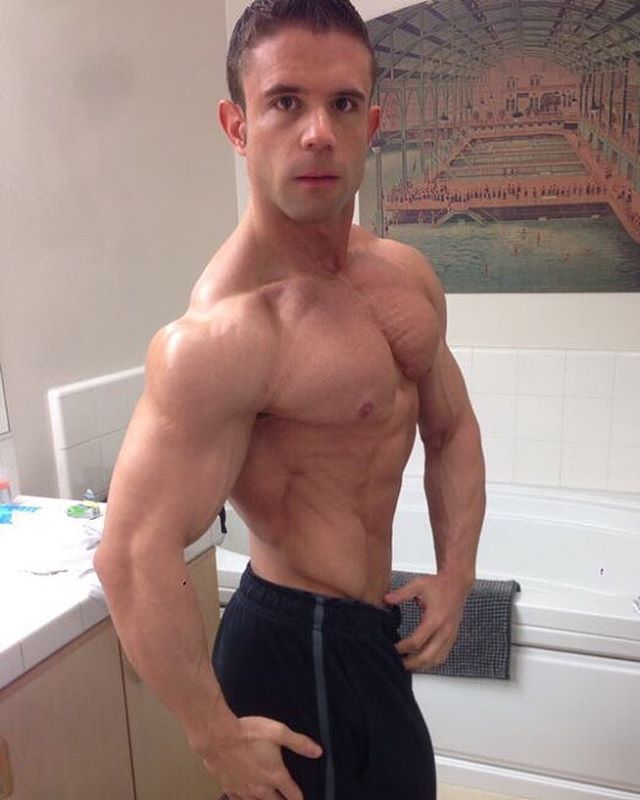 "Never say never because limits, like fears, are often just an illusion!"
Athlete Statistics
Full Name: Marco Laterza
Weight
Height
Year of Birth
Nationality
185 - 195lbs (83.9 - 88.5kg)
5'9" (175cm)
1986
Swiss
Profession
Era
Personal Trainer, Nutritionist, Fitness Model, Entrepreneur
2010, 2000
| | |
| --- | --- |
| Weight | 185 - 195lbs (83.9 - 88.5kg) |
| Height | 5'9" (175cm) |
| Year of Birth | 1986 |
| Nationality | Swiss |
| Profession | Personal Trainer, Nutritionist, Fitness Model, Entrepreneur |
| Era | 2010, 2000 |
---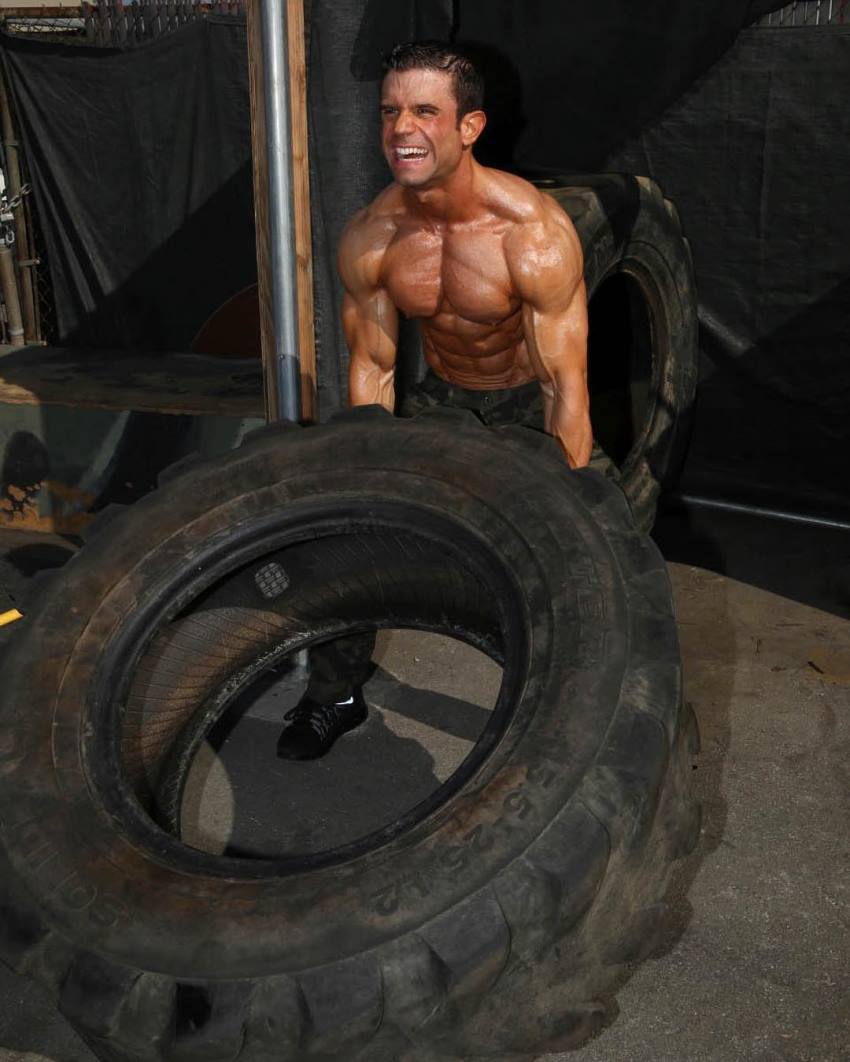 "Vision without execution is a delusion."
Accomplishments
Nine-Time Cover Model
Personal Training Business Owner

Qualifications

Charles Poliquin PICP Strength Coach Level 2
Dipl.Fitness Instructor
Charles Poliquin BioPrint Practitioner
TRX Group Suspension Trainer
Charles Poliquin Advanced Programme Design
Alan Aragon UKC Nutrition
Nutritionist
Cardio Trainer
---
"Success is never owned, it's rented. And the rent is due everyday."
Biography
The Meniscus Injury
Marco Laterza was born on 6th of August 1986, and is originally from Zurich, Switzerland, with Italian roots.
As a boy, Marco had a big interest in gymnastics. This interest only grew stronger over the years, up to a point where he began considering making a career out of his passion.
However, his dreams vanished after he tore his right meniscus during one of his gymnastic training sessions. After that, Marco couldn't train for over a year.
To make things worse, his physician told him there was a high chances he won't be able to train gymnastics again. Marco said, "I was devastated".
---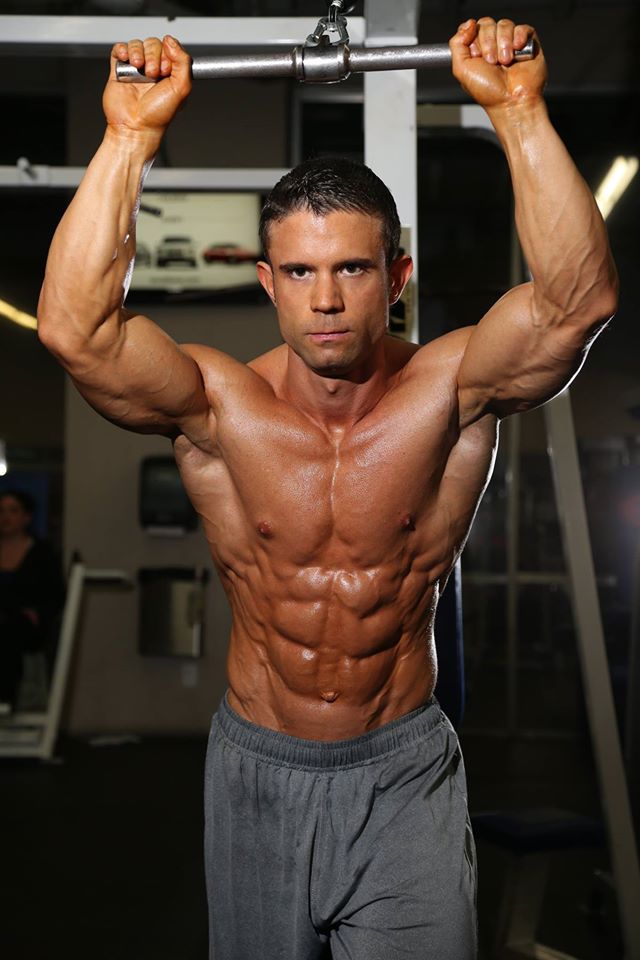 ---
Proving Everyone Wrong
Despite the warnings from his physician, Marco was determined he would come out victorious and recover from the injury.
He went on to find one of the best physical therapists in Zurich, who put him on a free weights training routine. Surprisingly, Marco's body responded extremely well to the exercises he was performing.
His knee got better over time, and so did his physical appearance in general. After some time, he was able to continue training on his own.
It was at this point when "a new fire was lit" within Marco – he slowly became addicted to weight training and the benefits that came with it.
A Certified Coach
Meanwhile, Marco pursued a career in banking and didn't have much free time. However, all of the free time he had was spent working out in the gym or preparing meals in the kitchen.
This love for fitness led to him leaving his banking career behind, and becoming a licensed strength coach and a nutritionist.
He said he wanted to help people with his knowledge, and added; "I realized that the skills I'd developed in banking – listening to my customer's needs, trying to put myself in their shoes, and finding tailor-made solutions for them were absolutely key when working as a personal trainer".
Marco's plans for the future are to spread his influence in the fitness industry, and help as many people as he can to achieve their goals – be it gaining muscle or losing weight.
---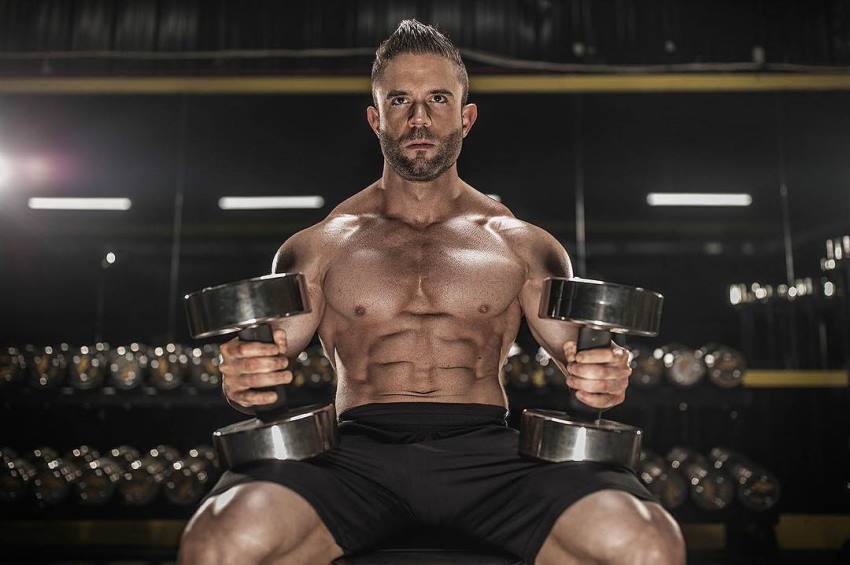 "The very first moment of your day determines how good or bad the rest of it is going to be. Start your day with joy and a big smile on your face because you know that only the best will happen to you today."
Training
Spider Curls
This is one of the biceps exercises Marco makes sure to incorporate in his arms routine. According to him, spider curls emphasize tension on the top of the motion, which is usually a weak spot for many people.
Strength vs. Hypertrophy
Marco says the best way to avoid plateaus is to change training routines often.
Another thing he likes to do is to implement micro cycles of strength and hypertrophy workouts, and combine them with endurance workouts. Which looks something like this;
| | | | |
| --- | --- | --- | --- |
| Week | Rep Scheme | Sets | Target |
| 1 | 1-4 | 4 | Maximum Strength |
| 2 | 6-8 | 3 | Functional Hypertrophy |
| 3 | 8-12 | 3 | Hypertrophy |
| 4 | 12-15 | 3 | Strength Endurance |
| 5 | 1-4 | 5 | Maximum Strength |
| 6 | 6-8 | 4 | Functional Hypertrophy |
| 7 | 8-12 | 4 | Hypertrophy |
| 8 | 12-15 | 4 | Strength Endurance |
---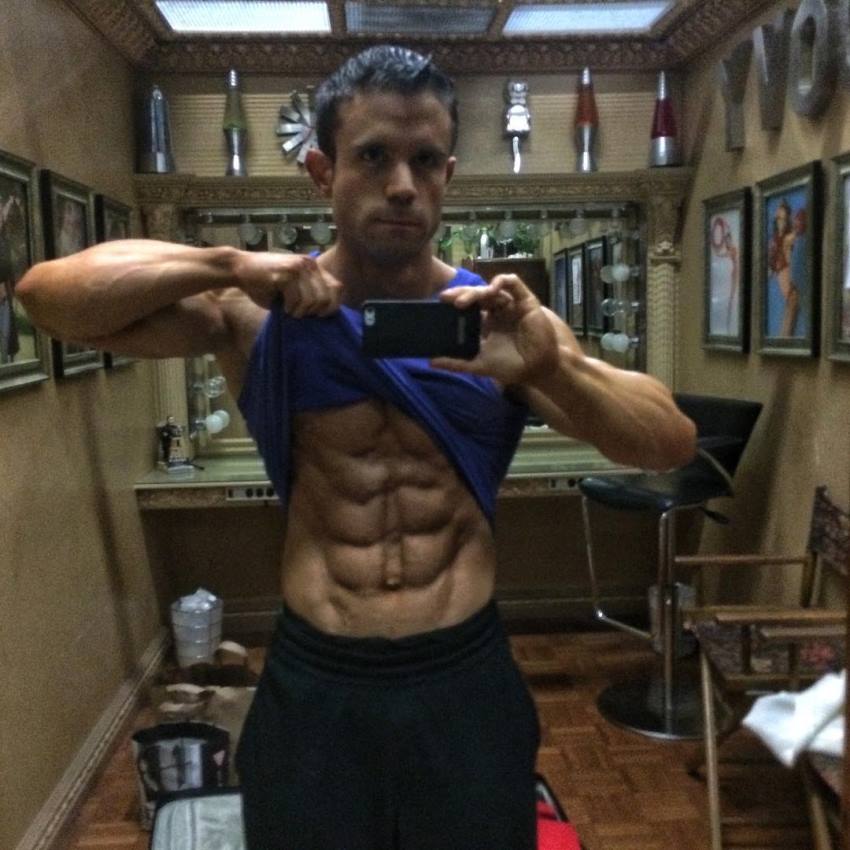 ---
Cardio
Marco doesn't do cardio throughout the whole year, but rather 4-6 weeks before a photo shoot or a show.
His preferred method of cardio is HIIT (High-Intensity Interval Training), and his cardio routine consists of 10 minutes of warm-up, two easy sprints 50-100m, and 5-10 sprints at maximum speed.
Between sprints, Marco will walk back to the starting point. If he still has enough energy by the time he comes to starting position, Marco will perform as many basketball jumps as he can, and repeat the process.
Beginner Advice
In the beginning of his fitness journey, Marco said he was focusing on the weight instead of proper form. According to him, this was a mistake.
He now preaches focusing on the mind-muscle connection and form when performing the exercise. He says that the muscle is utilized to its maximum capabilities this way, and also the risk of injury is greatly diminished.
Training Plan
Monday: Rest Day
Tuesday: Chest/Back
Wednesday: HIIT, Cardio
Thursday: Shoulder/Abs
Friday: HIIT, Cardio
Saturday: Arms
Sunday: 

Legs
---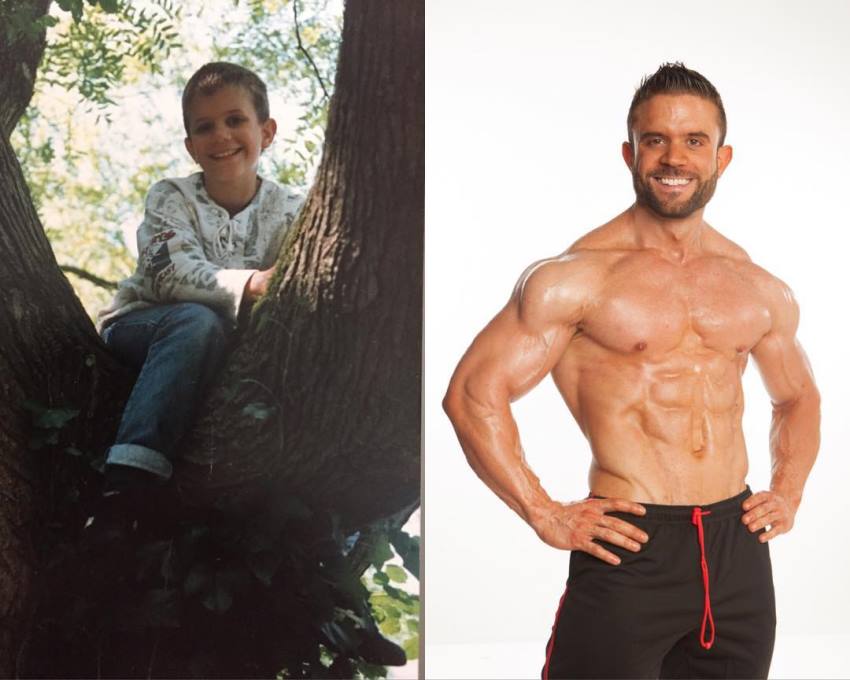 "How many Mondays have been and gone since you said I'll start next week? Take action, start today!"
Nutrition
A Standard Approach to Dieting
Marco cooks his food in advance, and then vacuums it to keep it fresh for the following days.
He eats mostly clean, unprocessed foods. However, he mentioned that balance is the key, and that having a cheat meal once in a while won't hurt. Usually, Marco has one cheat meal per week, where he enjoys himself and doesn't "stress about macros".
For post-workout, Marco will consume a good amount of fast-acting carbohydrates (0.8-1.5g per lbs of body weight), combined with glutamine, creatine, BCAAs, and whey isolate.
Marco's Meal Plan
1st Meal: 100g gluten-free oatmeal, 30g almonds, 40g Whey Isolate, 1 linseed oil
2nd Meal: 100g rice, 170g turkey breast, broccoli, 1 boiled egg
3rd Meal: 300g sweet potatoes, 150g turkey breast
4th Meal: 100g of quinoa, 170g of beef fillet, broccoli
5th Meal: 10 egg whites, 20g tree nuts, 5g BCAA. and glutamine before going to bed
---
---
Supplementation
Marco's must-have supplements are whey, glutamine, and BCAAS. According to him, these supplements are a must for anyone who wants to be "at the top level" in fitness.
This is his supplement stack:
Whey Isolate

BCAAs

Glutamine

Kre-Alkalyn

Beta-alanine

Maltodextrin

Casein Protein
---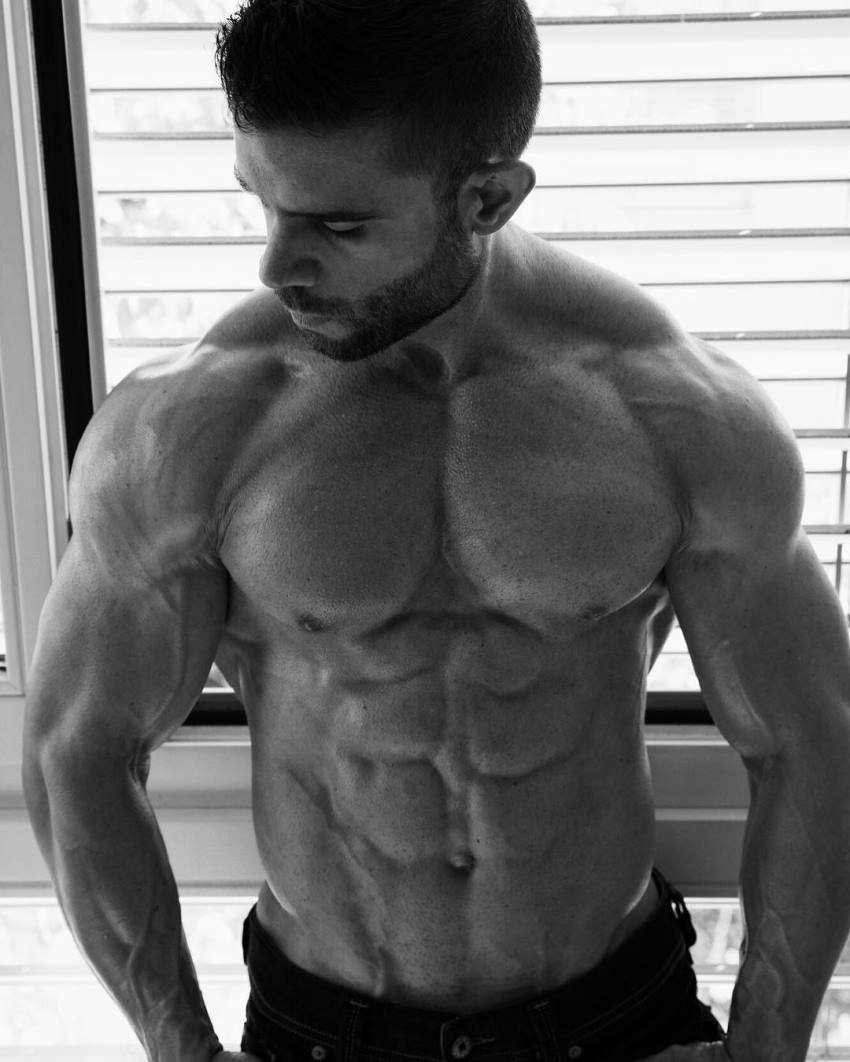 "Love yourself enough to never lower your standards for anyone!"
Idols and Influences
Marco's inspiration comes from the likes of Kevin Levrone, Greg Plitt, Michelle Lewin, and Jamie Eason.
Greg Plitt's purposeful attitude and achievements inspired Marco to become a fitness model. He added;  "To motivate myself, I digitally edited a cover from Greg and replaced it with a picture of me. Then, I printed the image and hung it up in the apartment."
---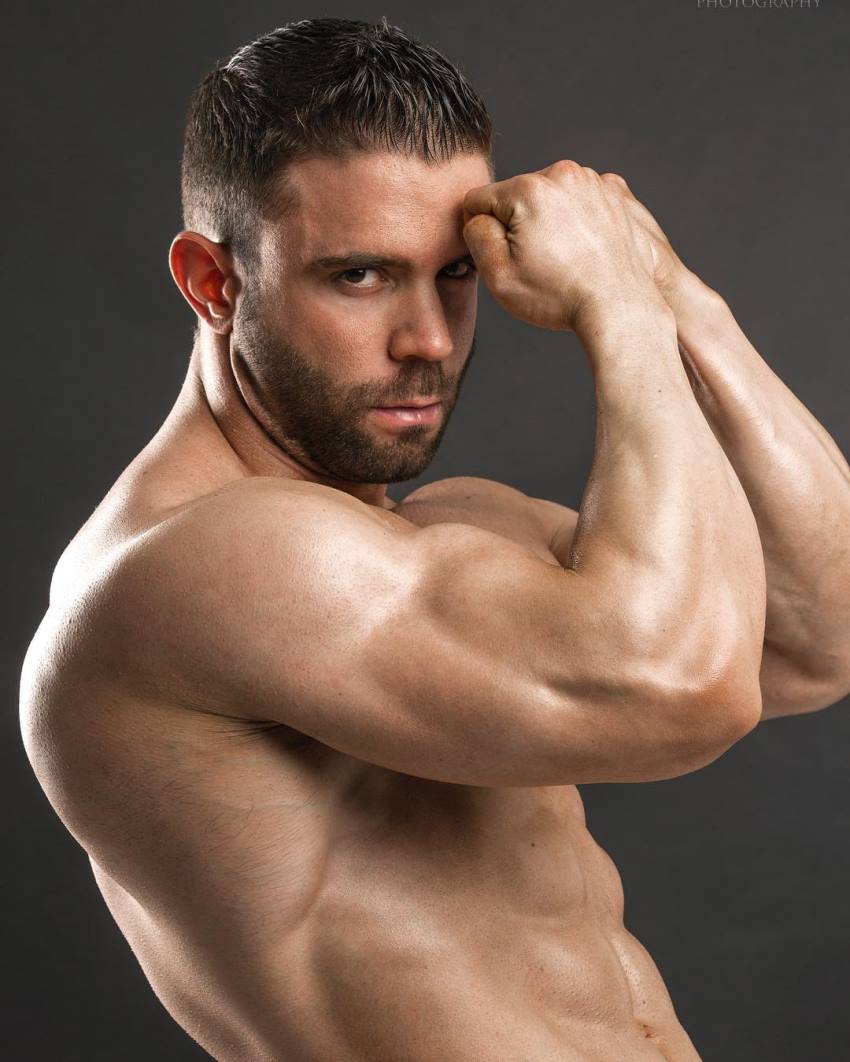 "Act and keep quiet. Lions do not need to roar to make things happen!"
What we can learn from Marco Laterza
Marco Laterza went through some major setbacks in his life. After hearing from his doctor that he won't be able to continue training after the injury, Marco was "crushed".
However, thanks to his "winner mentality", Marco beat the odds and fully recovered. Furthermore, he became a fitness icon and an inspiration to many.
His attitude towards life and his story are something we all can learn from. Never give up on your dreams, no matter what others tell you. Whenever you find yourself in a similar situation, just remember Marco's story.