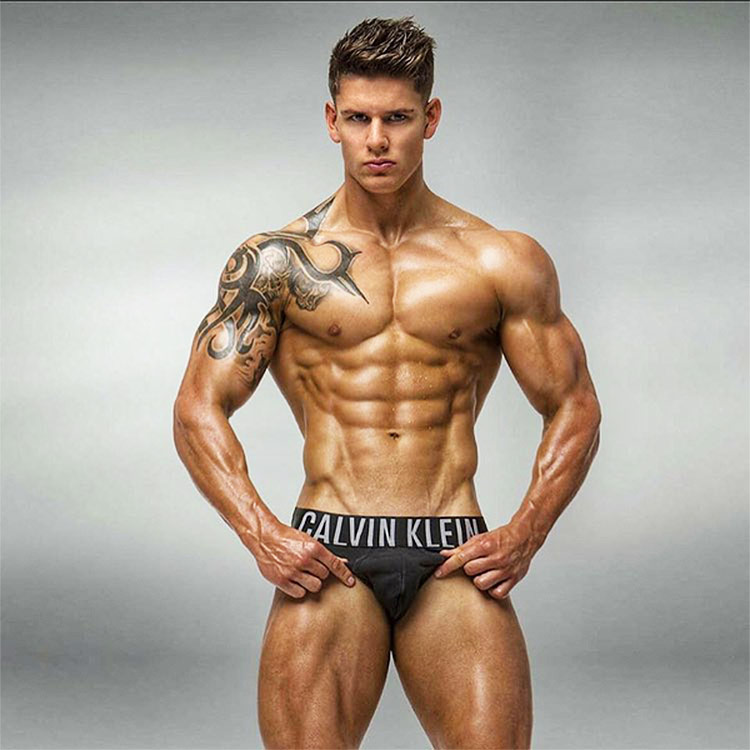 Luke Hayes
Bodybuilder, Personal Trainer
Luke Hayes is a bodybuilder and personal trainer from Cambridge, England. He suffered an injury in his childhood, which forced him to leave his budding rugby career behind.
However, it didn't take him long to begin sculpting his physique instead, and pursue a career in the fitness industry. By the age of 21, in 2015, Luke had won 2 bodybuilding competitions and become a sponsored athlete.
This is his story:
---

Athlete Statistics
Full Name: Luke Hayes
Weight
Height
Year of Birth
Nationality
185 - 195lbs (83.9 - 88.5kg)
5'11" (180cm)
1994
English
Profession
Era
Bodybuilder, Personal Trainer
2010
| | |
| --- | --- |
| Weight | 185 - 195lbs (83.9 - 88.5kg) |
| Height | 5'11" (180cm) |
| Year of Birth | 1994 |
| Nationality | English |
| Profession | Bodybuilder, Personal Trainer |
| Era | 2010 |
---

Accomplishments
Competition History
2013 Body Pro Competition – 1st
2014 UKBFF London South East Junior Physique – 1st
---

Biography
Early Years
Born and raised in Cambridge, England, Luke grew up participating in football and athletics when he was very young. He became skilled at the 100m and 200m sprint, naturally developing a strong, athletic frame.
As a result of his big figure, Luke was invited to play rugby during high school. After a short time practising the sport, he realized that he needed to build his strength to compete in rugby matches.
This is what motivated him to begin his fitness journey; at the age of 13, Luke began weight training in his garage with a barbell and set of weights.
---

---
Injury
After 3 years of intense gym sessions, Luke had packed on serious muscle mass and began to sculpt an aesthetic physique. However, his progress was soon stopped due to an injury.
At 16-years-old, Luke snapped his Anterior Cruciate Ligament in his left knee. As a result, Luke was told by his doctor that he had to leave rugby behind.
Devastated by the news, the youngster was forced to find another passion.
" The injury required surgery. I found it frustrating not to be able to compete in the two sports I had grown to love"
Bodybuilding
Luke became unhappy with his inactivity during his injury, frustrated that he couldn't compete in his passion – rugby.
However, he didn't give up and set his focus on weight lifting. After years of training with his barbell and dumbbell set in his garage, Luke decided to join a gym.
After dedicating his energy to bodybuilding, he soon fell in-love with the sport. But he became aware that he knew very little about nutrition.
Determined to pursue a career in fitness, Luke began studying Physical Education at college.
---

---
First Competition
During his time at college, Luke developed his knowledge on nutrition vastly; growing his physique and shredding body-fat.
His family and friends began encouraging him to compete as a bodybuilder. But it wasn't until he was noticed by a professional photographer and invited to a show, that Luke stepped on stage.
At the age of 20, Luke appeared in his first contest – the 2013 Body Pro. The youngster beat all expectations, and walked away with the trophy on his debut.
But he was just getting started.
---

---
More Success
Over the next year, Luke graduated from College and gained recognition as a rising star in the industry. It wasn't long until he'd received numerous sponsorship's and been invited to more photo shoots with respected photographers.
In 2015, Luke entered his second competition – the UKBFF London South East Junior Physique. Impressively, he managed to replicate his success by placing 1st.
Personal Trainer
After his comeback from injury and early success as a competitor, Luke found the desire to help others achieve their fitness goals. He worked towards earning his personal training qualifications, and passed the tests soon after.
In 2016, Luke began reaching out to the public on his website, offering to motivate and coach his clients to lead an active, healthy lifestyle.
---

Training
Luke enjoys training in the gym in a 3 day split – he rests on the 4th day, then returns to lift weights again for 3 days. He feels that his body responds to this the best.
---

Idols and Influences
Luke was first encouraged to compete as a bodybuilder by his friends and family – without them, he might never have stepped on stage to win trophies.
In terms of idols in the fitness industry, Luke looks up to Frank Zane; he aims to sculpt a similar physique to him, and follow his legacy.
---

What we can learn from Luke Hayes
One thing we can learn from Luke, is to never give up. He was devastated by an injury, and was forced to leave the sport he'd grown to love behind, Rugby.
However, he found a new passion and focused his efforts into finding success in the fitness industry. By 21, he'd won 2 bodybuilding shows, been sponsored by health companies, and become a personal trainer.