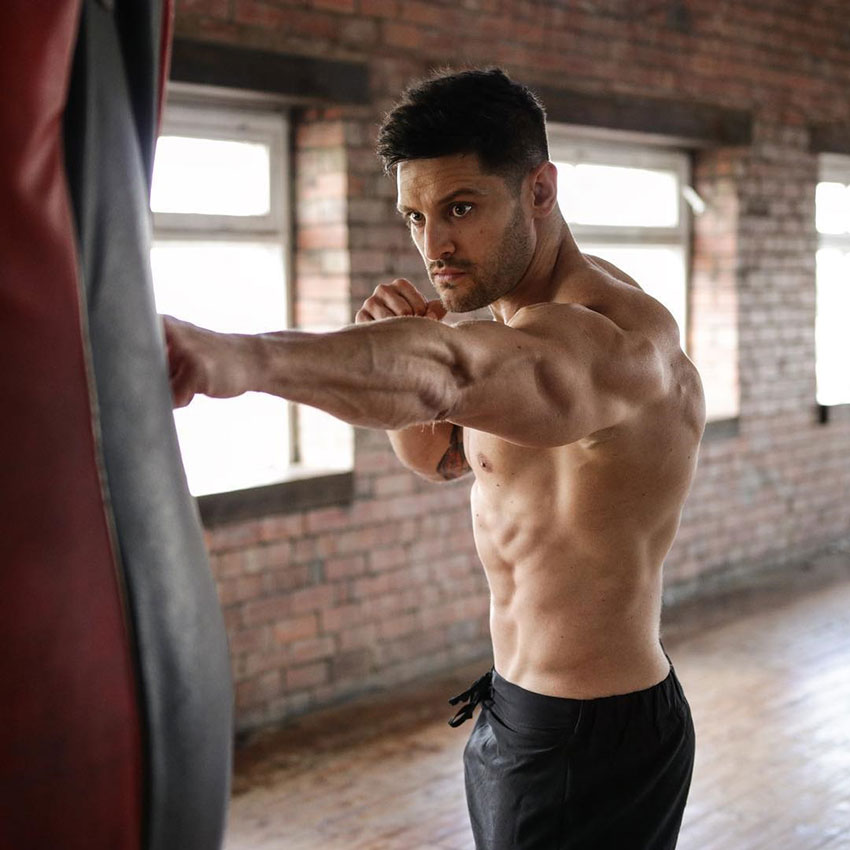 Lex Griffin
Bodybuilder, Personal Trainer, Fitness Model, Sponsored Athlete, Social Media Celebrity
Lex Griffin, also known as 'Lex Fitness', is a British bodybuilder, personal trainer and sponsored athlete. From an early age, Lex consistently remained in search of a new challenge. This led to him participating in many sports, including rugby, tennis and martial arts.
He was able to build an athletic physique through his competitive sport orientated lifestyle, but Lex wanted to take this a step further. He began weight training in the gym with the aim of becoming stronger. Instantly, he was hooked.
Lex quickly began to see progress as a result of his new-found love for weight training. He continued to build upon his physique, eventually turning to the bodybuilding stage.
Soon enough, Lex was able to establish himself as a social media celebrity, regularly sharing his story and fitness expertise. He aims to inspire his followers to achieve things they never thought they could – moving forward in their fitness journey. This is his story:
---

Athlete Statistics
Full Name: Lex Griffin
Weight
Height
Year of Birth
Nationality
185 - 195lbs (83.9 - 88.5kg)
5'9" (175cm)
1987
British
Profession
Bodybuilder, Personal Trainer, Fitness Model, Sponsored Athlete, Social Media Celebrity
| | |
| --- | --- |
| Weight | 185 - 195lbs (83.9 - 88.5kg) |
| Height | 5'9" (175cm) |
| Year of Birth | 1987 |
| Nationality | British |
| Profession | Bodybuilder, Personal Trainer, Fitness Model, Sponsored Athlete, Social Media Celebrity |
---

Accomplishments
Career Achievements
Bodybuilder
Fitness Trainer
Fitness Model
Sponsored Athlete
Social Media Celebrity
Competition Stats
Fitness Britain National & Commonwealth Lightweight Champion 2012

3rd Place Middlewight MuscleMania UK National Championships 2011
MuscleMania Scottish Regional Middleweight & Overall Champion 2011
---

Biography
Fitness Beginnings
Lex's fitness journey started from an early age. Sports were a huge part of his life, where he regularly took part in sports ranging from American football to tennis in high school. Lex regularly sought a new challenge – competing in multiple sports allowed him to fulfill this passion.
Rugby and American football were the two sports he enjoyed the most, teaching him to abide by an important message – "Set aside your ego, and work as part of a team".
Lex continued to follow this mentality as a way of moving forward in his fitness journey, while following his sporting passions. But Lex always had the desire to move to the next level.
Lex turned to weight training as a way of becoming stronger in rugby and American football. He quickly became hooked, taking full advantage of his high level of enthusiasm and motivation that he had. This meant that he was quickly able to obtain solid results in the gym, and on the field.
University Fitness Career
Lex began studying biology at university, but he didn't want to leave his sporting days behind. He remained active in his fitness journey, continuing to build upon his physique and love for competitive sports.
Eventually, Lex took it upon himself to research on ways to build muscle through strength training, utilizing the knowledge that he learned during his degree. With regard to this, Lex stated the following:
"I began researching diet, muscular hypertrophy, training techniques and development through weight orientated training. I utilized the array of material available to me through my course, and within literature I found and developed a good basic understanding of split training regimes, dietary requirements and techniques".
---

Competition History
Lex felt the need to progress his fitness journey even further, giving him a goal to reach – this is when he turned to the bodybuilding stage.
Lex started out competing in 2011 at the MuscleMania Scottish Regional bodybuilding competition, where he was the overall and middleweight champion. This gave him the platform to be able to progress into other competitions.

Lex then appeared at the MuscleMania UK National Championships in 2011, where he finished in third place. He wasn't able to repeat the success from his first competition, but he still remained motivated in order to continue competing within bodybuilding.
Finally, Lex competed in the Fitness Britain National & Commonwealth Championships, storming to a first placed finish in the lightweight category. This would be the final competition that Lex would appear in. Instead, he began focusing on building his personal training business.
Present Day
Lex's fitness journey has gone from strength to strength. His sporting beginnings meant that he was able to earn a great physique from a young age, taking things a step further when starting at university.
He began sharing his fitness journey online with others – seeing him quickly propel to fame as a social media celebrity. Eventually, Lex was able make a living from his passion for fitness.
He set up his own personal training business which quickly took off. Lex could now offer his fitness expertise, enabling his clients to achieve solid results in their fitness journey – just like him.
---

Training
Lex maintains a busy lifestyle, but he still makes time for fitness. He trains at least 4 times for week to stay on track, focusing his training with a mixture of heavy lifts and low repetitions, to lighter lifts with higher repetitions.
In addition, Lex utilizes HIIT (High Intensity Interval Training), preferring this to steady state cardio. Lex incorporates this into his training regime so that he can stay as lean as possible.
With regard to the method of training that works best for him, Lex stated the following:
"I don't have fixed days for each muscle group or training due to work commitments but I ensure that I get 4 days a week in each week, as evenly spaced as possible". 
Lex's favorite exercises and a sample workout plan is listed below:
Lex Griffin Training Routine
Favorite Exercises
Squats
Chest Press
Pull Ups
Chest, Triceps and Calves Heavy Sets Workout
80 kg (176 lbs) Barbell Bench Press – 3 sets of 8-12 reps
100 kg (220 lbs) Barbell Bench Press – 3 sets of 5 reps
110 kg (242 lbs) Barbell Bench Press – 2 sets of 3 reps
Single Arm Tricep Pulldowns
Rope Pulldowns
Standing Calf Machine Raises
---

Nutrition
Lex follows a flexible diet, allowing him to eat what he likes so long as the majority of the foods he eats are healthy options. He focuses on eating healthy fats, complex carbohydrates and lean proteins in order to fuel his workouts and quickly recover.
Lex in particular focuses on keeping his carbohydrate intake high, allowing him to feel energized. This way, he is ready to tackle even the most intense workout. An example meal plan that Lex uses frequently is listed below:
Lex Griffin Daily Diet Sample
1st Meal: Wholewheat Toast with Honey and Peanut Butter
2nd Meal: Protein Shake and Rice Cakes
3rd Meal: Roast Chicken, Apple Sauce and Wholewheat Bread
4th Meal: Diced Chicken Breast with Sweet Potato
5th Meal: Protein Shake, Rice Cakes and Fruit
6th Meal: Diced Chicken/ Beef with Mashed Potato
---

Idols and Influences
When starting out in bodybuilding, Lex was inspired by some of the biggest names in the bodybuilding industry, including his idol Arnold Schwarzenegger and Rich Piana. They were the main influences who made Lex want to achieve more in his career as a bodybuilder.
However, Lex learned to become a self-motivated individual in order to continually progress in his fitness journey. He took any set-backs within his stride, maintaining a determined mindset to overcome any obstacles. This is something that Lex has followed throughout his entire life – in the process, achieving solid results.
With regard to how he keeps himself motivated and on track to obtain his goals, Lex had this to say:
"My motivation comes from the sheer love of training, in any form, and competition with myself to always achieve more from month to month and overcome any obstacles that may cross my path".
---

What we can learn from Lex Griffin
Lex Griffin built upon his love for competitive sport from a young age.  He set realistic goals for himself so that he could move forward in his fitness journey – able to continually reach new heights.
His passion for fitness allowed him to create a successful personal training business. Where he now has a positive influence in other people's lives – leaving a career on the bodybuilding stage behind.
What we can learn from Lex Griffin is that at times in life, you need to put yourself outside of your comfort zone in order to reach any goals you set for yourself. This won't always come easy, but the results will soon start to show.