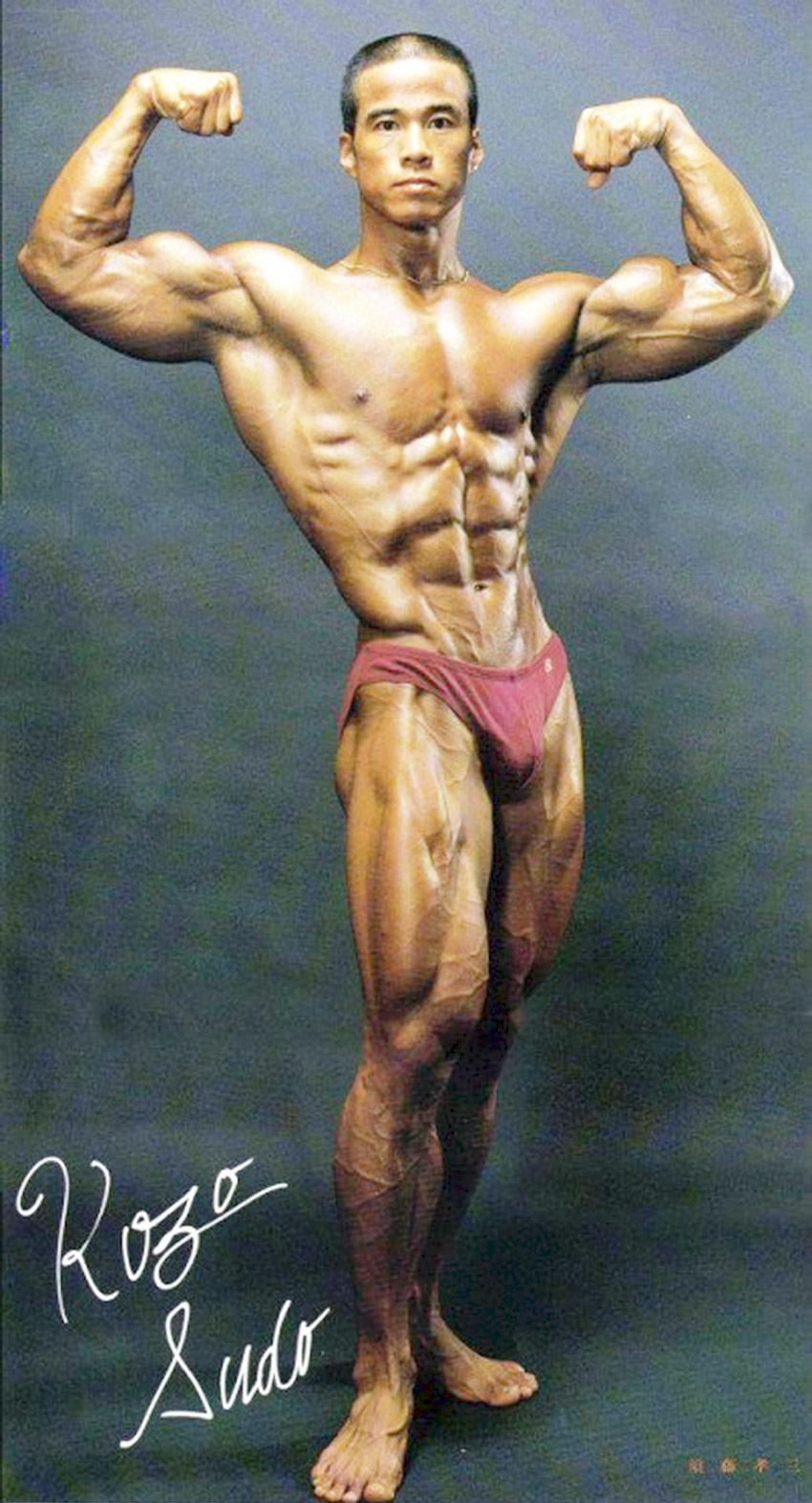 Kozo Sudo
Professional Bodybuilder
There isn't as many bodybuilding legends coming out of Asia compared to the western countries. However, there's only one name when it comes to Japan – Kozo Sudo.
Not only is he considered as a pioneer of the sport in the far east, but he also sculpted one of the finest physiques of his era. Kozo is still admired in modern times by fitness enthusiasts for his aesthetics and has inspired countless athletes to lead a healthy lifestyle.
This is his story:
---

Athlete Statistics
Full Name: Kozo Sudo
Weight
Height
Nationality
Profession
165 - 175lbs (74.8 - 79.4kg)
5'9" (175cm)
Japanese
Professional Bodybuilder
Era
1970, 1980
| | |
| --- | --- |
| Weight | 165 - 175lbs (74.8 - 79.4kg) |
| Height | 5'9" (175cm) |
| Nationality | Japanese |
| Profession | Professional Bodybuilder |
| Era | 1970, 1980 |
---

Accomplishments
Competitions
1972 JBBA Mr. Japan, 1st
1973 JBBA Mr. Japan, 2nd
1974 JBBA Mr. Japan, 1st
1975 NABBA Mr. Universe, Middleweight, 1st
1976 JBBA Mr. Japan, 1st
1976 NABBA Mr. Universe, Middleweight, 1st and Overall title
1977 JBBA Mr. Japan, 2nd
1977 NABBA Mr. Universe Middleweight, 4th
1981 IFBB Mr. International Championship, Middleweight
1983 IFBB World Pro Championships, 13th
---

Biography
Start of Career
Born in the land of the rising sun, Japan, Kozo had always been into fitness growing up. He took part in popular sports in his country, such as baseball and wrestling, but it wasn't until his teenage years that he started lifting weights.
It wasn't long until Kozo had began developing a strong physique and he was encouraged to compete in a Japanese bodybuilding show. Eventually, he walked out on stage at the 1972 Mr. Japan show.
Impressively, the promising youngster took home the trophy in his debut contest. But things would only get better for the aspiring pro.
Mr. Universe Champion
Over the next 3 years, Kozo competed in a further 2 shows – the 1973 and 1974 JBBA Mr. Japan, placing second and first respectively. However, it wasn't until he appeared in his first international contest that he began making a name for himself.
In 1975, Kozo beat the odds and walked away from the NABBA Mr. Universe as the champion. In doing so, he'd successfully become the first Japanese bodybuilder to win the prestigious Mr. Universe competition.
It was at this point that the world started to take notice of his potential in the industry.
---

---
Becoming a Legend
A year later, after winning another Mr. Japan title, Kozo returned to the Mr. Universe to defend his crown – and he didn't disappoint.
He managed to beat his previous accomplishment by taking home the overall title, as well as the trophy in the middleweight division.
By this point, Kozo had become a legend in his home country and respected as a professional bodybuilder around the world.
---

---
Retirement
For the next 7 years, Kozo appeared in 4 more shows. Towards the end of his career, he entered the IFBB 1981 Mr. International Championship and 1983 IFBB World Pro Championship, placing 13th in the latter.
However, after an impressive career spanning over 10 years, Kozo decided to step off stage for the last time in 1983. He left the sport as a legend after making history and pioneering bodybuilding in Asia.
---

Training
Kozo was known for his intense training sessions in the gym, with his amazing genetics allowing him to recovery very quickly. He worked out for 6 days per week, taking time off from lifting weights on Sundays.
He performed up to 20 sets for each muscle, resting only 1 minute in between. The Japanese legend also trained his abs every workout to sculpt his impressive mid-section.