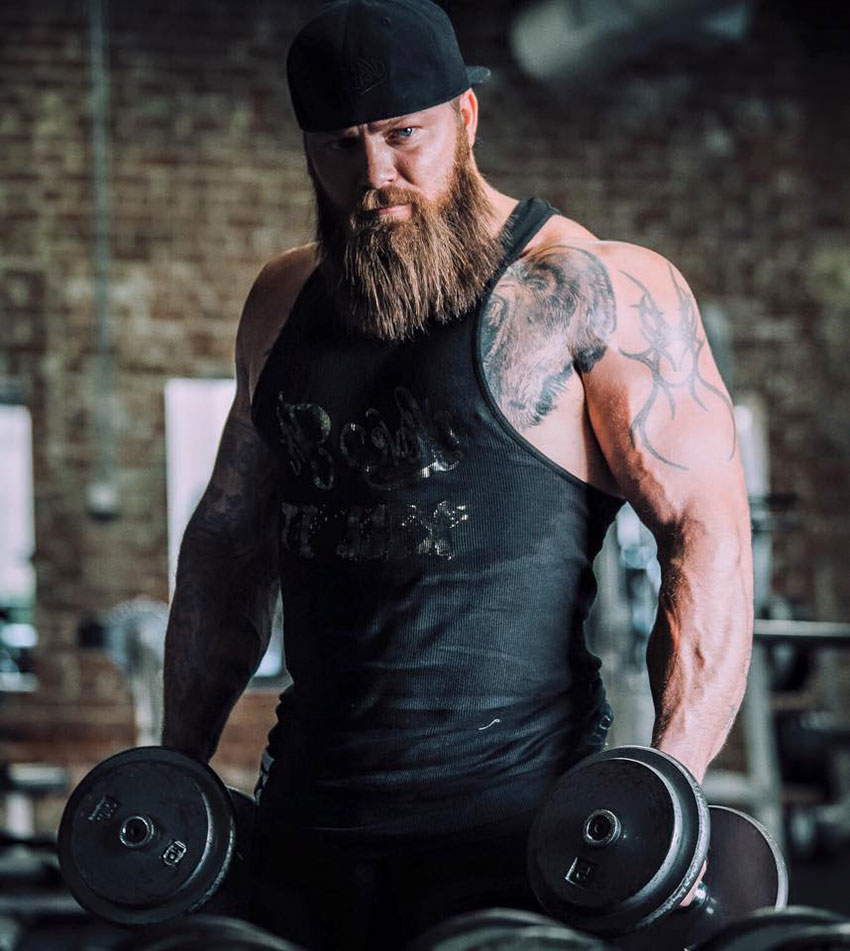 KC Mitchell
Powerlifter, Sponsored Athlete, US Army Veteran, Influencer, Motivational Speaker
KC Mitchell otherwise known as 'That 1 Leg Monster', started off his fitness journey from an early age. He turned to competitive sports including wrestling, cage fighting and American football to embrace his athletic lifestyle. But later in his life, things took a turn for the worse.
While on duty in the US army in 2010, KC sustained life-changing injuries that meant his left leg had to be amputated. This had a devastating impact on KC – who had to deal with depression and anxiety, where he turned to a life of alcohol and drugs in order to cope.
However, KC was eventually able to overcome his darkest days through sheer hard work and determination. He rediscovered his love for fitness, eventually becoming a success on the powerlifting stage.
Here is his story:
---

Athlete Statistics
Full Name: KC Mitchell
Weight
Height
Year of Birth
Nationality
235 - 245lbs (106.6 - 111.1kg)
6' (183cm)
1986
American
Profession
Alias
Era
Powerlifter, Sponsored Athlete, US Army Veteran, Influencer, Motivational Speaker
That 1 Leg Monster
2010
| | |
| --- | --- |
| Weight | 235 - 245lbs (106.6 - 111.1kg) |
| Height | 6' (183cm) |
| Year of Birth | 1986 |
| Nationality | American |
| Profession | Powerlifter, Sponsored Athlete, US Army Veteran, Influencer, Motivational Speaker |
| Alias | That 1 Leg Monster |
| Era | 2010 |
---

Accomplishments
Career Achievements
Powerlifter
Sponsored Athlete
US Army Veteran
Motivational Speaker
Influencer
Powerlifting Career Stats
American Cup Powerlifting, Los Angeles Fit Expo: 435 lb Squat, 424 lb Bench Press, and 600 lb Deadlift
---

Biography
Fitness Beginnings from An Early Age
Fitness became a part of KC Mitchell's life throughout his childhood, where he began to take part in competitive sports such as American football, running track and wrestling. Because of this, a foundation for his career in fitness was formed.
However, KC highlighted wrestling as the sport that he enjoyed the most. This was due to the important life lessons that he used to keep pushing forward. This included maintaining mental strength, while also remaining dedicated to personal improvement.
Throughout his high school years, KC states that his father was a huge influence. He was the one person that kept him motivated – continually striving to achieve more in fitness. In regard to this, KC stated:
"My Dad was like a stay at home coach. That's who built the way I am, the structure that I have. He always pushed me, always there to give me that drive".
Joining The Army
KC realized from an early age that he wanted to be in the military, just like his grandfather who was a World War II veteran, being a figure that KC idolized. Because of this, KC realized that he wanted follow in his grandfather's footsteps – becoming a soldier just like him.
Eventually, KC began taking the steps to join the Army. He soon found himself moving up the ranks in his military career. As a result, KC was sent out on a year long deployment to Iraq as an infantryman. This was only six months after KC enlisted in the army – emphasizing his dedication to life as a soldier.
However, KC didn't want to leave his days of playing competitive sports behind. It was at this point, he began to take part in cage fighting. This was in addition to his duties in the army – offering him the chance to hold onto his fitness career.
Eventually, KC became a formidable cage fighter. In seven amateur cage fights, KC maintained an unbeaten record – building upon the fighting methods he learned as a wrestler in high school.
Later In His Military Career
Upon the completion of his mission in Iraq, KC quickly re-enlisted. He was eager to take his military career to the next level – he knew that this was the life he truly wanted:
"I was going to make a career out of it. I never would have gotten out".
Fast forward to 2010, KC was deployed in Afghanistan. He had become part of the first striker team – a reminder of how much he had progressed in the Army.
However, KC's time in the military was cut short, when he endured an event that would change his life forever.
The Moment His Life Changed
KC was undergoing a mission in the Kandahar province of Afghanistan, when things took a turn for the worse. The vehicle that KC was driving hit an Improvised Explosive Device (IED), causing him severe injuries.
However, the full extent of the damage caused by the blast became apparent shortly after the device detonated. As a result of the explosion, KC was left with second and third degree burns, a broken right forearm, and on top of that, he had several shrapnel wounds.
Because of his injuries, KC was forced to withdraw from the army. This quickly began to take its toll, as he began to commence on a downward spiral. KC recalls this as one the most difficult periods of his life:
"I was dealing with a lot of depression and anxiety because I was out of the military, didn't have a job, didn't have anything going for me. I thought that after my injury, that was basically the worst situation I could be in, but then the addiction and everything else came in"
Undergoing Surgery
At this point, the severity of KC's injuries meant that he had no feeling in his left leg. Because of this, KC was left with a huge decision to make – having to choose whether to have his injured leg amputated or not.
KC then took some time to think about the decision he was going to make. He was unsure of what to do, as he wasn't guaranteed to ever have full use of his left leg again.
However, KC soon became committed to having his leg amputated. After heavy amounts of surgery, doctors were able to perform the procedure. KC now had to adapt to life with only one leg. This was something that he initially struggled with – battling against personal confidence issues.
Eventually, KC was determined to turn his life around after becoming disillusioned with the way he was living his life. Soon enough, he found fitness once more.
---

Rediscovering Fitness
KC began taking the steps necessary to reignite his fitness career. He wanted to build strength and lift heavy weights – powerlifting was the perfect sport to achieve just that.
However, KC was self-conscious about his amputated leg. Throughout this time, he was worried about people starring at him when he began training in the gym, so he wore sweatpants initially.
Eventually, he was able to overcome insecurities about his body, accepting who he was. KC was now motivated more than ever – rediscovering his love for fitness. With regard to this, KC stated:
"I started training even more and posting the videos on social media, and the return on people just being inspired, shocked, motivated by the stuff I was doing made me thrive and want to do even more, to get bigger and stronger".
Soon enough, he was able to start gradually increasing the weight he was lifting. After making substantial progress, KC wanted to take his move onto the next level – he then turned to the powerlifting stage.
Starting Out Competing
KC attended his first competition as a powerlifter in January 2017, at the American Cup, Los Angeles Fitness Expo. This was a tremendous achievement for KC – going down in history as the first amputee to compete in a full powerlifting competition.
However, KC's road to success in the competition didn't come easy. KC hit a roadblock when he was preparing for the competition. He sustained a hip injury and severe infection on his amputated limb.
This caused him a heavy amount of discomfort. He was in so much pain that he could have been forced to withdraw from competing. But, KC didn't let this stop from him attending the competition.
By fighting through the pain, KC was able to achieve great feats in the competition. He was able to lift the following weights: 435 lb Squat, 424 lb Bench Press, and 600 lb Deadlift. This was a remarkable attainment for KC – He used this as a basis to keep pushing forward.
Present Day
After appearing in his first competition in early 2017, KC continued to train with the aim of achieving further success in his powerlifting career. After several months of hard work in the gym, KC became a sponsored athlete – forming a platform to continually push himself to earn great things.
KC hit set-backs along the way which filled his life with negativity. However, his huge strength of character was displayed when he was able to overcome each one of them.
After obtaining his own fitness goals, it's now KC's aim to help others achieve great things in fitness – just like him.
---

Training
As a powerlifter, KC Mitchell focuses his training on lifting heavy weights with low repetitions. This allows him to grow at a fast rate, while increasing the weight he lifts as regularly as possible.
Two workouts that KC follows are listed below:
KC Mitchell Workouts
Chest and Shoulders
Bench Press with Reverse Bands – 385 lbs x 3, 405 lbs x 3, 425 lbs x 3, 435 lbs x 3
Military Press Against Resistance Bands – 185 lbs x 5, 195 lbs x 5, 225 lbs x 5, 235 lbs x 5
Incline Dumbbell Press 120 lbs x 5, 130 lbs x 5, 140 lbs x 5
Dumbbell Lateral Side Raises – 40 reps super-set with Dumbbell Front Raises – 40, 30, 20, 10 reps
Cable Chest Flyes super-set with Close Grip Cable Press – 4 sets of 20 reps
Legs
Barbell Squats – 405 lbs x 3, 415 lbs x 3, 425 lbs x 3, 435 lbs x 3
Belt Squats – 4 sets of 15 reps
Leg Press
---

Nutrition
KC Mitchell eats a high amount of calories so that he can continually build muscle mass and lift heavier weights. He prepares his meals at the start of the week, aiming to stay on track to obtain his fitness goals.
KC keeps the majority of his food options clean so he isn't tempted to indulge in too many unhealthy foods. Instead, he has an occasional cheat meal for an extra incentive to reach his goals. His diet revolves around the following foods:
KC Mitchell Common Foods
Protein – Chicken, Fish, Steak, Eggs and Whey Protein
Complex Carbohydrates – Potatoes, Sweet Potatoes, Rice, Pasta
Healthy Fats – Avocado, Peanut Butter
Fresh Fruit
Fresh Vegetables
---

Idols and Influences
KC followed an athletic lifestyle throughout his time in high school, taking part in competitive sports such as wrestling and American football. These sports taught KC to always maintain a dedicated mindset, to continually push himself further.
Throughout his childhood, KC idolized his grandfather. He was the one person KC looked up to – making him want to join the army soon after he finished high school.
Eventually, KC began his powerlifting career, but he initially felt insecure about his looks. This threatened to stop him from achieving his full potential in the world of fitness.
However, this is when KC met personal trainers in the form of Gracie Davis and Ed Coan. These are two figures in powerlifting that have achieved success in their careers – encouraging KC to do the same.
---

What we can learn from KC Mitchell
KC Mitchell commenced on a downward spiral as a result the injuries that he sustained while serving in the army. He battled against depression and anxiety, which had a negative impact on his life.
However, he became an inspiration to many people across the world when he turned his life around. KC went down in history as the first amputee to compete in a powerlifting competition. This was a true representation of the determined mindset he had grown up with.
What we can learn from KC Mitchell is, fitness allows you to achieve things you never thought you could, while enabling you to live your life in a positive manner – just like KC Mitchell was able to achieve.