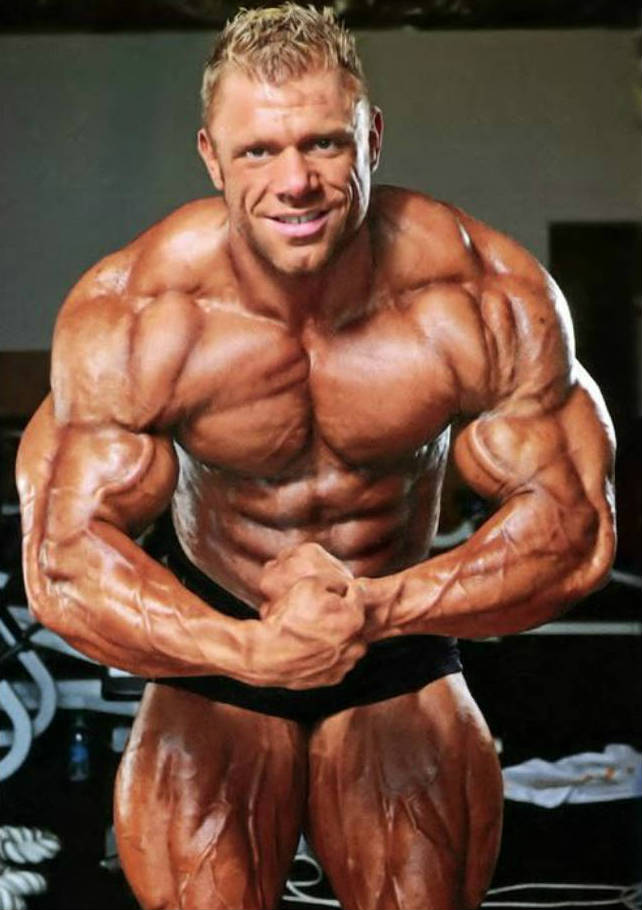 Justin Compton
IFBB Professional Bodybuilder, Sponsored Athlete
Justin Compton is an IFBB Professional Bodybuilder and sponsored athlete from Kentucky, USA. He started lifting weights at just 15 years old, and has risen to prominence as a professional champion and dedicated bodybuilder.
Growing up, he stumbled into bodybuilding when his parents bought some weights for their home. He loved the rapid results he could see after lifting weights. So, he found a training partner and began entering amateur competitions.
The wins he managed to achieve at the amateur level, inspired him to try and turn pro. After several failed attempts, he won his pro card in 2012. Since then, he has been carving out a path for himself in the professional competition circuit. He has gained a large following on social media, and looks to be a name to remember. This is his story:
---

Athlete Statistics
Full Name: Justin Compton
Weight
Height
Age
Date of Birth
215 - 225lbs (93.0 - 102.1kg)
5'8" (172.5cm)
35
May 15, 1988
Nationality
Profession
Era
American
IFBB Professional Bodybuilder, Sponsored Athlete
2010, 2000
| | |
| --- | --- |
| Weight | 215 - 225lbs (93.0 - 102.1kg) |
| Height | 5'8" (172.5cm) |
| Age | 35 |
| Date of Birth | May 15, 1988 |
| Nationality | American |
| Profession | IFBB Professional Bodybuilder, Sponsored Athlete |
| Era | 2010, 2000 |
---

Accomplishments
Competitions
2007 NPC Northern Kentucky 1st place Teen
2007 NPC Monster Mash 2nd Place Junior
2007 NPC Kentucky Muscle 1st Place Teen 5th Place Middleweight
2008 NPC Northern Kentucky 1st Place Teen
2008 NPC Natural Ohio 1st Place Teen 3rd Place Junior 4th Place Welterweight
2008 NPC Cincinatti 3rd Place Junior 3rd Place Middleweight
2010 NPC Kentucky Muscle Novice and Open Overall Champion
2011 NPC Junior Nationals Heavyweight, 2nd
2011 NPC Nationals Place Heavyweight, 13th
2012 NPC Nationals Heavyweight, 1st (pro card)

2013 IFBB Wings of Strength Chicago Pro-Am Extravaganza, 5th

2014 IFBB Europa Show of Champions Orlando, 1st

2015 IFBB Arnold Sports Festival, 3rd

2015 IFBB Arnold Classic Australia, 3rd

2016 Mr Olympia heavyweight, 10th
---

Justin Compton at 16 years old
Biography
Bodybuilding Beginnings
Justin grew up in the small city of Mount Sterling, U.S.A. His first taste of bodybuilding came, when he started using the exercise equipment his parents bought for their home gym.
He instantly took to the sport, and started reading about nutrition and bodybuilding everyday. He found a training partner in high school, and the two young teens began to compete in amateur shows in 2007.
College And Bodybuilding
Justin prided himself on his effort in the gym, as well as his work in the classroom. He worked extremely hard in his final year at high school – managing to land a place on an engineering course at Moorehead University.
While he enjoyed learning about engineering, the passion he had for competing and weight training never left him. As a result, when he graduated from college, he began to train with the idea of going pro.
Meeting Hany Rambod
Justin says that "having a coach can go a long ways,"and luckily for him, he met Hany Rambod in 2011. Justin was dedicated to entering the NPC Nationals that year, and Mr Rambod was well known to him as a successful coach of multiple Mr Olympia's.
Hany and Justin worked together for a short stint before the competition. He also worked with another coach called Fakrhi Mubarak, and while he landed a strong 2nd place position at the Junior Nationals, he only managed to place 13th at the senior championships.
This did not deter Justin however, and he became more determined to work twice as hard in preparation for the following years competitions.
---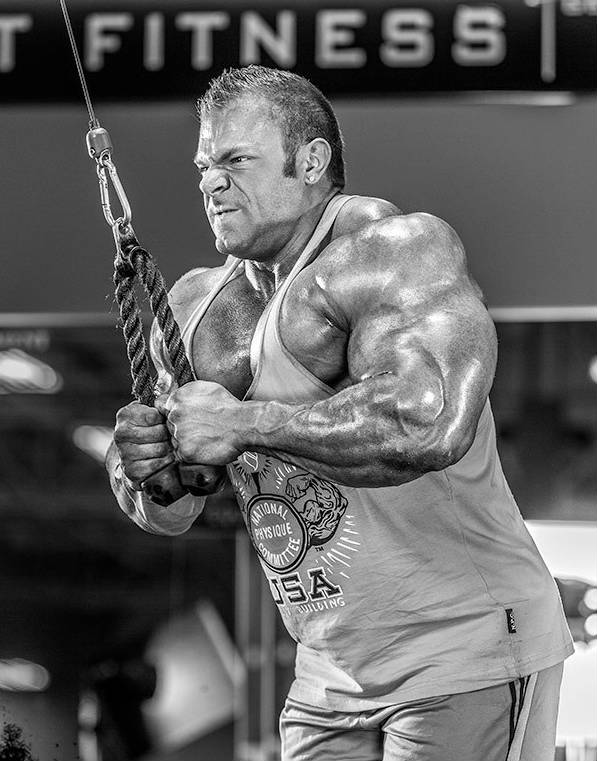 "Dreams can be achieved if you have the mindset and determination to make them happen!"
---
Earning His Pro Card
A year later, Justin decided that he'd learned enough about nutrition and training to enable him to achieve a pro card. He spent hour after hour in the gym, working on his physique and pushing past personal bests, while keeping his diet in check.
When it came to his pre-contest cutting period, he went all out and cut down quickly before the big day. He stepped on stage at the NPC Nationals in 2012 as a relative newbie – but a confident one.
All of his poses were exactly how he planned in his training – he managed to win the first place position.
Taking Time Out To Bulk
For Justin, this victory was just the beginning. He decided that in order for him to challenge his professional peers, he would have to gain extra weight. He took two years out from competing, and added significant amounts of muscle mass to his physique while working as a loan officer in his local town.
Due to this increase in size and strength, he managed to attract international attention from fans and professionals alike. He went on to prepare for, and win the 2014 Orlando SuperShow, which landed him a place on Joe Weiders Olympia stage.
He decided the 2016 Mr Olympia would be his new reason for "waking up and striving to be better." In preparation for this show, Justin posed at the 2013 IFBB Wings of Strength in Chicago. The 2014 IFBB Europa Show of Champions in Orlando and two Arnold shows in 2015.
He picked up a first place and two third places from these competitions. He knew he was now ready to stand on the Mr Olympia stage.
Mr Olympia
The chance to stand on the Mr Olympia stage, was something that Justin never expected. He stood with bodybuilding legends such as Phil Heath in the heavyweight category, and felt like he had finally made a mark in the bodybuilding scene.
He landed a respectable 10th place position in the show, and was very proud of his performance. When the show ended, Justin says he knew he had what it would took to be one of the greats.
Around this time, he also got back in touch with Hany Rambod for guidance going forward.
---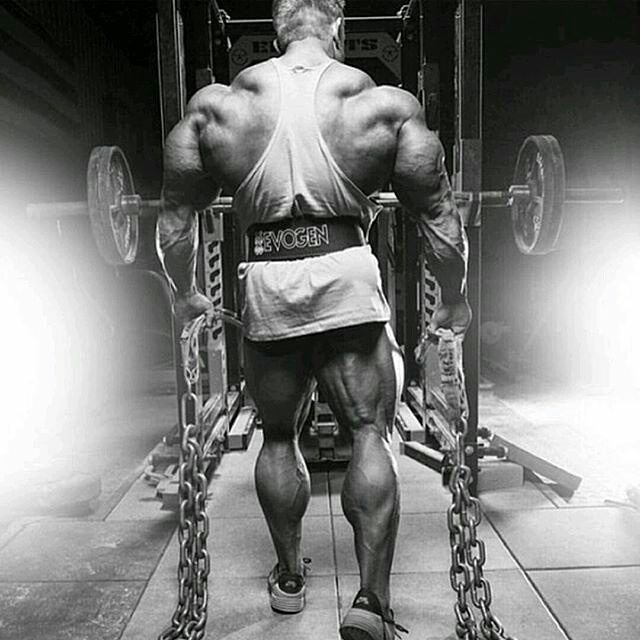 Training
Professional Training
As Justin aims to compete at the highest levels, his training routine is intense and hard-hitting. He splits his week into 7 days of weight lifting, and lifts heavy weights with high intensity.
He also loves to incorporate compound exercises, seeing these movements as the best options for building lean muscle mass. He has introduced drop sets to enable him to keep pushing as hard as he can until the end of the session.
"Every set should be very demanding. Just because the poundage is light doesn't mean the weight is supposed to feel light. It should always feel heavy."
Focusing On His Weak Points
Chest
As Justin started competing at IFBB championships, he began to focus a lot more on his aesthetic proportions. He noticed that his shoulders were becoming larger than his chest, so he worked with his coach to develop a new chest program.
His new idea was to alternate between 4-6 rep sets for one chest session, then 15-20 rep sets for the next. This approach was taken by the famous bodybuilder Tom Platz to stimulate all available muscle fibers. As he introduced it into his routine, he began to see positive changes immediately.
In terms of the exercises incorporated into his workout routine. Justin chose the barbell incline press, strength machine incline press, smith machine flat press, flat dumbbell press, weighted dip, pec deck and cable crossover. His chest workout plan is below:
Hammer Strength Incline Press – (3 sets) (4-6 reps) or 15-20
Smith Machine Flat Bench Press  – (3 sets) (4-6 reps) or 15-20
Pec Deck – (3 sets) (4-6 reps) or 15-20
Weighted Dips – (3 sets) (4-6 reps) or 15-20 (bodyweight)
Back
Justin's back is another area which he believes he has to work especially hard on. The most important change he has made in this regard, is; he now trains his back twice in one week.
He says that "in the first workout I will do more pulling movements than rowing movements, and in the second I'll reverse that." He also stresses that a full range of motion is crucial in each exercise, to properly stimulate the area trained.
He incorporates exercises such as the pulldown, barbell row, T-bar row and machine row. His favorite exercise is the pullover, which he loves because it hits his lats better than anything else, and doesn't work the arms much.
His usual back session is below:
Lat Pulldowns  – (1 set) (20 reps) then (3 sets) (10-15 reps)
Close-grip Pulldowns  – (3 sets) (10-15 reps)
Cable Rows – (3 sets) (10-15 reps)
One-arm Machine Rows – (3 sets) (10-15 reps)
Barbell Rows – (3 sets) (6-8 reps)
---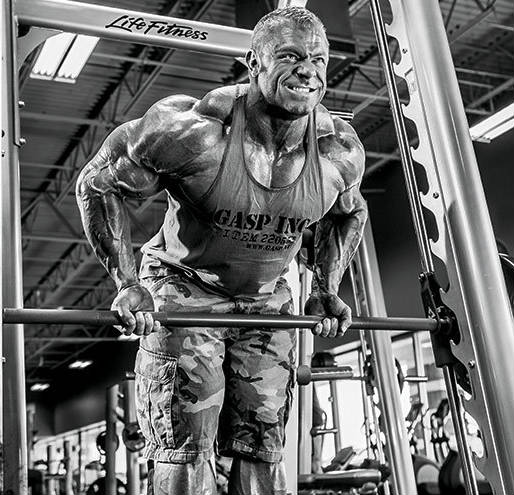 ---
Training Split
 Monday – Quads And Hams
 Tuesday- Chest
Wednesday- Back
Thursday- Shoulders
 Friday- Arms
 Saturday – Chest
 Sunday – Back
Cardio (contest prep)
As well as heavy, intense weight lifting sessions, Justin sees cardio as crucial at the professional level. He spends a lot of time doing cardio sessions before competing. He enjoys using the machines due to their convenience.
Here is his cardio plan:
Monday- Off
Tuesday-Incline Treadmill (45 minutes)
Wednesday- Incline Treadmill (45 minutes)
Thursday- Incline Treadmill (45 minutes)
Friday- Elliptical (45 minutes)
Saturday- Off
Sunday- Elliptical (45 minutes)
---

Nutrition
Learning From His Mistakes
When Justin first started out on his bodybuilding journey, he was admittedly clueless about nutrition. He says that he was "overeating in general," and was eating way too much protein per day for a teenager at 400g per day.
He also says that he didn't really care about what kinds of protein he was eating. He says, for example, that he would eat fried chicken – seeing "chicken as chicken" and knowing nothing about saturated fats.
As he became more serious with bodybuilding, he also began to structure his diet, and include a wide array of healthy options. Such as bodybuilding staples; whey protein shake, and high quality chicken breast.
Here's Justin's diet plan.
First meal upon waking up
1 Scoop Creatine
2 Scoops vitamin blend
1 Lipocide with 1 Liter of Water
First Meal
6 oz. Sirloin Steak
1 Cup Oatmeal
1 Tablespoon of Natural Peanut Butter.
Meal 2
Meal 3
8 oz. Sirloin Steak
1.5c Jasmine Rice
1 Cup of Greens
Pre Workout
Pre workout supplement
BCAA'S
Meal 4
Meal 5
8 oz. Cod
1 Cup of Greens
---

Idols and Influences
When Justin was a teen, he says that his two idols were Jay Cutler and Ronnie Coleman. Around that time, they were battling it out for the Mr. Olympia, so he would keep track of their progress through magazines.
He says that Jay has always been a very approachable man, and because of this, Justin has a lot of respect for him.
---

What we can learn from Justin Compton
Justin's journey to bodybuilding fame was a difficult one. He lost out on his pro card on several occasions, but was not deterred by these defeats and used them to work harder.
He didn't stop working hard towards his goals and eventually in 2012 at the NPC Nationals Heavyweight, he went on to win the illustrious pro card.
If you have a fitness goal, it may be useful to focus on what you are doing now. Loosing several times in order to reach your goal (like Justin), will only make the victory more prestigious when you achieve it.