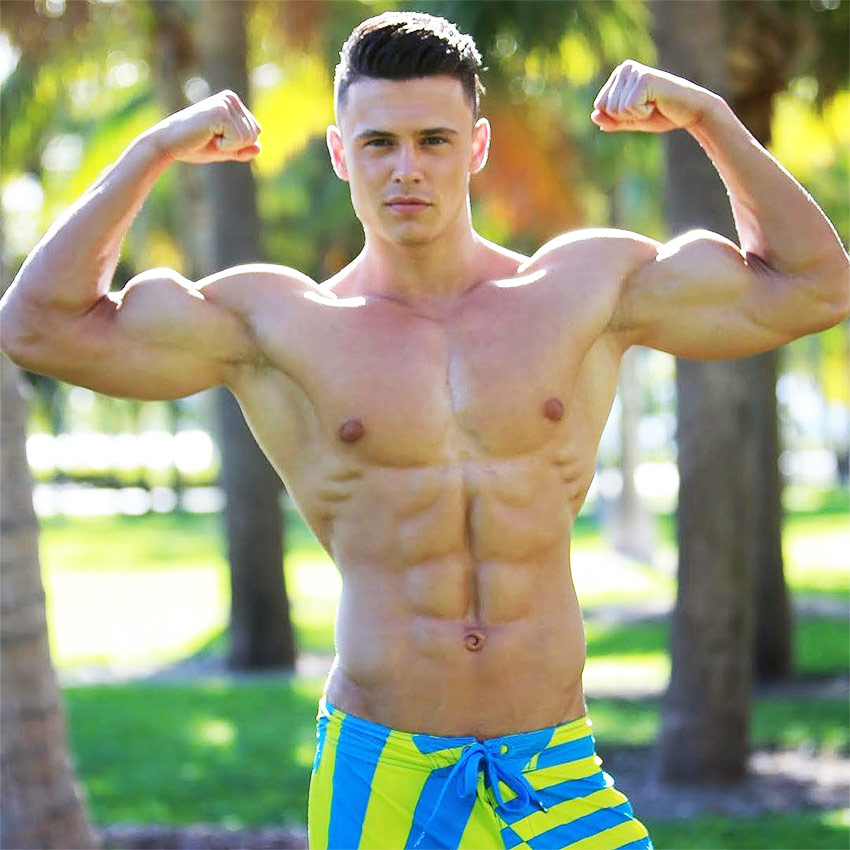 Johnny Steinbach
Bodybuilder, Fitness Model
Born in 1995, Johnny Steinbach is a bodybuilder from Germany. He aspired to become a professional ski racer as a child, but turned his attention to bodybuilding after growing to love the sport.
Since he began competing in 2015, Johnny has won 2 competitions – and sculpted an impressive physique during his fitness journey.
This is his story:
---

Athlete Statistics
Full Name: Johnny Steinbach
Weight
Height
Year of Birth
Nationality
205 - 215lbs (88.5 - 93.0kg)
6'2" (188cm)
1995
German
Profession
Era
Bodybuilder, Fitness Model
2010
| | |
| --- | --- |
| Weight | 205 - 215lbs (88.5 - 93.0kg) |
| Height | 6'2" (188cm) |
| Year of Birth | 1995 |
| Nationality | German |
| Profession | Bodybuilder, Fitness Model |
| Era | 2010 |
---

Accomplishments
Competition History
2016 MP World Championships Junior Pro Fitness Model – 1st Place
2015 NPC Southern States Men's Physique Teen – 1st Place
2015 NPC Southern States Men's Physique – 11th Place
---
Biography
Early Years
Born and raised in the fatherland, Germany, Johnny began his fitness journey at the age of 16; training in his small gym at home.
However, his passion was skiing, and he'd been practising since he was 3 years old. At this point, Johnny was focused on becoming a professional ski racer.
---

---
Bodybuilding
At the age of 18, in 2015, Johnny chose to leave his ambition of becoming a professional ski racer behind; he found it increasingly hard to practise while studying, due to not living in the mountains.
By this point, he'd been developing his physique for 3 years, and made great strength and size increases in the gym. However, he only had access to a barbell, and a set of light weights.
After outgrowing the weights in his home gym, Johnny decided to join his local gym; in order to train with better equipment.
---

---
First Competition
Over the next year, Johnny made the most of his new gym membership and trained rigorously. Towards the end of 2015, he'd managed to sculpt an awesome physique.
Taking a keen interest in fitness, Johnny was fascinated by bodybuilders, such as Arnold Schwarzenegger. He became inspired to compete as an athlete, and entered his first show that year – the 2015 NPC Southern State, in the Men's Physique category.
Johnny didn't have the dream start to his competitive career, placing 11th – but he wasn't about to give up.
---

---
Success
After making his debut appearance on stage, Johnny was even more motivated to take home a trophy. He dedicated the next few months to improving his body, aiming to bring a better package next time.
It wasn't long until he'd put on the spray tan again, and walked on stage for the second time – at the 2015 NPC Southern States Men's Physique Teen show.
Johnny's determination and will to succeed paid off; he finished the night as the Champion, after placing 1st. But he wasn't done yet.
The German bodybuilder started 2016 impressively – he replicated his success at the end of 2015, by winning the 2016 MP World Championships Junior Pro Fitness Model.
---

Training
Johnny aims to train in the gym at least 6 times per week, to further develop his ambition of earning his Pro Card. The German athlete enjoys training multiple muscle groups per gym session, in reps between 6-8 to improve his strength and size.
Workout Routine
Here's what Johnny's workout routine looks like:
Monday – Chest & Abs
Tuesday – Back & Shoulders
Wednesday – Legs
Thursday -Biceps and Triceps
Friday – Cardio & Abs
Saturday – Wildcard
---

Nutrition
Johnny is an advocate of cutting carbs out, consuming mostly lean proteins and vegetables. However, unlike other athletes, Johnny doesn't allow himself any cheat meals – eating clean and staying in condition all-year-round.
Supplements Stack
Fish Oil
Zinc
Citrulline Malate
Editor tip: Want to know how to 'eat clean'? Check out our guides here!
---

---

---

What we can learn from Johnny Steinbach
Johnny Steinbach has shown us that pure commitment can get you where you want to be. If you really want it, you need to work for it. You're also never too young – or never too old, to get to your physique goals!
By staying consistent with your pursuit to physique happiness, you'll stay motivated and driven to succeed.