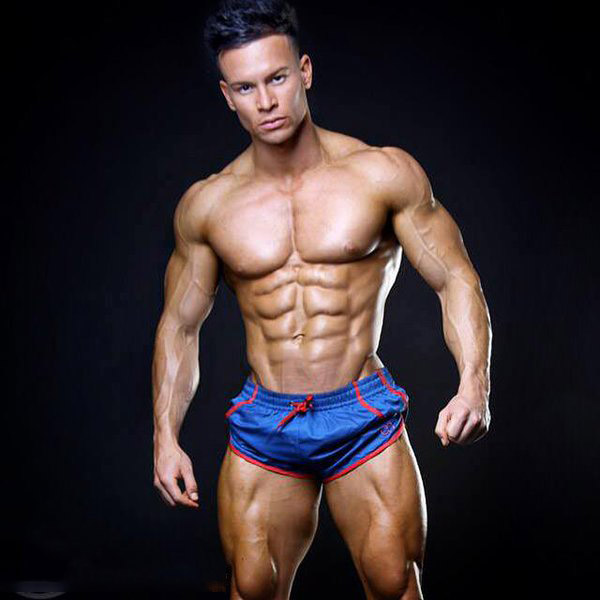 Joel Corry
Bodybuilder, Fitness Model, DJ, TV Star
Being inspired by his father on the tennis court and training in the local gym, Joel's become a professional DJ, Fitness model, and reality TV star. He's known for having one of the best physiques in the fitness and modeling world.
Being determined and focused on achieving more every single year. Winning titles such as the Miami pro 1st place, it's safe to say that Joel's a hard worker and a true inspiration for thousands of people worldwide.
This is his story:
---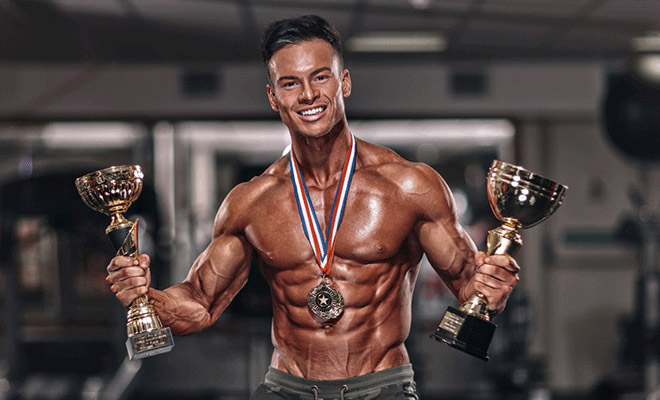 Athlete Statistics
Full Name: Joel Corry
Weight
Height
Waist
Year of Birth
185 - 195lbs (83.9 - 88.5kg)
5'11" (180cm)
28"
1989
Nationality
Profession
Era
British
Bodybuilder, Fitness Model, DJ, TV Star
2010
| | |
| --- | --- |
| Weight | 185 - 195lbs (83.9 - 88.5kg) |
| Height | 5'11" (180cm) |
| Waist | 28" |
| Year of Birth | 1989 |
| Nationality | British |
| Profession | Bodybuilder, Fitness Model, DJ, TV Star |
| Era | 2010 |
---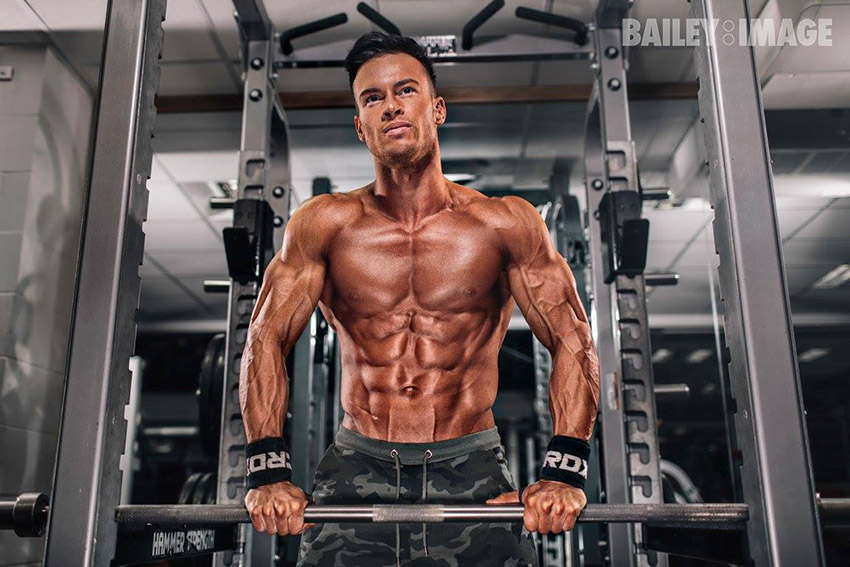 "Balancing my busy touring schedule and competition prep was the hardest thing I have ever done! There were many occasions where I hit breaking point, but I was so hungry to win I just pushed through."
Accomplishments
Miami Pro Overall Fitness Model Champion
Pure Elite Overall Fitness Model Champion
2015 WBFF London – Top 3
2016 WBFF Miami Pro & Elite – Pro Card
---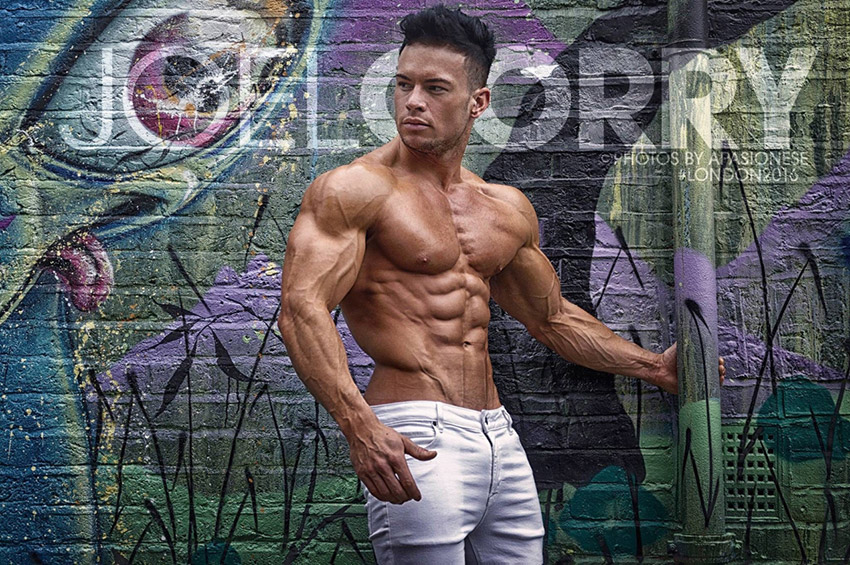 "As a child I loved watching action movies with Arnie or Stallone! Their characters in films such as Commando & Rocky definitely inspired me!

I started hitting the gym around the age of 16, my dad was a manager at a local leisure centre, and so I was able to get free access to the gym! At school I was one of the first boys to start lifting and it didn't take long until I was fully hooked!"
Biography
First Gym Session
Joel's interest in fitness came from his local gym, where his father was the tennis instructor. He started working out at the age of 15 – he enjoyed it so much, that it became a second home to him. Although his father wanted him to play tennis, he preferred working out in the gym.
During high school, he became known as; "the guy with the six-pack." This encouraged him to continue training and prove his schoolmates that he could sculpt an incredible physique – and it paid off.
Joel was also inspired by his action heroes such as Arnold and Stallone. These iconic characters helped him to create his own "action hero body".
After finishing University, Joel managed to land a job with MTV – he was soon featured in a popular British show called Geordie Shore.
This lead to fitness sponsors reaching out to him.
"I was one of the first in my year at school to go to the gym and I was the first one that had a 6-pack, I loved being known as the one that would go to the gym, I finished university and I managed to get a job with MTV . Being featured on Geordie Shore lead sponsors reach out to me."
---

---
Signing Contract's
It was James Kenzie, from the 10-piece UK hip-hop group Blazin' Squad who put him in contact with an athlete manager at Optimum Nutrition. As Joel describes it "it all happened so quickly." He signed the contract the very same night, and the rest became history.
Being in top shape, he knew this was the time to start competing. Joel sought the help of respected trainer, Jamie Do Rego, and began preparing to compete.
His hard work soon paid off, and he went on to win the Miami Pro then pure Elite where he placed top 3 in the WBFF.
---

---
Finding The Balance
It wasn't easy for Joel, as he had to balance a full-time job alongside working as a bodybuilding competitor and fitness model. He was a DJ at night, so that meant he had to cut back when it was time to get ready for a competition or photo shoot.
In the beginning, it wasn't all fitness and music that inspired him, it was marine biology. He enjoyed diving and wanted to become a deep sea diver, but it never happened as he focused his attention on his other two passions.
Pro Card
By 2016, Joel had sculpted an incredible physique. His greatest achievement in the industry came in the 2016 WBFF Miami Pro.
He walked away from this competition with his Pro Card – successfully becoming a professional bodybuilder.
---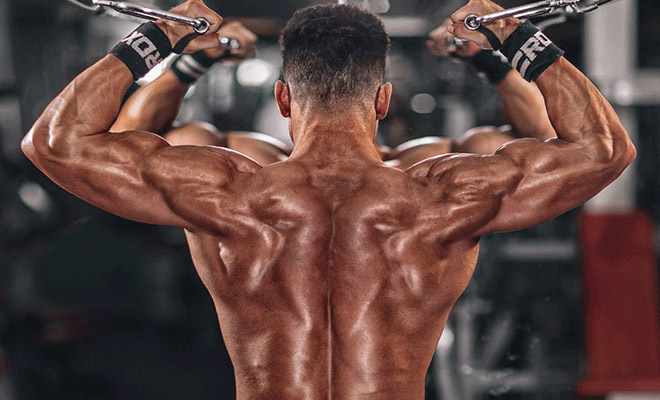 "Being a DJ is still my main job, the athlete side of me is more a hobby. I have to work it around my DJ'ing. Unless I am within a prep, DJ'ing will take a back seat."
---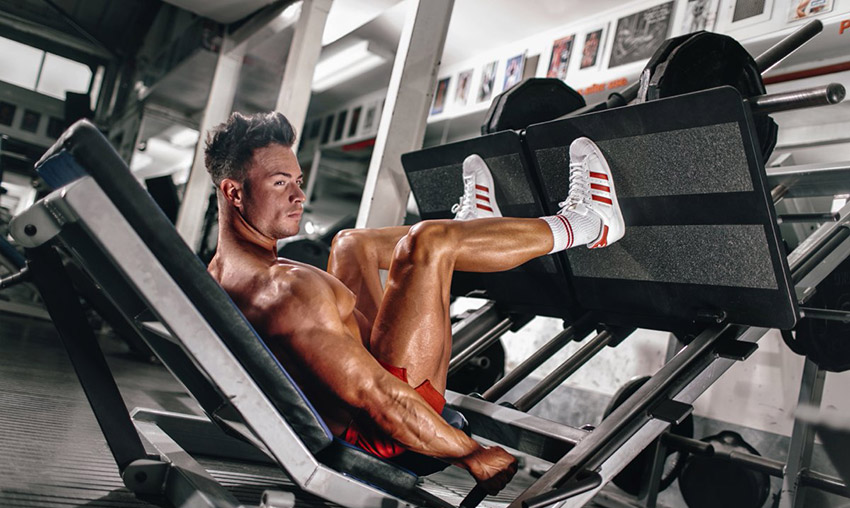 "Everyone hates cardio. Full stop. Don't they? I have a treadmill at home so I do it three mornings a week for 30 minutes. However, I do have a coffee before."
Training
In the running up to training for competitions, Joel recalls training every day for up to three hours at a time. His training sessions were intense, tough and relentless. Along with these grueling gym session, he'd wake up early to perform fasted cardio, this got Joel in great shape.
"I did fasted cardio four or five times a week, which means rolling out of bed to do your cardio before breakfast. I would wake up and do 30 minutes of High-Intensity Interval Training(HIIT). That's a one-minute sprint and two-minute walk non-stop for half an hour. The only thing I would have to stop muscle breakdown is BCAAs because you are catabolic in the morning. It's the most effective time for fat burning before you've had any food."
Joel's Workout Plan
Monday – Chest and triceps and a 15-minute ab workout
Tuesday – Back and biceps and a 15-minute calf or ab workout
Wednesday – Leg day
Thursday – Shoulders, 15-minute ab session
Friday – Arms
Saturday – Rest day
Sunday – Legs + Cheat meal
Joel's weakest area was his legs, but he can now proudly say that he's built his legs into rods of iron. But it wasn't easy, it took hours of tortuous work in the gym. Here's Joel talking about his training routine;
"During my competition prep, I was training legs twice a week, for up to 3 hours a time. My legs were my weakest area, so I was very focused on bringing them up to the level required to win my comps! These sessions were brutal, but they worked! On stage my legs dominated, I had transformed my weakest area into one of my strongest."
Joel's Leg Workout
Exercise 1: Squats
warm up sets 3 x  (20-30 reps)
working sets 3 x  (8-10 reps
pause sets with reduced weight 3 x  (8-10 reps)
Exercise 2: Lunges
3 x working sets (8-10 reps)
Exercise 3: Leg Press (narrow feet)
Start with low weight and increase with every set
1 Set / 50 reps
2 Set / 40 reps
3 Set / 30 reps
4 Set / 20 reps
5 Set / 10 reps
Exercise 4: Vertical Leg Press (wide feet)
3 x working sets (12-15 reps)
Exercise 5: Seated Leg Curl
4 x working sets (12-15 reps)
Exercise 6: Leg Extension
4 x working sets with drop (8-10 reps / drop set 12-15 reps)
Exercise 7: Lying Leg Curl
4 x working sets (12-15 reps)
Exercise 8: Glute Extension
4 x working sets (12-15 reps)
Here's Joel talking about his favorite exercise; 
"Cable cross over. I think it's excellent for the chest. I love it when you see your ripped chest. This is the best exercise for seeing the definition. High reps and low weight will get you the full stretch."
Joel's Cardio
He's not a huge fan of cardio, but he knows the importance of adding it into his training routine to keep the bodyfat low. He'll work out on his treadmill at home three mornings a week.
---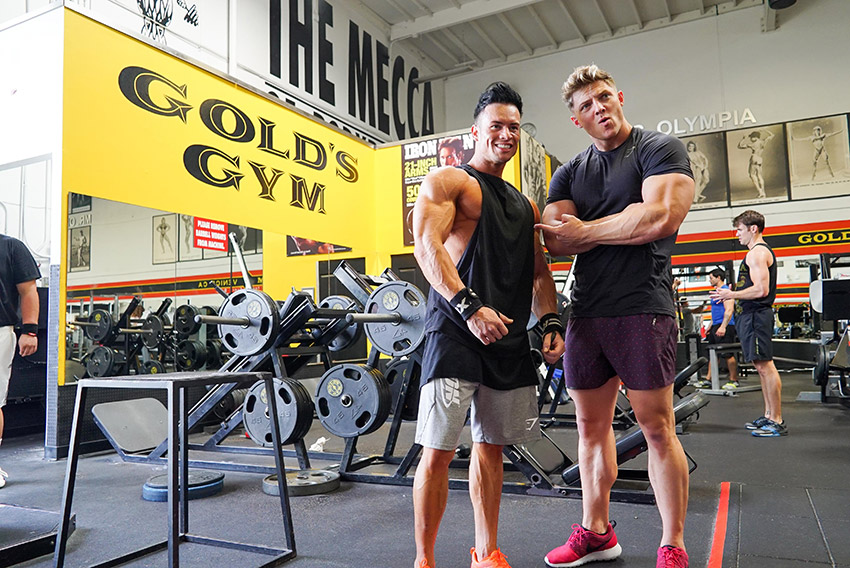 "I don't go crazy on the supplements, I try and keep it to a minimum."
Nutrition
Joel's' nutrition is simple but precise. He likes to focus on having 6 smaller meals a day rather than three main meals, this is what he finds works best for staying lean and energized throughout the day. Here's an example of hs diet that he will often use for competitions.
Joel's Diet
1st Meal – Oatmeal, Blue Berries, Whey Protein
2nd Meal – Lunch – Pre Workout Meal – Mince and Brown Rice
3rd Meal – Post Workout Shake – Optimum Nutrition Hydro Way
4th Meal – Chicken, White Potatoes, and Veg. Maybe Kale or Green Beans
5th Meal – Fish and Veg. I do really like Salmon or Cod but sometimes if I am short on time then I will just have some Tuna.
6th Meal – Greek Yogurt with Hydro Whey
Pre-Workout
BCAA's and Glutamine for pre and post workout drink
Multivitamins in the morning
Protein Power
---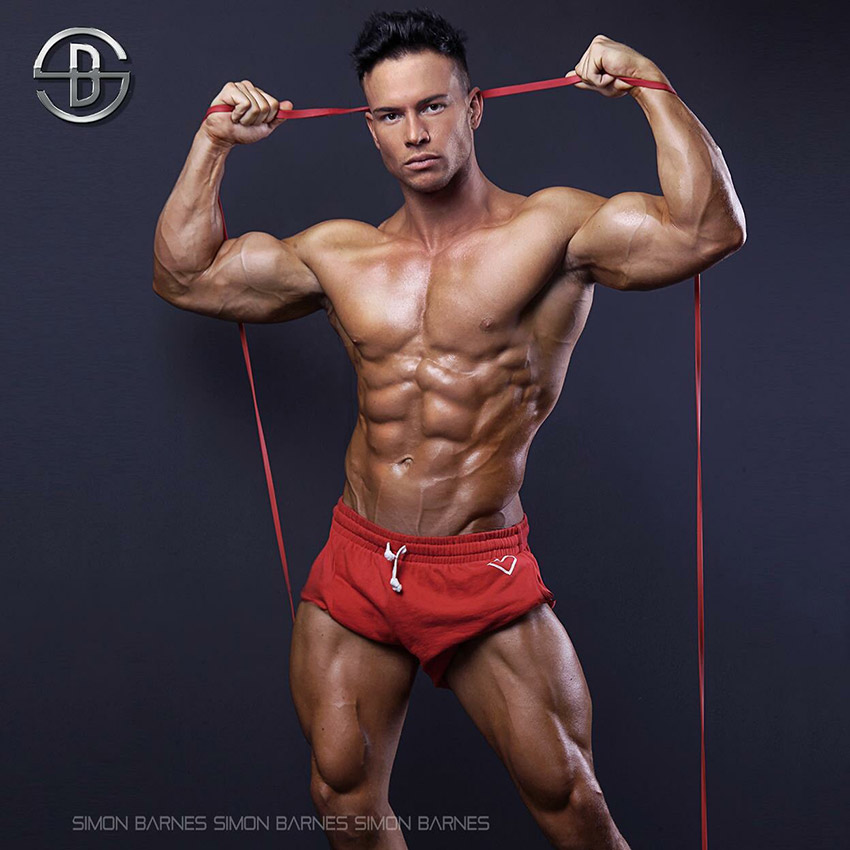 Idols and Influences
Apart from his father being a sporting influence to the young Joel, he found inspiration from his high school friends – he was know as "the fit guy" at school.
This early encouragement pushed him even further. But Joel's also a self-motivated person who likes to set goals and make them happen. Here's Joel talking about what motivates him and why;
"I'm a very self-driven and self-motivated person. I guess I want to be successful which is what drives me. My motivation comes from the inside. I am never satisfied and I always want to improve, I am constantly on the go and I never sit still, I want to keep getting better."
---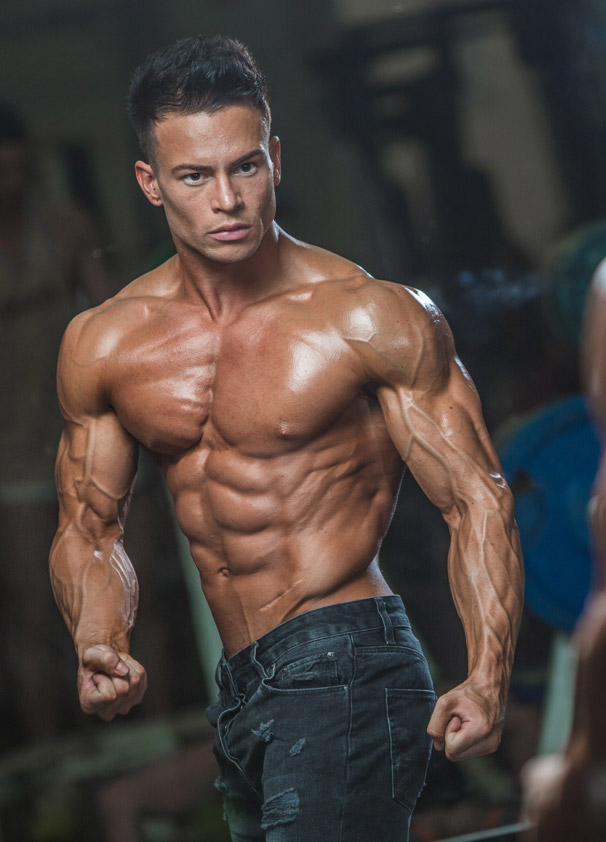 What we can learn from Joel Corry
Joel always had a passion for exercise and creating a solid physique, his drive and dedication took him to the center stage in the bodybuilding world, where he's won the Miami Pro and been featured in numerous magazines.
if we can learn anything from Joel it's "follow your dreams." He's lucky enough to do what he loves for a living, combining the two, DJying and being a fitness model proves that even with a full-time job, working nights and traveling the world, he can still create a physique of greatness.
With the same dedication and perseverance, you too can achieve your goals and make them into a reality.