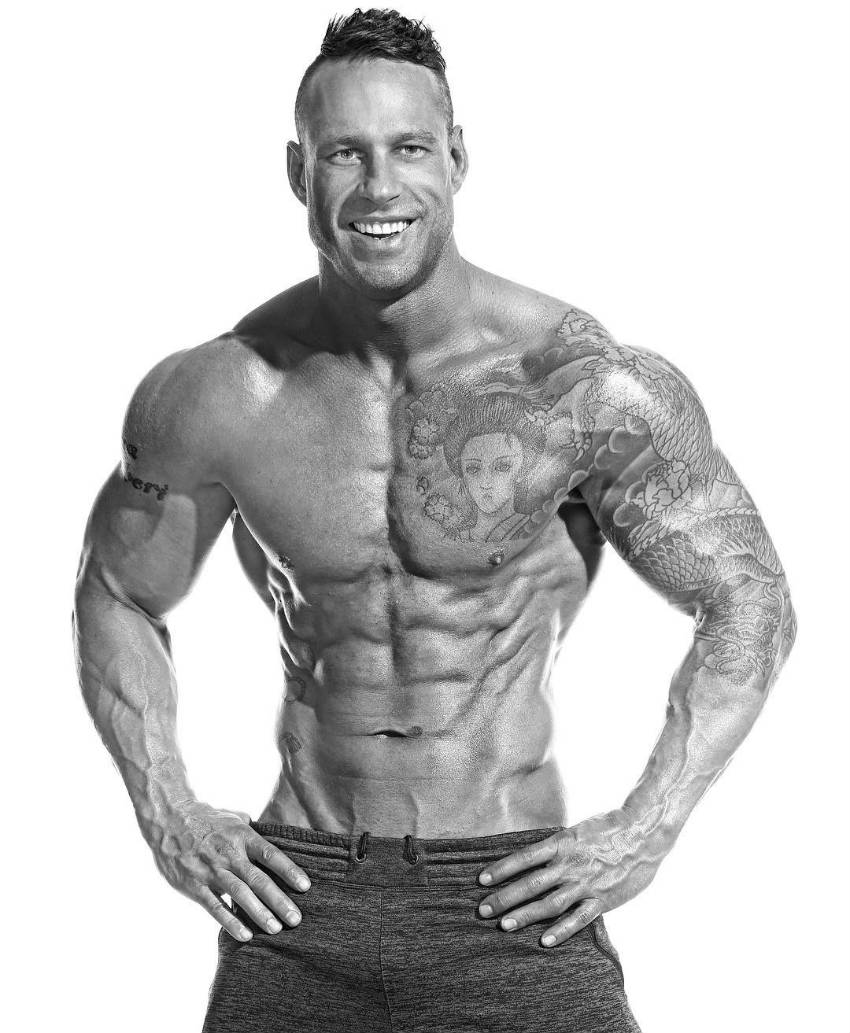 Joe Pitt
Professional bodybuilder, sponsored athlete, personal trainer
Joe Pitt is an Australian bodybuilder, sponsored athlete and personal trainer. He's inspired many people to begin working out through his online training plans, and is respected for his "never say die" attitude to bodybuilding.
Working in the sun-soaked, fitness-mad city of Brisbane, has allowed Joe to gain a large following as a personal trainer. However, bodybuilding wasn't always his main passion. He previously worked as a professional rugby player in England before a knee injury ended his career.
Joe sees himself as an example to older individuals that bodybuilding is for everyone, and that it's never too late to pursue your fitness goals. This is his story:
---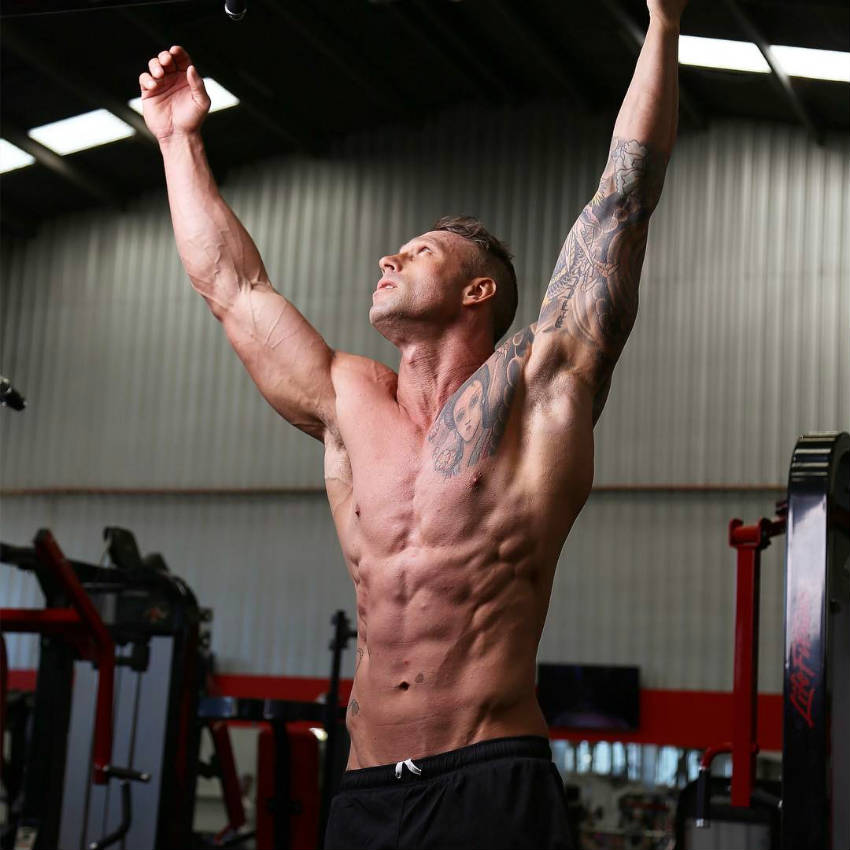 "Creating an positive environment for yourself, can only lead to positive outcomes".
Athlete Statistics
Full Name: Joe Pitt
Weight
Height
Year of Birth
Nationality
205 - 215lbs (88.5 - 93.0kg)
6' (183cm)
1983
Australian
Profession
Era
Professional bodybuilder, sponsored athlete, personal trainer
2010
| | |
| --- | --- |
| Weight | 205 - 215lbs (88.5 - 93.0kg) |
| Height | 6' (183cm) |
| Year of Birth | 1983 |
| Nationality | Australian |
| Profession | Professional bodybuilder, sponsored athlete, personal trainer |
| Era | 2010 |
---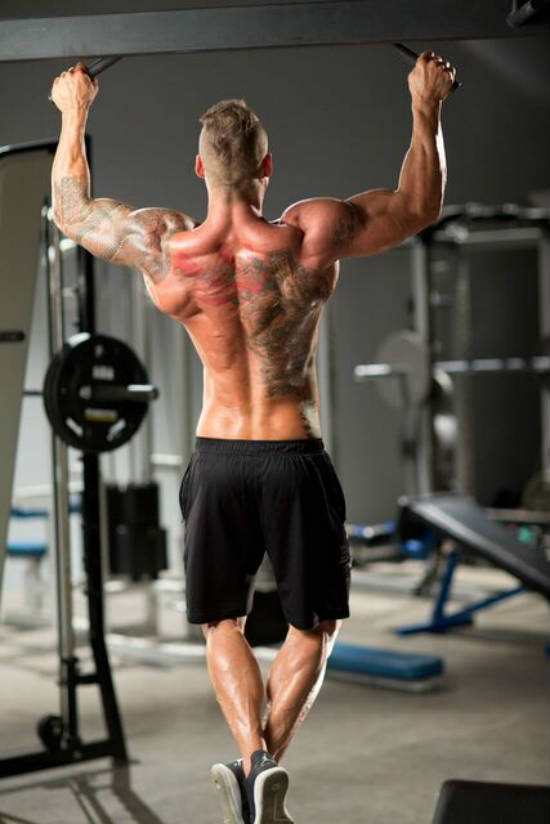 "Your action will always determine your outcome… Hard work will always be rewarded".
Accomplishments
Competitions
2013
Second place at Queensland & National IFBB Men's Physique
2014
Third place at FitX IFBB Men's Physique Pro Qualifier
Competed at Queensland & National IFBB Men's Physique
Third place at Omara Classic IFBB Men's Physique
Career
Professional rugby player
Sponsored athlete
Qualified personal trainer
---

"Change your old habits, and create new healthy and sustainable alternatives".
Biography
Rugby Career
Born and raised in Australia, Joe's first experience of working-out came when he played rugby as an amateur and professional. During his teenage years, he lifted weights in order to improve his rugby skills on the pitch.
After many years of playing rugby in Australia, Joe improved his physique, and technique. Thanks to his hard work, Joe was scouted, at the age of 24, for a team in the United Kingdom –  the Sheffield Eagles rugby club. 
Unfortunately, this career was short lived as Joe suffered an injury to his right knee-preventing him from training. While he says this was "devastating," he saw this period as a minor setback to overcome.
First Steps Into Bodybuilding
Even though Joe couldn't play professional rugby anymore due to his injury, he was still in the gym building a strong physique. However, with Joe's constant training, he was far from being in the best shape of his life. Joe still carried a high level of body fat, which he'd gained from playing rugby.
Despite this excess weight gained from rugby, he knew he wanted to transfer his fitness and nutrition knowledge onto something else. Bodybuilding seemed to be the perfect option.
When he first started training, Joe said he enjoyed the results so much that he became addicted. He started researching weight-lifting techniques, and in his words, "it snowballed from there". 
"I wanted to push myself beyond my limits and encourage others to do the same".
---

Joe's transformation
Competing
After months of hard work in the gym, Joe decided it was time to prepare for his first competition. It was in 2013, at the IFBB Queensland State Championships where he first got the chance to display this awesome physique.
Joe surprised everyone, himself included, when he managed to finish in the top three of his category. Joe said he was "having the time of his life". For Joe, this was just the start of his competition journey.
In 2014, he competed at three more competitions in Australia; the FitX IFBB Men's Physique Pro Qualifier, the Queensland & National IFBB Men's Physique, and the Omara Classic IFBB Men's Physique.
These competitions improved Joe's knowledge of the sport, where he developed an understanding of the training routine required to compete.
Personal Training
With this knowledge, Joe decided to take a break from competing and help others achieve their goals. He began personal training as a full time job, and immediately built a loyal client base in the Brisbane area.
"I now help my clients achieve their goals, both in and out of the gym".
---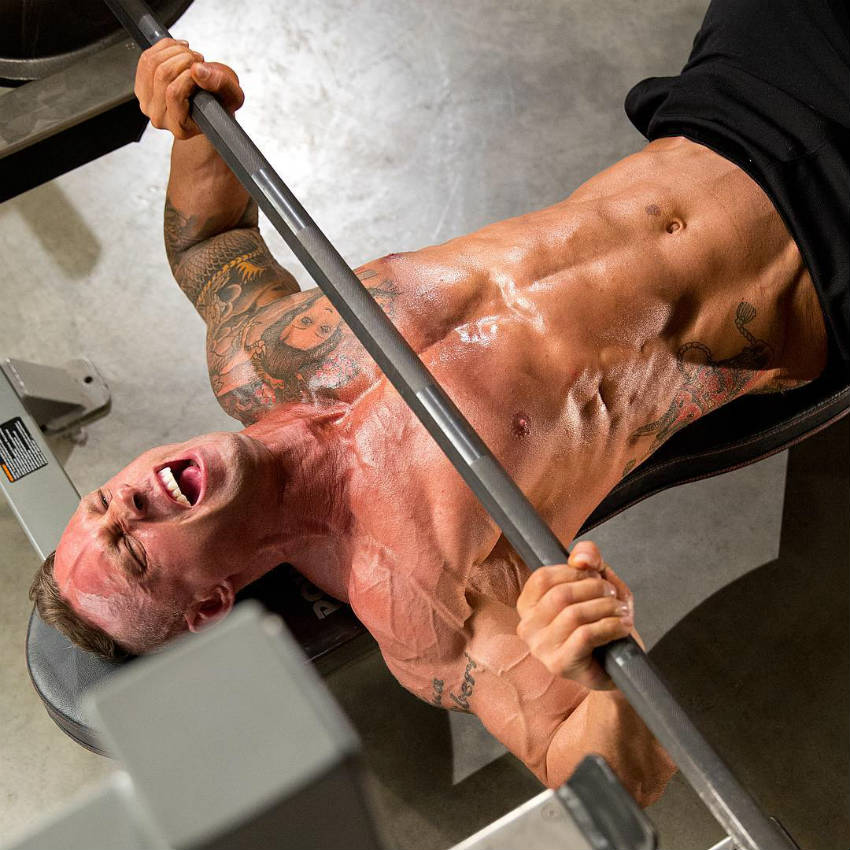 "When I first really committed to wanting to get in shape, I was in 110% and I never made an excuse as to why I wasn't able to train, eat right or do cardio".
Training
Favorite Exercises
Joe's three favorite exercises are the Incline Flye, Bent Over Row and Side Lateral Raise. He loves the Incline Flye because of the the pump it gives him, and he likes the other two exercises because the row builds his back, and the raise helps him improve his shoulder definition.
He sees the Bent Over Row in particular as his "must have," and he believes that it's the "most effective movement" he's come across.
Regular Routine
Joe's regular routine involves three days on, and one day off. He constantly changes the rep range of his exercises so that he doesn't hit plateaus, or become too comfortable in his workouts.
While he admittedly doesn't enjoy cardio, Joe believes the best option for bodybuilders is the spin bike. This machine allows Joe to complete HIIT sessions really easy, while protecting his knee joints.
"Set a goal, stick to it. No BS, just work."
His usual split looks like this:
Quadriceps & Hamstrings
Back & Biceps
Chest & Triceps
Shoulders & Calves
Cardio introduced between the sets
On a typical week his workout plan looks like this:
Monday (Back & Abs)
Wide Gripped Chins (6 sets) (until failure)
Bent Over Row (4 sets) (10 reps)
Lat Pull Down (5 sets) (12 reps)
Seated Row (5 sets) (12 reps)
Rack Pulls (4 sets) (10 reps)
Hanging Leg Raises (4 sets) (15-20 reps)
Weighted Sit Ups (4 sets)  (15-20 reps)
Tuesday (Quadriceps and calves)
Squat (3 sets) (12 reps) (drop sets)
Leg Press (5 sets) (8-12 reps)
Hack Squat (5 sets) (8-12 reps)
Leg Extension (6 sets) (8-12 reps)
1 Legged Leg Press (4 sets)  (16 reps)
Wednesday (Shoulders)
Smith Shoulder Press (4 sets) (8 reps)
Dumbbell Shoulder Press / Dumbbell Side Raise (5 sets) (10 reps) (Super Set)
Wide Grip Upright Row (4 sets) (10 reps)
Handstand Wall Push Ups (4 sets) (10 reps)
Seated Dumbbell Shrugs (5 sets)(8-12 reps)
Dumbbell Side Raises (5 sets) (10 reps)
Thursday (Arms)
Preacher Curls and Cable Pushdowns (5 sets) (8-10 reps) (super set)
Skull Crushers and Rope Pushdowns (5 sets) (8-10 reps) (Super Set)
Incline Dumbbell Curl and Overhead Tricep Extension (5 sets) (8-10 reps) (Super Set)
Barbell Curls and Skull Crushers (5 sets) (8-10 reps) (Super Set)
Friday (Hamstrings and Calves)
Lying Leg Curls (6 sets) (10 reps)
Seated Leg Curls (4 sets) (10 reps)
Stiff Legged Deadlifts (4 sets) (16 reps)
Standing Calf Raises (4 sets) (16 reps)
Seated Calf Raises (4 sets) (16 reps)
Rotary Calf Raises (4 sets) (16 reps)
Saturday (Chest and Abs)
Cable Cross Over and Laying Pull Over (4 sets) (8-10 reps) (Super Set)
Flat Uni Press / Flat Flyes (4 sets) (10 reps) (Super Set)
Dumbbell Flat Press (4 sets) (12 reps)
Incline Flyes (4 sets) (12 reps)
Decline Press (4 sets) (12 reps)
Weighted Leg Pulls (4 sets) (15-20 reps)
Dragon Flyes (4 sets) (15-20 reps)
---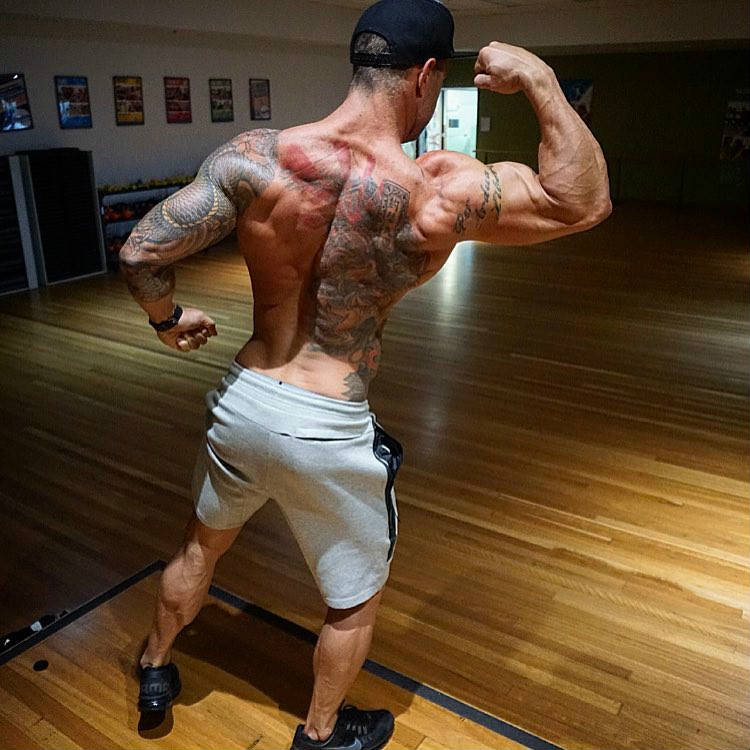 "Standing alone or standing tall there is a big difference, we all need help at some point to move past our plateaus".
Nutrition
While his workouts are constantly being altered, Joe's diet remains consistent year round. He avoids increasing his body fat above 10%, and adds a few more meals each day in the off-season. His diet focuses on the three macros of protein, carbohydrates and healthy fats, and his favorite options are below:
Protein (Chicken, Fish or Turkey)
Carbohydrates (Oats, Rice, Sweet Potato, or Protein breads)
Healthy Fats (Nut's, Avocado, or fish oils)
Joe also has a standard daily diet plan which he turns to when competing. This is it:
Meal 1: 8 Egg Whites, flax seed, blueberries, oats
Meal 2: Chicken, Greens, Nuts, Protein Shake
Meal 3:  Chicken or Fish or Red Meat and Greens
Meal 4: Chicken or Fish or Red Meat, and Rice or Sweet Potato
Meal 5:  Chicken or Fish or Red Meat, and Rice or Sweet Potato
Meal 6: Protein Shake & Peanut Butter (blended)
Supplement stack
Joe also uses supplements to keep his immune system functioning correctly. In addition, he uses supplements to increase his protein intake, and to help boost his energy before a workout. His usual stack is below:
Whey Protein
BCAA's
Casein
Pre-Work Out
Creatine
Fish Oil capsules
Probotics
Glutamine
L-Cartine
---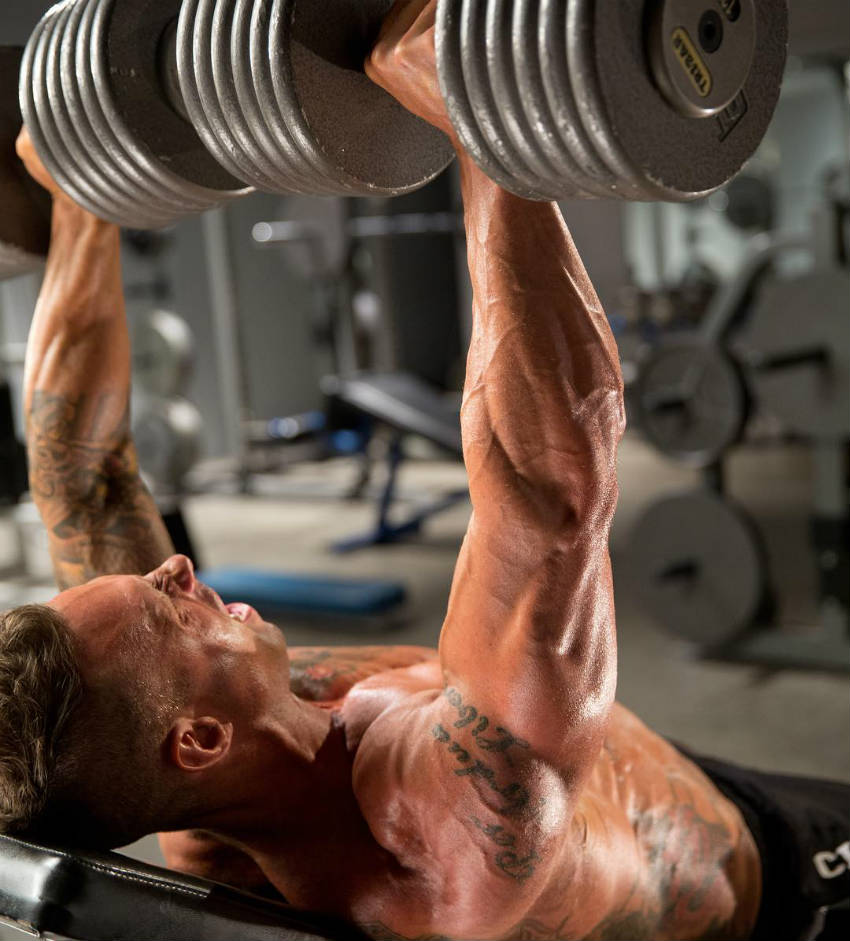 "I am product of the lessons I've learnt and the people who have taught me".
Idols and Influences
Joe said himself that "No matter how much progress you make, you are always chasing someone else". Joe sees Arnold Schwarzenegger and Frank Zane as his heroes in the sport, but he is also inspired by fitness and aesthetic competitors such as Steve Cook, Lazar Angelov and Sadik Hadzovic.
Moving away from bodybuilding legends, Joe is also inspired by his friends, family, and clients progress – finding positive energy in his work. He also wants to look the best he can for his partner and child, which is something that motivates him everyday.
---

"In all honesty, I really enjoy the process of getting there, you have to earn what you're trying to achieve".
What we can learn from Joe Pitt
Joe Pitt's story has shown us that anyone, regardless of their age, can change their lifestyle for the better.
He overcame a serious injury which crushed his dreams of playing rugby as a career, but would not accept this as the end of his sporting journey. He pushed forward into bodybuilding, and became a professional competitor.
His personal training motto is "find the balance", and he proves that a healthy, balanced diet is key to bodybuilding success.