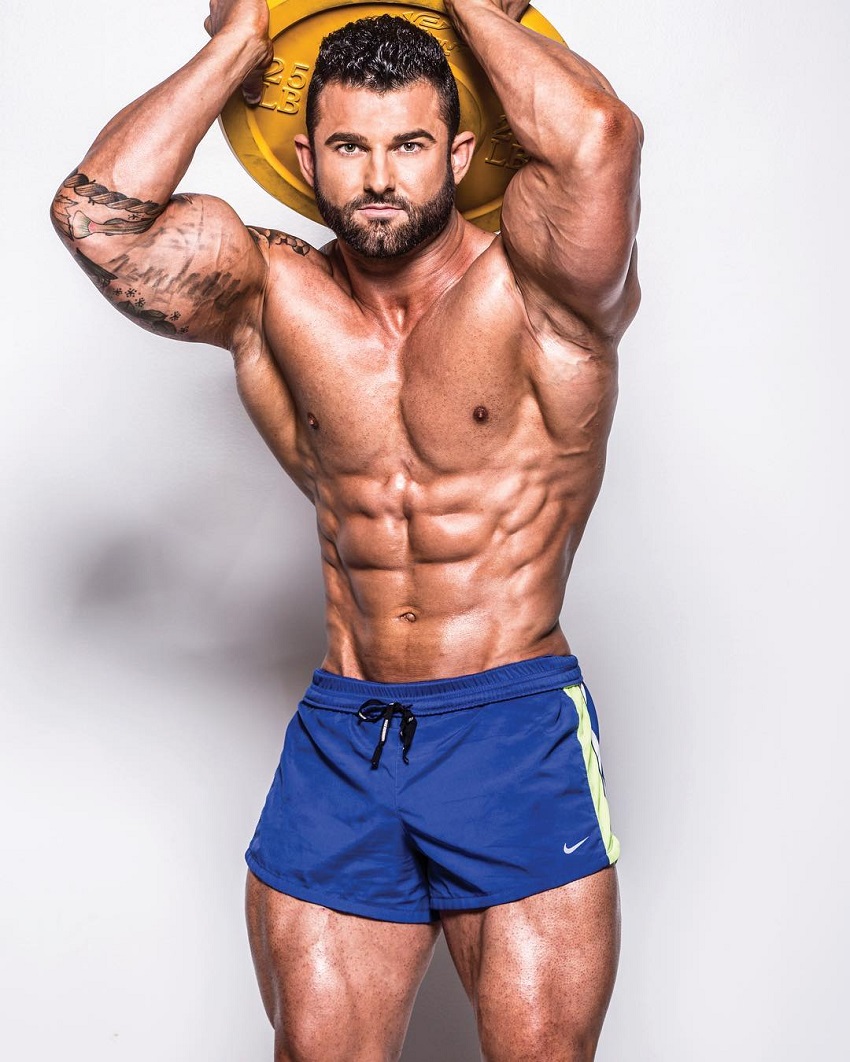 Jase Stevens
Fitness Model, Sponsored Athlete, Lifestyle Coach
Toronto-based Jase Stevens didn't lift weights from an early age, unlike many bodybuilders. In fact, it wasn't until the age of 21 that Jase first stepped into the gym with a goal of improving his physique.
After one year of training and 'testing the waters,' Jase started to dedicate more and more time to his bodybuilding lifestyle. He soon began noticing major signs of progress on his physique; igniting his passion for the lifting sport even further.
However, Jase's road to success in bodybuilding was all but easy. Working 16-hour shifts as a railway communication technician in Canada, he had to move cities every week and constantly prepare meals to eat during his hectic work shifts.
And yet, despite all the obstacles, Jase completely transformed his physique and life during this process. After 4 years of intense training, he began claiming top places in bodybuilding shows across North America. Fast forward to today – Jase is a renowned fitness model, physique athlete, and lifestyle coach.
This is his story:
---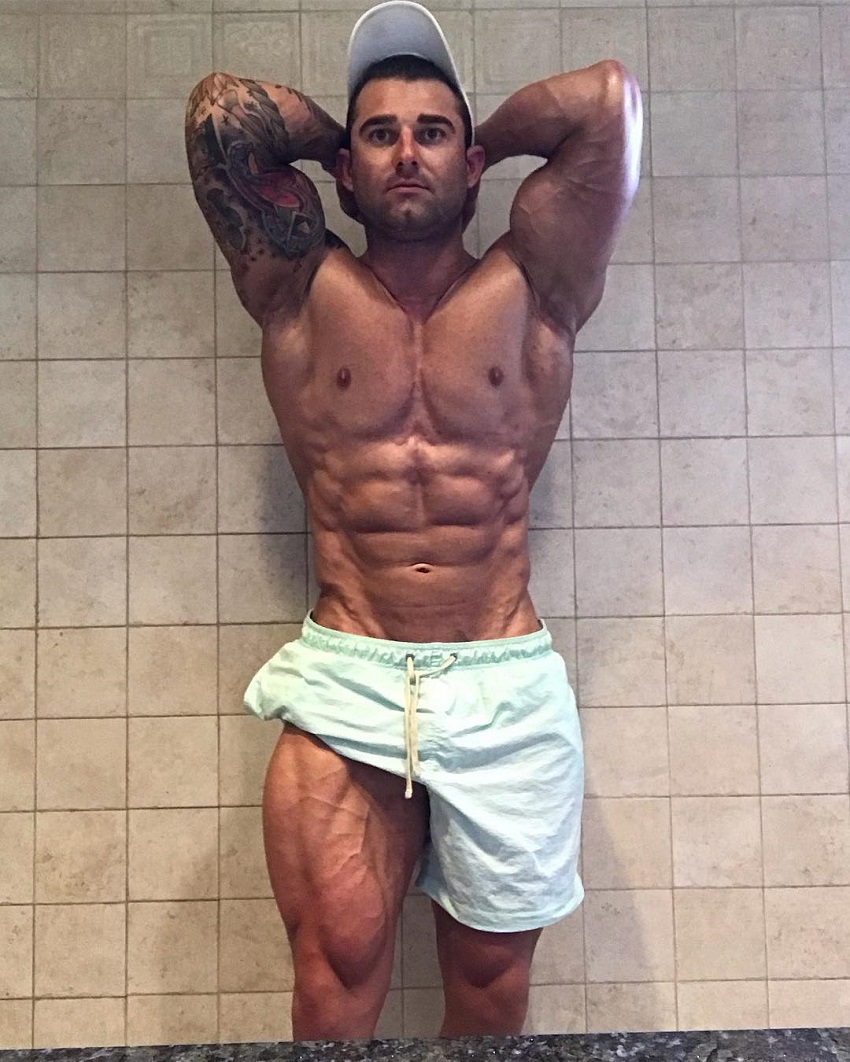 "We need to drop the whole oh I ate badly so now I'm going to punish myself for doing so mentality. That is creating a negative and unhealthy relationship with food, food is not good or bad, you are not good or bad for eating food, you are not a dog!"
Athlete Statistics
Full Name: Jase Stevens
Weight
Height
Nationality
Profession
245 - 255lbs (111.1 - 115.7kg)
6'3" (190.5cm)
Canadian
Fitness Model, Sponsored Athlete, Lifestyle Coach
Era
2010
| | |
| --- | --- |
| Weight | 245 - 255lbs (111.1 - 115.7kg) |
| Height | 6'3" (190.5cm) |
| Nationality | Canadian |
| Profession | Fitness Model, Sponsored Athlete, Lifestyle Coach |
| Era | 2010 |
---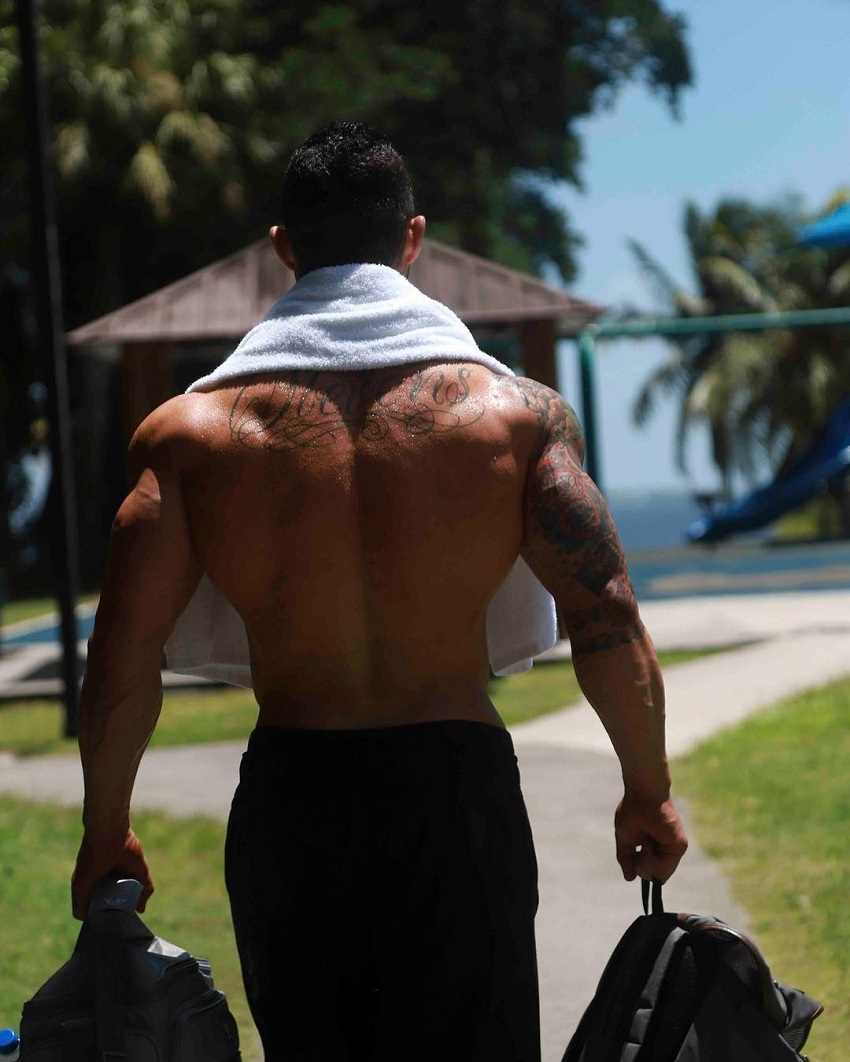 "Let's cut the BS. No one is happy all the time, no one is motivated 365 days a year, we all have days where we feel off or feel down. It's called being human!"
Accomplishments
Fitness Model
Sponsored Athlete
Lifestyle Coach
Men's Physique Competitor
Contest History
2016
IFBB North American Championships, Men's Physique Class F, 4th place
2017
IFBB North American Championships, Men's Physique Class F, 5th place
2018
Caribbean Grand Prix Pro Qualifier, Men's Physique Class D, 7th place
Caribbean Grand Prix Pro, Men's Physique Class C, 6th place
---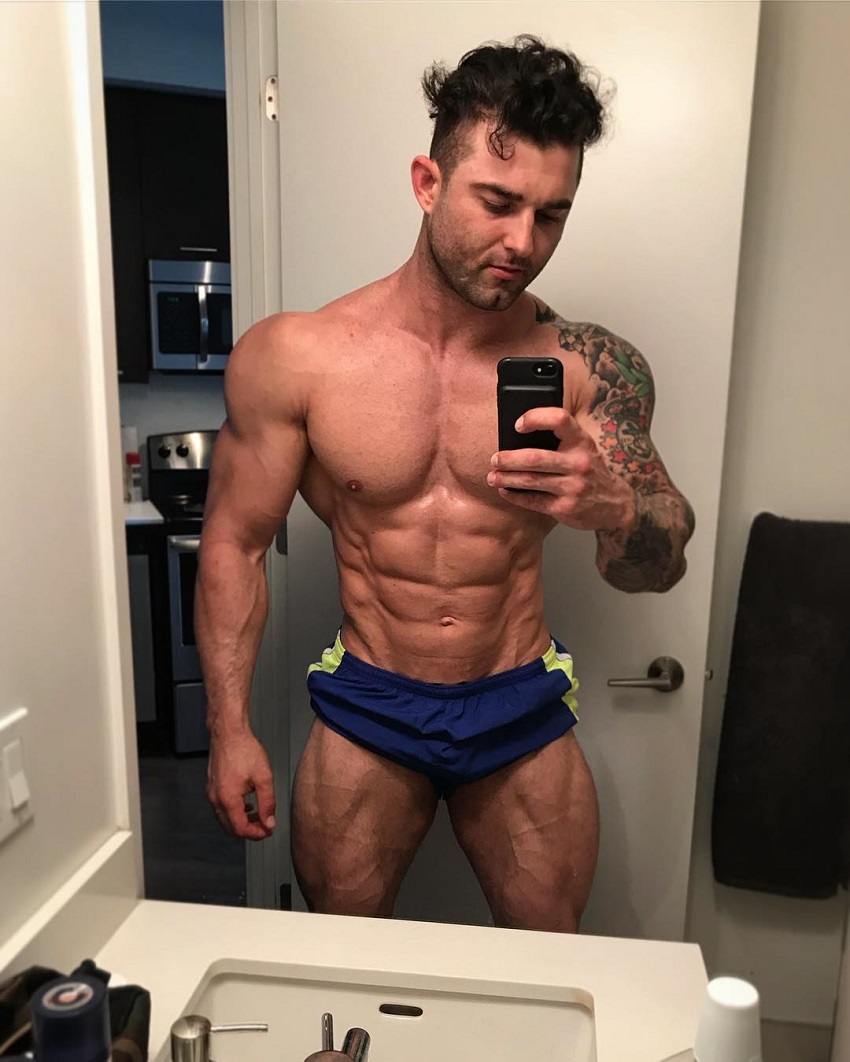 "'Failing' is part of the process, letting yourself be vulnerable to failure and defeat is necessary to growth. People perceive vulnerability for weakness when in reality those that let themselves be vulnerable are the strongest of all!"
Biography
Starting Grounds
Jase Stevens started on his fitness journey at the age of 21. After years of experimenting with various sporting activities in high school, he decided it was time to start going to the gym and improve upon his physique.
Jase's first gym was a local recreation center. He spent one year there, before moving to a more 'hardcore' gym that was not too far away from his home. It was here that Jase's passion for bodybuilding began to emerge.
Fueling His Passion
Spending time around big guys and professional bodybuilders ignited a 'spark' within Jesse; he became motivated to train hard and eat well in order to become a bodybuilder in his own right. Jase also spent a lot of time learning everything he could about proper training and nutrition during this period.
After some time, Jase decided it was time to start competing. But the problem was, he didn't have any money to fuel his passion. As a result, Jase decided to find himself a well-paying job to support his bodybuilding goals.
Eventually, Jase found himself a job; however, one that wasn't very compatible with the lifting lifestyle. In Jase's words; "I was employed by CN, the Canadian National Railway. I worked as a signals and communications technician, and part of the job was traveling non-stop for work.
I've worked in every corner of the province and even outside the province. During this time, I was living out of hotel rooms. I would search up local gyms every week where ever I was and go train at these random gyms just to get my workouts in." – Jase Stevens
---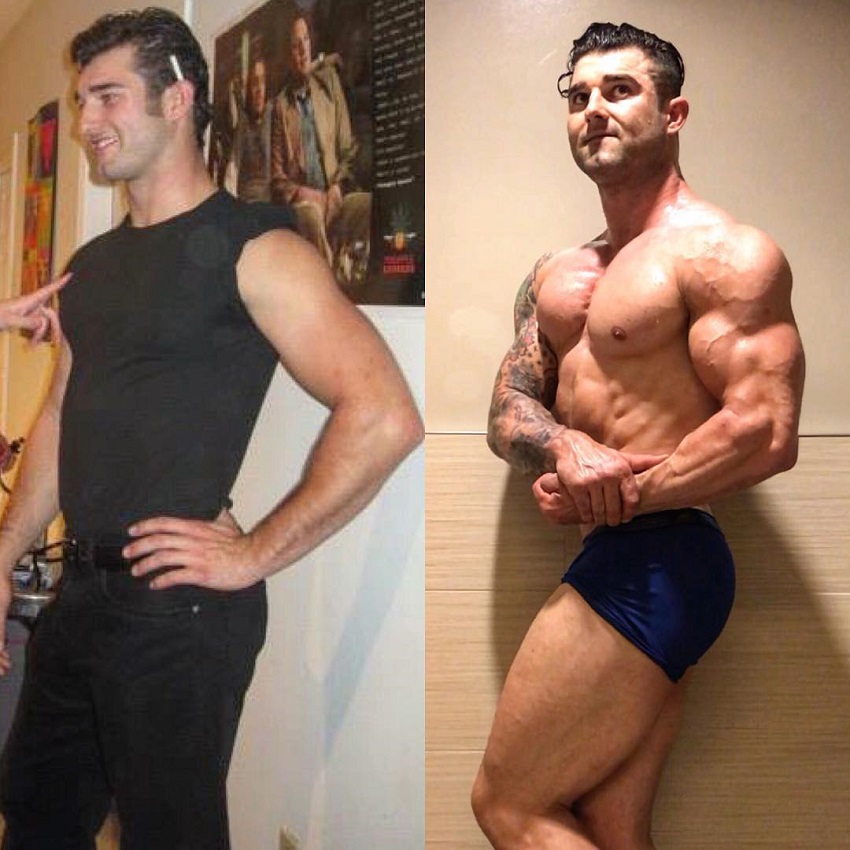 ---
Facing Obstacles
Constantly moving places and having to find a new gym every week was just one of the problems Jase had to face on his bodybuilding journey.
Like any athlete, he also had to watch his diet carefully. Needless to say, this was extremely hard for someone with Jase's job. Trying to get his meals while constantly overseeing the maintenance of railway communications, signals, and equipment was his biggest challenge yet.
"I would bring around cooking supplies with me wherever we were, which included hot plates, portable BBQs and Tupperware. I would either buy food, put it in a cooler and bring it to the city we were working in that week, or go shopping after work at the local grocery store."

"Once I had my food, I would meal prep all my food for the week in my hotel room using the microwave and hotplate/portable BBQ. Every week I would have to pack up my life, drive to a new city, unpack, find local gyms, meal prep, and train – all on top of working 10- to 16-hour shifts days and nights!" – Jase Stevens
Four Years of 'Insanity'
Jase's lifestyle of constantly moving gyms and having to fit in meals in his 16-hour daily work schedule lasted for four years.
Needless to say, this kind of challenge was something not everyone could push through. But Jase did. He persevered through the obstacles and achieved awesome results in the process.
It was during these four years of the daily grind that Jase carved out his stage-ready physique. The reward for his hard work came in 2013 when he took part in the WBFF Montreal Pro. He said; "I got into the best shape of my life during this insane period, and I placed a very close second behind my friend Dylan Thomas."
Ever since then, Jase has been on the rise in the bodybuilding world, and has continued to achieve top placings in bodybuilding shows across North America.
---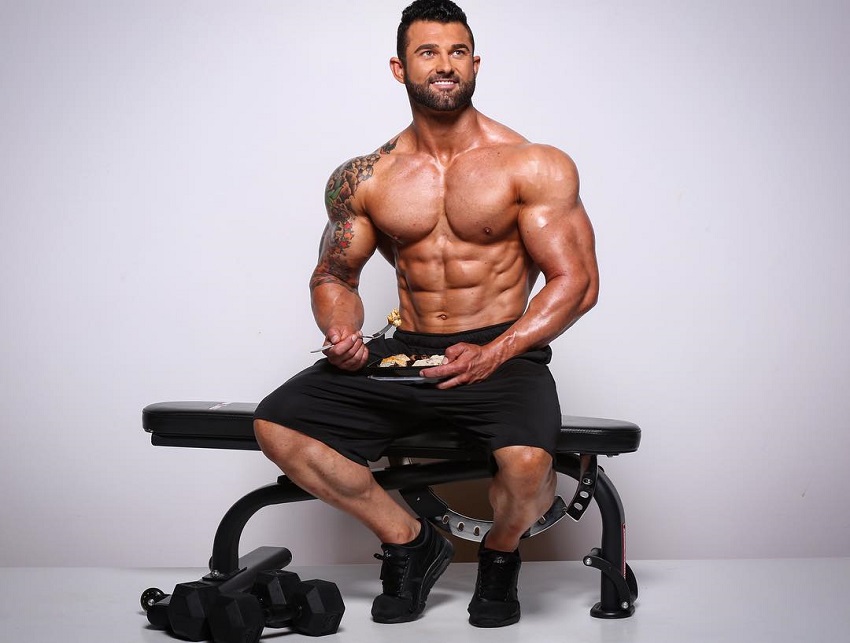 "If you do bodybuilding solely because you want to win a show, you're going to hate your life and you'll never last. I do this to push myself to new limits…"
Training
Weekly Training Routine
Jase trains seven days per week, doing cardio and strength training.
He lifts weights five times per week to sculpt his muscles, along with running on a treadmill on the weekends to stay lean.
Here's how his weekly training routine looks;
Monday:
Tuesday:
Wednesday:
Thursday:
Friday:
Saturday:
Sunday:
---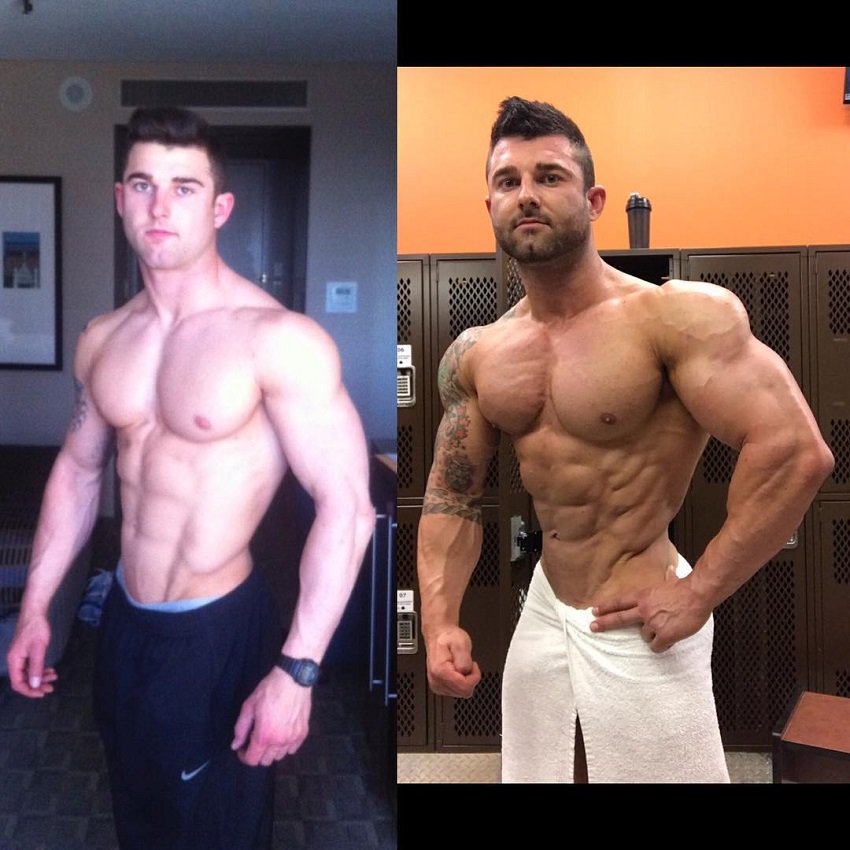 "Embracing every second of every day, enjoying the process, feeling every rep, taking every set where it needs to go. This has to be about more than winning and the only way that happens is when you love what you do and embrace the process!" 
Nutrition
Daily Meal Plan
Jase Steven consumes a lot of proteins to keep his muscles lean and ripped. Specifically, he'll have about 325 grams of protein every day.
In terms of carbs, Jase eats them around his workouts to fill his muscles with glycogen.
He eats most of his fats for breakfast. This includes some almond butter and whole nuts. In the evening, Jase might also eat several organic whole eggs, which are rich in healthy fats.
Here's what Jase Stevens eats in a day when he wants to stay ripped;
Meal 1:
Whey, liquid egg whites, almond butter, and oats.
Meal 2:
Either chicken, beef, turkey or fish, with either rice or potato and green beans or asparagus.
Post Workout:
1 Post-workout shake; 2 scoops of whey isolate.
Meal 3:
Whole eggs are usually the final meal of the day.
---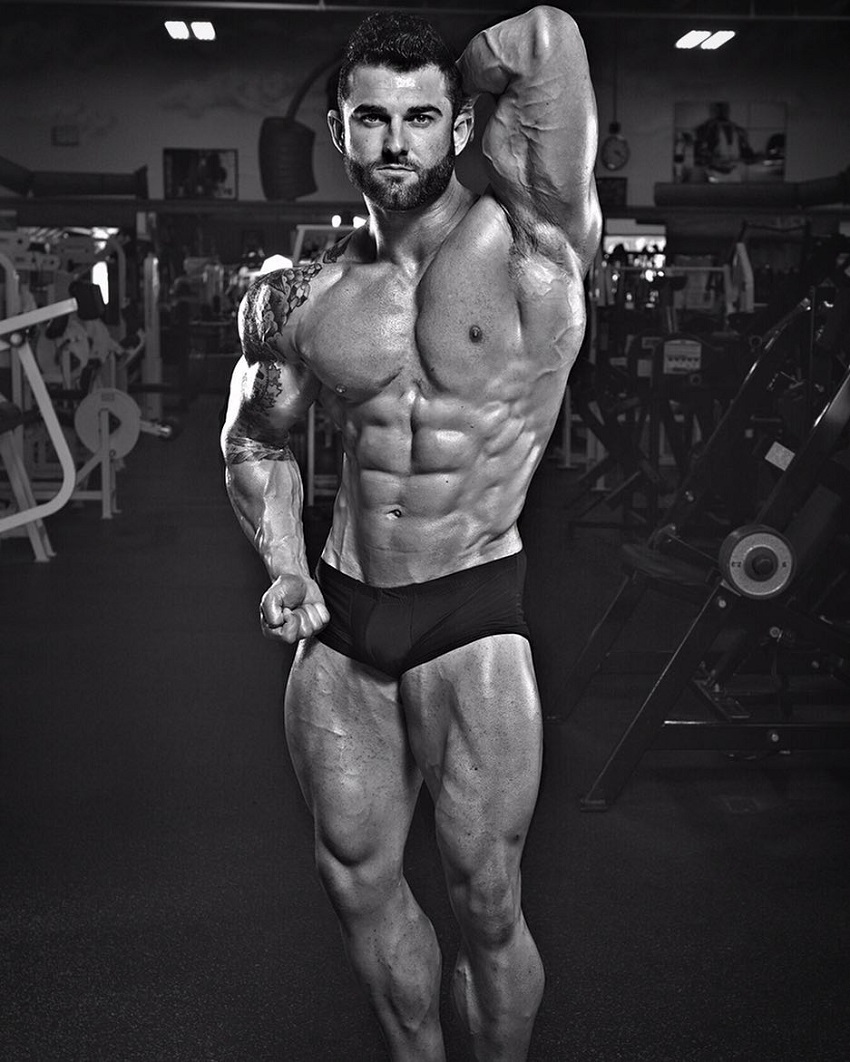 ---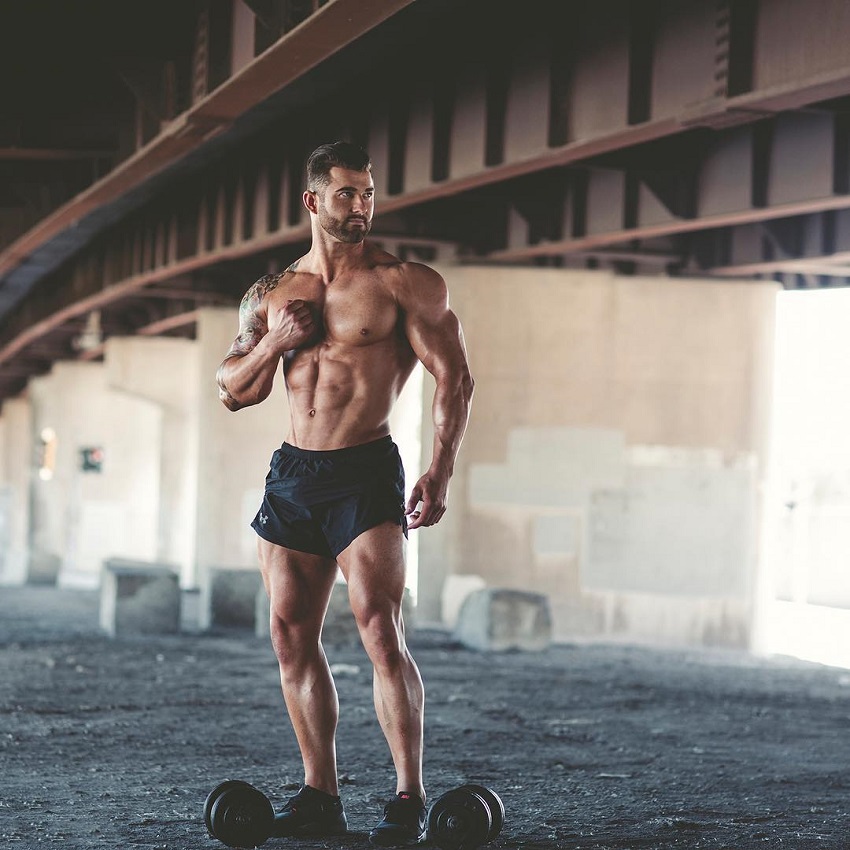 "You'll do more damage stressing out about the food you ate than you would just accepting it and getting back to routine. Put that food to use and crush your workouts."
Idols and Influences
Jase Stevens had to be his own biggest source of motivation for overcoming challenges.
During the times where he worked 16-hour shifts, prepared meals in advance, and changed gyms every week, he had to find strength from within to keep pushing forward.
Thanks to his unrelenting attitude, he achieved an amazing transformation – and placed high in a number of bodybuilding contests in the process.
---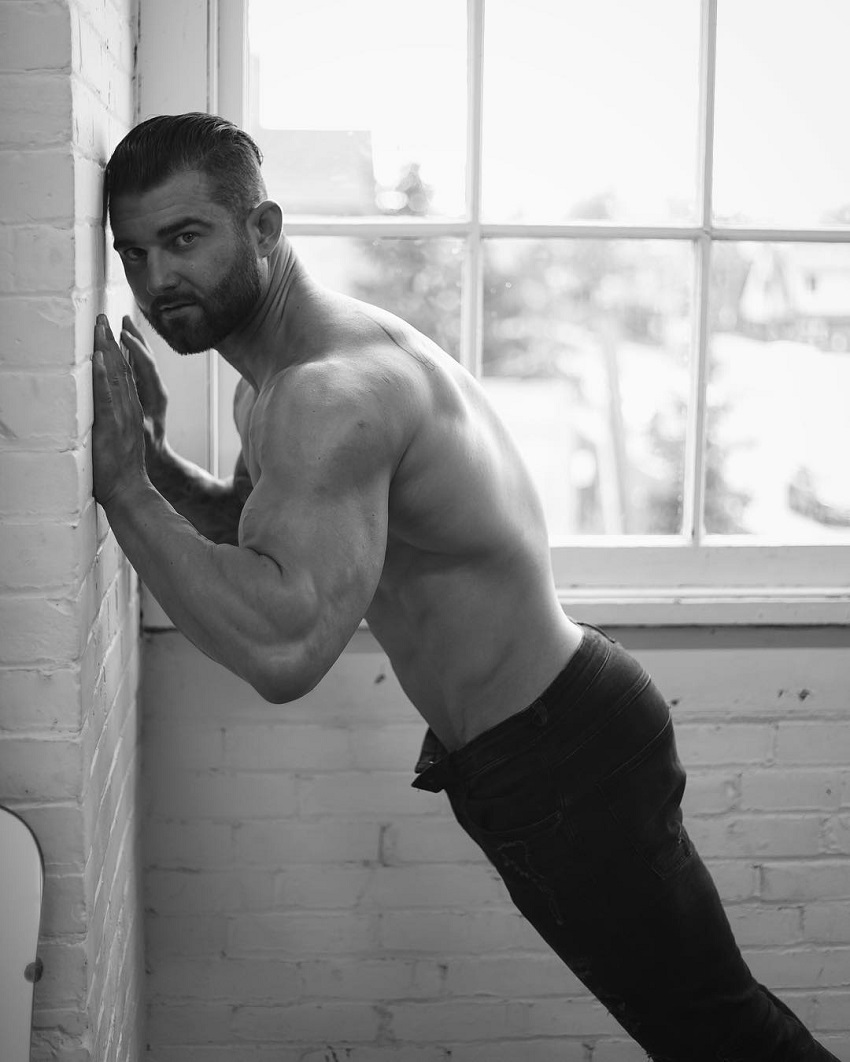 What we can learn from Jase Stevens
Jase Stevens has shown an unmatched drive to make it to the top. Through perseverance and commitment, he's become a renowned physique athlete, lifestyle coach, and fitness model.
Just like Jase, you too can go out and achieve your dreams if you really want them. As we've seen from his example, a journey towards success can be extremely difficult, but with enough ambition, motivation, and passion, nothing is impossible.
As Jase says; "Building your ultimate physique is a long game, there's no rushing it, there's no way around putting in the hard work year after year." – Jase Stevens