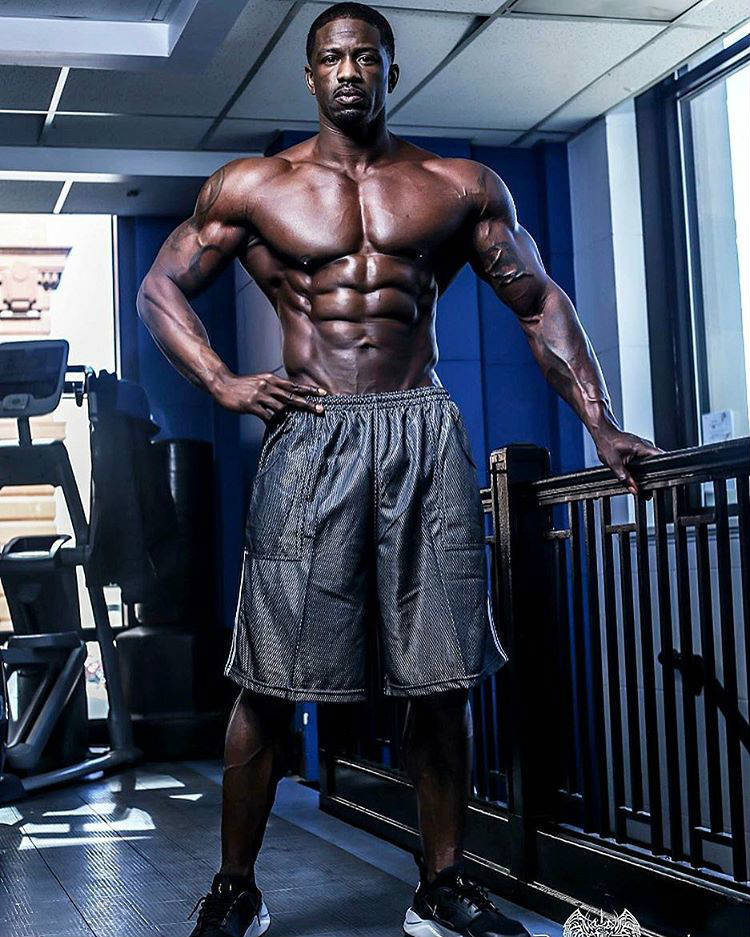 George Brown
IFBB Professional Bodybuilder, Sponsored Athlete, Personal Trainer
George Brown is an IFBB professional bodybuilder, sponsored athlete and personal trainer from Ohio, USA. He's made a name for himself through his punishing workouts, which have allowed him to build a professional level physique.
George grew up playing sports such as football, basketball, swimming and tennis. He only lifted weights initially to help his sporting performance, but he began to enjoy lifting more than being out on the football field.
A friend of his introduced him to bodybuilding, and after a lot of thought, he decided to give it a try. By 2013, he had built a physique worthy of the professional competition scene.
He ended up earning his pro card by winning the IFBB North American Championships. Following this, he began a fitness journey which would take him to the top of the pro bodybuilding leaderboards.
---

Athlete Statistics
Full Name: George Brown
Weight
Height
Year of Birth
Nationality
185 - 195lbs (83.9 - 88.5kg)
5'11" (180cm)
1981
American
Profession
Era
IFBB Professional Bodybuilder, Sponsored Athlete, Personal Trainer
2010
| | |
| --- | --- |
| Weight | 185 - 195lbs (83.9 - 88.5kg) |
| Height | 5'11" (180cm) |
| Year of Birth | 1981 |
| Nationality | American |
| Profession | IFBB Professional Bodybuilder, Sponsored Athlete, Personal Trainer |
| Era | 2010 |
---

Accomplishments
Competitions
2013 IFBB Kentucky Muscle Pro, 16th
2013 IFBB Sacramento Pro, 10th
2013 IFBB North American Championships, 1st (Pro Card)
2013 NPC Pittsburgh Championships, 3rd

2014 IFBB Kentucky Muscle Pro, 4th

2014 NPC Tennesee State Show, 2nd

2014 IFBB Omaha Pro, 11th

2014 IFBB Pittsburgh Pro, 14th

2014 IFBB Europa Show of Champions Orlando, 7th

2015 IFBB Kentucky Muscle Pro, 10th

2015 IFBB Olympia Weekend, 7th

2015 IFBB New York Pro, 1st

2015 IFBB Pittsburgh Pro, 2nd

2015 IFBB Arnold Sports Festival, 9th
---

Training
Good Genetics
When it comes to the factor of good genetics in bodybuilding, George says that it "can be a gift and a curse." He says this, due to the fact that being a very good sportsman has made it harder for him in team sports.
When he played football at Tiffin University, for example, he says that he was so much better than the other players, that he didn't need to go all out during training. Because of this, his coach would constantly think he was slacking, so would tell him to run faster.
This lead to George receiving a C grade for his conditioning. This mediocre grade was given to George, as the coach thought that he could have done more.
Alternating Abdominal Workouts
Luckily, bodybuilding is an individual pursuit, so George can push to his limits in each workout without being asked to do more. He has received a lot of media attention for his ab workouts in particular, and he believes that genetics is 60% of the reason why his abs are so strong.
George trains his abs every other day throughout the year. He chooses to remain cut all year round, so he works an ab workout in after every major body part session. He says that he has "no preference as to which days abs fall on," so he just makes sure to hit them every two days, whether its a rest day or not.
Ab Routine
Bench Scissor Kick: 4 sets (30 reps) (per side)
Cable Crunch (4 sets) (50-60 reps until failure)
Hanging Knee Raise: (4 sets) (20-25 reps)
V-sit Crunch: (4 sets) (30 reps)
Cable Crunch
For George's cable crunch set, he kneels in front of a cable weight stack with a rope connected to a high pulley cable. He then holds the rope handles at the side of his head and bends slightly over, contracting his abs and lowering his torso to the floor.
When his head is 6 inches from the floor, he then squeezes the abs hard for one or two counts – slowly returning back up to the starting position. For George, he says that it's about pushing himself to his limits. He says that "the more you put in, the more you get out…you just have to build up a tolerance for the high reps."
Hanging Knee Raise
The hanging knee raise is another of George's favorite exercises. He hangs from a pull up bar with his legs straight outwards. After this, he bends both his knees and raises his legs up while contracting his abs.
At the top of the movement, George tenses and contracts his abs as hard as he can. He raises raising his pelvis, then slowly lowers his knees back down in a controlled motion.
---

---
V Sit Crunch
For the V sit crunch, George sits sideways on a bench and leans back – holding on with his hands for balance. With his feet raised a couple of inches above the floor, he contracts his abs and pulls both of his knees up to his face.
At the top of the movement he squeezes, then very slowly returns to the starting position. When he sticks his feet out for this exercise, he says he does a "kind of negative" – he doesn't just go in and out with the legs, but actually pulls his knees in, then kicks out his legs high before pulling them back in.
Bench Scissor Kick
The bench scissor kick is a much more straight forward exercise. When performing it, George sits in exactly the same position as the V Sit Crunch, but keeps his torso fixed in place.
While in this position, he performs alternating scissor kicks with his legs – focusing on hitting his lower abs hard throughout. He advises that anyone attempting this exercise, should keep their movements slow and steady.
---

Nutrition
Cheat Meals
George doesn't always eat a proper bodybuilding diet. In fact, he says that he struggles sometimes to stop himself from eating his favorite junk food. One of his favorite junk food stories, was two weeks before the 2016 New York Pro.
He says that he couldn't resist the urge anymore, even if it was close to the competition date, so he ate chips and cake in the gym parking lot. In defense of his actions, George says that "sometimes you need to give your body what it needs."
" If you slip up, don't beat yourself. Just drink plenty of water, get back on the horse the next day, and remember your goals."
---

Idols and Influences
One of George's main influences, is the IFBB Pro Michael Davis. He believes that Michael has a similar physique to his and comes from a similar background.
Because of this, the two men have worked together extensively in training.
---

What we can learn from George Brown
If we can take one thing away from George's story, it's that even the best bodybuilder's on earth make mistakes. George's weakness is junk food, and he can be found eating chocolate brownies before major competitions.
Bodybuilding isn't supposed to be a way to make your life a struggle. George shows us that you have to enjoy yourself on your fitness journey, otherwise what's the point.