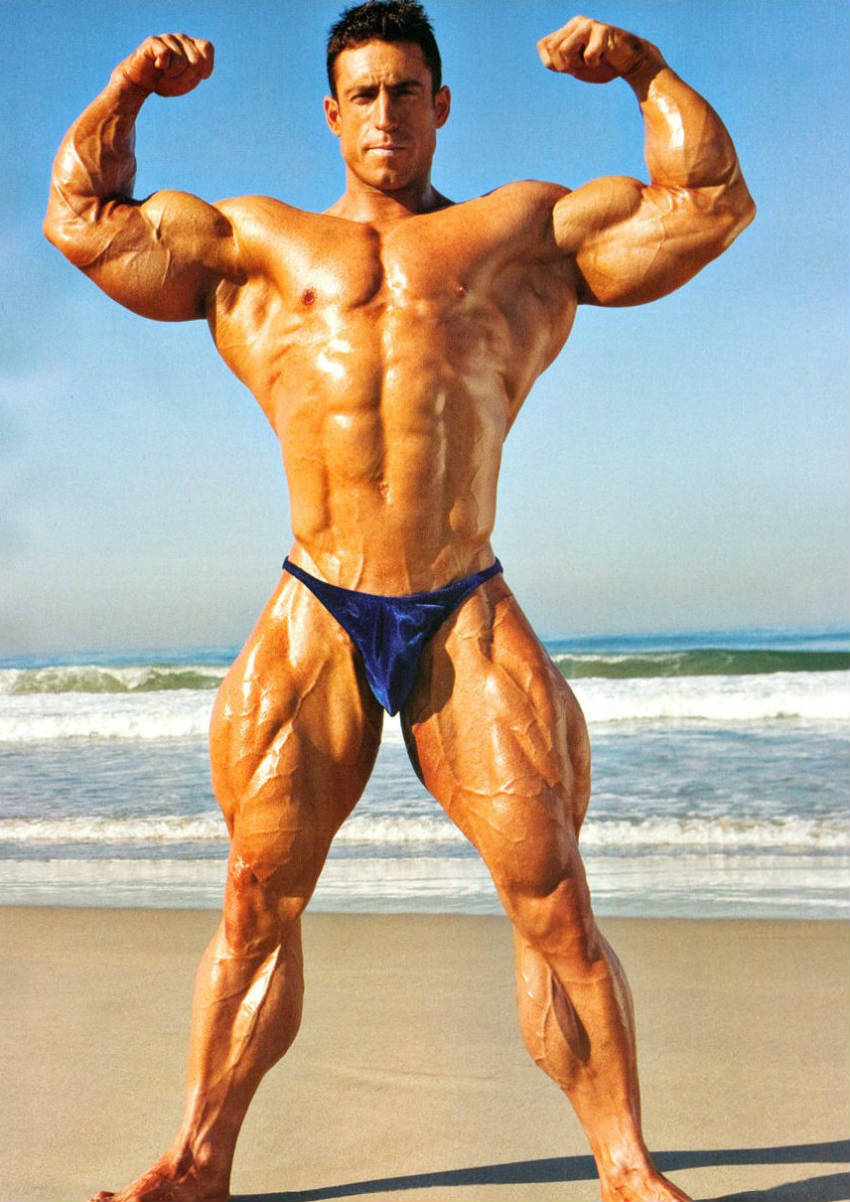 Erik Fankhouser
IFBB Professional Bodybuilder
Erik "The House" Fankhouser is an IFBB professional bodybuilder and sponsored athlete from West Virginia, USA. He's well-respected for his dedication to the sport, as well as his large calf and quadricep muscles.
Growing up, Erik was a keen sportsman and loved to play football at junior and high school. He was so good at the sport, that he managed to win a scholarship to play for his local university. It was here that he developed his love for bodybuilding, while aiming to build a bigger body for football.
Fast forward to today, and Erik has built an impressive physique and career which has seen him stand on the Mr Olympia stage. He has competed against the best in the world – gaining sponsors which help him continue the career that he loves so much.
This is Erik Fankhousers story:
---

Athlete Statistics
Full Name: Erik Fankhouser
Weight
Height
Age
Date of Birth
215 - 225lbs (93.0 - 102.1kg)
5'9" (175cm)
43
May 30, 1980
Nationality
Profession
Alias
American
IFBB Professional Bodybuilder
The House
Era
2000, 2010
| | |
| --- | --- |
| Weight | 215 - 225lbs (93.0 - 102.1kg) |
| Height | 5'9" (175cm) |
| Age | 43 |
| Date of Birth | May 30, 1980 |
| Nationality | American |
| Profession | IFBB Professional Bodybuilder |
| Alias | The House |
| Era | 2000, 2010 |
---

Accomplishments
Competitions
2004 NPC Upper Ohio Valley, 1st
2005 Mid Atlantic Grand Prix/West Virginia States, 1st
2006 IFBB North American Championships, 4th
2007 NPC USA Bodybuilding & Figure Championships, 16th
2007 IFBB North American Championships, 1st

2008 IFBB 15th Annual Sports/Fitness Weekend & Europa IFBB Super Show, 11th

2010 IFBB Europa Battle of Champions, 11th

2010 IFBB New York Pro Bodybuilding & Bikini Championships, 5th

2012 IFBB British Grand Prix, 7th

2012 IFBB Wings of Strength Chicago Pro-Am Extravaganza, 7th
---

Biography
Sporting Beginnings
Erik was born and raised in Wheeling, West Virginia (USA). He played a lot of sports growing up, so was always passionate about staying fit and becoming as strong as possible.
One of Erik's favorite sports at school was football. He was a very good player throughout high school – managing to win a scholarship to play at West State Liberty College in his home state of West Virginia.
First Weight Lifting Experience
It was here that Erik first started to lift weights. He originally started hitting the gym to build his body for football, but began to love weightlifting so much that he continued learning new techniques everyday.
He won his first competitive bodybuilding tournament, the NPC Upper Ohio Valley, in 2004. He placed  first in the junior division and loved the new experience of posing for a crowd.
Following this, he trained hard for the 2005 Mid Atlantic Grand Prix/West Virginia States. He ended up performing extremely well and winning the Mr West Virginia title with ease.
From this point on, he knew that he wanted to take the sport further.
First National Competitions
The only way was up for Erik at this point. He decided in 2005 that he would attempt to win National competitions. He trained extremely hard for the 2006 IFBB North American Championships and took an impressive 4th place.
Following this competition, he placed in a disappointing 16th at the 2007 USA Bodybuilding & Figure Championships. This kind of result simply wasn't good enough in Erik's mind, so he trained doubly hard in order to prepare himself for IFBB North American Championships of the same year.
Because of this hard work, Erik managed to land a first in his class at this show. He was also named the overall winner of the competition and received his pro card. This was a truly great and memorable day for Erik which he remembered throughout his career.
Making A Name for Himself
As Erik began to compete with the best in the world, he was known as the first person to ever win a Pro Card in West Virginia. He was also respected for the work he had put in to building his legs. His calves in particular were some of the best in the business.
Erik's first televised show was the 2010 Mr Olympia. This was a huge competition for Erik and he stood alongside bodybuilding stars such as Jay Cutler, Phil Heath and Dexter Jackson. In the end, he only managed to take the 18th spot, but he loved every minute of performing for an international audience.
In The Media
Through Erik's success in the bodybuilding world, he attracted a lot of media attention. Big name magazines such as muscular development and FLEX interviewed Erik to learn more about his nutrition and training approach.
---

Training
Training Approach
Erik's workout routine is a five day split. He uses a high repetition pyramid scheme of 25, 20, 15, 12 then 10 reps per exercise. Each strength training workout usually lasts around 75 minutes, and cardio is routinely placed between these sessions throughout the day.
Leg Routine
This approach has led to some serious gains. Erik is known for his large legs and gigantic calves, which are some of the biggest in the professional scene. His routine for this muscle group is below:
Week 1 
Monday: Quads
Leg Extension (4 sets) (12 reps)
Squat (4 sets) (12 reps)
Lunge (4 sets) (12 reps)
Leg Press (4 sets) (12 reps)
Wednesday: Hams
Seated Leg Curl (4 sets) (12 reps)
Reverse Leg Curls (4 sets) (12 reps)
Stiff-leg Deadlift (4 sets) (12 reps)
Friday: Calves
Seated Calf Raise (4 sets) (12 reps)
Leg Press Calf Raise (4 sets) (12 reps)
Reverse Calf Raise (4 sets) (12 reps)
Week 2
Monday: Quads
One-leg leg press (4 sets) (15 reps)
One-leg leg extension (4 sets) (15 reps)
One-Leg Smith Machine Squat (4 sets) (15 reps)
Wednesday: Hams
One-leg Leg Curl (4 sets) (15 reps)
One-leg Stiff-Leg Deadlift (4 sets) (15 reps)
One-leg Reverse Leg Curl (4 sets) (15 reps)
Friday: Calves
One-leg Smith Machine Standing Calf Raise (4 sets) (15 reps)
One-leg Donkey Calf Raise (4 sets) (15 reps)
One-leg Reverse Calf Raise (4 sets) (15 reps)
---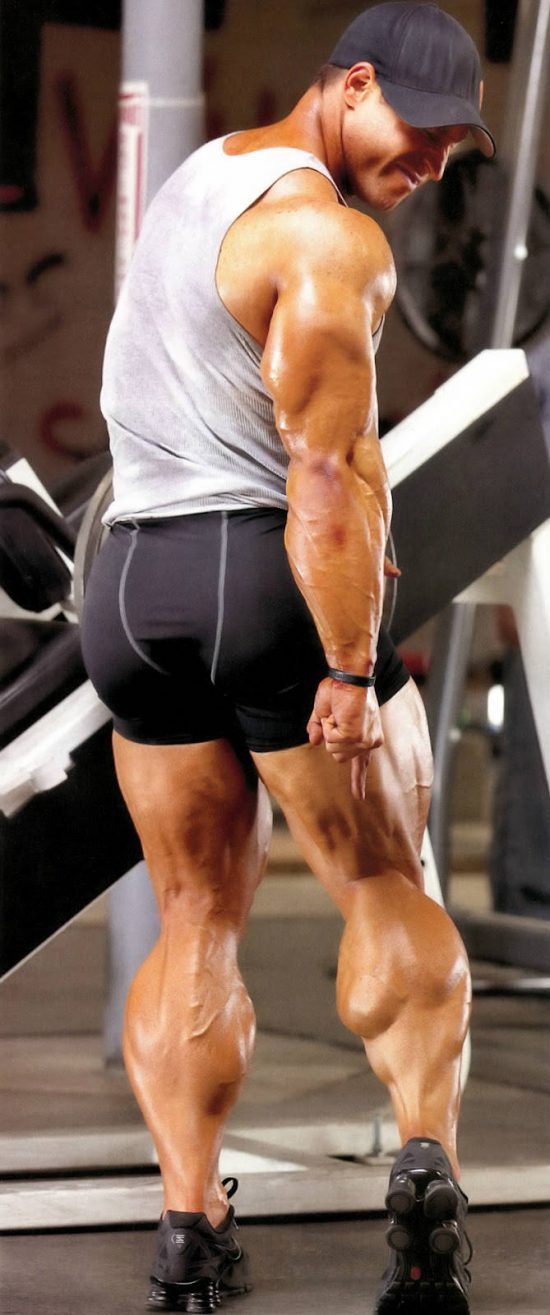 ---
Cardio Approach
Erik mentions that his legs increase in size when he is doing his pre-contest cardio sessions. He always spends a lot of time on the stair-master, which helps him with his definition and bringing his calves up .
In terms of timing his cardio, Erik likes to spread small sessions  throughout the day rather than completing all his cardio in the morning or evening. He learnt from his mistakes – saying that he used to do too much cardio which negatively effected his gains.
Usually, each session lasts around 45 minutes. This, Erik says, is the idea amount of time that is needed to get in a great workout without going overboard. He takes amino acids before his cardio workout in order to prevent any muscle breakdown.
Training Split
Day 1: chest
Day 2: arms/abs
Day 3: off
Day 4: back
Day 5: shoulders
Day 6: off
Day 7: chest
Day 8: legs
Day 9: off
Day 10: back
Day 11: arms/abs
Day 12: off
---

Nutrition
Learning From His Mistakes
Erik says that he has spent many years trying things out in the off-season. After his first show, he says that he made the "rookie mistake" of eating as much food as he could get his hands on.
He says that he was was eating pizza, ice cream, weight gainer shakes and any fatty food he wanted, but was simply adding too much fat and feeling sluggish all day.
After his second show, he began to take a different approach. He approached dieting wrong again, eating as clean as possible this time all year which without adding carbs in the off season. As a result, he could not improve his body at all, so needed to try another method.
Erik eventually found the method that worked. He ate whatever he wanted during the off season, but enforced limits on the amount of calories. He also rationed his weight gainer shakes to ensure he wasn't adding too many unnecessary calories to his diet.
Protein
Aside from these weight gain whey protein shakes, Erik relies on a variety of other sources for his 600g a day intake. He makes sure that he eats 10-16 ounces of meat, or 8-12 whole eggs during his first two meals of the day.
The meats he chooses throughout his period can vary enormously, but he always opts for lean options such as chicken, turkey and beef. He also loves to eat fish for the high quality protein and omega 3 that it offers.
In the off-season, he eats 2 and a half grams of protein per pound of bodyweight that he is carrying at the time. In-season, he begins to drop this protein intake 20 weeks out from a particular show, in order to reduce his calories and cut quickly.
Carbohydrates
Carbohydrates are also essential in maintaining the development he has across his body. He eats more carbs on the days he trains than his rest days, as he needs all the energy he can get.
20 weeks out from a competition, Erik then cycles his carns on a high/low rotation. A high day can include as much as 150 to 200 grams, and a low day can be 30 to 60 grams. Before the show, he then drops this intake to zero, eating fish for every meal.
Meal Plan
Meal 1: 10 whole eggs and 1 cup oats
Meal 2: Weight-gainer shake and 1 cup of oats
Meal 3: 12 ounces beef and one large sweet potato
Meal 4: Weight-gainer shake and 1 cup of oats
Meal 5: 12 ounces of ground turkey
Meal 6: Whey shake and 1 cup oats
---

Idols and Influences
Erik's main driving force in the sport, is the love he gets from his family. They have supported him 100% throughout his fitness journey – respecting him for choosing to chase his dreams.
As well as this love and support, he also values the respect that his trainer Andy Bartolovich shows him.
---

What we can learn from Erik Fankhouser
Erik shows us the value of hard work and perseverance after defeat. He had a major setback in 2007 when he came 16th at the NPC USA Bodybuilding & Figure Championships. He didn't let this faze him though and came back even stronger the next year.
This willingness to learn from his mistakes has been a hallmark of his career. He has learnt from nutritional, training and competition mistakes and has been humble in victory and defeat.