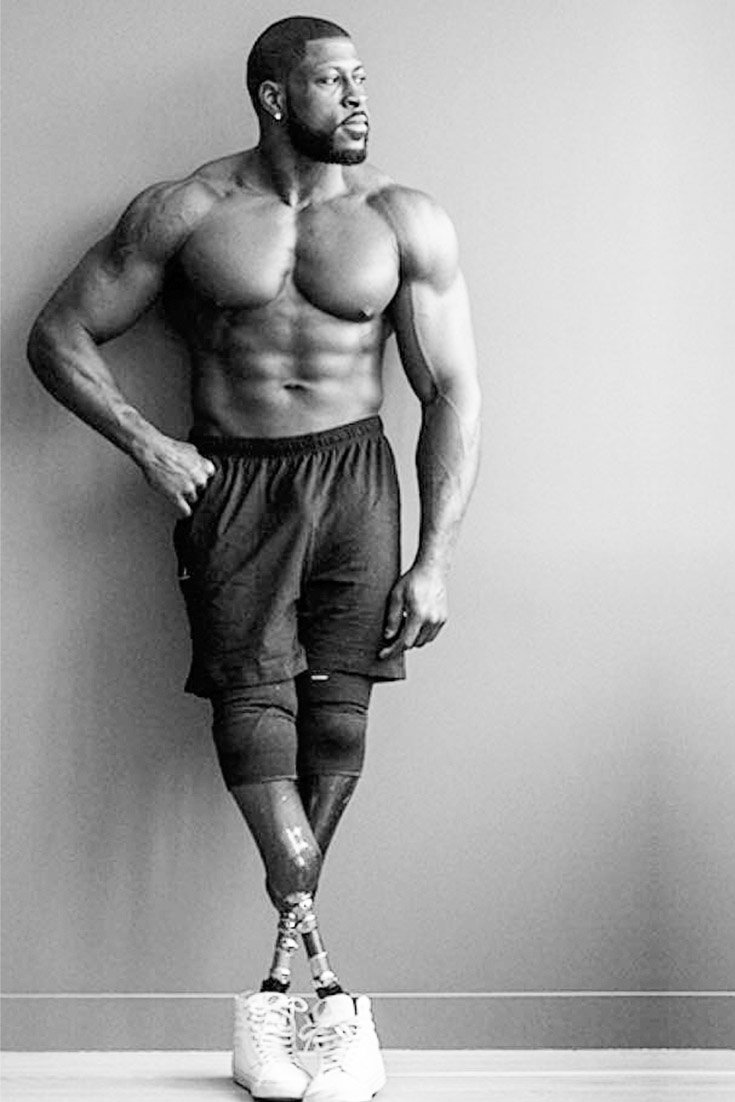 Edgard John-Augustin
Bodybuilder
Edgard John-Augustin at only 4 years of age, experienced a traumatic disaster – he lost both of his legs in a car accident.
Both himself and his brother lost so much blood that by the time they arrived at the hospital, they almost died. Needless to say, the event left a lasting trauma on the the entire family.
After years of adapting to a new way of life and dealing with bullying in school, Edgard discovered bodybuilding, and ever since he started his weightlifting journey, he became the 2015 European IFBB Wheelchair Bodybuilding Champion, a social media celebrity, and a fitness icon.
This is his story:
---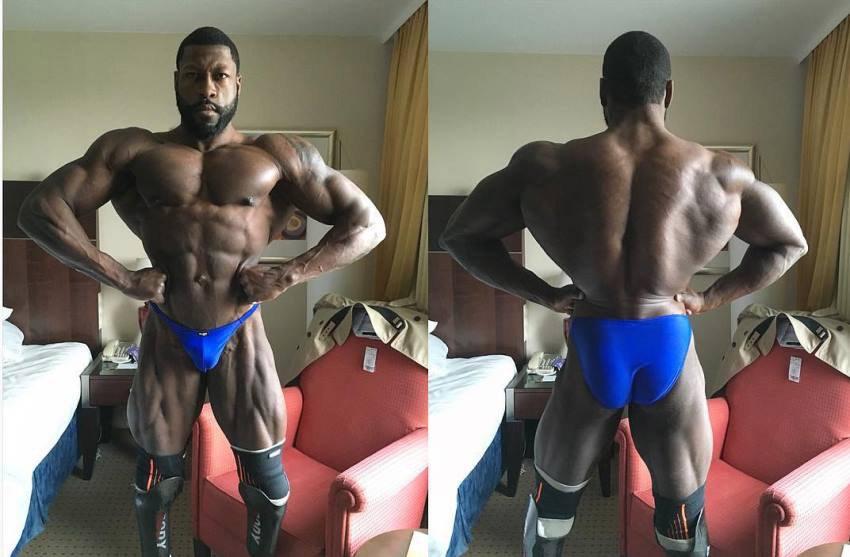 "Forget the past, it's gone, but glance back occasionally to remind yourself where you came from and where you are going."
Athlete Statistics
Full Name: Edgard John-Augustin
Weight
Height
Year of Birth
Nationality
245 - 255lbs (111.1 - 115.7kg)
6'2" (188cm)
1985
French
Profession
Alias
Era
Bodybuilder
Bionic Body
2010
| | |
| --- | --- |
| Weight | 245 - 255lbs (111.1 - 115.7kg) |
| Height | 6'2" (188cm) |
| Year of Birth | 1985 |
| Nationality | French |
| Profession | Bodybuilder |
| Alias | Bionic Body |
| Era | 2010 |
---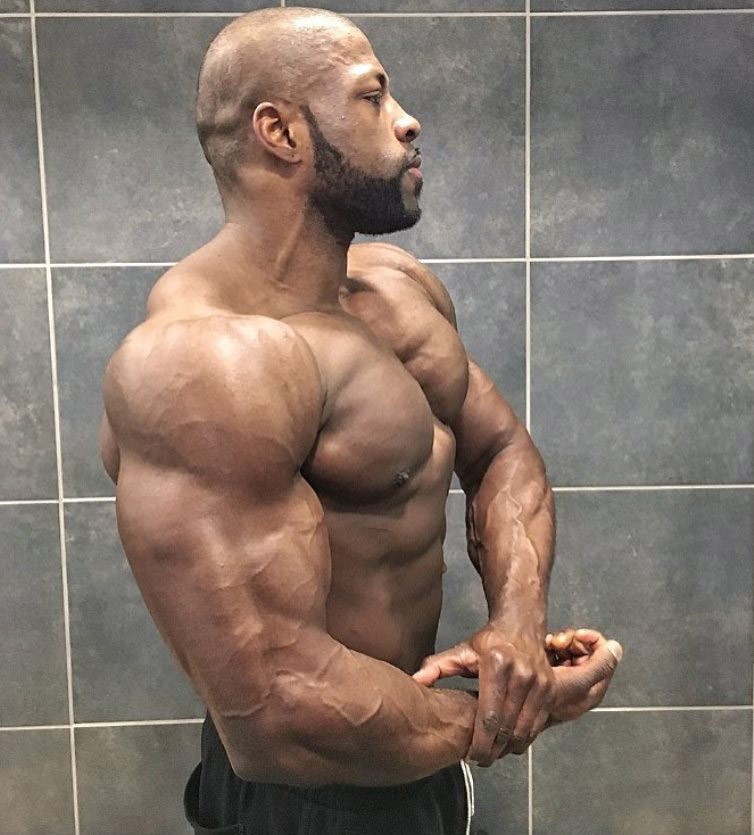 "It's not about being the best, it's about being better than you were yesterday."
Accomplishments
Edgard is the 2015 European IFBB Wheelchair Bodybuilding Champion. He also has a popular social media following which he uses to spread his story and motivate numerous people around the world.
---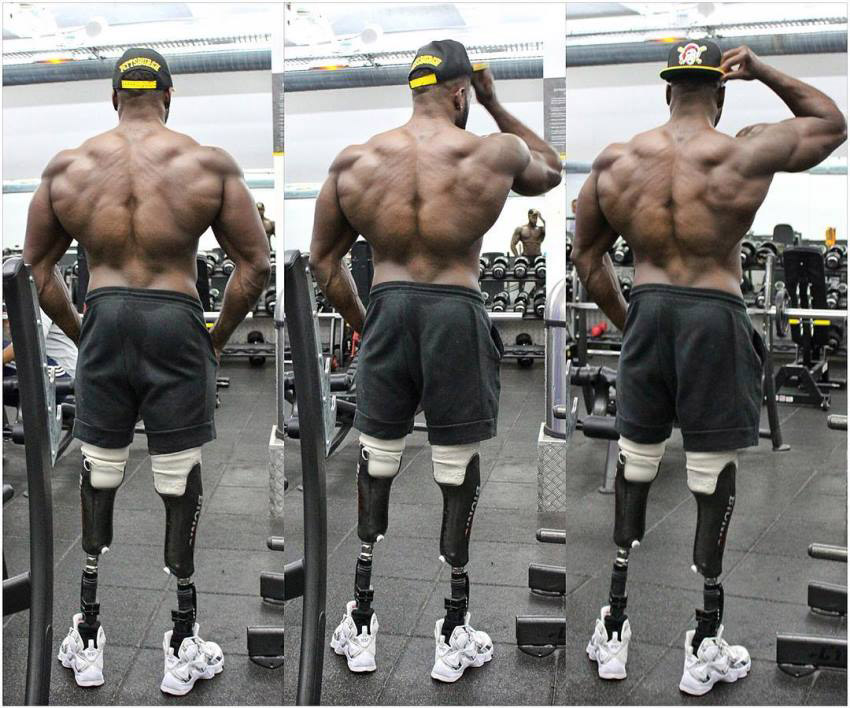 "No man succeeds without a good woman behind him. Wife or mother, if it is both, he is twice blessed."
Biography
The Accident
Edgard John-Augustin was born on 1985, in Guiana and for the first 3 years of his life, Edgard was just like any other ordinary child with a lot of energy, happy playing outside with friends.
One night, when Edgard's mother was driving with him, his brother and his sister in the car, she suddenly lost control and crashed.
Edgard's legs were severely injured by a piece of railing that broke through the rear window. He and his brother were knocked unconscious, and when they woke up they heard their mother screaming and saw blood everywhere.
By the time they got to the hospital, Edgard and his brother had both lost a lot of blood. That's when he realized that his legs were severed just below the knee, as he recalls; "There was blood everywhere, and, from the knees down, both of my legs were gone. My older brother, who was sitting next to me in the backseat, was also missing one of his legs."
The Aftermath
According to Edgard, himself and his brother were lucky to be alive due to the amount of blood they'd lost. Their mother suffered several broken fingers, and ever since the accident, Edgard says, that his mother blames herself for everything.
He said; "To this day, she feels like it's her fault that both of her sons are handicapped. It weighs heavily on her soul." John-Augustin sad he knew that it wasn't his mother fault, and had tried to convince her that she can't change what happened, but the French bodybuilder says that it's something she could never forgive herself.
A New Life
Soon after he was released from the hospital, John-Augustin's family started searching for limb loss recovery facilities and eventually found one of the best rehabilitation centers for war veterans and other amputees, Val-de-Marne, located southeast of Paris.
Edgard spent 1 year in that facility, learning the basic abilities such as walking on crutches, holding a balance, and moving around from one point to another. For the first year, he was in a wheelchair, and after he adapted to the basic movements again, Edgard got his prosthesis.
When talking about how walking in prosthesis compares to real legs, he said "it's hard to manage balance" and that he relies on his upper body a lot for stability.
Here's Edgard talking about his difficulties with prosthesis; "The hardest part about walking with prosthetic feet is learning how to manage your balance. The lack of an ankle and the rotation that normally comes with it can make it tricky to find your equilibrium. I rely a lot on my upper body to make up for the limited balance of my legs. For example, if I don't hold on to something while standing in a train or a bus, there's a good chance I'll fall down."
Teenage Years
After months of rehabilitation, Edgard was later discharged from the hospital and returned to his home in Guiana. During primary and high school, Edgard's biggest problem were stares of others schoolmates and bullying.
"Had I received my handicap as a teenager or an adult, I think it would have been much more difficult to cope with. At least, in my case, I didn't really know any other way of living, so it didn't take as harsh of a toll, mentally and emotionally. I never suffered from depression or suicidal thoughts, thankfully."
He would be mocked and called different names which would make him feel bad afterward. Edgard recalls; "The other kids would look at my legs and make fun of me. They called me 'robot legs'. Sometimes it would really get to me."
After receiving his prosthesis and becoming more comfortable during his teenage years, there was one thing he was very good at, which was running. Edgard recalls; "I always excelled at running in phys ed. I was always faster than all the other kids in my class. I'm not sure why I just was."
Discovery of Bodybuilding
After he finished high school, Edgard started to work towards his BTS, which is a diploma of higher education in France, and during that time he discovered weightlifting.
At first, it was something he did to deal with the stress and feel good, not so much because of his looks. He admitted he wasn't interested in having a big biceps or ripped abs at first.
It was only later when he started to see his body transform that the French bodybuilder slowly developed a passion for the sport and realized it was something that he wanted to take seriously.
---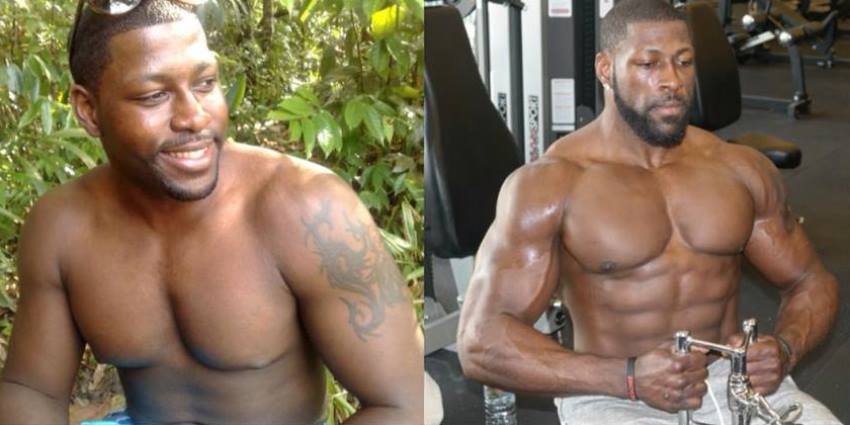 Edgard before and after
---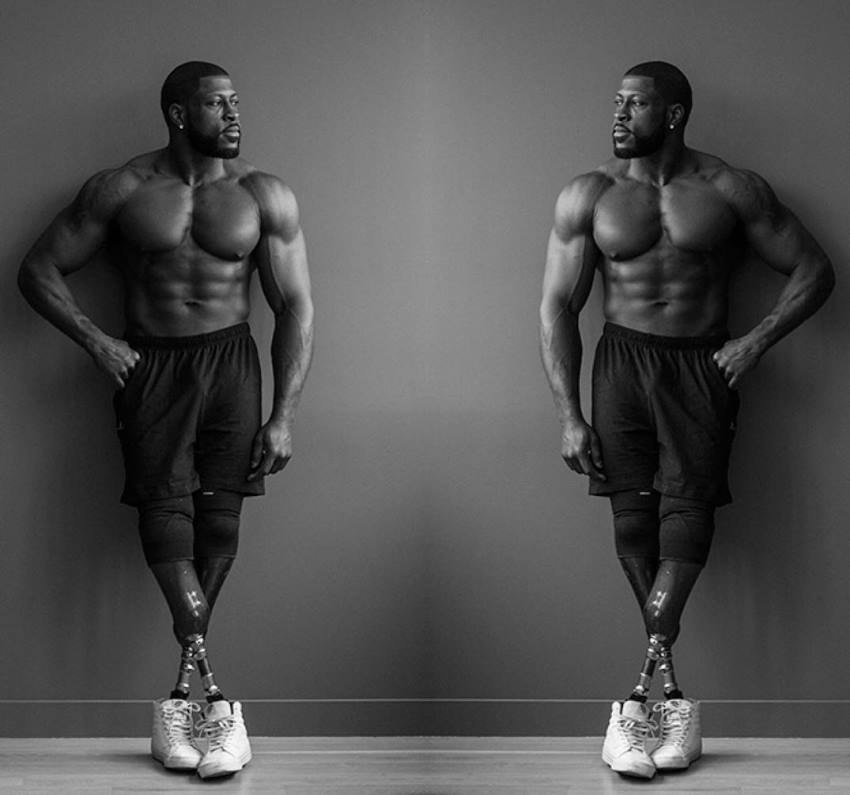 The Photoshoot
Edgard's body continued to grow and improve, and after several years of hard work, he was contacted by his friend and was asked if he wanted to do a photo shoot.
At first, Edgard was reluctant because until that point he hadn't shown his prosthesis to anyone except his family. His friend eventually persuaded him. Edgard contacted the photographer that was doing the photo shoot.
This is what John-Augustin said; "The photographer was looking for a physique athlete to shoot with, and a colleague of mine who knew him suggested I reach out. I contacted him and explained my situation, which gave him the idea to do a motivational shoot revolving around my handicap."
They did the photo shoot in a variety of sprinting positions, and later the photographer uploaded Edgard's pictures and tagged him on social media. The French bodybuilder was blown away by the number of positive comments he got from people everywhere, which made Edgard realize that he shouldn't be embarrassed by his prosthesis.
Start of Competing
The photo shoot completely turned the direction in which Edgard's life was going. He was no longer embarrassed by his disability, but rather proud to show them to the world.
More and more people were motivated by Edgard's determination and courage, and the French champion was glad he could make other people happy, but he admitted that he was missing something, and that was an opportunity to compete.
According to Edgard, he was dreaming about stepping on the stage for a long time. His friends and family also encouraged him to give it a shot, and in 2014, he decided to hire a coach and start the preparations for his first competition.
In April of 2015, Edgard competed at the Grand Prix Des Pyrénées. He wasn't in the wheelchair division, but rather alongside regular bodybuilders, the only catch was he couldn't be judged. That didn't bother Edgard, as his only desire was to be on the stage.
Becoming a Champion
Edgard didn't only motivate numerous people around the world with his appearance in the Grand Prix Des Pyrénées, but also, the head coach of the French national team asked Edgard if he wanted to compete in the show that was to be held 3 weeks laters.
John-Augustin accepted the invitation and started to prepare for the show. After 3 weeks of strict diet and heavy weightlifting, he stepped on the stage once again, but this time the French bodybuilder was awarded the title of the European IFBB Wheelchair Bodybuilding Champion.
Needless to say, Edgard was overwhelmed with emotion, and after the show, he said that "the sky is the limit."
Motivation for Everyone
Since the beginning of his journey into bodybuilding, Edgard became a famous bodybuilder, social media celebrity, and the 2015 European IFBB Wheelchair Bodybuilding champion.
John-Augustin didn't want to just stop there, he also wanted to continue inspiring people around the world with his story and become the best bodybuilder ever. This is what he said; "Bodybuilding is more than just a passion for me. It's a lifestyle. It's who I am, and it's what I want to do with my life. I want to help and motivate as many people as I can. I want to become the greatest champion the sport has ever seen."
---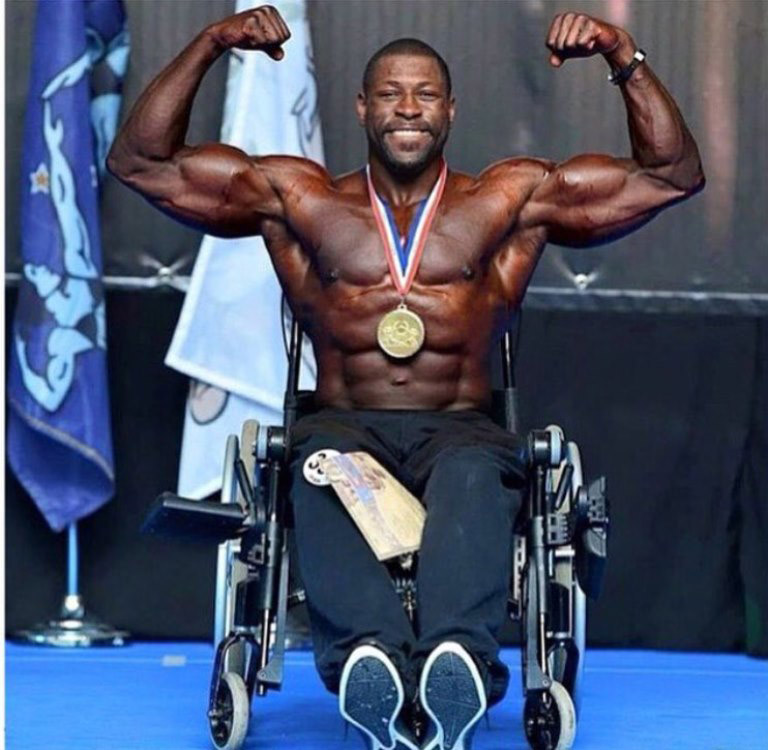 "Success is created by ordinary people with extraordinary determination."
Training
Training and Cardio Philosophy
When it comes to losing fat, Edgard believes that "abs are made in the kitchen." He still preaches the importance of training but says that the benefits won't be seen if someone is eating a lot of unhealthy food.
As a fan of cardio, Edgard loves doing High-Intensity Interval Training as he believes it's the best option for fat loss, especially for those who want to lose it quickly.
Training heavy, high volume, and with a strict form is the basis of Edgard's workouts, according to him. He avoids doing a lot of squats and deadlifts because of his balance issues but says that he would still do them occasionally, just with lighter weights. His favorite body part is back, and his favorite exercise is T-bar rows.
The French bodybuilder also says that he trains every day of the week, and when bulking he would train every muscle group at least twice a week. According to Edgard, the first workout of the week would be heavy weight and the second workout would be lighter weight. John-August stresses the importance of having "recovery sessions" which promote the repair process by pumping more blood into the muscle without damaging it.
Workout Split
Edgard changes his training routines quite often, but according to him, his training split usually looks like this:
Monday: Legs
Tuesday: Chest/Biceps
Wednesday: Back/Triceps
Thursday: Glutes/Hamstrings/Abs
Friday: Shoulders/Quads
Saturday: Chest/Back
Sunday: Rest
---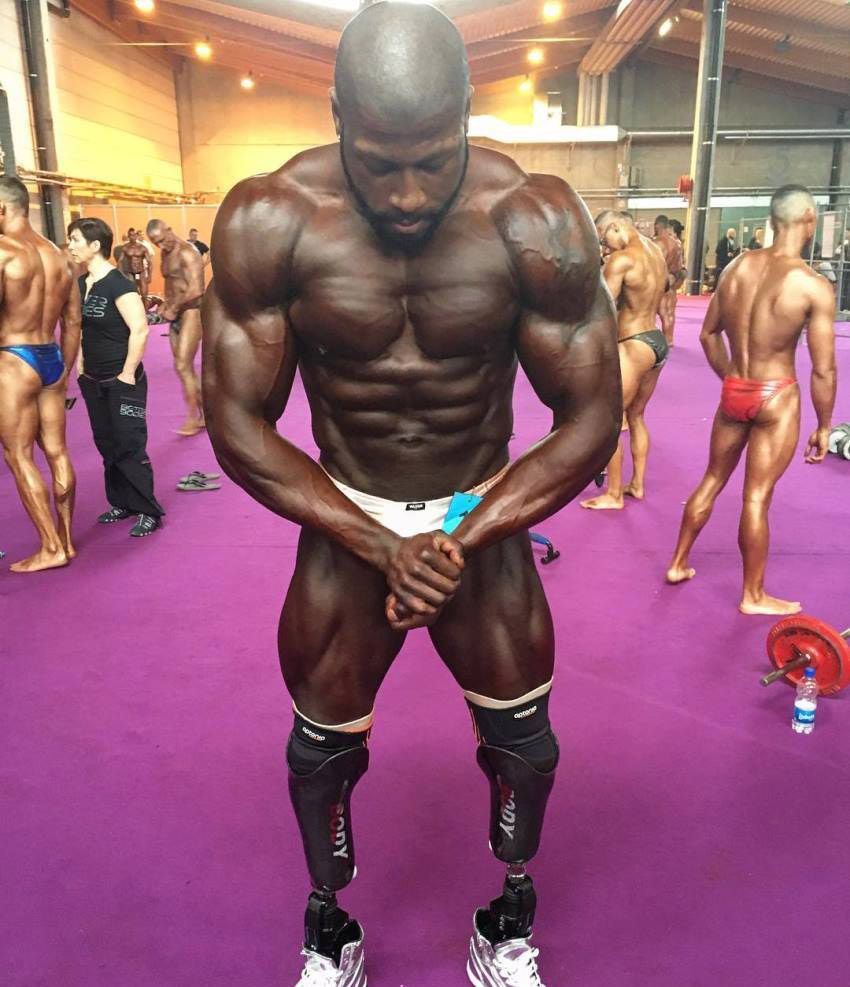 "The best way to predict the future is to create it, what's stopping you?"
Nutrition
Edgard is like most other bodybuilders when it comes to dieting, eating very strictly during the times of cutting, and allowing himself the occasional cheat meals when he's not dieting.
When asked if he could choose only one type of food to eat when dieting, he said; "grilled chicken."
Meal Plan
This is John-Augustin's typical daily diet plan:
07:30 / Meal 1: 200 g of steak, 1 whole egg + 50 gr Oats + 1 glass of orange juice

10:30 / Meal 2: 200 g of chicken + 150 g of rice

13:00 / Meal 3: 200 g of fish + 200 g of rice + 100g of white cheese

16:30 / Meal 4: 200 g of chicken + 200 g of sweet potato or rice

19:30 / Meals 5 POST TRAINING: 50g of whey + an electrolyte drink + a banana + a compote of apple

20:30 / Meal 6: 250 g of turkey or fish + large green salad + half avocado

23:30 / Meal 7: 6 egg whites + 2 whole eggs or 400 g of white cheese or 200 g of tuna with water + 1 spoon of olive oil
Supplementation
The French bodybuilder isn't a big fan of supplements but admits using some of the basic ones, like whey, casein, creatine, glutamine, and BCAAs.
---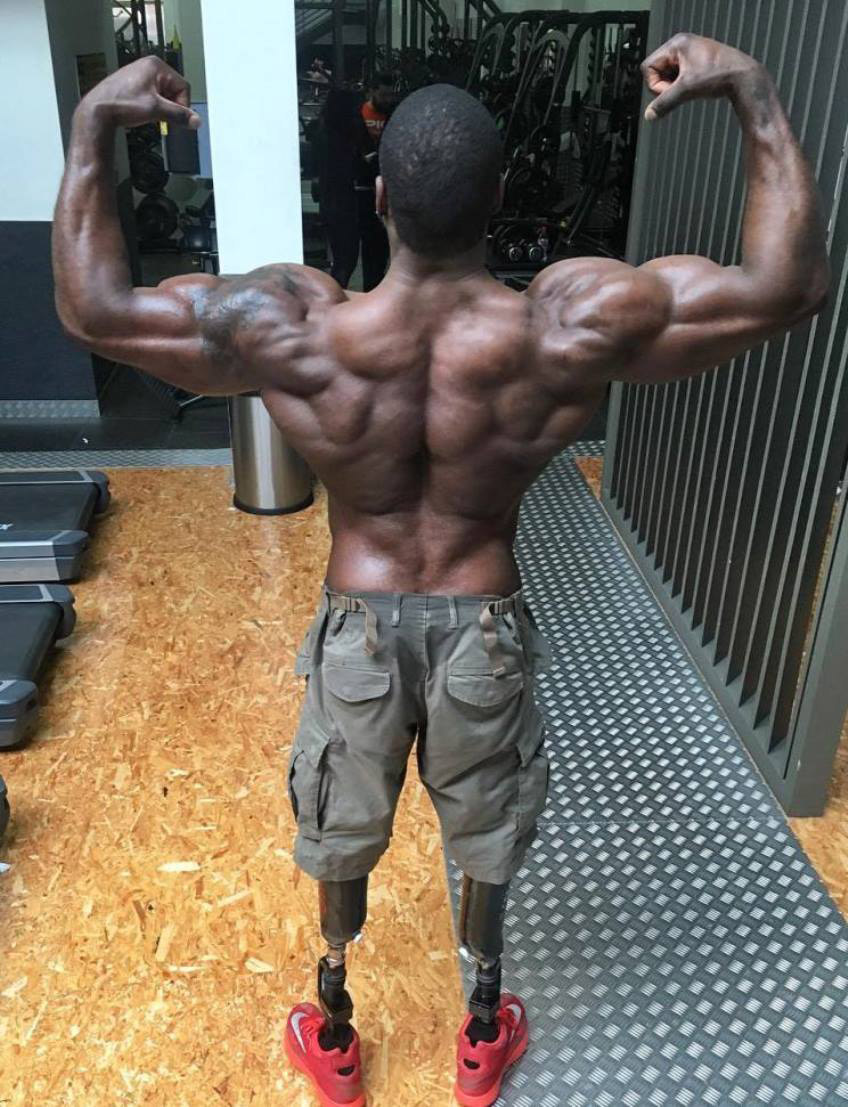 "The harder the battle, the better the victory."
Idols and Influences
His main influence is Ronnie Coleman, according to Edgard. He says he loves one of the most famous Ronnie's quotes which goes; "Everybody wants to be a bodybuilder but nobody wants to lift no heavy-ass weights!" Edgard mentioned also says,"Guy Cisternino is another inspiration for me."
---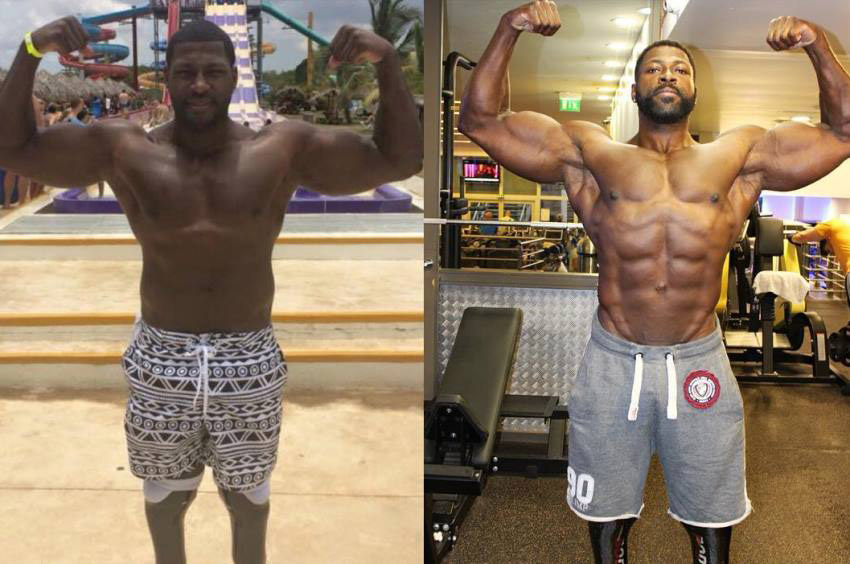 "The best way to succeed is to always try again."
What we can learn from Edgard John-Augustin
We can learn a lot from Edgard and his example to never give up – the most important thing would be not to complain about minor events in everyday life, but to be thankful for everything and keep moving forward, no matter what the obstacle.
Edgard had to go through the trauma that may have prevented many from achieving their dreams. However, Edgard knew he had something to offer the world. He proved to everyone that no matter what the excuse, in most cases, it is just an excuse not to do something great.
The French champion managed to overcome such an adversity that it's an example for everyone who deals with tough times in their own lives.
By following Edgard's example, and not being discouraged by every obstacle, you too can achieve your own greatness.