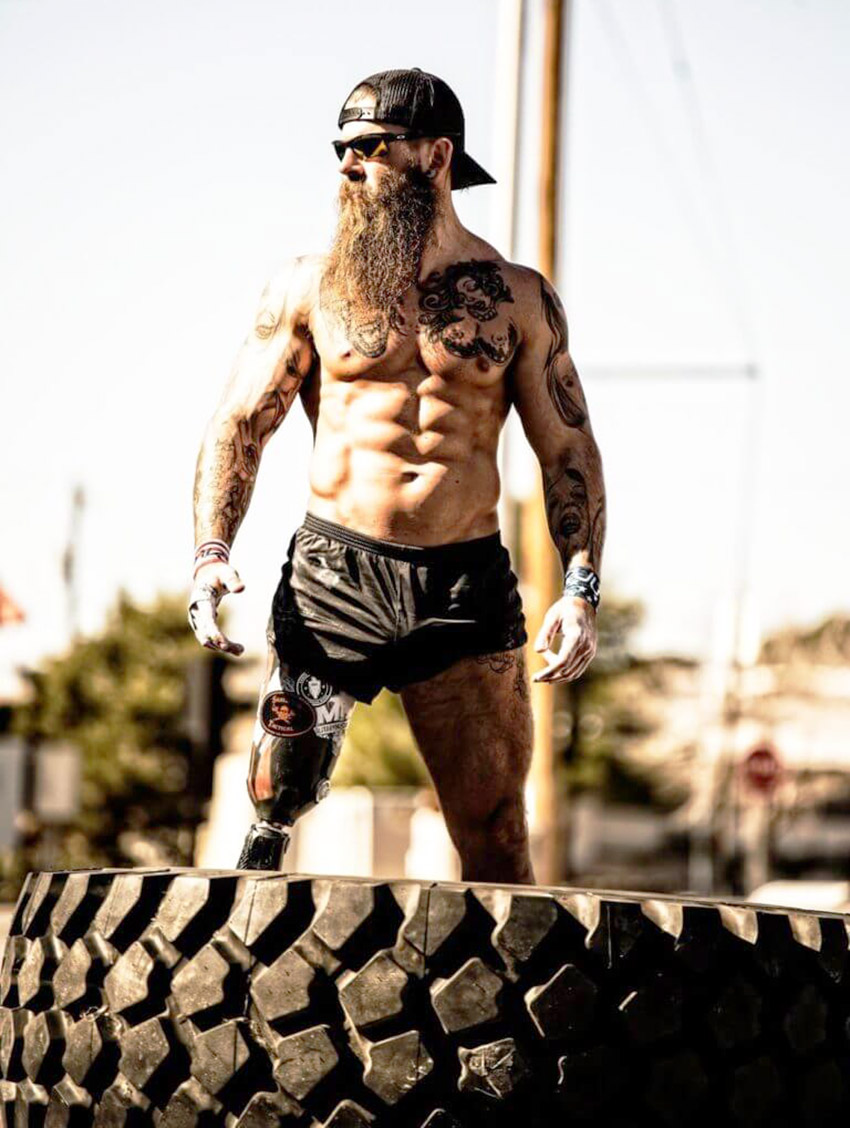 Derek Weida
CrossFit Athlete, Entrepreneur, Gym Manager, Founder of The Next Objective
Derek Weida has become an online sensation for his motivational videos, however, before his online recognition, he spent his whole life dreaming about serving in the military.
He got to fulfill his dream at the age of 17. But it wasn't until he was shot through the knee in Iraq in 2007 that quickly ended his career Derek was forced to rethink his options.
After battling for 18 months through numerous surgeries, Derek's knee finally got repaired, but Derek's career couldn't continue with the military. Dealing with depression upon his dismissal from the Army, Derek floated in and out of jail, until one day he entered Tough Mudder with an old friend.
Unfortunately, just as things were looking up, Derek's knee couldn't stand the impact of the race and gave way. He went into surgery for the last time – his leg was amputated. This lead Derek to focus his life on fitness for his own rehabilitation while helping others along the way.
This is his story:
---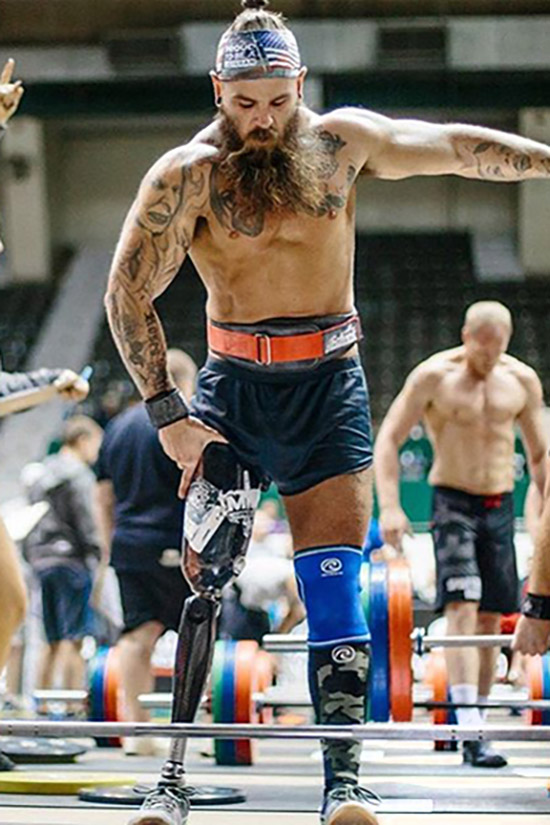 Athlete Statistics
Full Name: Derek Weida
Weight
Height
Year of Birth
Nationality
155 - 165lbs (70.3 - 74.8kg)
5'6" (167.5cm)
1985
American
Profession
Alias
Era
CrossFit Athlete, Entrepreneur, Gym Manager, Founder of The Next Objective
derekweida
2010
| | |
| --- | --- |
| Weight | 155 - 165lbs (70.3 - 74.8kg) |
| Height | 5'6" (167.5cm) |
| Year of Birth | 1985 |
| Nationality | American |
| Profession | CrossFit Athlete, Entrepreneur, Gym Manager, Founder of The Next Objective |
| Alias | derekweida |
| Era | 2010 |
---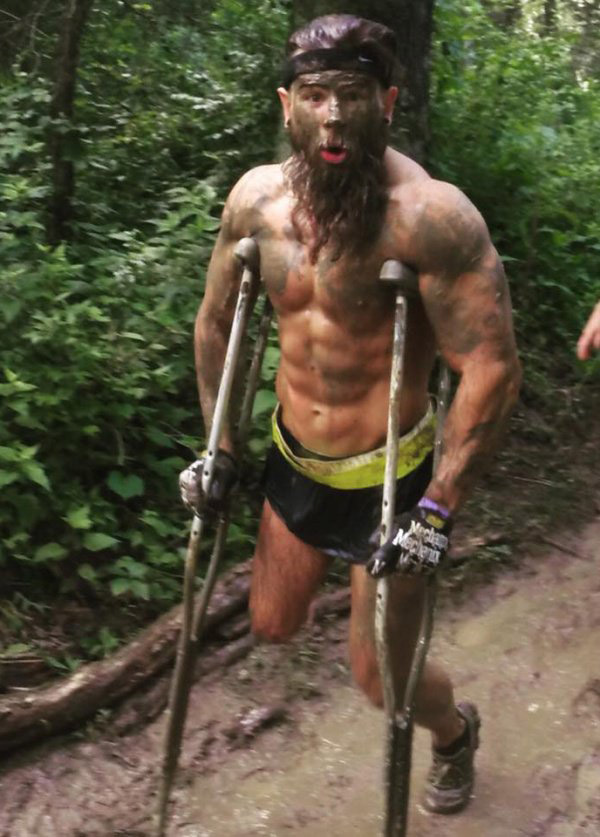 Accomplishments
Creator of The Next Objective
Gym Manager
Successful Entrepreneur
---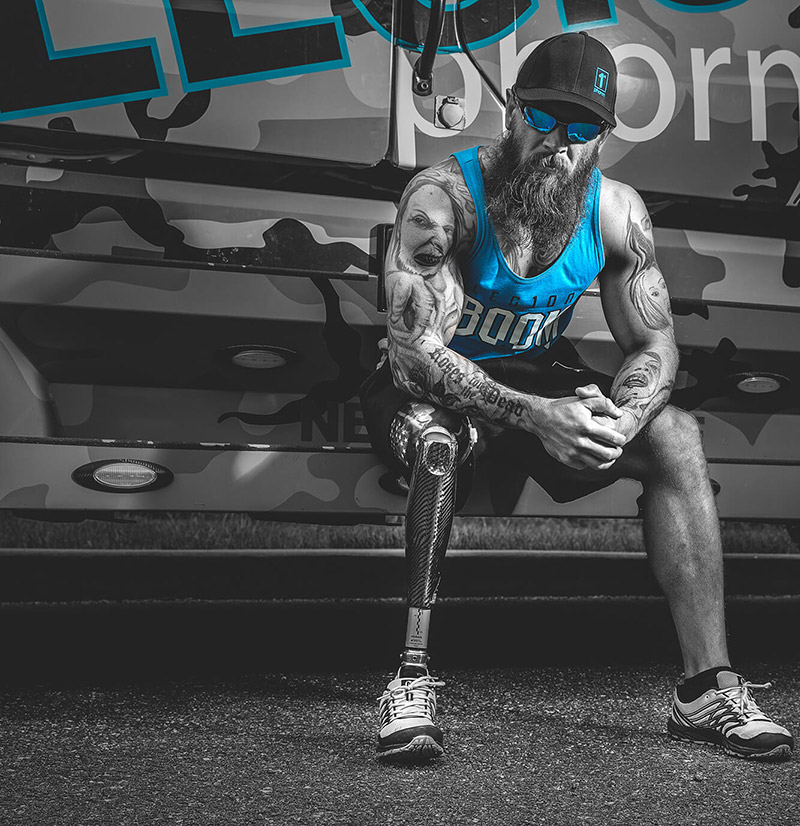 Biography
82nd Airborn Division
Derek Weida has become widely known around the world as a US Army Veteran from the 82nd Airborne Division who found CrossFit and broke through depression after a bullet was shot through his knee and ended his military career in 2008.
"I was the point man on an assault team. As soon as the door blew open I took a bullet side to side through my right knee."
The insurgent's bullet shot straight through the side of Derek's knee in 2007 which left him in severe pain and discomfort for moths while he went in and out of therapy and surgeries in the Army Medical Centre Walter Reed Hospital.
Although Derek's knee was in bad shape, his mind was 100% focused on returning to his unit and "to the fight." He went through surgeries for 18 months along with physical therapy and rehabilitation drills, but every single time, the surgery would fail.
Derek repeatedly asked surgeons to amputate his leg, but they were hopeful his knee could be fixed and rehabilitated. It was in August 2008 the surgeons said there was nothing more they could do to increase the mobility of his leg.
---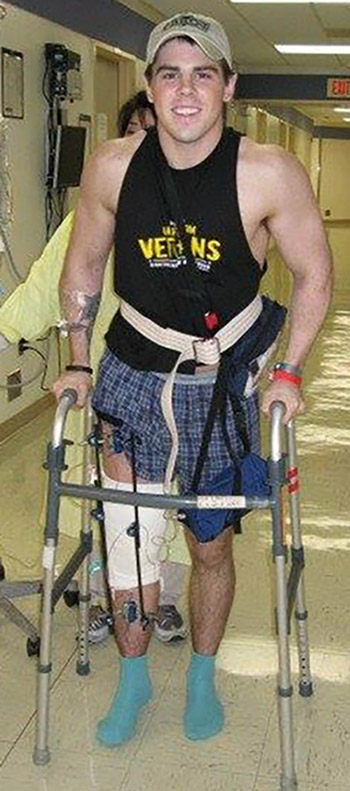 Derek during rehabilitation.
---
Medical Discharge
The medical board from the Military decided Derek wasn't physically fit for duty and ended his service. Derek's whole life was the army, he planned on making it a lifelong career. So, when this news came to Derek, it really hit home and he went into a downward spiral.
In 2009 and 2010 Derek drifted in and out of jail and was sectioned in psychiatric wards. Derek says; "my life was over in my eyes, there was nothing left to live for, I was angry, depressed and suicidal." 
---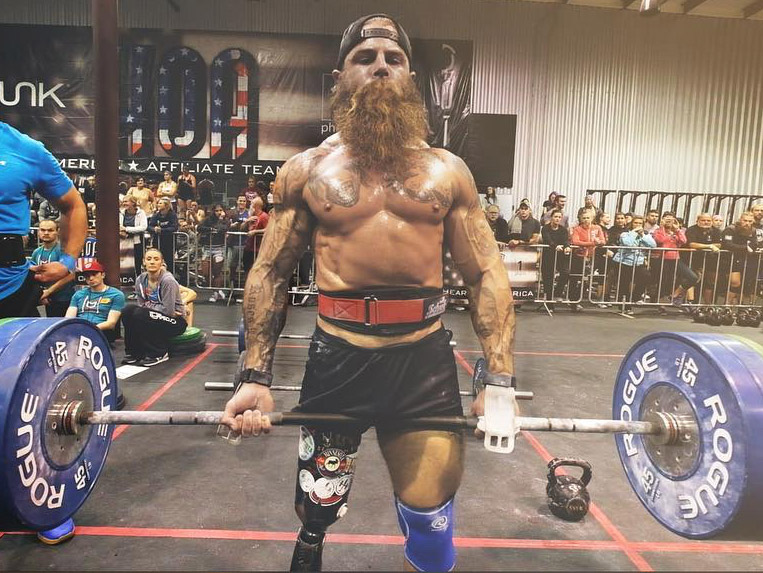 ---
Tough Mudder Race
In December 2010, an old friend who he served with in Iraq, posted an open invitation online to join him in a cross-country obstacle race. Derek saw this as an opportunity to get his life back together.
This gave Derek a temporary focus and helped him to reconnect with old veteran friends. Although things were moving in the right direction, his knee couldn't withstand the punishment that Derek gave it in that race.
"I distroyed what wasever left in my knee in that race."
Derek's Amputation
In 2011, the surgeons finally agreed to Derek's wishes and amputated his leg. This gave him control over his life, and the only thing that stood in his way was his own willingness to progress and move forward.
During this process, Derek realized this is what he's the best at, and that's – 'keep moving forward.'
The Second Tough Mudder
His ex-army buddy signed them both up for a second Tough Mudder race to help motivate him through the therapy and physical rehabilitation process.
Three months after he received his new leg, Derek was taking part in his second Tough Mudder. He did 6 miles on his legs and the rest he finished on crutches, a total of 12 miles.
---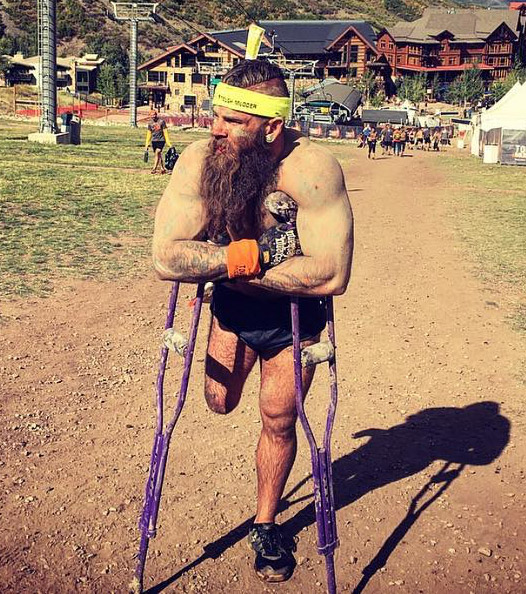 ---
Opening AnyTime Fitness
Moving back home to Minnesota in June 2013 he asked himself the question, "what am I good at, what can I do?"
He realized he was best at pushing himself, so he picked it up in the gym and trained hard. This is when he thought it was a good idea to start his own gym.
Derek started a CrowdFunding account to rais money for his new Gym and received a lot of positive attention from News Agencies about his story.
This soon attracted the attention of AnyTime Fitness who offered him to become a manager in one of their gyms. The gym is unique in the fact that all of its staff are war veterans. This Derek says, "is a beacon for those in despair." 
---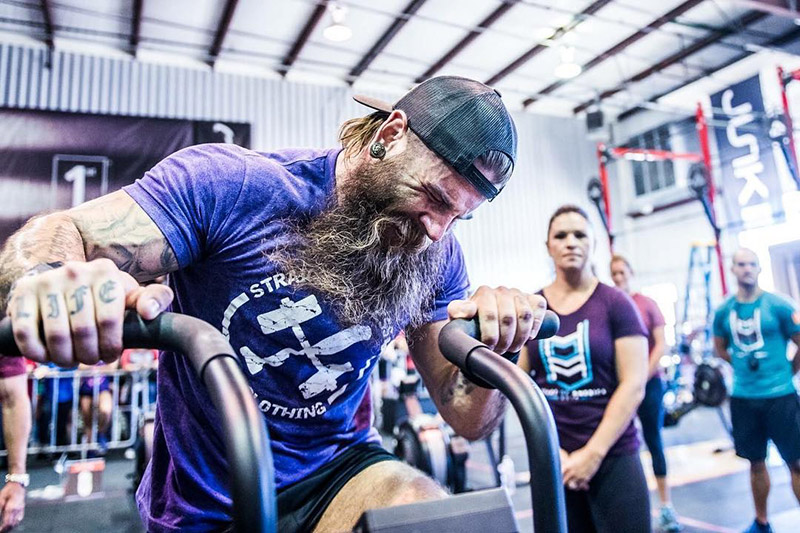 "It's not just a gym to me anymore, it's a place of real life change."
---
The Next Objective
Derek soon created The Next Objective, which is a charity run organization created by himself and managed Sean Endsley. It helps ex-service men and women rehabilitate back into society after active duty which helps them reintegrate back into their communities.
Derek also owns his own clothing label which was created after his quick rise to online fame.
Hopes And Wishes
Derek said he want's more than to work for a gym. He's fought for his freedom so he'd like to enjoy it by owning his own one day.
He also say's he'd like to compete against able-bodied people in CrossFit. Here's Derek talking about his hopes and wishes;
"I have my own visions and dreams so simply being an employee at a gym would no be very fulfilling to me. I'd also like to be competitive in the CrossFit world against able-bodied people. It'll take time and a lot of hard work but that's what we love. Fuck Easy Street."
---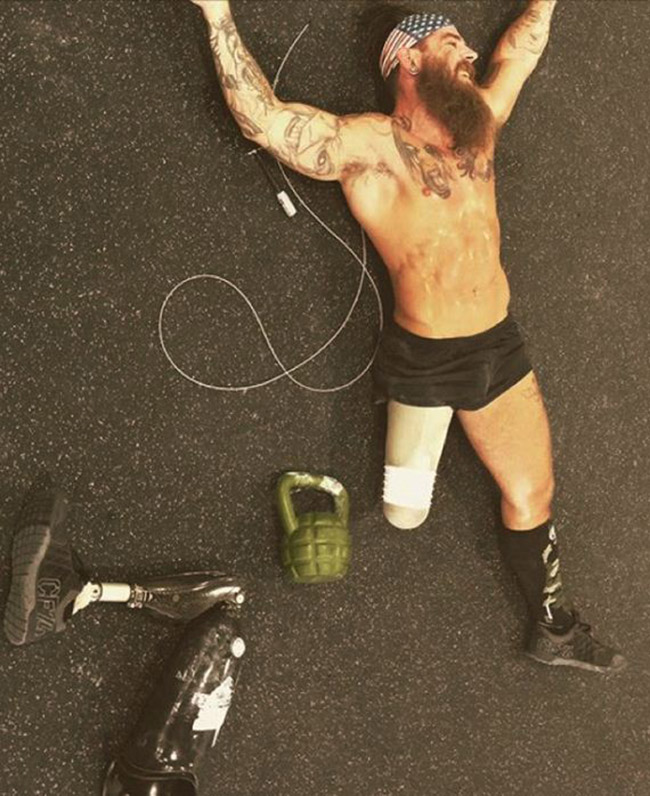 Training
Derek is all about CrossFit and his training represents that. His workouts are long and arduous and consists of everything CrossFit Related. A typical workout will consist of WOD's endurance training, strength training, and Olympic lifting.
---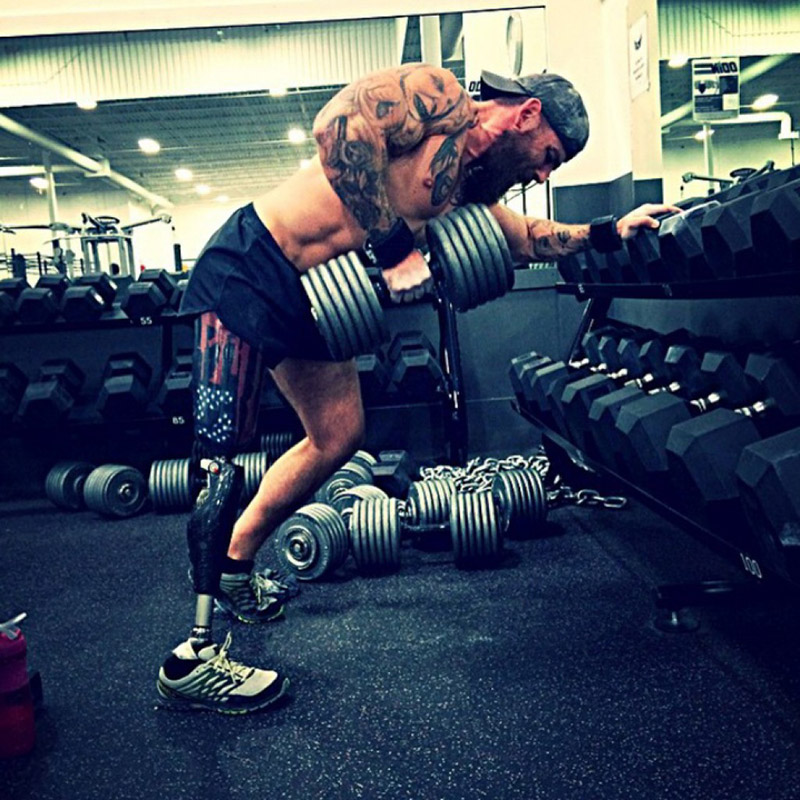 Nutrition
Derek can be found talking online about his approach to dieting and nutrition for CrossFit. His meals will consist of lean proteins, healthy fats and complex carbs such as yams and oatmeal.
---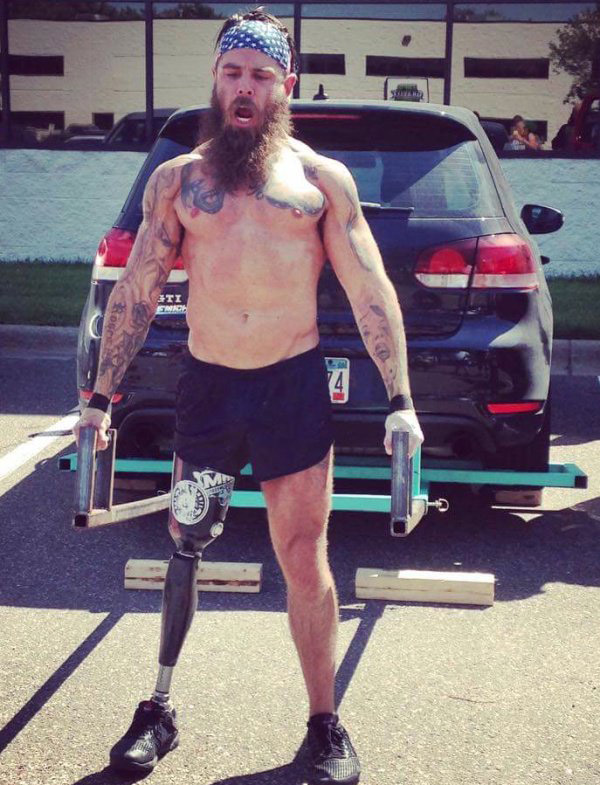 Idols and Influences
Derek is a ray of hope for people everywhere who have struggled with PTSD and other war-related injuries. His positive attitude and unwillingness to give up motivates whole generations of people to keep moving forward and not give up their own daily battles.
---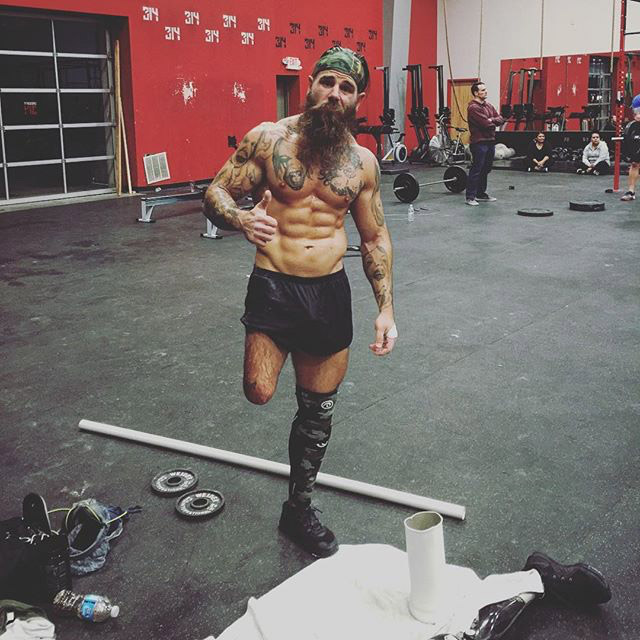 What we can learn from Derek Weida
Derek has taught us that no matter what, we should never give up. Not even after his suicidal thoughts, his depression, and the loss of his leg, Derek always had something inside of him that wouldn't let go, and that was "hope."
With this hope, Derek came back and fought against his demons through exercise. He's now known around the world as an inspiration for others.
With the same drive and hope that things will get better through difficult times, you too can achieve greatness and become your hero.