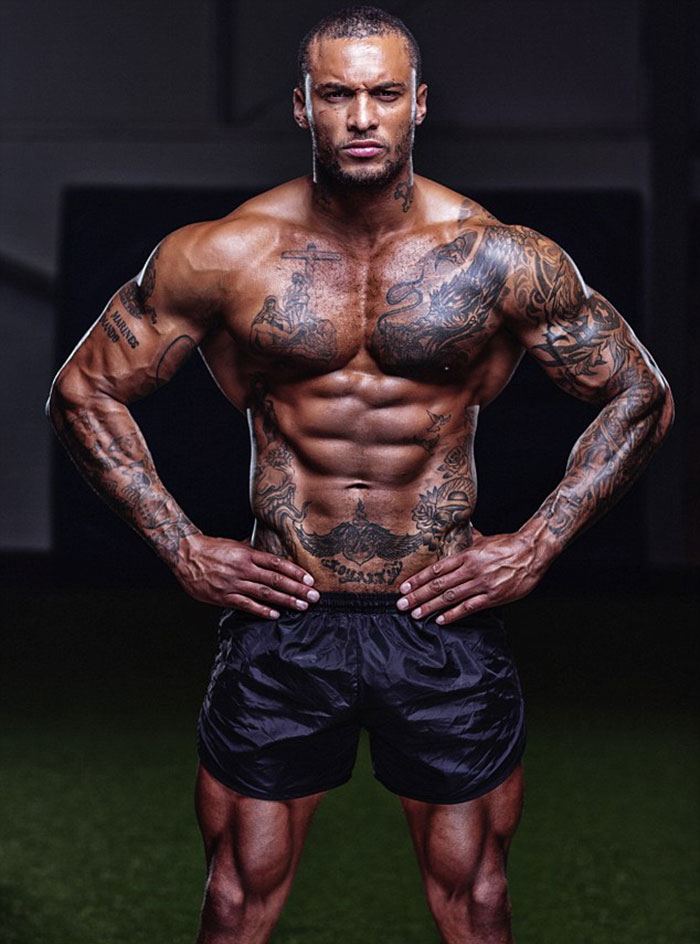 David McIntosh
Fitness Model, Bodybuilder, Celebrity
David McIntosh is a British fitness model, Bodybuilder, and celebrity socialite from Wigan, England. He's a well-known figure on UK television; making a name for himself on the 'Gladiator's' TV show, before finding success as a fitness model and private security official.
Despite David's success as a model, the fitness industry wasn't always his main calling. His early years were spent dreaming of, and training for, a career in the Royal Marines. After passing through training, he spent several years touring violent international hotspots with the regiment – before deciding to turn his passion for physical fitness into a career.
David now runs a successful business where he helps people get into shape. With his organisation, he travels around the UK teaching children about the benefits of healthy eating and fitness. This is his story:
---

Athlete Statistics
Full Name: Davin McIntosh
Weight
Height
Waist
Year of Birth
215 - 225lbs (93.0 - 102.1kg)
6' (183cm)
32"
1985
Nationality
Profession
Era
British
Fitness Model, Bodybuilder, Celebrity
2010
| | |
| --- | --- |
| Weight | 215 - 225lbs (93.0 - 102.1kg) |
| Height | 6' (183cm) |
| Waist | 32" |
| Year of Birth | 1985 |
| Nationality | British |
| Profession | Fitness Model, Bodybuilder, Celebrity |
| Era | 2010 |
---

Accomplishments
Television Celebrity
Fitness Model
Royal Marine Commando
---

"When your powerful chasing dreams becomes easy".
Biography
Joining The Royal Marines
Born and raised in Wigan, Northern England, David grew up with a passion for staying fit, where he played football and rugby every week. He always dreamed of being a Royal Marine Commando – one of the best trained troops in the British armed forces.
This dream pushed David to spend his final year in high school getting in shape for basic training. The "punishing" training course consisted of 32 weeks of physical fitness, as well as mental endurance exercises. He managed to impress his officers and pass the course, becoming a fully fledged Royal Marine.
When David received his 'green beret' at just 16 years old, his new career as a highly-trained soldier began. He went on to serve in Northern Ireland, Somalia, Afghanistan and the Persian Gulf – enjoying every minute of it.
Gladiators And Private Security Work
David left the marines with a great love for working out, as well as an excellent physique from his strength-training within the regiment. He wanted a job that would allow him to stay fit and active, so looked for opportunities on British television game shows.
After looking across the country for opportunities with various channels, David was scouted by the popular obstacle-course television program 'Gladiators'. After he successfully passed the interview, he was accepted on to the show and participated in 35 episodes as the character 'Tornado'. During this period, he became a British celebrity and socialite.
After deciding to move away from television work for a while, David chose to return to his first passion. He worked as a private military contractor in Africa, fighting piracy and terrorism, where he enjoyed getting "back into the action and danger" of his Marine days. He appeared on the British news in the 2000's, after escaping from a gun battle at sea with fellow ex-marines.
David was also a security official for a badger culling operation. Unfortunately, during a particular contract, he crashed a van loaded with dead badgers into a bus stop. For this, he received a traffic violation and a court fine. Around the same time, he was also found guilty of driving for eight years without a license.
---

---
Fitness Model
Moving past this setback and beginning a new career, David used his celebrity status and toned physique to find work as a fitness model. In 2014, he had the opportunity to appear in fitness magazines – landing shoots with Muscle & Fitness, as well as ESSENCE magazine in their issue of "10 Sexiest Men Ever".
He also began looking for similarly high profile model jobs in music videos, finding work in Jennifer Hudson's video "Walk It Out", as well as the Nicki Minaj video "Anaconda". David enjoyed this opportunity to display his physique to millions of people on YouTube, improving his celebrity status.
Giving Back
While David saw fitness modelling as his new direction, he also wanted to give back to his local community and improve the lives of children nationwide. He started a successful fitness company that traveled around the UK, giving advice to children about healthy eating and fitness. This business has helped many, improving lives around the country.
---

Training
Training Too Hard
When David began training, his main issue was that he was working his body too hard. He says that he spent around 2 hours working out per day, running both to and from the gym for a total of 6 miles.
"I'd say 1 hour of hard weight training is ample… you're in the gym so get under that weight and lift".
He says that too much cardio in particular was "hindering" his chances of getting bigger, as it burned too many calories. Because of this, he now limits his cardio to short sprints as opposed to long runs. These sprints prevent excess calorie burning, but also work his glutes and quads at the same time – helping David with his muscle building goals.  
No Set Routine
In terms of a workout routine, David says that he really doesn't have much of a weekly plan. He says, "there is no set routine to the madness I do". Instead, he focuses on heavy compound lifts which work as many body parts as possible. 
A typical chest workout for Davis is below:
60Kg bench press (20 reps full), (20 reps mid way up to the top of lift), (20 reps from the chest to mid way)

Pressups (30 reps)

All of the above three times
---

Nutrition
Fresh And Organic Meals
David likes to stay lean all year round, so he doesn't spend any time bulking during the year. He, instead, focuses on eating as healthy as he possibly can, cooking a nutritious meal twice a day.
As opposed to other bodybuilding diets which recommend a number of small meals spread throughout the day, David says  "you just have to find out what works for you". He believes there isn't a one-diet-fits-all approach in bodybuilding; instead, he encourages everyone to follow their own path.
He also loves drinking juices made from fruit and vegetables. He says "the best purchase you can ever make is a juicer, they are worth their weight in gold" – he drinks organic juices regularly for breakfast.
Supplements
In terms of supplements, David tries to avoid any pills if he can, saying "a good diet and a good protein shake are more than enough". He does, however, use creatine before and after each workout.
---

Idols and Influences
As is the case with many bodybuilders of today, Arnold Schwarzenegger is David's number-one inspiration. He says that it isn't just Arnold's physique which impresses him, but his whole persona and attitude to life. David hopes that he can live in a similar fashion to Arnold – making the most of each day.
---

What we can learn from David McIntosh
One thing that we can learn from David's story is that, with passion and determination, your fitness goals become easier to achieve.
In David's case, his fitness and career goals were one and the same. He wanted to become a Royal Marine and to be the best. To achieve this, he trained hard at 16 years old to be as fit as he possibly could, and in turn, he became a Royal Marine.
Later, David became a TV Celebrity, and a Business Entrepreneur, all thanks to his love for fitness. His ambitions nature, and wild dreams pushed him to achieve his goals.
Like David, if you set a goal for yourself and go after it with a true passion, you too could turn your goals into a reality.