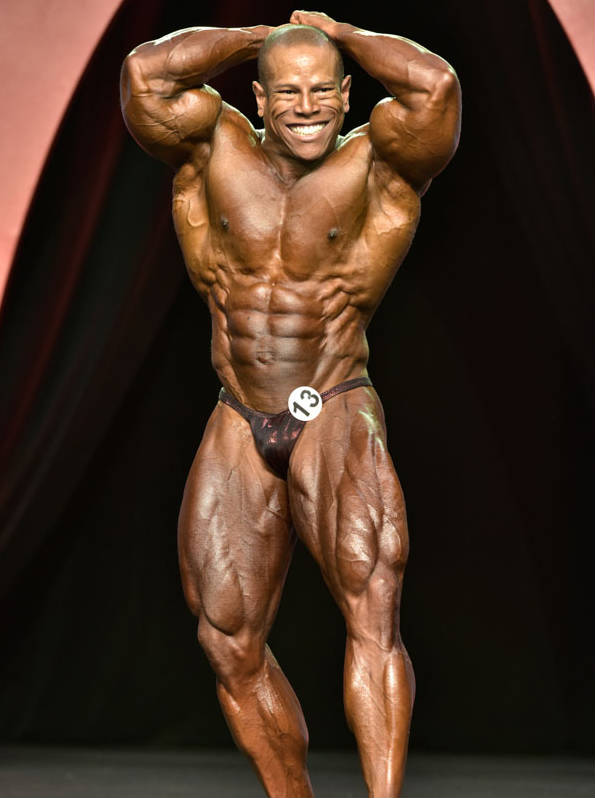 David Henry
IFBB Professional Bodybuilder, Sponsored Athlete
David Henry is an IFBB professional bodybuilder and sponsored athlete from Tucson, Arizona (USA.) He rose to fame through appearing at several Mr Olympia's, and winning a number of IFBB competitions.
Growing up, David was always a passionate sportsman. He was a track and field athlete in high school – becoming interested in bodybuilding after finding an Arnold Schwarzenegger book. He began competing while working for the Air Force, seeing victories and podium finishes from the start.
Fast forward to today, and David's career speaks for itself; he's won 9 IFBB competitions and is a highly regarded athlete. David has also appeared at the Mr Olympia weekend 5 times, establishing himself a international champion.
This is his story:
---

Athlete Statistics
Full Name: David Henry
Weight
Height
Nationality
Profession
205 - 215lbs (88.5 - 93.0kg)
5'5" (165cm)
American
IFBB Professional Bodybuilder, Sponsored Athlete
Era
2000, 2010
| | |
| --- | --- |
| Weight | 205 - 215lbs (88.5 - 93.0kg) |
| Height | 5'5" (165cm) |
| Nationality | American |
| Profession | IFBB Professional Bodybuilder, Sponsored Athlete |
| Era | 2000, 2010 |
---

Accomplishments
Competitions
1998 South Korea- Mr. Osan, Middleweight, 1st
2000 Southwest USA/ North TexasLightweight, 1st
2000 Southwest NaturalLightweight, 1st
2000 Lackland Classic Middleweight & Overall, 1st
2001 LoneStar Classic Middleweight & Overall, 1st
2001 AETC Muscle ManiaOverall, 1st
2001 Capital of Texas, Guest Poser
2001 NPC Nationals Middleweight, 11th
2002 NPC USA Championships Middleweight, 2nd
2002 NPC Nationals MiddleWeight, 1st (pro card)
2004 IFBB Florida Pro Xtreme Challenge, 10th
2004 IFBB Ironman Pro Invitational 6th
2004 IFBB San Francisco Pro Invitational 8th
2005 IFBB Ironman Pro Invitational 7th
2005 IFBB Arnold Classic, 12th
2005 IFBB Europa Supershow, 4th
2005 IFBB San Francisco Pro Invitational, 7th
2005 IFBB Toronto Pro Invitational, 7th
2005 IFBB Olympia Wildcard Showdown, Winner
2005 IFBB Mr. Olympia, 14th
2006 IFBB Ironman Pro Invitational,2nd
2006 IFBB New York Pro Championships, 4th
2006 IFBB Mr. Olympia Did not place
2007 IFBB Ironman Pro Invitational, 6th
2007 IFBB Arnold Classic, 14th
2007 IFBB Atlantic City Pro, 3rd
2007 IFBB Colorado Pro Championships, 5th
2007 IFBB Mr. Olympia, 10th
2008 IFBB Ironman Pro Invitational, 12th
2008 IFBB Arnold Classic, 12th
2008 IFBB New York Pro Championships LightWeight, 2nd / Open, 4th
2008 IFBB Mr. Olympia LightWeight, 1st / Open, 15th
2008 IFBB Tampa Bay Pro LightWeight, 1st / Open, 3rd
2009 IFBB New York Pro Championships LightWeight, 3rd
2009 IFBB Tampa Bay Pro LightWeight, 1st
2009 IFBB Mr. Olympia 202 division LightWeight, 2nd
2010 IFBB Battle of Champions LightWeight, 2nd
2010 IFBB Jacksonville ProLightWeight, 1st
2012 Daplacellas Super Show, 1st
2012 Sheru Classic 212 1st
2013 Sheru Classic 212 1st
2013 Mr. Olympia 212, 2nd
2014 Arnold Classic 212, 2nd
---

Biography
Sporting Youth
David grew up in Denver, Colorado (USA.) He was a track and field athlete during his high school years – becoming "extremely lean and muscular." 
When he was 16, David says that he entered a bodybuilding contest before he had even lifted a weight. He placed 3rd in the novice category of this competition, which was massive shock to him. He was told by the judges when the competition had finished that he had a "pretty decent potential."
Finding A Passion For Bodybuilding
While the judges saw something in David, it wasn't until he found his brothers 'Arnold's Encyclopedia Of Modern Bodybuilding' book, that he became interested in building a strong physique.
He says that the images in the book were so impressive, that he decided from that day on that he would build a body like Arnold Schwarzenegger's. He began to train as hard as he could in the gym, and started reading books on bodybuilding nutrition.
Joining The Air Force
After high school, David decided that he would find an extremely active career. He joined up with the Air Force as a 'Weapons Expediter' – placing weapons on aircraft and prepping warplanes for battle.
Because of this new job, David had to schedule his gym session where he could. He started his job early in the morning, so often trained straight after work. He says that he was sometimes so tired, that he would have to "catch some sleep after work and go [to the gym] later than planned."
---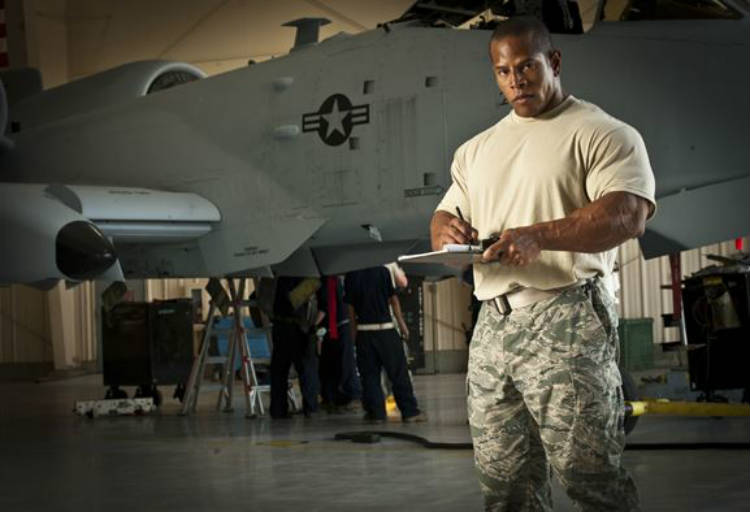 David at his day job
---
First Competition
For David, this training paid off. His first serious bodybuilding competition was on the air base where he was stationed in South Korea. The 1998 'Mr Osan' tournament was a hard fought competition for the air force personnel on the base, but David was well-prepared.
After training for a few months to prepare himself for the big day, he managed to win the middleweight category with ease. He saw this as the first step on his fitness journey.
Winning Streak
After this competition, David was filled with confidence and decided to compete again. He attended the Southwest USA/ North Texas competition in 2000, placing 1st, then followed this win up with two more 1st place trophies at the Southwest Natural and the Lackland Classic of the same year.
This streak would continue until 2001, when David decided he would begin competing in high-level 'National Physique Committee' (NPC) competitions. Unfortunately, his first NPC competition was a learning curve, as David came 11th.
A year later in 2002, he posed at the NPC USA Championships in he middleweight category and won – winning his pro card in the process. He had learned from his mistakes in 2001, training very hard in order to build a more proportionate physique.
---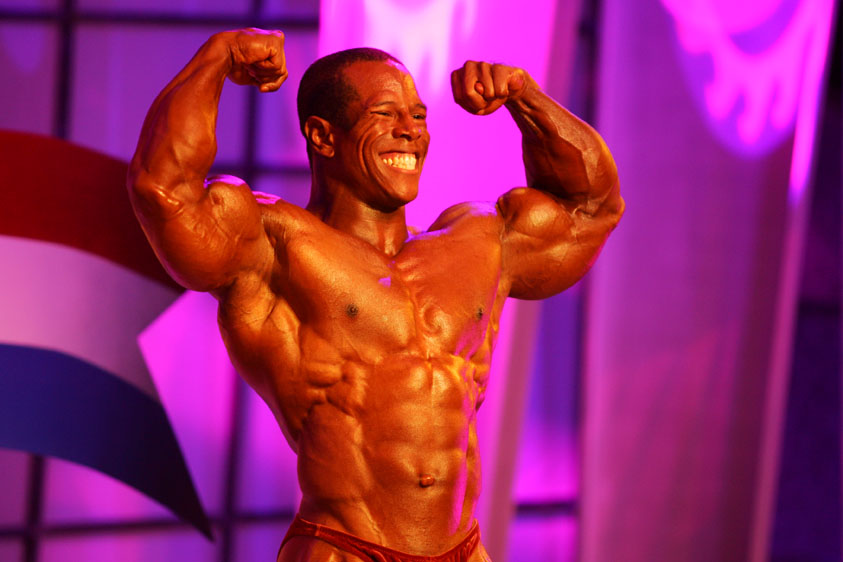 David posing at the 2005 Mr Olympia
---
Competing At The Professional Level
David's professional career began straight away after the 2002 victory. He only managed to a 10th place position in his first pro competition – the IFBB Florida Pro Xtreme Challenge – but he was filled with optimism for his next shows.
He managed a series of top ten finishes between 2004 and 2005. He stepped on stage at the IFBB Olympia Wildcard Showdown in 2005, with the intention of qualifying for the most high-profile show on earth.
He managed to win the show, as well as the overall – finding himself standing side by side with Ronnie Coleman and Jay Cutler at Mr Olympia 2005. While he only managed to land a 14th place in the show, he loved every second of it. He was also happy to take the $2000 he received for this placing.
Becoming A Seasoned Pro
Following his first Mr Olympia, David began to compete at as many professional shows as he could. He landed a 2nd at the 2006 IFBB Ironman Pro Invitational, then, after not placing at the 2006 IFBB Mr. Olympia, came 3rd at the 2007 IFBB Atlantic City Pro.
In 2008, David started to place well in consecutive competitions. He placed 2nd at the 2008 IFBB New York Pro Championships, 1st at the 202 event during the Mr Olympia weekend, then enjoyed 4 more 1st place victories.
These victories were major achievements for David. He took the win at the Tampa Bay Pro, Jacksonville Pro, Daplacellas Super Show and Sheru Classic, before taking another 2nd place finish at the 212 Mr Olympia Weekend event.
---

Training
Training Style
David follows an unorthodox training style, which he believes has paid off for him in terms of muscle and strength gains. He says that the main point of his program is to use heavy weights in short, high-rep sets, while trying to increase the resistance and weight lifted.
David also focuses on minimizing the break he has between sets. He tries to have about 10 seconds of rest, then a slightly longer break between exercises. This way, he can work his muscles to their limits and raise his heart rate.
"A stronger muscle is a bigger muscle."
David's Split
Monday: Base/Volume
Tuesday: Base/Volume
Wednesday: Off
Thursday: Muscle Rounds
Friday: Off
Saturday: Muscle Rounds
Sunday: Off
David trains four days a week for 90 minutes each session. He uses Monday and Tuesday for 'base and volume days.' The base day entails performing straight sets of one exercise for the thighs and hamstrings and quads, then lowering the reps each set before  moving onto the calves.
When it comes to the volume part of the workout, David supersets one exercise for the chest/back then shoulders/abs then the biceps/triceps. He completes 12-15 reps per exercise per set and only rests for two minutes if he is absolutely exhausted.
For his next two weekly workouts, he chooses Thursday and Saturday, which he calls "the muscle rounds". These days are dedicated to lifting as heavily as possible. He picks one exercise per body part – completing 5 sets of no more than 4 reps for each.
One of his go-to exercises during this period is the seated shoulder overhead dumbbell press. He says that for adding mass to the shoulder, (particularly the front delt,) the exercises cannot be beaten. He needs a spotter every time he performs the exercise, as he uses very heavy weights and completes just a few reps.
Favorite Exercises
When it comes to David's favorite exercise, he loves the Standing Cable Flye. For this exercise, he uses the cables in their lowest position – slowly raising them to shoulder height. He loves the tension that the cables give when they hit his lower pectorals.
As well as this chest exercise, David also loves various back exercises.He will usually start a back workout with pull ups and seated cable rows. Pullups are an exercise which Henry has always included in his workout. He says that everyone should use them as they are a "test of strength."
When he completes his pull ups, he varies the grip he uses to hit the muscle at different angles. He loves the burn that it gives his arms after the set.
Least Favorite Exercise
One exercise which Davis really doesn't enjoy doing, is the Deadlift. He says that "structurally," he is not suited to reaching down for the weight. Instead of this movement, he has introduced rack deadlifts into his routine, which he enjoys a lot.
---

Nutrition
Off-Season Diet
In the off-season, David says that he maintains 90% of the classic bodybuilders diet. He eats clean during the week and includes chicken breasts, brown rice and lean meats such as turkey and beef. He also has a carb cut off point, so that he doesn't put on too much weight.
From Friday afternoon until Sunday evening though, David eats anything he wants. He eats all kinds of foods from sushi, to burgers and steak. He also barbecues his own meat in his yard and enjoys eating ribs, chicken, and sausages.
Because of this diet, David says that his calorie count goes up to 7-10,000 calories per day on the weekend. He loves to eat these foods, but he says that his sodium can go off the charts with the amount of Pizza he eats.
Competition Season Diet
6 months out
David's competition season diet is much more regimented than his off season weekend binging. He believes that rotating his carbs has been very useful for cutting, so he has a high carb plan one day, before lowering the carbs a lot the next, then taking them out completely.
He begins this process 6-8 months before competing, to allow his body to adjust to the new intake.
4 weeks out
He says that no two days are the same for his carbohyrates. He maintains this carb intake until 4 weeks out from a competition, while keeping his protein intake relatively consistent at 350-400 grams a day.
When he passed the 4 week out mark, his protein intake goes up dramatically. He drinks a lot more green tea, and focuses on his muscle more in the gym. He also increases the amount of water he drinks while removing carbs altogether.
Favorite Clean Meal
David's favorite clean (mid-week) meal, is ground turkey with jasmine rice. He loves how the two flavors combine together, and he also likes how easy it is to make.
Favorite Cheat Meal
If he could pick one cheat meal, it would be chicken wings with bratwurst. He loves to barbecue these meats, drinking a few beers while he's grilling.
---

Idols and Influences
Ever since he was a teenager, Arnold Schwarzenegger has been David's go-to idol. He loves how Arnold managed to create such a well-proportioned physique.
---

What we can learn from David Henry
David's career shows how hard bodybuilders need to work to reach the Mr Olympia. David had to compete at 19 competitions before he stepped on to the Olympia stage as a wildcard. He also had to make sacrifices in his diet and social life, while juggling a full time air force job with his gym sessions.
If you want to follow David's path and become a pro bodybuilder, you will need to be prepared for many years of hard work and sacrifice.