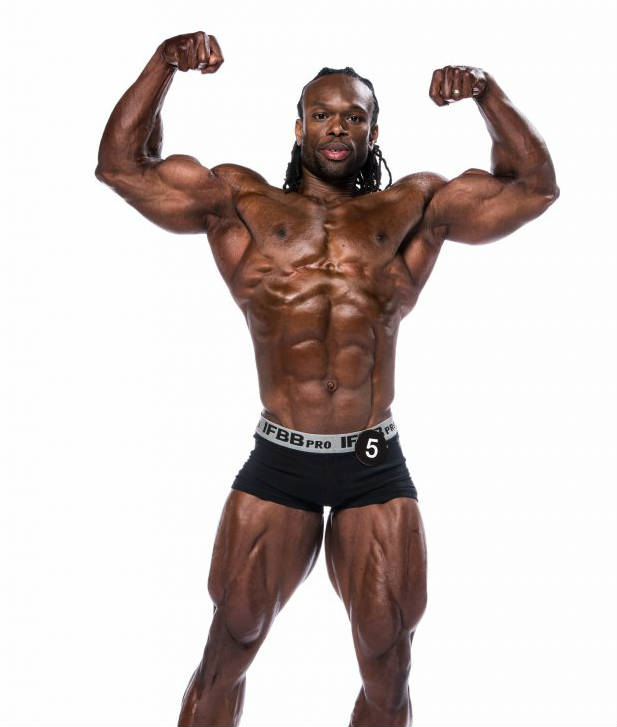 Daron Lytle
IFBB Professional Bodybuilder
Daron 'Double Barrel' Lytle is an IFBB professional bodybuilder from Missouri, USA. He rose to fame when he claimed his pro card shortly after starting to compete.
Growing up, Daron loved to play a variety of sports. He started weight training in 1986 for high school football and became hooked to working out and "feeling the pump."
After school, he joined the navy and served for 6 years – finding bodybuilding again when his colleagues told him to compete.
He did so, and began to succeed in amateur competitions before turning pro in the late 00's. Today, Daron looks back on this period as a defining time in his life. This is his story:
---

Athlete Statistics
Full Name: Daron Lytle
Weight
Height
Age
Date of Birth
205 - 215lbs (88.5 - 93.0kg)
5'9" (175cm)
50
November 5, 1973
Nationality
Profession
Alias
American
IFBB Professional Bodybuilder
Double Barrel
Era
2000, 2010
| | |
| --- | --- |
| Weight | 205 - 215lbs (88.5 - 93.0kg) |
| Height | 5'9" (175cm) |
| Age | 50 |
| Date of Birth | November 5, 1973 |
| Nationality | American |
| Profession | IFBB Professional Bodybuilder |
| Alias | Double Barrel |
| Era | 2000, 2010 |
---

Accomplishments
Competitions
2004 NPC Jr. USA, 1st
2006 NPC Belgium National Championships, 1st, overall
2008 IFBB New York Men Pro 202,13th

2008 NPC Tampa Bay Bodybuilding & Figure Contest, 10th

2009 IFBB Iron Man Pro, 16th

2009 IFBB Atlantic City Bodybuilding, Fitness & Figure Championships, 15th

2010 IFBB John Simmons 202 & Bikini, 10th

2010 IFBB Sacramento Pro, 13th

2011 IFBB Complete Nutrition Muscle Heat Pro 202, 7th

2012 IFBB Europa Show of Champions Orlando, 6th

2012 IFBB Optimum Classic, 4th

2013 IFBB Europa Show of Champions Orlando, 10th

2013 IFBB Europa Phoenix Pro, 13th

2014 IFBB PBW Tampa Pro, 16th

2014 IFBB Europa Phoenix, 16th

2015 IFBB St. Louis Pro, 4th

2015 IFBB Omaha Pro, 6th
---

Biography
First Interest In Weightlifting
Darron started lifting weights while playing football at high school. He was about 13 or 14 then, but knew that weight lifting would be the sport for him as he saw results straight away.
Learning More About Professional Bodybuilding
Daron's first experience of bodybuilding came when he was in the navy. He was stationed on a ship at Pearl Harbor, and saw a few of his friends competing in a show. This inspired him to follow the same path and chase his dream.
He loved the entire process of going to the gym and building muscle to eventually show to the world. He says that he "even started eating chicken and broccoli," becoming obsessed with the thought of creating a professional level physique.
While he was in the gym improving his physique, a number of men kept asking him when he was going to compete. He liked the idea of doing so, so started buying bodybuilding magazines and keeping up to date with the professional bodybuilding scene.
---

---
Starting to Compete
Daron began to become amazed by the transformation he was noticing. He competed at a number of junior shows and won his first NPC USA show in 2004.
After this win, Daron was completely hooked to bodybuilding. He continued to compete as an amateur in the NPC, and took another title at the Belgium Nationals near to where his wife was stationed in the military.
Through winning this show, Daron received his pro card and started a career which would see him stand alongside some of the best bodybuilders in the world.
Switching To The Classic Physique Division
As his professional career progressed, Daron says that he began to realize that his physique wasn't suitable for the modern bodybuilding aesthetic. He decided that, instead, he would join the classic physique division which would allow him to keep his v-taper look.
He says that doing this was his "best move ever." He took a 4th at the 2012 IFBB Optimum Classic and began to come in the top ten regularly after this.
---

Training
Training Approach
When Daron trains, he trains hard. He completes sessions on 5 days of every week, focusing on heavy weights and high repetitions.
Monday: legs
Tuesday: chest
Wednesday: back
Thursday: biceps and triceps
Friday: delts
Legs: step up with weight and reverse lunges, seated leg curls and leg extensions
Chest: bench press, smith incline press, flys and flat dumbbell press
Back: barbell bent over rows, one arm rows, pull ups, and machine seated rows
Biceps and triceps: concentration curls, rope pull downs, farmer's walk, and close grip bench press
Delts: Standing one arm press, standing dumbbell laterals, seated lateral machine and rear delts on the pec dec machine
Most reps are 8 to 12 with 4 sets per exercise.
Favorite Exercises
Daron's favorite exercises range from compound to isolation movements. He enjoys working out generally, but has an individual exercise he prefers for each body part.
For his back, the bent over barbell row is king. He loves the tension the movement offers as he pulls the bar towards his chest.
When it comes to building this impressive chest, Daron loves to complete the dumbbell flat press. He prefers the dumbbell press to the barbell press, as it makes it easier on his shoulder joints while delivering a great pump.
---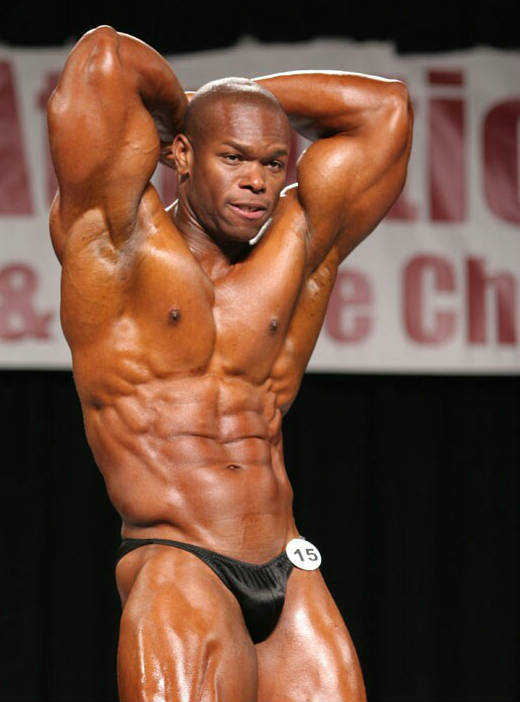 ---
Daron's legs are one of his strongest areas, and the lying or seated leg curl is his go-to movement for hitting the glutes and quads. He also prefers curls for his biceps, loving the pump that a concentration curl can give the muscle.
For the largest muscle in the arm – the tricep – Daron chooses the pushdown. He loves this movement, as it allows him to build strength in the tricep through an isolating movement that doesn't stimulate any other muscle.
---

Nutrition
Healthy And Nutritious
Daron eats 6 meals a day and always includes a protein source and healthy carbs in every meal (during the off season.) His daily targets during this period are 200 grams of carbs, 300 grams of protein and 30g of fat.
Protein Choices
Daron's protein is sourced from a wide range of foods. He eats lean meats such as turkey, chicken, beef and steak and includes fish such as salmon, cod and halibut in some meals.
A standard, go-to meal for Daron when he wants to make something easy is a cup of white rice, with chicken and a cup of vegetables.
Carbohydrate Options And Snacks
This rice makes up a large amount of Daron's carbs. Other healthy options to hit his daily carb requirements are brown rice, sweet potato and Ezekiel bread.
For healthy snacks , Daron will eat natural peanut butter, 20 grams of walnuts, or 30 grams of cashews or almonds.
---

Idols and Influences
As with many modern bodybuilder's, Arnold Schwarzenegger is a major influence and idol for Daron. He loves the v-tapered aesthetic that Arnold and his peers used to aim for, which is one of the reasons why he competes in the classic physique division.
---

What we can learn from Daron Lytle
Daron Lytle has shown how the classic look is still valued in bodybuilding. To sculpt a small waist/broad shoulders look is a difficult task, so Daron see's his classic physique shows as a challenge.
His path into bodybuilding was also a difficult one. He started later than most and began bodybuilding while stationed in pearl harbor with the US navy. He decided that he would either follow his passion then and there, or regret not doing so forever.
In a world where many bodybuilders simply want to become as big as possible, Daron can be seen as a breath of fresh air. He's followed his dreams and chosen to stick with the classic look from the early days of bodybuilding.