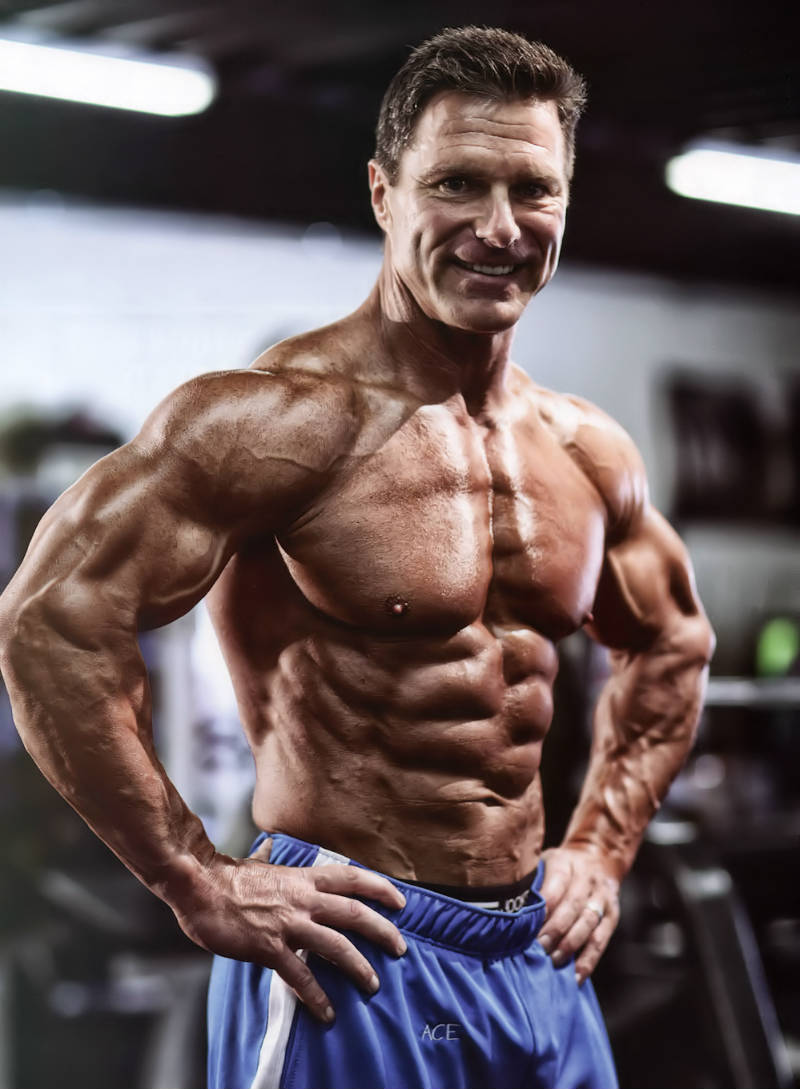 Clark Bartram
Personal Trainer, television host
Clark Bartram is a professional fitness model, published fitness writer and ISSA Master Personal Trainer from Ohio, USA. He is well-known as an online trainer and TV fitness show host in the USA.
Growing up, Clark was very passionate about sports, playing as many as he could at school. He was inspired very early on to take up bodybuilding – being told by a local YMCA trainer that his body was perfect for development.
As Clark developed his own physique, he also decided that he would help others with theirs. He trained to be a personal trainer and started to train individuals online, eventually achieving the accolade of ISSA 'Master Trainer.'
Through this promotion, he managed to find work on US television. He inspired millions of people as the co-host of Kiana's Flex Appeal on ESPN and took part in a number of other fitness related shows.
Fast forward to today, and Clark continues to be involved in online fitness training. He's also appeared in an alternative batman film and enjoys acting greatly. This is his story:
---

Athlete Statistics
Full Name: Clark Bartram
Nationality
Profession
Era
American
Personal Trainer, television host
2000, 2010
| | |
| --- | --- |
| Nationality | American |
| Profession | Personal Trainer, television host |
| Era | 2000, 2010 |
---

Accomplishments
ISSA Master Trainer
Popular magazine contributor
Sponsored Athlete
---

Biography
Sporting Beginnings
Growing up, Clark was always active and played sports at junior and high school. He was always attracted to sports which pushed his body to its limits such as football, and the interest for this sport stayed with him.
Weight lifting became a part of Clark's life during high school. In 1979, a weight trainer at the local YMCA saw his bicep definition and told him that he'd make a great bodybuilder. Since that day, he's been hooked.
Clark mentions hat he actually called the man 30 years later, and it turned out that he had been following his career. Clark says that "it was awesome to let him know that his positive comments actually had an impact."
Taking Up Bodybuilding
Following this fortunate meeting, Clark began hitting the weights regularly. He was obsessed with building an impressive figure and looking like the men in the YMCA gym. He also loved the opportunity to incorporate such a positive force into his life.
For once, Clark was reading about something he was genuinely interested in, as opposed to schoolwork. He read about bodybuilding nutrition, weight lifting technique and the history of the sport – soaking up all the knowledge he could.
Fitness Modelling
As Clark built the body of his dreams through years of hard work, he also began to attract the attention of modelling agencies. He was hired as a fitness model and received work from a number of top magazines and online publications.
As his face became more and more well-known, Clark managed to appear on over a hundred covers including Muscle & Fitness and Natural Bodybuilding. He became the go-to man for natural bodybuilding shoots and 'working-man' focused articles.
---

---
Personal Training
As Clark developed his own physique and learned as much as possible about weight lifting, he also decided that he would help others on their journey. He trained as a personal trainer with the ISSA and began to take on clients almost immediately.
Again, through years of hard work, Clark became a certified ISSA Master trainer – an accolade only giving to a select few elite members. This allowed Clark to build his client base massively and work with everyone from amateurs to elite athletes.
Television appearances
As a major name in the personal training world, Clark managed to find work on major network television in the USA. He was a co-host on Kiana's Flex Appeal on ESPN and hosted American Health And Fitness – another popular fitness show.
Clark thoroughly enjoyed the opportunity to be on television and help millions of people with their fitness needs. It also gave him publicity with which he could further his personal training business.
Contributing To Magazines
As well as appearing on the cover of many world-famous magazines, Clark also wrote for a number throughout his career. He regularly contributed to national fitness magazines like Ironman and Muscle Media, and is also the author of the how-to guide, You Too Can Be A Fitness Model.
---

Training
Speed And Intensity
Clark's approach to working out is to "get in and out." He chooses this approach as he sees no point in spending hours at the gym and overtraining with the intention of being as big as possible.
He says that he has actually changed gyms once, because people were constantly noticing him working out. They kept him from his weights by talking to him which he hated.
Routine
Clarks routine can be instinctual for a lot of the year. He works as a trainer, football coach and model, so he may have to change his training approach at short notice.
Because of this, Clark says that he has built a work out which can be adapted at short notice. It is by no meals fixed to certain times of the day and can be altered based on his individual needs. His usual approach is below:
Monday: Chest
Tuesday: Back
Wednesday: Legs
Thursday: Shoulders
Friday: Arms
Saturday: Free
Sunday: Free
---

---
Back Routine
When it comes Clark's back session, he believes that less is more. His exercises are switched up frequently, but the workout usually consists of one warmup movement, followed by four exercises. He performs four sets of each, for a total of 16 sets.
He also starts lifting heavy straight away. While his first set is usually a warm up, by set two Clark is lifting the maximum weight that he can handle.
Perfect Form
He says "I was taught at an early age to have perfect form." If the heavy weight is affecting this form, Clark chooses to lower the weight or rep count slightly.
The back exercises he performs can be split into two categories; pulldowns/pullups. Among rows, the bentover barbell row is his all-time favorite.
To perform the movement, Clark bends his knees at 15 degrees. Through completing the movement in this fashion, Clark says he can activate the illiotibial band in the leg.
Advising Beginners On Lifting Approach
A mistake many beginners make is focusing too much on the number of reps and not enough on the quality of each rep. "My goal is to conduct each repetition as if it were the first, last and only one I'm doing."
---

Nutrition
Nutritional Approach
Clark has no issue with eating carbs, saying that his "muscle bellies feel and look fuller" when he has eaten carbs during the day. He says that everyone should simply find what works for them, rather than following a path laid out by a pro that doesn't know them.
Through working out his own plan, Clark now knows exactly what he can get away with. He says he can calculate "how many chips" he can eat precisely based on his macros. Through having this knowledge, he can control his weight and maintain his muscle mass.
"I'm not concerned about slapping five inches on my shoulders," he says. "I'm more concerned about being able to run, jump, twist, squat, and do all those things at a very high level."
Focus On Water
Clark places a lot of importance on his water intake. He tells his clients that dehydration can happen in both winter and summer, so a regular stream of water is absolutely essential for those who intend to workout.
He also stresses that the carbohydrates and proteins that we eat are metabolized and transported with water, so it is essential for bodybuilders. Without an adequate supple of water, it would be much harder to build muscle.
Advice For His Clients
Clark loves to give his clients clear-cut advice about their nutrition. He believes that there is too much nonsense out there, so people simply need to know what to eat and when to eat it.
He tells his clients to start off by keeping a food journal. Dieting is central to bodybuilding, so if people don't actually know what they're eating, they will struggle to make gains.
He also asks them to consider the 4 questions below:
Are you eating 4-6 small meals/snacks a day, spaced approximately 3-4 hours apart?
Are you having protein in each meal?
Are you eating fresh fruit and/or  vegetables in 3 of those meals?
Are you drinking less than three 5-oz.  alcoholic beverages per week?
---

What we can learn from Clark Bartram
Clark has built a career for himself through his own hard work and networking. He initial interest in bodybuilding came from a YMCA trainer who told Clark he had what it took to build a great body.
He has taken this positive message with him throughout his life – finding inspiration to help others in the same way he was helped. He has worked as a master personal trainer, and has written for magazines while hosting major television shows.
If you want to achieve the same level of success as Clark, show the same level of dedication and who knows where you could end up.