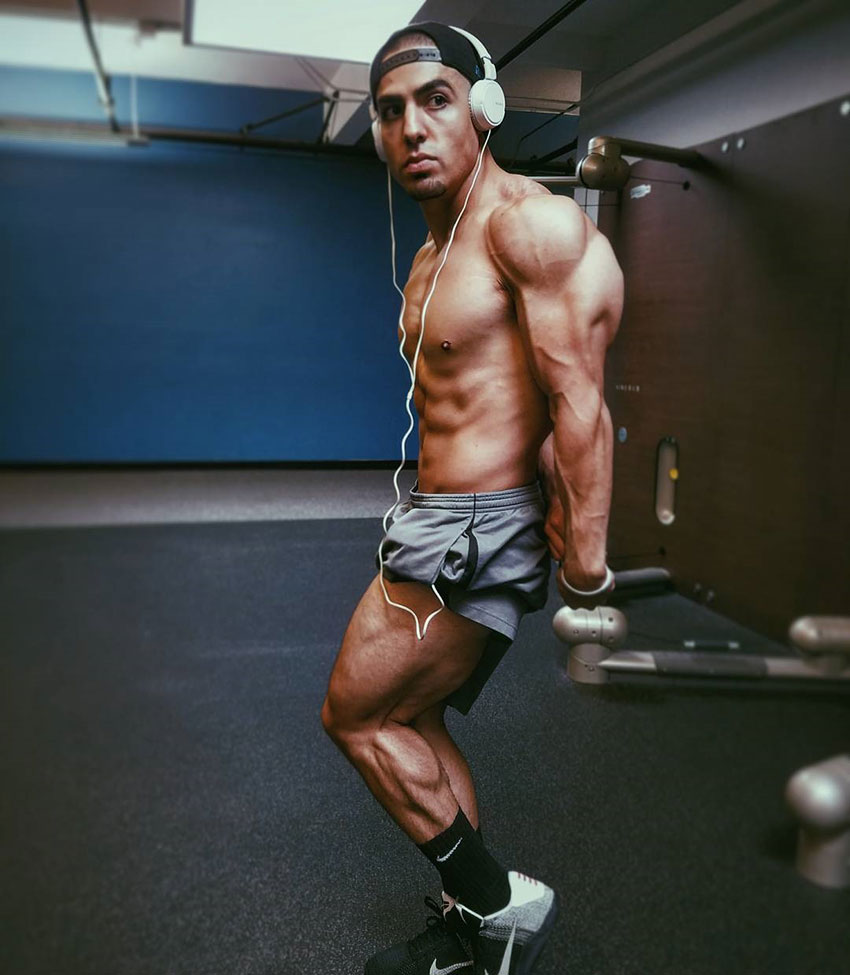 Chris Lavado
Bodybuilder, Fitness Model, Personal Trainer, Sponsored Athlete
Chris Lavado, a.k.a. 'Yucky Lavado' began his journey in fitness after battling obesity throughout his childhood years. He started taking part in competitive sports such as soccer and American football, but he lacked the strength required to be successful in these sports.
However, this is when he began weight training. Not only as a way of increasing his strength, but also a way to overcome his weight issues. Soon enough, weightlifting became one of Chris' biggest passions.
Throughout his time playing American football, Chris learned the important life lessons of remaining disciplined and motivated. Chris used these lessons to keep pushing forward in his fitness career. Eventually, he turned to the bodybuilding stage to reach a new milestone in his life.
After achieving a great physique, Chris made it his mission to help others achieve the same. As a result, he now helps others achieve the same results to fulfill his passion for helping others.
This is his story:
---
 
Athlete Statistics
Full Name: Chris Lavado
Weight
Height
Age
Date of Birth
175 - 185lbs (79.4 - 83.9kg)
5'9" (175cm)
33
July 10, 1990
Nationality
Profession
Alias
American
Bodybuilder, Fitness Model, Personal Trainer, Sponsored Athlete
Yucky Lavado
Era
2000, 2010
| | |
| --- | --- |
| Weight | 175 - 185lbs (79.4 - 83.9kg) |
| Height | 5'9" (175cm) |
| Age | 33 |
| Date of Birth | July 10, 1990 |
| Nationality | American |
| Profession | Bodybuilder, Fitness Model, Personal Trainer, Sponsored Athlete |
| Alias | Yucky Lavado |
| Era | 2000, 2010 |
---

Accomplishments
Career Achievements
Bodybuilder
Fitness Model
Personal Trainer
Sponsored Athlete
---

Biography
Childhood and High School Years
Chris was born in the Bay Area of California in 1990. Throughout his childhood, he made poor lifestyle choices. This included eating unhealthy foods on a regular basis. As a result, he began the battle against obesity. Here's Chris recalling his high school days:
"I was going down a path of obesity in high school. Decided to try out for football and turn my life around. I took a beating in the weight room, and definitely started from ground zero… but the discipline I learned from football lit a fire that would never be put out".
Throughout this time, Chris became very unhappy with his body. He suffered from bullying and insecurities about the way he looked – leaving him with low self-confidence.
However, Chris soon decided that enough was enough. He took matters into his own hands by signing up to play American football and soccer. Initially, he lacked the strength to perform well in these sports – this is when he started lifting weights.
At this point, Chris began weight training and performing cardio 6-7 days a week. He knew that by putting in hard work in the gym, this would deliver solid results. Because of this, he began to gradually improve his fitness levels.
Improving His Fitness Levels
Chris made it his ultimate goal to wave goodbye to the days where he battled against obesity. However, he made mistakes that stopped him from making optimal results. This included limiting his nutrition to eating just peanut butter sandwiches and oranges.
However, he soon realized that this was stopping him from reaching his true potential in fitness. It was at this point Chris began to overhaul his diet, conducting research on macronutrients.
As a result, Chris began to make considerable progress. Eventually, he wanted to take his fitness career to the next level – this is when he began competing on the bodybuilding stage. 
---

Reaching The Bodybuilding Stage
Chris entered his first competition in 2013 at the California Natural Muscle Mayhem bodybuilding competition. He stormed to a 2nd place finish in the men's open medium category, proving that his hard work in the gym had paid off.
Later in 2013, Chris began preparations for his second competition of the year. He attended the OCB Arizona Natural bodybuilding competition. He placed 2nd in the men's bodybuilding open B class, replicating the success of his first competition.
However, from this point, Chris then decided to take a different direction in his fitness career. It was his dream to help others reach their fitness goals – just like him. This is when he set up his own personal training business to achieve just that.
Present Day
Chris Lavado's personal training business has grown rapidly since day one. It gave him the platform to fulfill his passion for helping others, while also overcoming any obstacles in his life to continually reach his goals.
In the process, he became a sponsored athlete. This emphasized how far he was able to come in his fitness career. Chris used this as a basis to keep himself motivated, wishing to become a role model to his clients and followers online.
Eventually, he gave up competing to focus on his personal training business, eager for it to grow further year after year. Fitness offered him the chance to transform his life for the better. Now, he aims to help others achieve their dream body.
---

Training
Chris focuses his training on compound lifts including deadlifts and squats in order to maintain his physique in the most optimal way. Additionally, he performs cardio at a steady state 5-6 times per week depending on whether he is competing or not.
Over the years, Chris has become renowned for his great physique. In particular, he has trained hard working on his favorite muscle group – his back. The back exercises he uses most frequently are listed below:
Chris Lavado Back Exercises
Deadlifts
Rack Pulls
Underhand Narrow Grip Lat Pulldowns
Wide Grip Lat Pulldowns
Pullups
One Arm Cable Rows
Seated Cable Rows
One Arm Dumbbell Rows
Bent Over Barbell Rows
One Arm Machine Rows
---

Nutrition
Chris follows a flexible diet (IIFYM) so that he can eat a wide variety of foods including ones that aren't necessarily considered to be healthy. To stay on track, he keeps a record of his calories and weighs out his foods, so that he doesn't jeopardize his calorie goals.
Previously, Chris kept the majority of his foods clean while eating an occasional cheat meal, however, Chris highlights this method of nutrition wasn't for him:
"I think cheat meals are a recipe for disaster. I used to do them myself. They present a psychological weakness… and in most cases force you to binge in one way or another". 
To satisfy his sweet tooth, Chris makes his own healthy alternatives to common cheat foods. A recipe that he makes is listed below:
Chris Lavado Protein Brownie Recipe
Chocolate Whey Protein
Diet Soda
Roasted Almond Butter
Sweetener
Egg Whites
---

Idols and Influences
Chris was able to become self-motivated when he found a love for lifting weights. At first, he failed to make much progress, making several mistakes along the way, including not eating enough calories to continually grow.
However, he didn't let this stop him from finding a method of fitness that works for him. Soon enough, he became a sponsored athlete, emphasizing that he had come a long way since starting out in fitness.
From this point, he began working alongside several big names in the modern fitness industry including Matthew Ogus, David Laid and Lex Griffin. These are all fitness icons that have achieved fame across social media alongside Chris – motivating each other to keep pushing forward.
---

What we can learn from Chris Lavado
Chris Lavado inspired many people across the world when he shared his journey in fitness. He became well-known in his bodybuilding career, eventually becoming a personal trainer. But, he hit roadblocks along the way.
Chris struggled with obesity throughout his early years in high school. Because of this, he suffered from low self-confidence and bullying due to the way he looked.
However, he was eventually able to overcome this. He started taking part in American football, offering him a way out from his days of obesity. From then on, he never looked back.
What we can learn from Chris is that there will be times in life where you feel you have hit rock bottom. But, Chris proved that he was able to become the best possible version of himself, while making any negative aspects of his life a thing of the past.