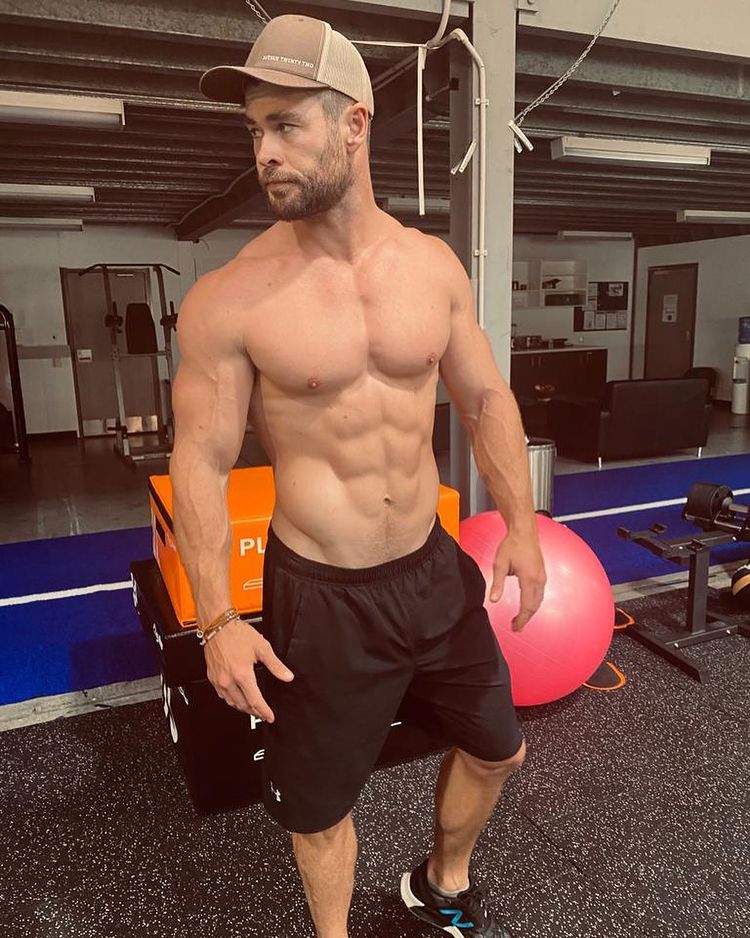 Chris Hemsworth
Australian actor Chris Hemsworth became famous for his impressive physique and rapid physical transformation after appearing as Thor in the Marvel movies.
Having gained a reputation as a heart throb on Home and Away, where his toned physique fitted with his teenage, beach-boy character, Hemsworth transformed himself in preparation for his role as Thor.
Since then, he became known as Hollywood hunk, landing roles as a muscle-bound protagonist in multiple blockbuster movies. In The Huntsman (2012) and prequel/sequel The Huntsman: Winters War (2016), Chris Hemsworth played Eric, an axe-wielding elite warrior of great renown. Then, in 2018, Hemsworth was back in the heart of the action as the leader of an elite unit of American soldiers on a mission in Afghanistan in 12 Strong.
Throughout this time, Chris Hemsworth has continued to appear as Thor in a variety of Marvel movies, including Avengers: Age of Ultron, Avengers: Infinity War, Avengers: Endgame. He will also appear as Thor once again in the upcoming Avengers movie, Avengers: Secret Wars, which is scheduled to be released in 2025.
Chris Hemsworth: Workout Routine
No doubt you're wondering how the skinny (albeit fit and toned) teen from Home and Away became the muscular leading man in a Hollywood movie about the viking God of Thunder. Chris Hemsworth v-shaped physique is the goal of many a gym-going man, not to mention his bulky shoulders, ripped and veiny arms, and six-pack abs.
Apparently, Chris Hemsworth trained 5-days a week to get into shape for his role as Thor. Each workout spanned 90-minutes and included a mixture of high intensity cardio, weight lifting, and bodyweight exercises.
In addition to the stringent exercise schedule, Chris Hemsworth ate an enormous amount of food in order to transform his skinny, surfer-dude body into the jacked God-like physique of Thor.
To keep him discipled and on-track, Chris Hemsworth also had the support and guidance of not one, but two personal trainers: Duffy Gaver and Luke Zocchi. Duffy Gaver is an ex-Navy SEAL Sniper who has transformed several Hollywood stars into hunks. Along with Chris Hemsworth, Gaver has trained Brad Pitt in preparation for Tory and Tobey Maguire for his role as Spider Man.
His second trainer, Luke Zocchi, has also worked with several celebrities, preparing them for roles in movies, and has known Chris Hemsworth since primary school. Together, Zocchi and Chris Hemsworth created an app called Centr, which guides you through attaining a Hemsworth-type physique. Much of the content for the app was filmed on the set of Thor: Love and Thunder. The app provides diet and workout advice, as well as mediation and mindfulness programmes.
The exact Thor workout is not published online, but day-to-day it looks something like this:
Day 1 – Upper Body (chest/back/abs)
Day 2 – Lower Body (legs)
Day 3 – Upper Body (abs/arms)
Day 4 – Lower Body (chest/shoulder/back)
Day 5 – Lower and Upper Body (legs/abs)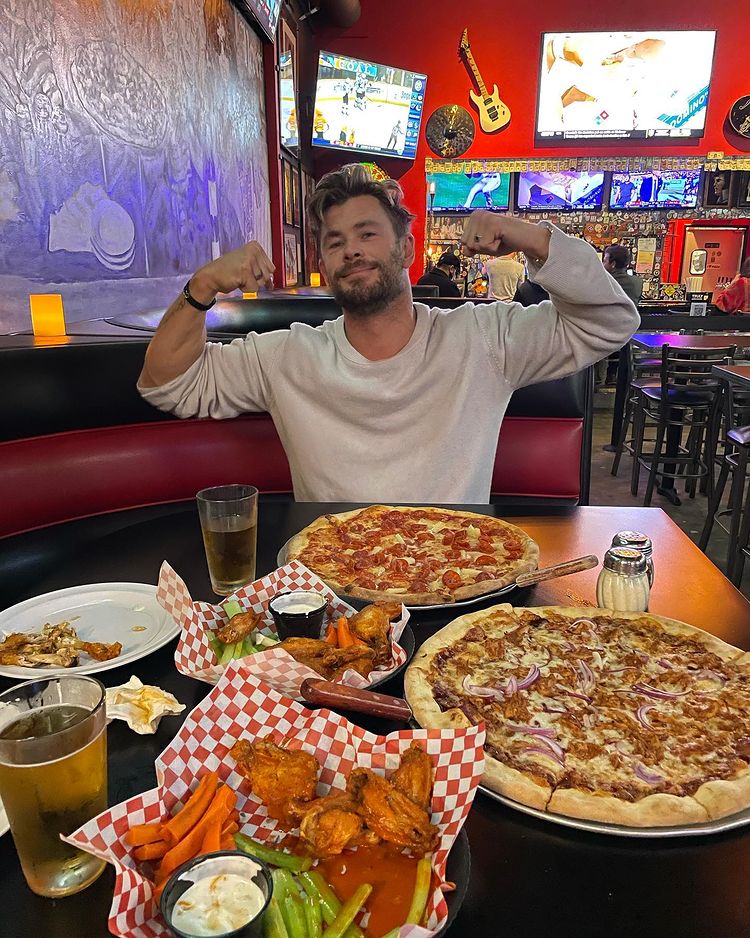 Chris Hemsworth: Nutrition
Depending on your starting weight, you'll mostly likely need to consume thousands of calories per day while training to achieve the bulkiness of Hemsworth. To achieve his transition from beach kid to Hollywood buff, Hemsworth reputedly consumed around 4000 calories per day while training.
To reach this amount of calories, Hemsworth ate eight meals per day. Each meal contained a big protein hit, with Hemsworth's preference being steak, chicken or fish. Between meals, Chris Hemsworth is said to have also consumed the occasional protein shake.
The Chris Hemsworth App Free Full-Body Workout
While the exact Thor workout routine is not available, Chris Hemsworth and Luke Zocchi did share a full-body workout from their app free online. Here it is:
Barbell Military Press – 3 sets, 8 reps, 20 seconds rest
Dumbbell Lateral Raise – 3 sets, 8 reps, 20 seconds rest
Dumbbell Rear Raise – 3 sets, 8 reps, 20 seconds rest
Bodyweight Squat – 1 set, 10 reps, 60 seconds rest
Barbell Front Squat – 3 sets, 8 reps, 20 seconds rest
Alternating Side Lunge – 3 sets, 8 reps, 20 seconds rest
Machine Calf Raise – 3 sets, 8 reps, 60 seconds rest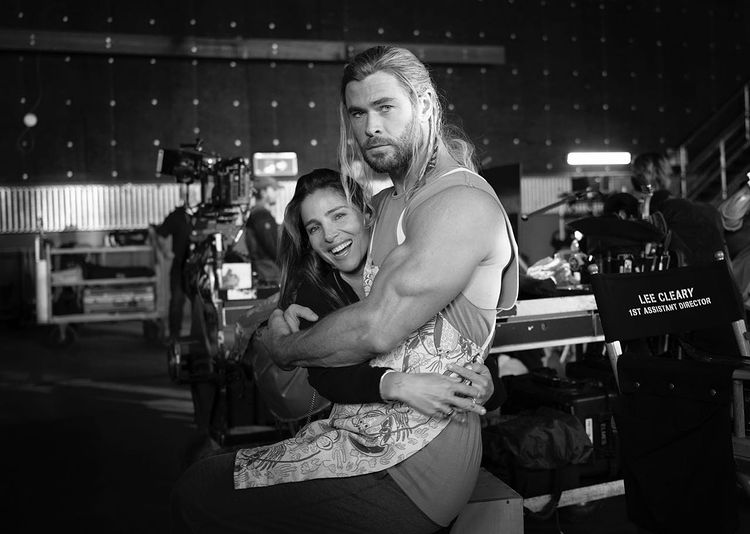 Chris Hemsworth Family Life
Chris Hemsworth is currently dating Spanish model and actress Elsa Pataky. The couple met in 2010 and were married just months later. More than a decade on and they are still together. Something of a rarity in the world of Hollywood relationships, which, on average, last just 7.2 years.
Chris Hemsworth is a family man and together with his wife has three children: a daughter, India Rose, born in 2012 and twin sons born in 2014. Chris Hemsworth and his family live together in New South Wales, Australia.
Christopher Hemsworth also has two brothers, Liam Hemsworth and Luke Hemsworth.
Chris Hemsworth: Latest Release
You can take another peak at Hemsworth's impressive Thor physique in the latest edition of the franchise, Thor: Love and Thunder. Released in July of this year, Thor: Love and Thunder puts Hemsworth on screen with an array of other A-list actors, including fellow Aussie actor Russel Crowe, along with Natalie Portman, Taika Waititi, and Christian Bale.
According to Hemsworth, Thor: Love and Thunder is the "craziest" movie he's ever made.