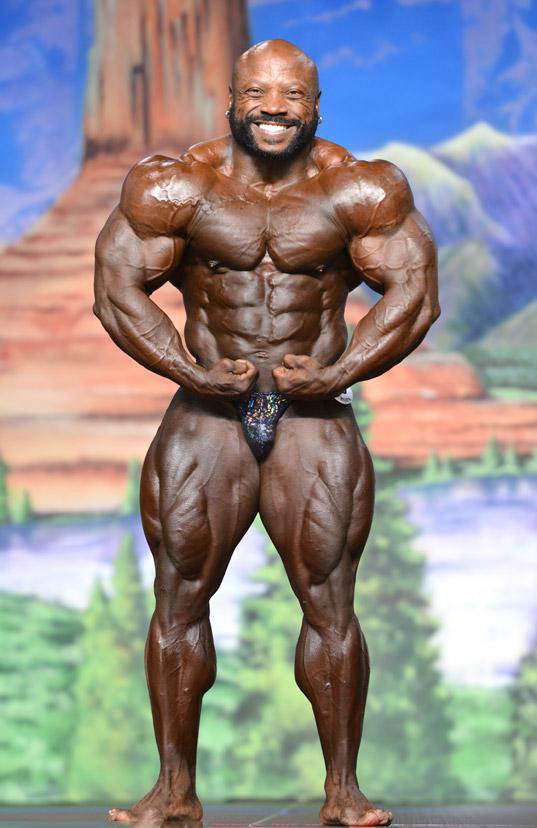 Charles Dixon
IFBB Professional Bodybuilder, Sponsored Athlete
Charles 'The Tank' Dixon is an IFBB professional bodybuilder from South Carolina, USA. He's been climbing his way up the ranks since earning his pro card in 2007, aged 35.
Growing up, Charles was always obsessed with sports, playing football, baseball, basketball and running track. This love for sports eventually inspired an interest in bodybuilding while he was at college. He found a mentor who saw potential in him, and the pair worked very hard from day one with the intention of being the best.
This hard work enabled Charles to win amateur competitions; he won a series of NPC shows and landed his pro card in 2007. For Charles, this was just the beginning. He followed this victory with a number of professional victories, appearing at Mr Olympia multiple times.
Today, Charles aims to help others on their bodybuilding journey, while continuing to travel on his own. He offers advice to older men such as himself who want to get back into bodybuilding. This is Charles' story:
---

Athlete Statistics
Full Name: Charles Dixon
Weight
Height
Year of Birth
Nationality
205 - 215lbs (88.5 - 93.0kg)
5'4" (162.5cm)
1972
American
Profession
Alias
Era
IFBB Professional Bodybuilder, Sponsored Athlete
The Tank
2000, 2010
| | |
| --- | --- |
| Weight | 205 - 215lbs (88.5 - 93.0kg) |
| Height | 5'4" (162.5cm) |
| Year of Birth | 1972 |
| Nationality | American |
| Profession | IFBB Professional Bodybuilder, Sponsored Athlete |
| Alias | The Tank |
| Era | 2000, 2010 |
---

Accomplishments
Competitions
2003 NPC Junior USA, 1st
2005 NPC Nationals, 14th

2006 NPC USA Bodybuilding And Figure Championships (IFBB Pro Qualifier), 9th

2007 NPC National Championships, 1st

2007 NPC National Championships, 1st

2008 IFBB New York Men Pro 202, 4th

2008 IFBB New York Mens Pro, 10th

2008 IFBB Mr. Olympia, 10th
2008 IFBB New York Pro 202, 4th
2008 IFBB New York Pro, 10th
2009 IFBB Mr. Olympia, 11th
2009 IFBB Europa Super Show & Supplement Expo, 2nd
2009 IFBB Jacksonville Pro, 4th
2011 IFBB Iowa Pro 212 & Bikini Championship, 6th
2012 IFBB Valenti Gold Cup Pro, 3rd
2013 IFBB Europa Phoenix Pro, 4th
2013 IFBB New York Pro, 10th
2014 IFBB Olympia Weekend, 10th
2014 IFBB Wings of Strength Chicago Pro, 1st
2014 IFBB Arnold Classic, 6th
2015 IFBB Europa Phoenix Pro, 1st
2015 IFBB Olympia Weekend, 7th
2015 IFBB St. Louis Pro, 1st
2015 IFBB Arnold Sports Festival, 5th
---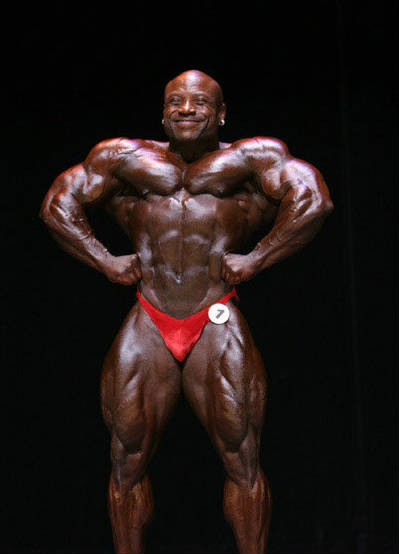 Biography
Introduction To Weightlifting
Charles was born and raised in Greenville, South Carolina (USA). His first introduction to weight training happened when he was 8 years old.
His dad was very passionate about fitness and he bought Charles a weight set as a birthday present. Charles says that he took to activity immediately and was inseparable from the set – "lifting every day for almost 4 months."
He was so obsessed with the weights, that his dad actually took them away at one point. He believed that lifting too much may actually stunt Charles' growth.
---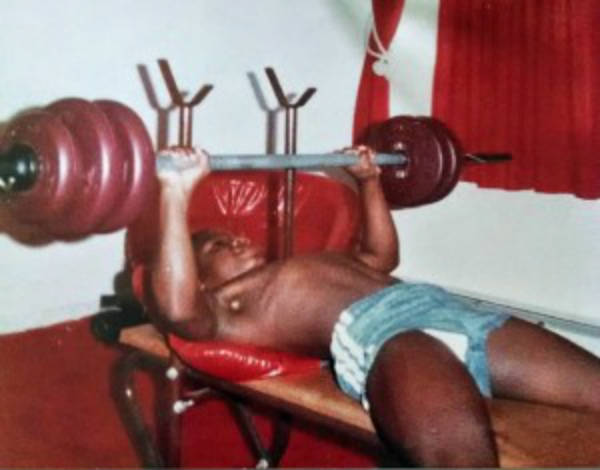 Charles with his first set of weights
---
Sporting Beginnings
As he entered school, Charles says that he was very sporty – playing football, baseball, basketball and running track to a high level. In these sports, he also remembers that he put on muscle quite easily.
The sport he enjoyed the most was Football, which became his occupation when he earned a scholarship to play at Carson Newman College. While at college, he was a standout running back and spent time building his physique in the gym.
---

---
Developing A Passion For Bodybuilding
At this point, Charles was introduced to bodybuilding by a pro bodybuilding friend named Mark Hudson. Charles had returned from college and started to go to a local Golds Gym where Mark trained – so the two had time to become acquainted.
Mark told Charles that he had the genetics to do very well in the sport. This made Charles very curious and he started to take his training more seriously. He also began to read books recommended by Mark, learning about proper nutrition and competition posing.
Learning From Losses
Through working out hard, Charles immediately saw changes in his physique. At this stage, he decided that he had what it took to compete, so he began following a professional nutrition plan.
His first junior competition in 2003 was a massive success for Charles. He landed a 1st place trophy at the NPC Junior USA – seeing this competition as the first step in his fitness career.
After this, he set his sites on the NPC USA adult championships of 2006. He trained for years with the title in his mind, and stood on stage confident and ready to impress. While his posing routine was performed well, he only managed to take a 9th place overall, which was very disappointing for him.
He says in reflection that this show was a real "eye opener" for him. He says that he was completely outclassed and knew that , in future, he would have to step his game up if he wanted to make bodybuilding his career.
Bringing The Trophy Home
In 2007, Charles took to the stage again for the NPC National Championships. This time around he says he was very well prepared and had cut to display his physique perfectly. As a result, he ended up winning this competition and earned his Pro Card.
When looking back at this day, Charles says that "It was one of the best feelings" he had ever experiences in his adult life. He says that he was the underdog and the unknown, but managed to pull it out of the bag and show the world what he was made of.
Hiring Professional Help
In order to become the true champion that he wanted to be, Charles knew that he would have to hire a coach. He found an ideal coach for his style called Trey Hodge, and the two began set to work on fine-tuning Charles' training and nutrition plan.
As a result of the pairs hard work and sacrifice, Charles managed to win the 2014 IFBB Wings of Strength Chicago Pro, and the Europa Phoenix Pro in 2015. He also qualified for two Mr Olympia weekends in 2008 and 2009.
---

Training
Early Years Of Training
In Charles' initial bodybuilding years, heavy deadlifting and squatting were staple exercises n his routine. He managed to deadlift 605lbs for a single, while squatting similarly heavy weights.
He says looking back at this period that he "wouldn't even attempt" the weights that he was using back then. Charles' career took off properly in his 30's and he lifted these weights in his 20's, so he understandably doesn't want to risk injury by lifting such weights in his 40's.
Known For His Wide Back
Charles is well-known for his wide back which has been built through many years of effort. He has been compared to Franco Columbu due to his extremely wide clavicles, which have given him a great foundation to add muscle to.
At 40 years old, he was a 5'4″ and his back was of the widest the sport has ever seen.
 "The day I turned 40, my body just completely started changing… I started getting bigger, and my conditioning started getting better."
---

---
Back Routine
"When it comes to back, I want to get the position that creates the most tension, and then maintain that tension."
Charles' back workouts are extremely punishing. He only takes very short breaks, spending no longer than an hour on the entire workout and making sure each set counts. When it comes to his workouts in general, Charles says that he "likes to keep it moving". An outline of his typical routine is below:
Pullup: 3–4 sets, 15–20 reps
Front Pulldown: 4 sets, 10–12 reps
Standing Cable Row: 4 sets, 10–12 reps
One-arm Dumbbell Row: 4 sets, 10–12 reps
Barbell Row or T-bar Row: 3 sets, 10–12 reps
Deadlift: 3 sets, 10–12 reps
Back Extension: 4 sets, 15 reps
Pullups And Pulldowns
He begins each workout with eight sets of width exercises – pullups and pulldowns. The first set of pullups is done with his body weight, which is almost 240lbs in the off-season
He says that these pullups "warm up" his lats. Charles usually performs them with a  wide grip for four sets, but occasionally brings his hands in close. He occasionally supersets these exercises with pulldowns on the cables, which give him a desired "deep burn."
Rows And Deadlifts
Following this, his third exercise is a cable row. Charles prefers to use a rope for this exercise, attaching the rope to a low cable. He stays that standing up  throughout the exercise prevents him from swaying. Additionally, using the rope lets him squeeze out a stronger contraction than on other types of handles.
The last half of his routine is loaded up with free-weight rows and deadlifts. As with the cable rows, Charles aims to focus on his upper back and eliminate swinging.
He completes one arm dumbbell rows first to hit his upper back, traps and lats. This exercise is a great preparation for his next exercise – the barbell row. In this exercise he aims to lift heavy and push hard to work his upper back and lats as much as possible.
He finishes off his workout with 3 sets of deadlift and 4 sets of back extensions. His deadlifts in particular are difficult due to their position at the end of the workout. They work more muscles than anywhere in his body, hitting the already heavily pumped lats and traps.
Tips For Bodybuilders over 40
As an older bodybuilder himself, Charles tries to offer as much advice as he can for similarly aged men. One of his main pieces of advice is that they should always include a warm up. Without doing so, it is common for injuries to occur.
As well as this, Charles says that older men should not lift "for their ego." He says that staying healthy is the most crucial part, so he doesn't personally go as heavy as he used to, but he keeps it consistent and safe.
"Listen to your body. If you have pain, take a day or two off. That's better than trying to work through it and doing bad workouts or getting injured."
---

Nutrition
Struggling With Competition Preparation
Charles has always found nutrition to be the hardest part of bodybuilding. In the early stages of his career, he struggled with dieting during competition preparation, but managed to overcome his natural human cravings for fatty food by focusing on his career goals.
When it comes to off-season dieting though, Charles is in his element. He loves eating, so enjoys the chance to eat large meals and fit in occasional cheat meals.
---

Idols and Influences
When it comes to Charles' influences, he says that his parents and his brother have been hugely important. He says that without their early encouragement, he would have never pursued the sport as far as he has.
Similarly, his coach Trey Hodge has been an important figure in Charles' life. Bodybuilding coaches and their clients have to build an extremely close connection, and the connection that Trey and Charles have made is no exception.
---

What we can learn from Charles Dixon
Charles is still lifting heavy and competing in his 40's. He's spent his entire life lifting weights and playing physical sports, seeing no reason to stop because he is getting older. He has also built an internationally famous back and is much bigger, stronger and more aesthetic than many professionals who are half his age.
Charles proves that it is never too late to begin your fitness journey. If you are in your 40's and need that extra boost to get in the gym, Charles could be your ideal motivation.