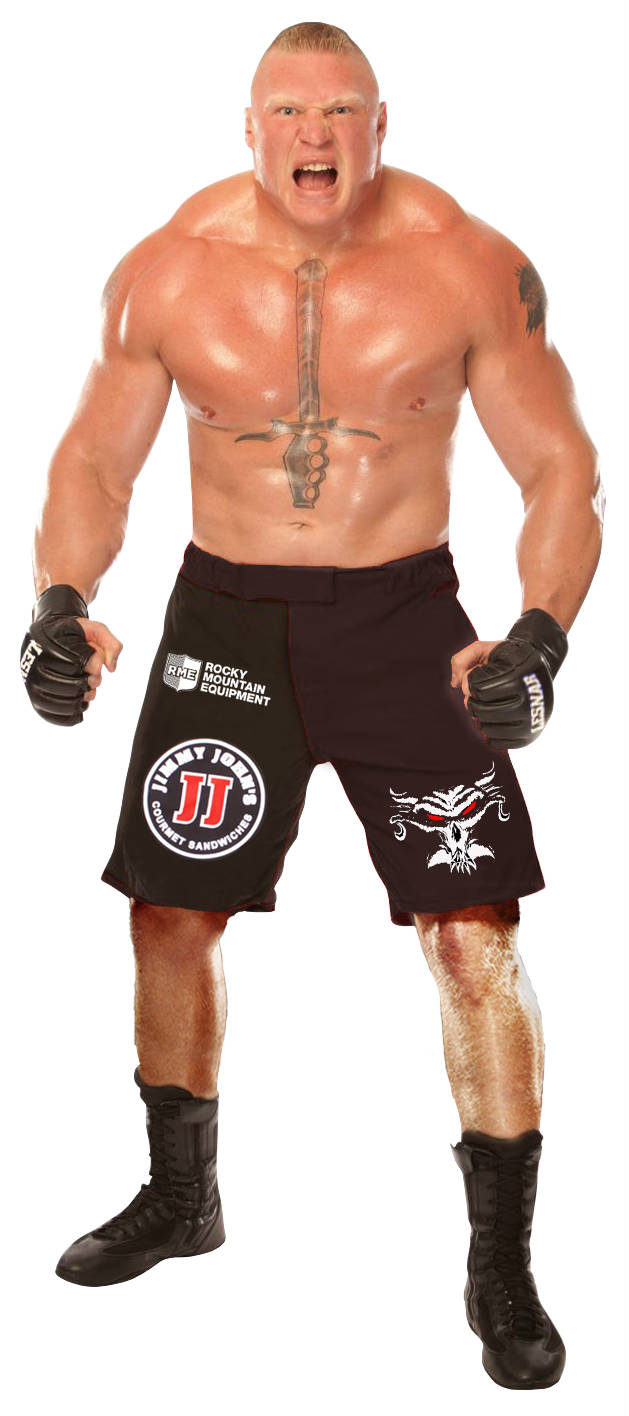 Brock Lesnar
Brock Lesnar (AKA The Conqueror, and The Beast Incarnate) is a WWE performer, UFC mixed martial artist, professional wrestler and international celebrity. His career took off when he became famous in wrestling entertainment. Since then, he's also beaten heavyweight opponents in mixed martial arts.
Growing up, Brock lived on a farm in a southern state of the U.S. He lifted farm equipment to build his body, and began competing in wrestling tournaments at his local high school. He won several major statewide competitions, but this was only the beginning for Brock.
After high school, he won a scholarship to wrestle at The University Of Minnesota – managing to win 106 fights with only 5 losses. He was scouted shortly after graduating by the (then) WWF, who hired him to perform on their television shows.
In more recent times, Brock has branched out from the WWE and has also fought in the UFC. He won the Undisputed Heavyweight Champion belt, and made his mark in one of the most punishing full-contact sports on earth. This is Brock's story:
---

Athlete Statistics
Full Name: Brock Edward Lesnar
Weight
Height
Arms
Chest
265 - 275lbs (120.2 - 124.7kg)
6'3" (190.5cm)
22"
55"
Waist
Age
Date of Birth
39"
46
July 12, 1977
Nationality
Alias
Era
American
The Conqueror, The Beast Incarnate
2000, 2010
| | |
| --- | --- |
| Weight | 265 - 275lbs (120.2 - 124.7kg) |
| Height | 6'3" (190.5cm) |
| Arms | 22" |
| Chest | 55" |
| Waist | 39" |
| Age | 46 |
| Date of Birth | July 12, 1977 |
| Nationality | American |
| Alias | The Conqueror, The Beast Incarnate |
| Era | 2000, 2010 |
---

Accomplishments
4 time world heavyweight champion (WWE)
UFC Heavyweight champion
IWGP Heavyweight champion
---

Brock, with his high school wrestling squad (top right)
Biography
Early Years
Brock was born and raised in Webster, in South Dakota (U.S.A.). He lived with his parents and 3 siblings on a dairy farm. Brock enjoyed the slow pace of life and outdoors lifestyle. His parents forced him to wake up at 5 every morning to complete chores on the farm.
He was always obsessed with playing a variety of sports, and spent his high school years training in amateur wrestling. In his senior year at high school, he managed to place third in the state championships, which sparked his love for the sport.
Wrestling At College
He chose to pursue his passion for wrestling at the highest level. Her enrolled on the wrestling program at Bismarck state college, winning the 'National Junior College Athletic Association' heavyweight championships, and in the process, attracting high level attention.
Because of this win, the University of Minnesota wrestling director contacted Brock, and he immediately took up the offer of a prestigious scholarship at the school. While at university, he was roommates with his future coach and colleague, Shelton Benjamin.
While at college, Brock won the National Collegiate Athletic Association (NCAA) heavyweight championship in his senior year. He also won a number of other tournaments, including the NJCAA All-American, Big Ten Conference championship, and the NJCAA Heavyweight – finishing college with a record of 106 wins to 5 losses.
A Career With WWE
Brock's excellent record at University, allowed him to build contacts across the wrestling world. He also, however, attracted the attention of the World Wrestling Federation (today called World Wrestling Entertainment (WWE,).
In 2000, Brock signed up to their company, and was sent for training in Ohio. In this company, he was a three-time OVW Southern Tag Team Champion with Shelton Benjamin.
His television debut was on the 18th of March 2002, where he won the 'King of The Ring' tournament – defeating Rob Van Dam. Through this win, and several more, Brock became the youngest WWF champion of all time at 25 years old.
---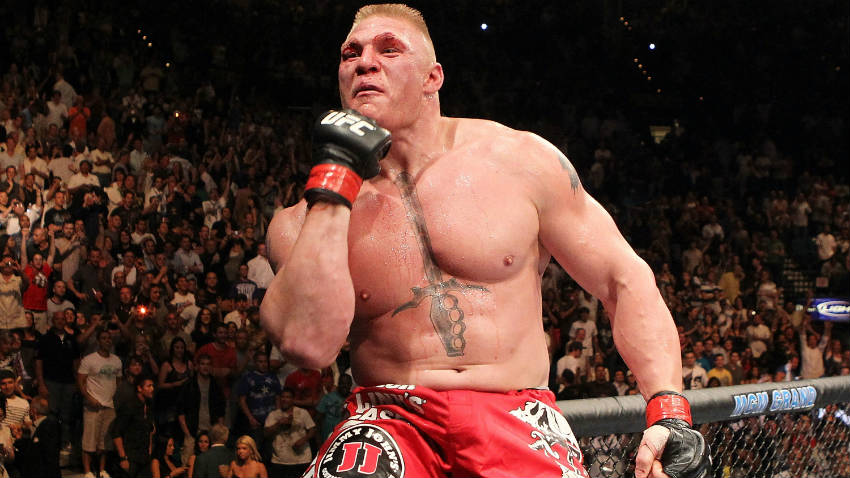 ---
Taking His Skills To 'The Octagon'
In 2006, Brock decided that he would use his wrestling skills in a more contact-based sport. He pursued a career in Mixed Martial Arts, and began training with a coach before signing up to 'Hero's' – a Japanese MMA tournament.
In his first Heros fight against Min-Soo Kim in 2007, Brock fought hard and won by TKO in the first round. Following this victory, he signed with the famous Ultimate Fighting Championship (UFC) in 2008 and was instantly an extremely popular figure – due to his WWE past.
In the UFC, Brock lost his debut fight in 'The Octagon' against Frank Mir, but then won his second fight against Heath Herring. In November 2008, Brock fought against Randy Couture and won in spectacular style, receiving the winners cheque of $450,000.
Combining Wrestling Entertainment With The UFC
After defeating several more fighters and claiming the Undisputed Heavyweight Champion belt, Brock was defeated by Alistair Overeem. He ended his MMA career shortly after, (for the time being). He then decided to make the switch back to professional wrestling entertainment after an 8 year break.
He rejoined the WWE in April 2012, and defeated the Undertaker at Wrestlemania XXX. Following this, he announced he would be returning to the UFC cage. In June 2016, he fought against Mark Hunt and won by unanimous decision, before having the win taken away due to a failed drugs test.
After this, Brock left the UFC for good. He was still in the WWE, and in 2017 he won the WWE Universal Championship. He has been managed by Paul Heyman throughout his professional WWE career.
---

Training
Working Out On The Farm
Growing up, Brock didn't have much access to a gym or conventional workout equipment, so, he used what he had on his parents farm. There were times when Brock would run across a field with a 180lb tree trunk over his shoulders, in order to build core and leg strength.
Weight Lifting Routine
Following many years of wrestling at college, and in the WWE, Brock has built an excellent physique. He's also put together workout routine which allows him to fight in the UFC, and exchange blows with some of the best fighters on earth.
He trains 4 days a week in the gym – his workout routine is below:
Day 1: Chest/Triceps
Barbell Bench Press – (6 sets)  (12 reps)
Incline Dumbbell Press (4 sets) (10 reps)
Dumbbell Flyes (3 sets) (10 reps)
Cable Crossover, (3 sets) (10 reps)
Dips (4 sets) (10 reps)
Triceps Pushdown (4 sets) (10 reps)
Lying Triceps Press (3 sets) (10 reps)
Day 2: Back/Biceps
Pullups (Wide-grip) (4 sets) of (6 reps)
Pullups (Medium-grip) (4 sets) (6 reps)
Pullups (Narrow-grip) (4 sets) (6 reps)
Seated Cable Rows (4 sets) (6 reps)
Stiff-Legged Barbell Deadlift (4 sets) (6 reps)
Barbell Deadlift (4 sets) (6 reps)
Preacher Curl (4 sets) (12 reps)
Hammer Curls (3 sets) (10 reps)
Incline Dumbbell Curl (4 sets) (6 reps)
Day 3: Shoulders
Seated Barbell Military Press (4 sets) (10 reps)
Seated Dumbbell Press (3 sets) (10 reps)
Front Dumbbell Raise (3 sets) (10 reps)
Side Lateral Raise (3 sets) (10 reps)
Smith Machine Upright Row (4 sets) (6 reps)
Barbell Shrug (4 sets) of (6 reps)
Day 4: Legs
Leg Extensions (3 sets) (10 reps)
Lying Leg Curls (3 sets) (10 reps)
Smith Machine Squat (Narrow-stance) (4 sets) (6 reps)
Smith Machine Squat (Medium-stance) (4 sets) (6 reps)
Smith Machine Squat (Wide-stance) (4 sets) (6 reps)
Leg Press (4 sets) (6 reps)
Stiff-Legged Barbell Deadlift (4 sets) (6 reps)
---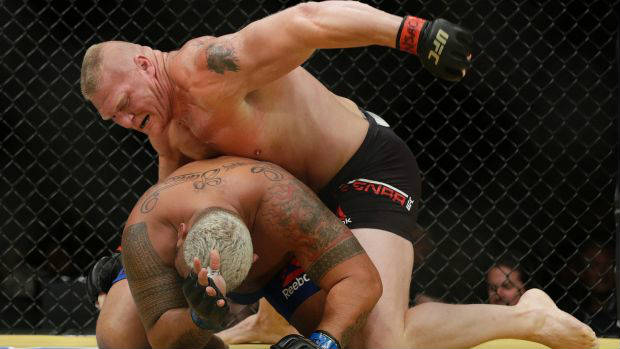 ---
MMA Training
Brock combines his specialist MMA training with his strength training routine. He completes intense and extremely physical workouts, to ensure his body is ready for full contact bouts in the ring.
Grappling Training (4 times a week)
Five 1 Minute Rounds
Five 1 Minute Standing Drills
Striking And Ground-&-Pound Training (twice a week)
5 x 5 minute rounds
1 minute breaks
25 minute workout
Circuit Training
In terms of cardio, Brock's MMA training offers a good cardiovascular workout. On weeks when he's not training for MMA, he includes circuit training to lose body fat by shocking his metabolism.
First Round – Plyo box pushups, spiderman pushups, mounted punching, pushing tire, hand switching.
Second Round – Recline pull-ups, wide grip bodyweight pull-ups, jumping pull-ups, pulling/pushing tire, heavy bag twirl.
Third Round – Airdyne biking, incline treadmill, upper body ergometer machine work, windsprint biking, Airdyne biking.
Fourth Round – Jammer machine training, sledge hammer swings with single arm, med ball sprawls, bear crawling.
Fifth Round– Airdyne biking, incline treadmill, upper body ergometer machine work, wind-sprint biking.
---

Nutrition
Healthy Diet
Brock suffers from a condition called diverticulitis. This condition is caused by an individual not eating enough fiber, so, Brock has introduced a more healthy and nutritious diet to his nutrition plan. He blames the condition on eating a very high protein diet while not consuming fiber.
He consumes about 7,000 calories daily, incorporating more fresh fruits and vegetables now than ever before. He also says that a gallon of water with added electrolytes is the right amount for someone of his size and lifestyle to drink.
"I've had to change my diet, and you have to make food part of your life…I feel better. I recover faster. If I wasn't seeing the results I'm seeing, it would be very hard to do."
Supplements
Whey Protein
ZMA
L-Supplements
Amino Acids
BCAA
CLA
Creatine Calorie Monohydrate
Fish Glutamine
MCT
Multivitamins
---

What we can learn from Brock Lesnar
Brock's inner strength can be seen in his willingness to try, and succeed at new things. His career has included college wrestling, mixed martial arts, and performing in the WWE.
This inner strength and desire to branch out, has been matched by his physical strength in the cage, ring, and the gym. The combination of inner and outer strength, is something we should all strive to maintain on our journey towards fitness.