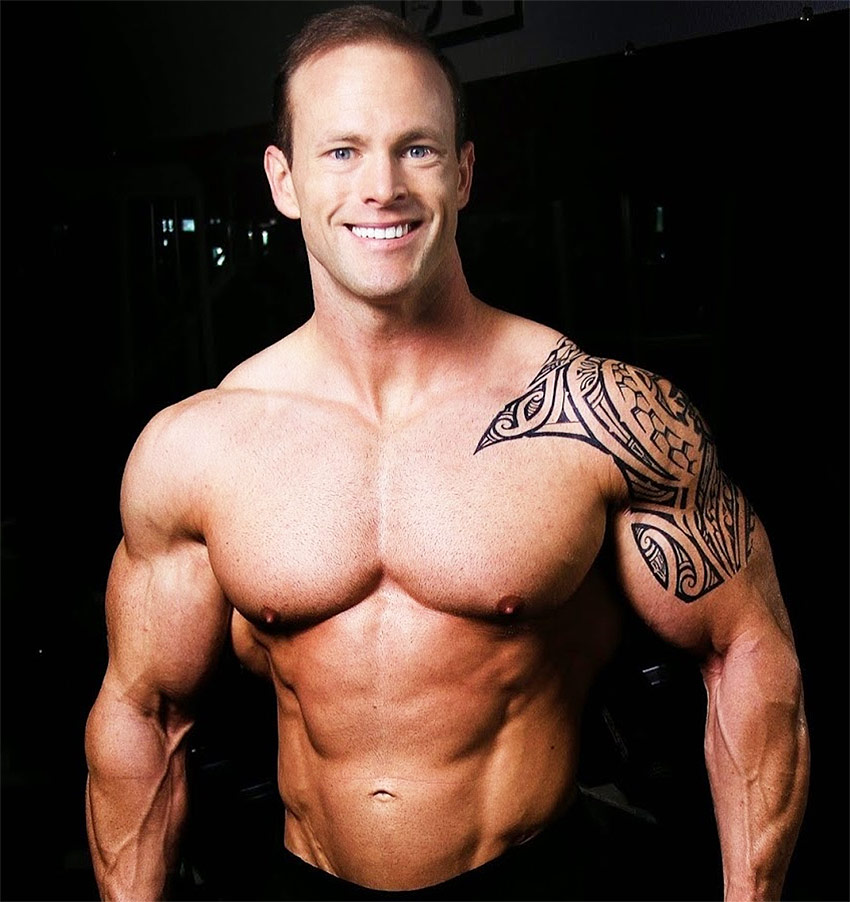 Brian Renshaw
Personal Trainer, Bodybuilder
Bryan Renshaw is a competitive bodybuilder and renown personal trainer from California, America. He holds numerous certifications, including a degree in Kinesology, giving him a in-depth knowledge of fitness.
He uses his expertise to coach his clients, who range from celebrities to CEO's and Executives of businesses.
This is his story:
---

Athlete Statistics
Full Name: Bryan Renshaw
Weight
Height
Nationality
Profession
205 - 215lbs (88.5 - 93.0kg)
5'10" (177.5cm)
American
Personal Trainer, Bodybuilder
Era
2000, 2010
| | |
| --- | --- |
| Weight | 205 - 215lbs (88.5 - 93.0kg) |
| Height | 5'10" (177.5cm) |
| Nationality | American |
| Profession | Personal Trainer, Bodybuilder |
| Era | 2000, 2010 |
---

Accomplishments
Qualifications
Bachelors Degree, Kinesiology
NASM Certification
NESTA Fitness Nutrition Coach Certified
National Level Competitor
Competition History
2009 – NPC
Contra Costa Bodybuilding, Figure & Fitness Championships – 1st
California State Bodybuilding, Figure and Fitness Championships – 2nd
USA Bodybuilding & Figure Championships – 5th
2010
2010 NPC USA Championships – 6th
---

---

Biography
Start of Fitness Journey
Born and raised in the sunny state, California (USA), Bryan has been participating in sports from the age of 4. Over the course of his childhood, he became accomplished in athletics, representing his school at the highest level.
As he progressed in sport, his passion for fitness grew. By his late teenage years, Bryan had committed to pursuing a career in the industry; he enrolled at college to study Kinesiology, determined to increase his knowledge.
Bodybuilding
During his time at college, Bryan began lifting weights in the gym, using his advanced knowledge of Kinesiology to aid his training. It took him a short-while to find his feet in his new environment, but it wasn't long until he'd began to sculpt a powerful physique.
After being encouraged by his friends, Byran entered his first competition – the 2009 NPC Contra Costa Bodybuilding, Figure & Fitness Championships.
Impressively, he took home a trophy in his debut show – this gave him the motivation that he needed to continue making a name for himself in the industry.
Personal Trainer
Over the next year, Bryan entered a further 3 shows, placing highly in all of them. He was inspired by his success, and set his sights on helping others achieve their goals.
For this reason, he earned his personal training certifications and set up his own website, offering his services as a body coach. Through this site, Byran was able to reach out to aspiring bodybuilders across America; he gained numerous clients, including celebrities, CEO's and Excutives, helping each of them reach their fitness goals.
---

---

Training
Byran enjoys working out in the gym up to 6 days per week. He allows himself 1-2 days a week to recover, rest, and help his clients as a personal trainer.
He usually performs between 6-8 reps in sets of 3-5, making sure to build his strength and size.
Chest Workout
Here's Bryan's chest workout:
Incline Bench Press – 5 sets of 6 reps
Incline Dumbbell Press – 3 sets of 8 reps
Flat Bench Press – 5 sets of 6 reps
Flat Dumbbell Press – 3 sets of 8 reps
Standing Cable Fly's – 4 sets of 8 reps
Push-Ups – Until Failure
---

---

Nutrition
Bryan aims to eat clean all-year-round, following a high protein and low carb diet to stay conditioned. A typical meal for the personal trainer is steak, green bell peppers, and onions.
Diet Plan
Here's what Bryan's diet looks like:
Breakfast – Scrambled Eggs
Snack – Multi-Grain Tortilla, 1 Whole Egg, 5 Egg Whites, and Sugar-Free Ketchup
Lunch – Steak, Green Bell Pepper, Onion, and Low Sodium Soy Sauce
Snack – Sprouted Multi-Grain Bread, Greek Yogurt, and Blueberries
Dinner – Salmon, Green Beans, Rice, and Lemon
Snack – Ground Turkey, Broccoli, Peppers, and Garlic
---