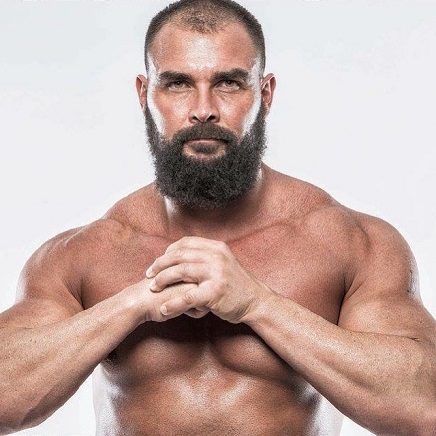 Bret Contreras
Personal Trainer, Researcher, Author, Inventor Gym Owner
Considered by many to be the #1 expert on glute training, Bret Contreras is no newbie to the fitness scene. A sports scientist, inventor, researcher, author and gym owner, is there anything he can't do?
This is his story.
Athlete Statistics
Full Name: Bret Contreras
Weight
Height
Age
Date of Birth
225 - 235lbs (102.1 - 106.6kg)
6'4" (193cm)
47
July 26, 1976
Nationality
Profession
Era
American
Personal Trainer, Researcher, Author, Inventor Gym Owner
2010
| | |
| --- | --- |
| Weight | 225 - 235lbs (102.1 - 106.6kg) |
| Height | 6'4" (193cm) |
| Age | 47 |
| Date of Birth | July 26, 1976 |
| Nationality | American |
| Profession | Personal Trainer, Researcher, Author, Inventor Gym Owner |
| Era | 2010 |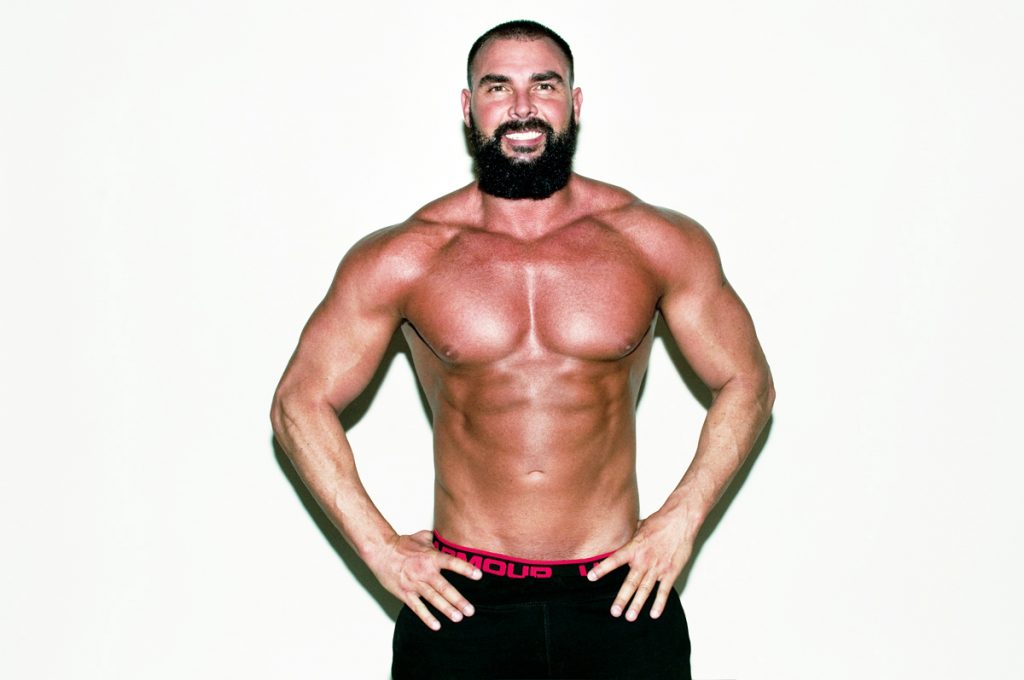 Accomplishments
PhD in Sports Science
Certified Strength & Conditioning Specialist with Distinction from National Strength & Conditioning Association
Research Associate AUT University
Author and Co-author of multiple books
Founder of Booty by Bret, BC Strength, The Glute Lab
Inventor of Barbell Hip Thrust and Hip Thruster
Biography
Born and raised in Arizona, Bret Contreras is also an identical twin. He started out as a Mathematics teacher, teaching the subject for six years before transitioning into the fitness space.
During this time teaching, he was also a certified personal trainer – but this was always more of a hobby.
"Since I was 16-years old, I've been helping people either as a training partner, a personal trainer, a strength coach, or a writer."
While studying for his master's degree, he decided to focus his thesis on exercise science. Motivated by his professor, who suggested he pursue his exercise passion, Bret opened up his own strength training facility, gathering a crowd of clients after just 3 months.
Bret would spend every spare minute learning and reading about fitness, strength and conditioning. Wanting to turn his passion into a career, he pursued his dreams by 'going back to school'.
He worked on receiving CSCS (Certified Strength & Conditioning Specialist) credentials from the NSCA (National Strength & Conditioning Association) and FMS (Functional Movement Screen) certifications. He also achieved a PhD in sports science.
The Glute Guy
Bret developed an affinity for glutes and how to build them. He studied them extensively over a couple of decades and eventually garnered the nickname 'The Glute Guy.'
In fact, it was during a 2006 UFC fight that inspired Bret to create the barbell hip thrust. During the fight, he noticed that one of the fighters had an ineffective hip bump, which he thought was because of weak glutes. Spending some time in his garage, he toyed around with his bench, sitting against it, with his feet on the floor, adding a weighted barbell on his lap and thrusting his hips to full extension. The exercise allowed for a full range of motion and the capacity to load weight—the perfect glute-focused exercise.
Fast forward to today, Bret has established himself as the world's leading expert in gluteal muscle functioning and development, strength training, and program design.
"The glutes are so dang important – sprinting, jumping, cutting, twisting, protecting the knees and back, not to mention looking athletic and sexy! They're critical for most sports including strength sports."
In addition to developing an inclusive glute-training system and the barbell hip thrust, Bret invented the Hip Thruster, an adaptable piece of equipment used to perform the hip thrust.
Bret Contreras is also a regular contributor to multiple fitness magazines including Men's Health, Men's Fitness and Oxygen.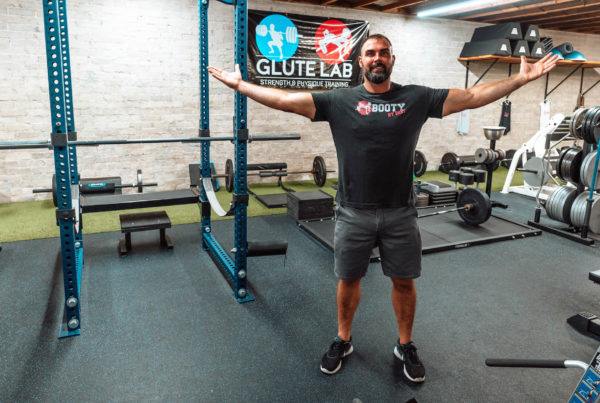 Training
As you might have guessed it, Bret is a big fan of any type of exercise that builds the glutes – most specifically the barbell hip thrust (he's the inventor after all). That's not to say he's also not interested in the strength training techniques needed to make gains.
Bret is a firm believer that 80% of the potential gains from strength training come from 'general' big lifts such as:
Squats
Deadlifts
Bench press
Bent over rows
Military presses
Farmer's walks.
"I believe that the big lifts can and should be modified to be more joint-friendlier or replaced by biomechanically-similar exercises for lifters who don't tolerate the big lifts very well.
"For example, front squats, hex bar deadlifts, incline presses, inverted rows, and neutral grip dumbbell military presses are suitable alternatives which are generally safer but will yield nearly identical adaptations."
Bret also loves total body training routines as well as much-needed cardio – he makes sure to get in a walk, at least 4-5 times a week, after strength workouts.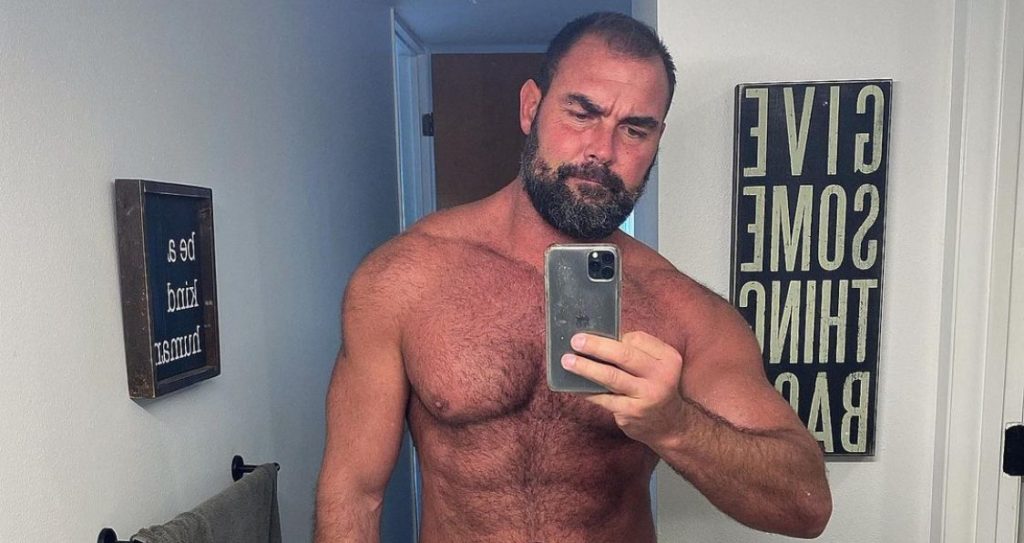 Nutrition
Bret is fond of 'fueling to train'. To train effectively and truly maximize every session, he must be properly fueled. That means a big hit of carbs, fiber, fats and of course proteins.
When dieting, Bret would stick mostly to whey protein shakes, skimmed milk, eggs, tuna, chicken, lean beef, Greek yogurt, orange juice, fruit, dried fruit, mixed veggies, cheese, mixed nuts, sunflower seeds, peanut butter, pickles, and fish oil caps. This means the vast majority of his food is whole and minimally processed, with plenty of fiber and diversity.
He doesn't like to restrict himself too much though. He can enjoy a cheeseburger like the rest of us – the key is to not overdo it. Bret always makes sure to never go over his daily calories, and if he were to, he'd get out for a brisk walk on a night to make up the difference.
He's not a pre-workout supplement user but does like to drink a diet energy drink before hitting the gym.
What we can learn from Bret Contreras
Bret Contreras teaches us that it's never too late to pursue your passions. Despite having a safe job and solid teaching career, Bret knew in himself that he had more to show the world.
The lesson we can take away from his story is to always follow your dreams and pursue anything that lights a fire inside you.