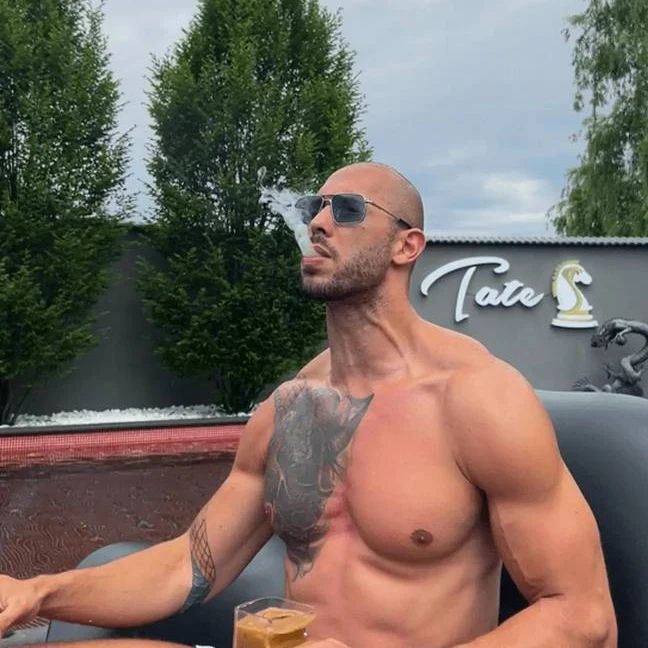 Andrew Tate
Andrew Tate has become infamous for saying controversial things on social media and running a business community aimed at men. But prior to becoming an internet sensation and favourite punch-bag of the "woke" left, Andrew Tate was a professional kickboxer and, even now, continues to be in supreme physical condition.
Andrew Tate has a lean and muscular physique, he won't be winning any Mr Olympia competitions, but he's got the hard body type that is so popular today and is always in good shape. What's more, he claims he maintains his physique with only a minimal focus on what he eats, allowing himself to eat "trash" and drink and party.
Andrew Tate Workout Program
How does he do it? Well, Andrew Tate says he works out in his dreams, tricking his body into thinking he has trained. But if you're like us and don't really know what that means, then there is the Andrew Tate fitness program for working out while awake.
Andrew Tate's fitness program consists of high-intensity interval training (HIIT) using bodyweight exercises. One of the focuses of the training program is on doing burpees with jump squats.
The high-intensity focus of the workout results in lots of calories being burned, plus an after-burn effect that means calories continue to be burnt all day long. This, supposedly, means you can eat a trashy diet just like Andrew Tate and still stay lean and ripped.
HIIT workouts have become popular with busy people who don't have time to spend all day working on their physiques. A HIIT routine normally lasts between 5 and 10 minutes and has very short breaks between sets. HIIT workouts combine cardio with bodyweight training in a way that gets your heart rate going and helps to build lean muscle.
Of course, to really achieve the Andrew Tate physique, you might need to first spend a few years training really, really hard, as he did during his time as a professional, 4 times world champion kickboxer.
Andrew Tate's fitness program costs £197.00 and is available on his website: cobratate.com.
Boxing Routine
When he was still boxing, Andrew Tate would start his day with a run. After running, Tate would do shadow boxing, burpees, push-ups, and then use light dumbbells. He would also use a weighted vest to increase the resistance of the bodyweight exercises he was doing.
During the height of his career as a fighter, Tate said he spent a lot of time in the gym too. But his basic routine always focused on running and bodyweight training.
Andrew Tate Diet
While Andrew Tate claims to eat and drink whatever he wants and is often photographed living a playboy lifestyle, parting and smoking cigars with a woman hanging off each arm, he actually has a few iron-fast rules when it comes to diet.
Don't eat added sugars – "If you cut sugar off your diet and eat everything else, you're going to be fine".
Minimise carbs – Don't eat chips, bread, pasta etc.
He does admit that he's able to get away with a lot more in terms of a bad diet than most people because he trained so hard when he was young and busy with kickboxing. Also, during his time as a kickboxer, Tate didn't drink at all, which surely contributed to building a solid, healthy physical foundation.
In addition to cutting sugar and reducing carbs, Tate also claims to skip breakfast most days, which no doubt helps to keep the total number of calories consumed per day under control.
Andrew Tate's diet consists of a lot of meat, including KFC. He even spent some time eating just 80-90% meat. He claims it boosted his energy and reduced his body fat.
Train Like Andrew Tate
What we can learn from Andrew Tate:
Focus on regular bodyweight exercises.
Do plenty of cardio – either running or HIIT workouts.
Don't eat sugar, and reduce your carb intake to a minimum.
Andrew Tate's workout and diet plan are almost ludicrously simple, but if it works, it works. And Andrew Tate has clearly managed to gain and maintain an impressive physique of the kind that many men aspire to have.