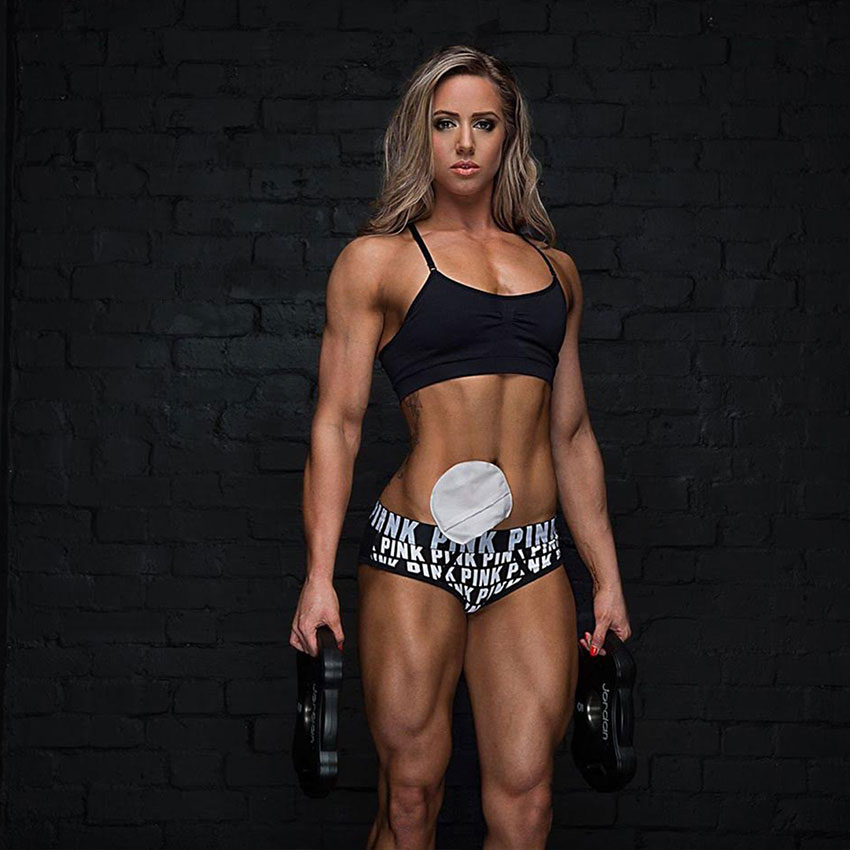 Zoey Wright
Bodybuilder, Sponsored Athlete, Fitness Model
Zoey Wright is a bodybuilder, fitness model and sponsored athlete hailing from Cornwall, England. A life-changing illness threatened to bring an end to her sporting days, but Zoey put up a fight to ensure that this wasn't the case.
Throughout her time in high school, Zoey had a love for competitive sports, taking part in soccer, athletics and long distance running. However, her life then started to commence on a downward spiral.
Zoey was diagnosed with ulcerative colitis in 2012. From this point, she began to suffer from an immense amount of pain, having a negative impact on her life. Eventually, the medication wore off, forcing her to undergo surgery to have a colostomy bag fitted.
Soon enough, Zoey learned to accept her condition, enabling her to keep pushing forward in her life. As a result, she became a success on the bodybuilding stage, while inspiring many people across the world with her message:
"You don't need to be perfect to inspire others. Let people get inspired by how you deal with your imperfections".
This is her story:
---

Athlete Statistics
Full Name: Zoey Wright
Weight
Height
Age
Date of Birth
125 - 135lbs (56.7 - 61.2kg)
5'5" (165cm)
31
July 26, 1992
Nationality
Profession
Era
British
Bodybuilder, Sponsored Athlete, Fitness Model
2010
| | |
| --- | --- |
| Weight | 125 - 135lbs (56.7 - 61.2kg) |
| Height | 5'5" (165cm) |
| Age | 31 |
| Date of Birth | July 26, 1992 |
| Nationality | British |
| Profession | Bodybuilder, Sponsored Athlete, Fitness Model |
| Era | 2010 |
---

Accomplishments
Career Achievements
Bodybuilder
Sponsored Athlete
Fitness Model
Competitive History
2017: Pure Elite Competition: 1st Place Fitness Model, 2nd Place Figure, 1st Place Overall Female Champion
---

Biography
Sporting Lifestyle
Zoey Wright was born in Cornwall in 1992, residing there ever since. Long distance running, athletics and soccer were all sports that she took part in – emphasizing her passion for competitive sports.
By the time Zoey reached the age of 18, she began training in the gym to improve her performance in these sports. However, she soon hit a set back when she suffered from a serious knee injury while playing soccer.
During the time she was sidelined, Zoey was forced to rely on crutches. After a while, she underwent knee surgery in order to repair the damage from her injury. Once she had recovered, she was able to start living a normal life, much like anyone else her age.
Eventually, she began studying sports rehabilitation at university. From this point, she went out with her friends socializing, going on holidays in the summer. But one day, this all changed when her personal health took a turn for the worse.
Diagnosis
Zoey was diagnosed with ulcerative colitis in 2012, a form of inflammatory bowel disease. Because of this, Zoey began to suffer from immense pain, resulting in a heavy amount of weight loss.
To help with her chronic illness, Zoey had to start taking many medications to treat her condition. The doctors suggested that she should have her large intestine removed. But Zoey declined, determined to not let her illness get the better of her.
She put off the operation for as long as she could, continuing to take her medication. However, Zoey was constantly reminded of her pain. In regard to this, Zoey stated:
"My ulcerative colitis would remind me it was there, tearing away my insides, causing me chronic pain and leading to countless hospital admissions, countless drugs and treatments. It was mentally and physically pulling me down".
Eventually, it became all too much for Zoey to bear. In 2014, she reluctantly made the decision to undergo ileostomy surgery in which her large intestine was removed. Intially, she struggled to cope, having a negative impact on her self-confidence. However one day, this all began to change – this is when she found bodybuilding.
---

Zoey before her operation compared to how she looks now.
Discovering Bodybuilding
Zoey began training in the gym regularly alongside her partner after her surgery. It offered her the chance to live her life in a positive way, as she aimed to put her darkest days in the past.
From this point, Zoey was determined to regain her passion for fitness. Now was her chance to achieve just that. She quickly made substantial progress in her training, allowing her to remain motivated and learn to accept her illness.
It was at this point, Zoey decided that she wanted to take her fitness journey to the next level. She wanted to prove to herself that she could overcome insecurities about her condition, while achieving her ultimate goal of raising awareness of her illness. From this point, she made it her mission to reach the bodybuilding stage.
Where is She Now?
Just 10 months after her surgery, Zoey was able to reach her goal of reaching the bodybuilding stage. She entered her first competition in 2015, qualifying for the finals. However, she was still undergoing recovery.
Because of this, Zoey was unfortunately forced to withdraw from the competition. But, she didn't let this knock her back. By the time 2017 came along, Zoey was ready to compete on the bodybuilding stage once more – entering the 2017 Pure Elite Competition.
As a result of her hard work and dedication, Zoey finished as overall female champion. She was immensely proud of her achievement, proving to herself and others that she hadn't let her condition stop her from achieving her fitness goals.
Because of her success on the bodybuilding stage, Zoey was offered the chance to raise awareness of her condition. From then on, her fitness career excelled – becoming a sponsored athlete and fitness model along the way.
---

Training
Zoey places emphasis on training her legs, listing this as her favorite muscle group. In addition, she bases the majority of her training around compound lifts with a heavy weight, such as deadlifts and squats.
As a result, she's able to continually progress her fitness levels, while building upon her phenomenal physique. Her training split looks something like this:
Zoey Wright's Training Split
Monday: Rest Day
Tuesday: Back and Biceps
Wednesday: Legs
Thursday: Chest and Triceps
Friday: Shoulders
Saturday: Arms and Abs
Sunday: Chest and Shoulders or Chest and Back
---

Nutrition
Zoey prepares her meals at the start of the week to stay within her macronutrient goals. When she isn't preparing for competitions, she is more relaxed about her diet choices. In her off-season, Zoey follows a flexible diet (IIFYM).
However, during competition preparations, Zoey becomes more strict with her nutrition – revolving her diet around the following foods:
Zoey Wright's Pre-Comp Food Choices
Protein
Eggs
Chicken
Turkey
Fish
Whey Protein
Carbs
White/Brown Rice,
White/Sweet Potato
Oats
Bagels
Fats
Nuts
Coconut
Olive Oil
Avocado
Nut Butters
---

Idols and Influences
Zoey was guided by her family, friends, and partner throughout her recovery after undergoing surgery. Even in her darkest moments, they were the ones who allowed Zoey to remain on target to reach every goal that she set for herself.
However, Zoey soon learned to become self-motivated, so that she could keep moving forward in her life. Here's Zoey talking about how she stays motivated despite her condition:
"Whenever I felt down, I found myself turning it into motivation. Yes, this illness had taken my bowel and changed me physically but why let it change you mentally?"
---

What we can learn from Zoey Wright
On her journey, Zoey Wright became a success on the bodybuilding stage, proving that she wouldn't let anything stop her from achieving her life's goals. Because of this, she was able to fulfill her desire to raise awareness of her condition.
If there's one thing we can learn from Zoey Wright, it's that her strength and determination had the power to overcome her life-changing condition. As a result, she became an inspiration to many people across the world.