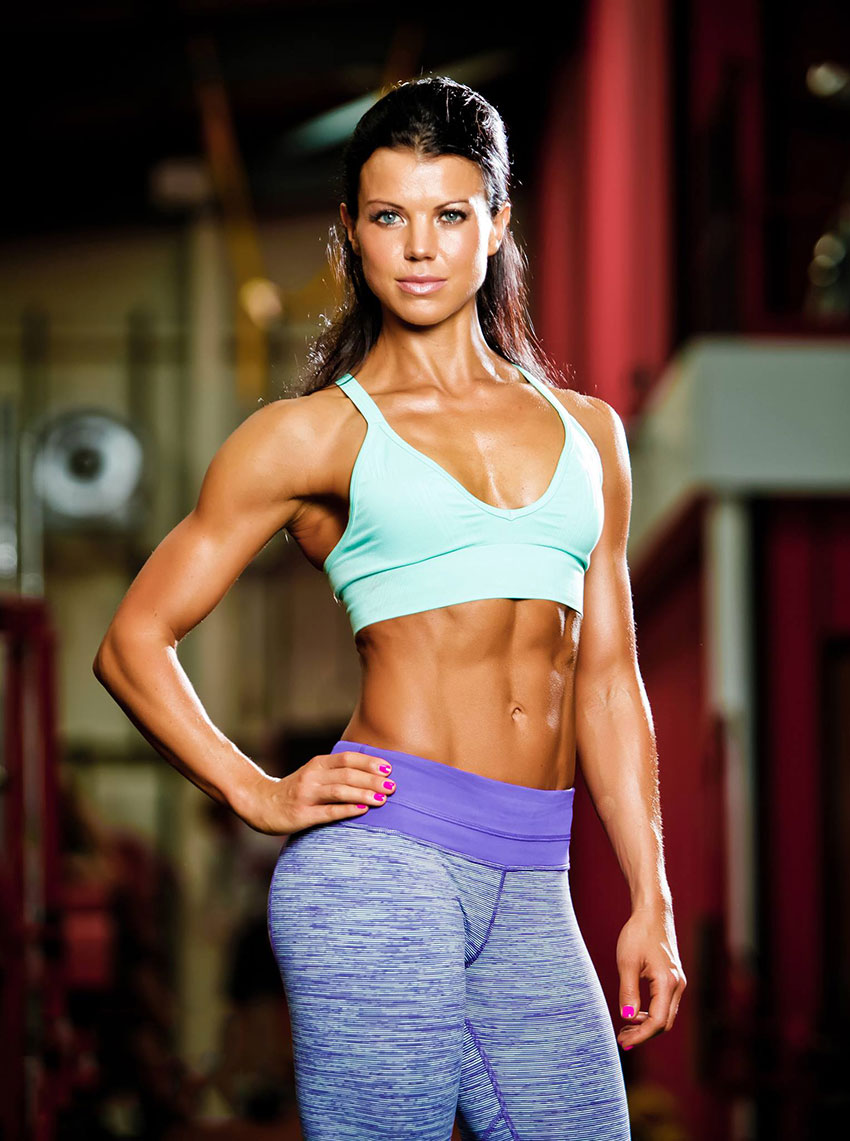 Susie Woffenden
WBFF Professional Fitness Model, Sponsored Athlete
Despite lacking an interest in sports throughout her childhood, Susie Woffenden found a love for fitness by the time she reached her early 30s. Ever since then, she's gone on to achieve success as a fitness model, earning her WBFF Pro Card by 2014. But first, she had to overcome poor eating habits in order to get there.
Throughout her university days, Susie began paying little attention to her sleeping pattern and nutrition. As a result of this, she quickly began to gain weight. This, then continued beyond graduation, and into her career as an advertising director.
But then one day, Susie sought a change in her life after she became unhappy with her looks, alongside experiencing disillusionment with her career. From then on, she's dedicated her life to fitness, earning a great physique in the process.
This is her story:
---

Athlete Statistics
Full Name: Susie Woffenden
Weight
Height
Bust
Hips
115 - 125lbs (52.2 - 56.7kg)
5'7" (170cm)
32"
32"
Waist
Year of Birth
Nationality
26"
1980
British
Profession
Era
WBFF Professional Fitness Model, Sponsored Athlete
2010
| | |
| --- | --- |
| Weight | 115 - 125lbs (52.2 - 56.7kg) |
| Height | 5'7" (170cm) |
| Bust | 32" |
| Hips | 32" |
| Waist | 26" |
| Year of Birth | 1980 |
| Nationality | British |
| Profession | WBFF Professional Fitness Model, Sponsored Athlete |
| Era | 2010 |
---

Accomplishments
Career Achievements
WBFF Professional Fitness Model
Sponsored Athlete
Personal Trainer
Competitive Results
September 2015: WBFF World Championships – 2nd place
June 2014: UK London WBFF Championships – Earned Pro Card
August 2013: World Amateur Championships Las Vegas – Top 5
April 2013: WBFF European Championships – 3rd place
---

Biography
Susie's Early Days
Susie Woffenden was never a sporty child in her days in school. Born in London in 1980, competitive sports were never an interest for Susie throughout her childhood. As a result, Susie's fitness journey failed to take off until later in her life.
Despite this, Susie's family always encouraged her to maintain a healthy lifestyle throughout her teenage years. Along with her parents, Susie regularly ate healthy home cooked meals, and went on regular bike rides and hikes with her family. As a result of her active childhood, she always had a lean physique growing up.
However, when Susie started university, this all began to change. During this period, fast food became Susie's first option when it came to nutrition. In addition to this, she became heavily involved with the social scene at university, regularly going on nights out and drinking heavily.
Because of her partying lifestyle, Susie's eating habits soon spiraled out of control. From this point onward, she started to gain weight. To make matters worse, the following years proved to be even more difficult within her new job in adverting.
Finding Fitness
Susie started working at an advertising company straight after her graduation. Her job involved following a hectic schedule, often working long hours and attending to her clients' needs. Because of this, healthy eating and exercising were the last things on Susie's mind.
However, Susie eventually came to the realization that her poor eating habits weren't doing her health any good. Throughout this time, Susie often had low levels of energy, and a regular sleeping pattern was pretty much non-existent.
At the time, Susie thought that crash diets and attending gym classes once a week were the way forward. But, despite Susie's best attempts to shift the pounds, she didn't have much luck in her quest to lose weight.
However by the time she reached her early 30s, that all began to change. At this point, Susie found a way to boost her self-esteem, motivation and energy levels. This is when she joined a gym with every intention to move on from her poor eating habits. Ever since then, fitness has given her a new lease of life, and she's never looked back.
---

When Fitness Became a Passion
Susie began training at the gym, aiming to build a great physique. However, she needed some assistance to guide her on the right path. It was at this point, she began working with personal trainer Fitzroy Gaynes.
Fitzroy's approach to training ensured that Susie made substantial progress at a fast rate. Under his guidance, Susie began following a workout and training program that was designed specifically for her. Soon enough, the results started to show.
Susie was impressed with the physique she started to build through her hard work. As a result, her motivation was higher than it had ever been before – feeling like a whole new person.
Susie continued training hard for over two years, building a great physique and becoming a fitness model along the way. However, by this point, Susie realized that she wanted to take things to the next level. She became inspired by the physiques of competitive fitness models. After being encouraged to compete, Susie decided to prepare for her very first competition.
European Championships Competing
Susie started competing in 2013, appearing at the WBFF European Championships, where she finished in third place. Susie was impressed with her performance, as she didn't have much time to prepare for the competition. Because of her success, she was eager to keep pushing forward to improve her physique for her next competition.
In June 2014, Susie entered the preparation phase for the UK London WBFF Championships. As a result of her hard work and determination, she stormed to 1st place – earning her WBFF Pro Card in the process.
Susie's desire for continual self-progression meant that she was able to make a name for herself as a fitness model. Because of her passion for progress, she wanted to help others achieve their fitness goals – becoming a personal trainer to achieve just that.
---

Training
Since her early days training in the gym, Susie was taught the benefits of lifting heavy weights with low repetitions by her personal trainer. Susie prefers this method of training as opposed to lifting lighter weights with high repetitions, particularly when performing compound lifts such as squats and deadlifts.
Additionally, a lot of her training revolves around the use of dumbbells. Some of her favorite dumbbell exercises are listed below:
Favorite Dumbbell Exercises
Clean and Squat
Shoulder Press
Walking Squats Combined with Plyometric Jumps
---

Nutrition
Susie eats four to five small meals per day in order to keep her metabolism high. Aiming to stay lean all year round, Susie bases her diet on eating clean foods, particularly prior to competing on the fitness modeling stage.
Some example foods that Susie eats regularly are listed below:
Susie's Common Food Choices
Nuts
Avocados
Coconut Oil
Chicken Breast
Eggs
Quinoa
Green Vegetables
---

Idols and Influences
Jen Jewell, Ashley Horner and Andreia Brazier are just some of Susie's biggest influences. Their success on the fitness modeling stage was something that Susie wanted to replicate in her own career. With their influence, Susie kept pushing forward to achieve the same level of success.
However, working with her personal trainer Fitzroy Gaynes, allowed Susie to remain motivated, adapting her training methods accordingly to build her great physique. Here's Susie speaking highly of her personal trainer:
"His passion and unique approach to lifestyle training really hooked me in and motivated me to attend his classes on a regular basis. The good energy propelled more positive momentum in my life. I became more discerning with my food choices and started embedding healthier sleeping and living habits into my daily routine".
---

What we can learn from Susie Woffenden
Susie was still working as an advertising director alongside working towards her fitness goals. However, after a while, she became disillusioned with her career in the advertising industry. Because of this, Susie realized that she wanted to take a different direction in her life. Shortly after, she set her sights on reaching the fitness modelling stage.
What we can learn from Susie Woffenden is that she proved age is just a number, and that it's never too late for fitness to improve your life. By showing her commitment to continual self-improvement, Susie was able to earn a great physique, and ultimately, she found success as a professional fitness model.
If you want to achieve your own fitness goals, then by following Susie's example and having the right attitude, it could allow you to reach your full potential in fitness – just like Susie.