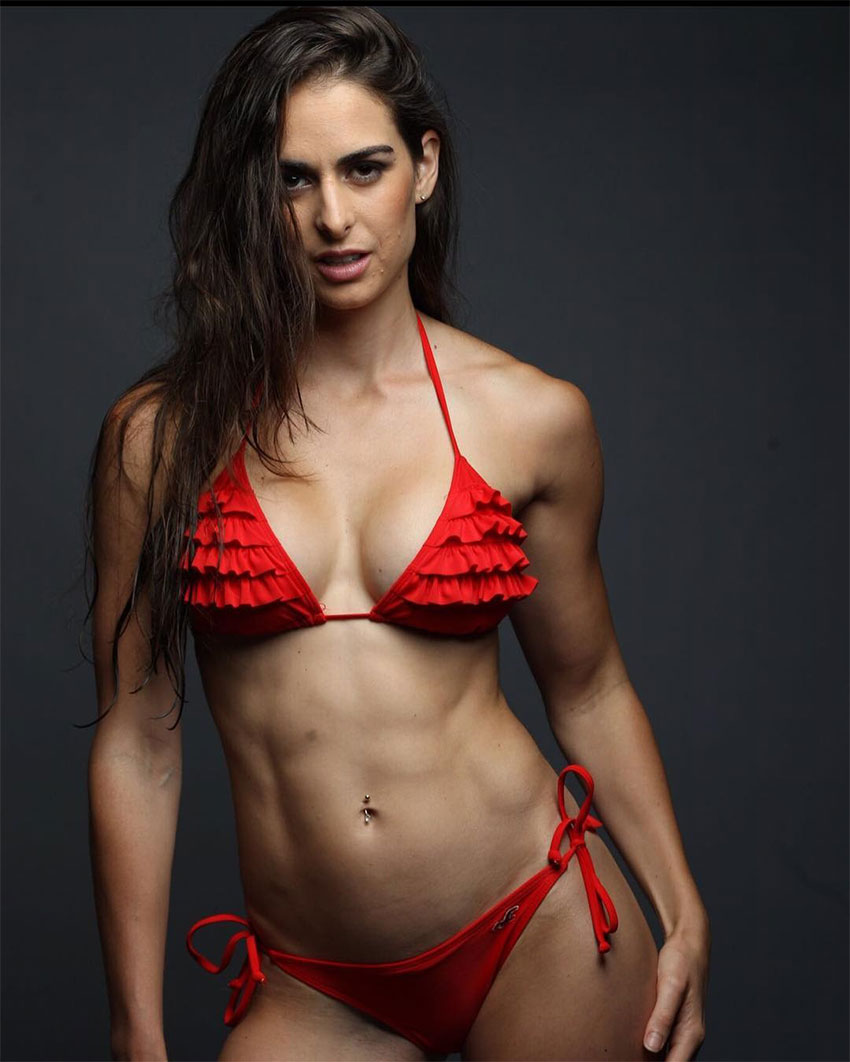 Stephanie Sequeira
IFBB Bikini Pro Competitor, Fitness Model, Personal Trainer
Stephanie Sequeira a.k.a. 'The Ab Chick' realized from a young age that competitive sports were her passion. Ever since her high school days of running track and cross country, the foundation for a career in fitness was formed.
Fast forward to her college days, and Stephanie began bikini modeling and weightlifting alongside her studies. After just a short while, Stephanie realized that in order to take things to the next level, she needed to set a new goal, and that was to reach the bodybuilding stage.
From then on, she began working with a personal trainer, who coached Stephanie to ensure she was ready to compete. She did just that, and earned 2nd place at the NPC Ancient City in 2014 – her first competition, she was instantly hooked.
Since then, she's gone on to enter the IFBB Pro circuit, and this is her story:
---

Athlete Statistics
Full Name: Stephanie Sequeira
Weight
Age
Date of Birth
Nationality
115 - 125lbs (52.2 - 56.7kg)
30
June 30, 1993
American
Profession
Alias
Era
IFBB Bikini Pro Competitor, Fitness Model, Personal Trainer
The Ab Chick
2010
| | |
| --- | --- |
| Weight | 115 - 125lbs (52.2 - 56.7kg) |
| Age | 30 |
| Date of Birth | June 30, 1993 |
| Nationality | American |
| Profession | IFBB Bikini Pro Competitor, Fitness Model, Personal Trainer |
| Alias | The Ab Chick |
| Era | 2010 |
---

Accomplishments
Career Accomplishments
IFBB Bikini Pro Competitor
Fitness Model
Personal Trainer
Competitive History
2017
Wings of Strength Chicago Pro (IFBB): 16th place
Fort Lauderdale Cup (IFBB): 10th place
Omaha Pro (IFBB): 8th place
Optimum Classic Pro (IFBB): 5th place
2016
Naples Pro (IFBB): 11th place
Coastal USA Pro (IFBB): 13th place
Prestige Crystal Cup (IFBB): 12th place
2015
NPC Junior Nationals: Class D – 16th place
2014
NPC Dexter Jackson Classic: Class C – 1st place (Nationally Qualified)
NPC Ancient City – 2nd place
---

Biography
Born to be an Athlete
Stephanie's passion for competitive sports all started back in her early teenage years. Throughout her years in high school, she ran track and cross country – building a reputation as a formidable athlete during this time.
However, Stephanie soon came to realize that she wanted to take her fitness journey a step further. By the time she reached college, there was only one thing on her mind, and that was building upon her athletic physique.
It was at this point, she began weightlifting and bikini modeling alongside her academic studies at the University of Florida. Stephanie aimed high and set her sights on reaching her ultimate goal of becoming a successful bikini competitor. But first, she had to build lean muscle mass in order to get there.
From then on, Stephanie began working hard to improve her physique. After several months of training in the bodybuilding off-season with the guidance of a personal training, Stephanie was ready to appear in her first competition in 2014.
---

Stephanie Sequeira before compared to how she looks now.
Bikini Competing
Stephanie's first competition was the NPC Ancient City in 2014. She worked hard to get to this point, determined to earn success in the competition. Her hard work paid off, as she stormed to a 2nd place finish.
As her career as a bikini competitor began to take shape, Stephanie's motivation was then higher than ever before. From then on, she was determined to keep pushing forward to achieve more in her bodybuilding career.
As she stepped on stage at the NPC Dexter Jackson Classic in 2014, her wish came true – placing 1st in the competition. But, it wasn't until 2015 when she earned IFBB Pro status, that Stephanie realized that she had truly made a name for herself.
This was the highlight of her career, as she realized that the only way was up. However, Stephanie performed poorly in the 2017 IFBB Wings of Strength Chicago Pro, where she finished in 16th place. Determined to move on from her defeat, Stephanie stayed motivated despite her underwhelming performance.
Plans for the Future
Stephanie plans to help others reach their fitness goals in her career as a personal trainer. Under the guidance of a fitness coach, Stephanie was able to find success on the bodybuilding stage. Now, she aims to assist others in following her lead, reaching all of their fitness goals along the way.
---

Training
Stephanie works out 5-6 days per week, ensuring that her training sessions in the gym are of a high intensity. Her main focus is to build her legs, so in order to achieve this, she trains this muscle group at least 2-3 times per week, including on an upper body day.
Her current training split looks something like this:
Stephanie's Training Split
Monday: Legs (Focus on Hamstrings)
Tuesday: Upper Body (Biceps and Triceps) along with Legs
Wednesday: Back
Thursday: Shoulders
Friday: Legs (Focus on Glutes/Quads)
Saturday: Focus on Lagging Body Parts
Sunday: Rest Day
---

Nutrition
Stephanie stays focused on her nutrition by preparing her meals in advance. In her off-season, she prefers to 'lean gain', upping her calories slightly in order to do so. The majority of her foods are clean, which reduces the likelihood of falling off track.
A sample meal plan of Stephanie's is listed below, along with a healthy burger recipe:
Stephanie's Daily Nutrition Sample
Breakfast: 1 Banana, 5 Egg Whites, 1 Egg Yolk, Bowl of Oatmeal With Chia Seeds
Pre Workout: BCAAs, Glutamine, Creatine HCL, DMAA
Post Workout: Tilapia, Salsa, White Rice, Black Beans, Crunchy Unsalted Roasted Peanut Butter
Snack: Greek Yoghurt with Multigrain Cereal
Evening Meal: Chicken, White Rice, Sugar Free BBQ Sauce, Mixed Vegetables
Snack: Strawberry Protein Shake
Healthy Burger Recipe
Garlic Powder
Chicken Seasoning
Lean Burger made from Ground Beef
Ezekiel Bread
Tomatoes
Lettuce
Avocados
---

Idols and Influences
Stephanie says that Dwayne 'The Rock' Johnson is one of her biggest influences. His magnificent achievements both inside and outside of fitness are something that Stephanie wants to replicate in her own career.
Additionally, the personal trainers who Stephanie has worked with over the years are a huge source of inspiration for her. They kept her on track to reach all of her fitness goals, translating into success on the bodybuilding stage.
---

What we can learn from Stephanie Sequeira
What we can learn from Stephanie Sequeira is; reaching the bodybuilding stage allowed her to become the best possible version of herself. Along the way, she earned a great physique and made a name for herself by entering the IFBB Pro circuit. In Stephanie's words:
"My fitness journey has built who I am today, both physically and mentally. I love who I have become: a more confident, determined, and self loving individual. Thank you fitness!"
If it's your desire to reach all of your life's goals, whether in fitness or otherwise, follow Stephanie's example. By maintaining a dedicated mindset just like her, this will give you all the motivation you need to turn your dreams into a reality.