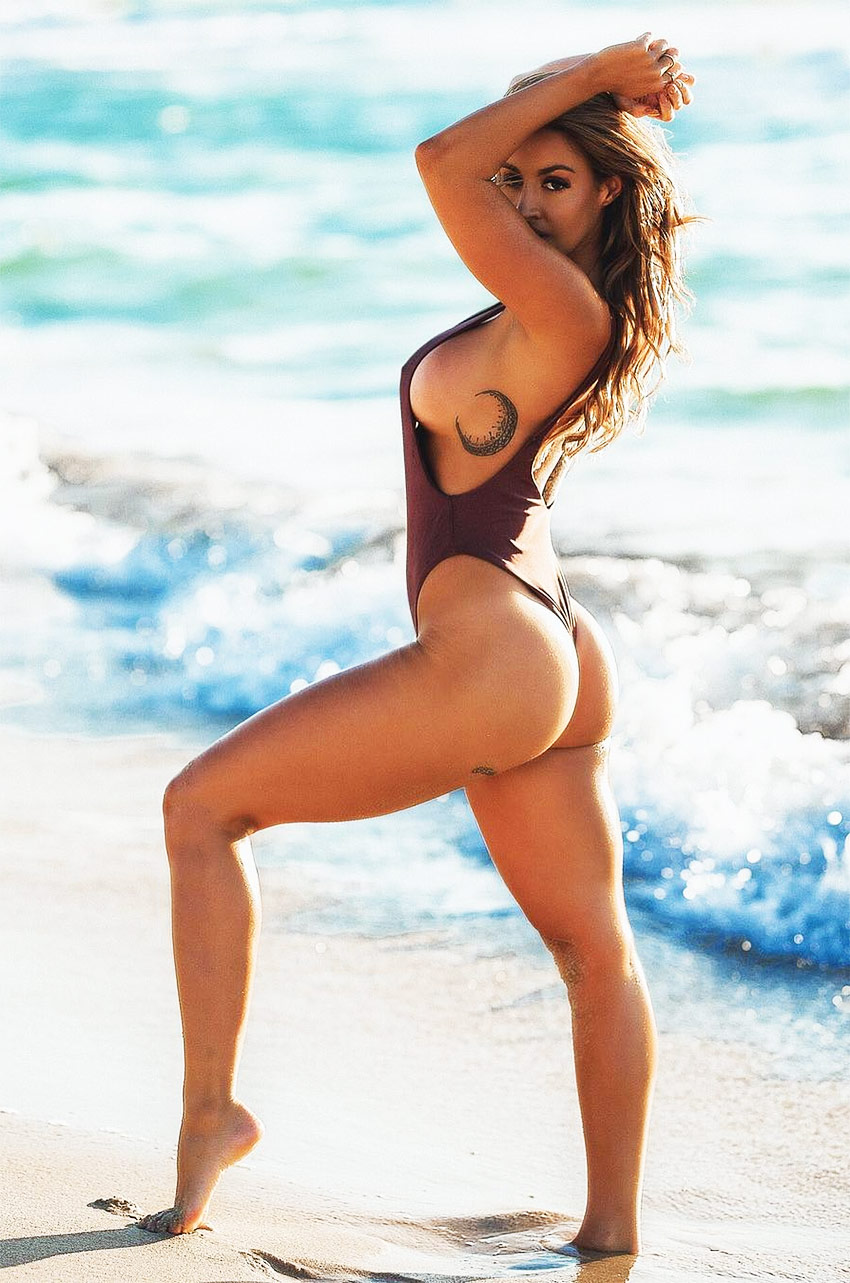 Steph Pacca
Fitness Model, Personal Trainer
Born in 1993 and raised in Perth & Sydney (Australia), Steph Pacca is a respected personal trainer and fitness model. Even as a child, Steph had a strong passion for fitness; becoming highly skilled in competitive boxing and representing her state in athletics.
As a result, the Australian chose to study a degree in Exercise & Sports Science combined with Exercise Physiology at college – in order to further her knowledge in the industry and help her sculpt her dream figure.
By 2017, Steph had become a reputable personal trainer in the fitness industry; she'd successfully earned health & nutrition certifications, guiding numerous clients to their goals.
---

"Personal progress keeps me going! When I can see little changes in myself both physical and mental, I use that as a drive to push forward and work harder and harder."
Athlete Statistics
Full Name: Stephanie Pacca
Weight
Height
Bust
Hips
115 - 125lbs (52.2 - 56.7kg)
5'5" (165cm)
32"
32"
Waist
Age
Date of Birth
23"
30
April 9, 1993
Nationality
Profession
Australian
Fitness Model, Personal Trainer
| | |
| --- | --- |
| Weight | 115 - 125lbs (52.2 - 56.7kg) |
| Height | 5'5" (165cm) |
| Bust | 32" |
| Hips | 32" |
| Waist | 23" |
| Age | 30 |
| Date of Birth | April 9, 1993 |
| Nationality | Australian |
| Profession | Fitness Model, Personal Trainer |
---

"My advice is to follow a program but not let your body get used to it – keep changing it up."
---

" I was 100% a gym junkie before I even started studying Exercise & Sports Science combined with Exercise Physiology."
Accomplishments
Qualifications
Degree – Exercise & Sports Science combined with Exercise Physiology
Personal Training Certifications
---

"My goal is this: one day own a training and health facility in WA. A functional training facility where I can train many clients daily."
---

"Work out what works well for you, not for someone else."
Training
In terms of training, Steph is a big advocate of HIIT (High Intensity Interval Training), believing this to be the most efficient way to perform cardio – helping her stay fit and lean.
However, the Australian also enjoys performing Plyometrics and lifting weights to gain lean muscle; she encourages other women to exercise with weights, to help shape their figure and grow their legs & glutes.
As a personal trainer, Steph places an emphasis on finding the best way for her clients to progress. She criticizes the coaches that give everyone the same routines, knowing that every individual needs a custom workout and diet plan.
---
 
"My advice is to keep positive and stay accountable. The more accountable you are of your own actions whether it be training, diet, personal life, relationships – the more you will be able to control outcomes."
---

" I only eat chicken! No other meat, or fish for the past 8 years!"
Nutrition
Steph follows a strict diet all-year-round, knowing this to be the vital when aiming to maintain her great figure. Unlike other athletes, she only eats chicken as her source of meat; Steph believes her body doesn't respond well to red meat.
---

"It still amazes me how much support people give me and how many people take interest in what I do."
---

"There is nothing more motivating than seeing results of repetitive hard work. Also use other inspirational people as motivation not to give up!"
Idols and Influences
Steph gains her motivation from her clients; she enjoys seeing them success, and playing a part in helping them achieve their dream figures.
However, she's also driven by her own progress in the gym – seeing her glutes and legs gain lean muscle mass and become more sculpted is a key reason she continues exercising.
---

"I do online coaching with many clients all around the world, as well I write my own Ebooks (nutrition and training)."
---

"My ultimate goal is to continue helping as many people as possible, to have some sort of impact on peoples lives in a positive way."
What Can We Learn From Steph Pacca
One thing we can take away from Steph's story, is to always chase our passion. After becoming fascinated with the fitness industry, she actively made steps to pursue a career in the industry – by studying a degree in Sports Science & Exercise Physiology, and sculpting an incredible figure.
Steph's proven that anyone can become successful with the right amount of discipline and hard work. Through this hard work she has managed to sculpt a physique that's admired around the world.