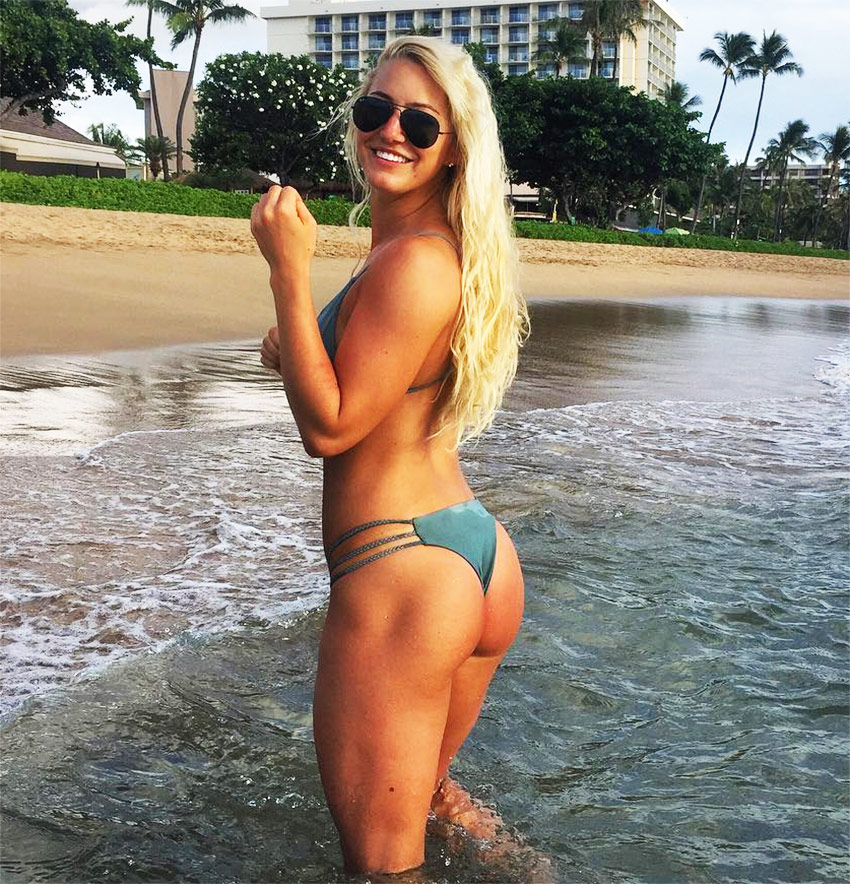 Shannon Henry
Personal Trainer, Fitness Model
Shannon Henry is a personal trainer, fitness model and bikini athlete. She embarked on her fitness journey after graduating from college with a Business degree.
Since then, she's earned her personal training certifications and even experienced success as a competitive athlete. But she hadn't actually lifted any weights before enrolling at the University of Denver.
This is her story:
---

"Motivate yourself, inspire yourself, and compete with yourself."
Athlete Statistics
Full Name: Shannon Henry
Year of Birth
Nationality
Profession
Era
1994
American
Personal Trainer, Fitness Model
2010
| | |
| --- | --- |
| Year of Birth | 1994 |
| Nationality | American |
| Profession | Personal Trainer, Fitness Model |
| Era | 2010 |
---

"Being a personal trainer has given me a sense of determination, drive, mindfulness, self-love, and pride."
Accomplishments
Qualifications
Personal Training Certification – NASM (National Academy of Sports Medicine)
Business Degree – University of Denver
Competition History
2016 NPC Bodybuilding, Novice Class – 1st
2016 NPC Bodybuilding, Bikini Open – 2nd
---

"Fitness has enhanced my life more than I ever could have imagined."
Biography
Early Years
Born and raised in the heart of Seattle, Shannon was always destined to become an athlete; she was trained in competitive soccer and swimming from an early age.
But that's not all. Shannon was also involved in numerous other sports during her childhood; mountain biking & hiking, snowboarding and skiing.
As a result, it was only natural for her to grow up with a passion for the active lifestyle.
Start of Fitness Journey
Although Shannon had always been fit and healthy as a child; it wasn't until she enrolled at the University of Denver that she truly began her journey into the industry.
At this point, Shannon realized that she couldn't continue her hobbies, such as skiing & snowboarding while studying. For this reason, the youngster from Seattle began lifting weights in the gym to keep herself active.
However, it wasn't long until she'd fallen in-love with fitness; after finishing her degree, Shannon made the big decision to pursue a career in the industry.
---

---
Personal Training
With her sights set on making a name for herself in the health & fitness sector; almost immediately after graduating, Shannon made efforts to earn her personal training qualifications.
Only a few months after, the youngster had secured her NASM certifications. As a result, Shannon began cutting her teeth as a personal trainer – helping and encouraging others to embark on their fitness journeys.
Bikini Athlete
By 2016, Shannon had gained great experience as a personal trainer. But she was keen to move forward and learn even more.
After being motivated by other fitness models, she made another big step by entering her first competition as a bikini athlete – the NPC Bodybuilding show that year.
Due to her expanding knowledge as a personal trainer, Shannon impressed the judges with her figure; as a result, she was awarded the first place trophy in the Novice Class – as well as placing 2nd in the Bikini Open category.
Ultimately, this gave Shannon the exposure she needed to become a respected name in the health and fitness industry.
---

"It's really confusing when you are working hard towards a goal and then all the sudden you have to stop. So keep a consistent diet all-year-round."
Nutrition
Shannon is a big advocate of having a balance between fitness and her normal life. For this reason, she'll allow herself to enjoy foods that she enjoys – while keeping a close eye on her overall calorie intake.
As a result, Shannon is still able to enjoy social events with her friends, while staying in peak condition all-year-round.
"It's important to have that balance to stay happy in life; Spending time with people who make me happy. Spending time in places that make me happy.
Doing activities that make me happy. I started focusing on just livin life to the fullest." – Shannon Henry
---

"I truly feel fitness has helped me become the best version of myself, while also teaching me that there is always room to learn and improve."
Idols and Influences
The 2 people that Shannon look up to, are her parents; they are fitness fanatics themselves, and are the ones responsible for Shannon's love for the outdoors and fitness.
However, since she became a personal trainer – Shannon also credits her clients, and the hard work they put in, as another great source of motivation.
---

"My goal is to share my passion and knowledge with others to inspire and help them achieve their goals as well!"
What We Can Learn From Shannon Henry
Shannon has taught us to chase our true passion in life; she completed a degree in business, but she decided to dedicate her life to fitness after graduating from college.
As a result, Shannon has become a respected personal trainer and successful bikini athlete.
One more thing we can take away from Shannon's story – always make time to help other people and still live your life to its fullest.
The youngster found that sacrificing foods and social events made her unhappy. So she found ways to see her friends while still enjoying foods she likes, and maintaining her incredible figure.