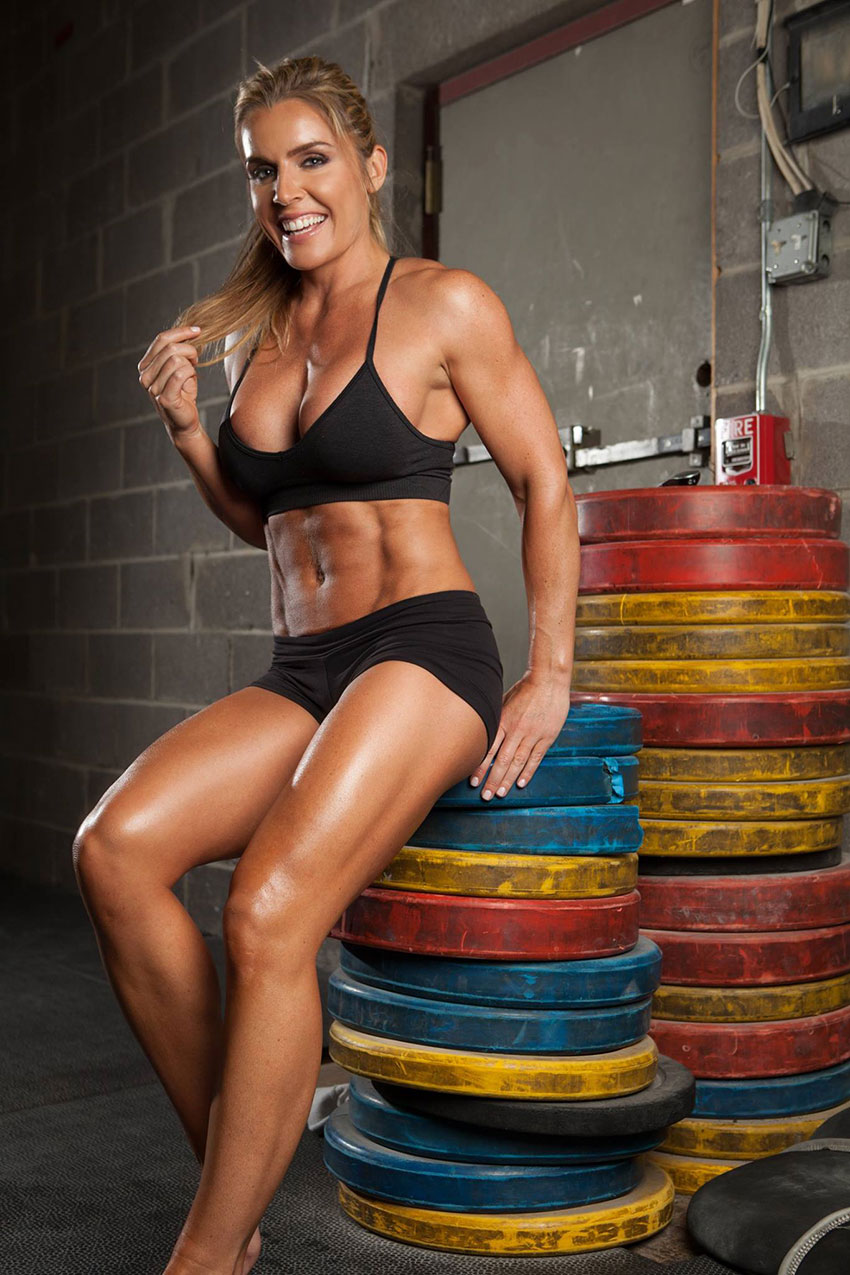 Sarah Grace
Online Coach, CrossFit Athlete, Fitness Model
Sarah Grace, also known as 'SarahGraceFitness' or ' Sarah Grace Kimball' is known for her capabilities as a 'hybrid' athlete – taking part in many competitive sports, from boxing, CrossFit, bikini competing, and American football.
From a young age, Sarah began to lead a heavily and active lifestyle, taking inspiration from her father, and two older brothers. Who all participated in athletics since their youth.
Thanks to her desire to find success no matter where her fitness journey took her, she's become a source of inspiration for her fans across the world.
This is her story:
---

Athlete Statistics
Full Name: Sarah Grace Kimball
Weight
Height
Bust
Hips
125 - 135lbs (56.7 - 61.2kg)
5'5" (165cm)
34"
36"
Waist
Year of Birth
Nationality
28"
1982
American
Profession
Era
Online Coach, CrossFit Athlete, Fitness Model
2010
| | |
| --- | --- |
| Weight | 125 - 135lbs (56.7 - 61.2kg) |
| Height | 5'5" (165cm) |
| Bust | 34" |
| Hips | 36" |
| Waist | 28" |
| Year of Birth | 1982 |
| Nationality | American |
| Profession | Online Coach, CrossFit Athlete, Fitness Model |
| Era | 2010 |
---

Accomplishments
Career Achievements
Online Coach
CrossFit Athlete
Fitness Model
Bikini Competitor
CrossFit Records
Snatch – 135 lbs
Deadlift – 285 lbs
Fran – 3:32
400 m Sprint – 1:15
Competitive History
2011 NPC National Championships
2011 NPC Team Universe: Figure Class D – 16th place
2010 NPC Daytona Cadeau Classic – 1st place
2010 The Southern States
---

Biography
Born into an Athletic Family
Born and raised in New England, USA, Sarah Grace grew up with two 'sport-mad' older brothers, along with a father who was involved within athletics. They made a huge impression on Sarah, which sparked a passion in a range of competitive sports. As Sarah says: "I have always found pleasure in challenging myself in different sports".
At the age of eighteen, Sarah was offered the chance to become a ring girl within professional boxing. Shortly after she accepted the position, she began to take part in the sport for fun.
But after a while, Sarah became more serious with the sport – setting her sights on becoming a professional boxer. Sarah failed to win her first boxing match, but she was instantly hooked. Talking about her love for the sport, Sarah said: "I not only love the physical challenge of boxing, but I love the technical aspect of the sport as well".
Later in her boxing career, Sarah was able to storm to her first victory in the ring. Against all odds, Sarah overcame a tough opponent – winning as a result. Here's Sarah recalling the moment she won the fight:
"I won my fight hands down and also took home a belt! Everyone was nervous because they thought my opponent was going to be super tough. Halfway into the first round I knew I had the fight when I hit her with a couple jabs that sent her head back. It shook her confidence when she felt the power of my jab!".
---

American Football Career
By 2008, Sarah took a different direction in her fitness career, as she began to play within the Legends American Football League (formerly known as the Lingerie American Football League). It didn't take long for her to make a name for herself within the league. As Sarah recalls: "I was told that I was making the team and would be the starting strong safety".
However, Sarah's American football days came to a sudden end, when she suffered from a serious knee injury during one of her training sessions. Due to the severity of the injury, Sarah was forced to give up playing the sport for good.
Regardless of her knee damage, Sarah was determined to fully recover – continuing to pursue her love for competitive sports, despite the fact doctors advised her against the decision. In regard to this, Sarah stated: "The injury was horrible at the time, but it motivated me beyond anything else to become better".
Broadening Her Horizons
Further down the line, Sarah was able to leave her injuries behind to become a bikini competitor – finishing in first place in the 2010 NPC Daytona Cadeau Classic.
After competing on the bodybuilding stage, Sarah made the decision to broaden her horizons even further – entering CrossFit. As a result of her hard work, she was quickly able to find success within the sport, achieving the following records:
Snatch – 135 lbs
Deadlift – 285 lbs
Fran – 3:32
400 m Sprint – 1:15
Because she was able to reach her own fitness goals, Sarah began to place focus on helping others – setting up her online coaching business. Which has gone from strength to strength since the beginning.
---

Training
Mixing Up Her Training
Sarah likes to alternate between different training methods, in order to add variety to her workouts. This keeps her motivated, as well as her body in peak condition throughout the year.
Here's Sarah talking about the different types of training that she utilizes:
"My training routine varies depending on what stage of training I am in. If I'm getting ready for a show my training is usually a typical body building style and I'll do 2 a days where I split cardio and my lifting. If I am in the off season I prefer to do more circuit, functional style training and I will box or do some MMA for fun".
Training Split
Monday – Chest
Tuesday – Back
Wednesday – Legs
Thursday – Cardio
Friday – Shoulders
Saturday – Legs
Sunday – Rest Day
Sarah Grace Workouts
Here's some workouts which Sarah performs frequently:
CrossFit Workout
Front Squats (95 lbs or 135 lbs): 10 Reps
Pull Ups – 15 reps
Kettlebell Swings – 20 reps
Repeat for 5 rounds
Bodybuilding Workout: 3 – 5 Sets of Each Exercise
Underhand Grip Pull Ups: 5-10 reps
Dips: 5-10 reps
Hammer Curls: 5-10 reps
Ring/TRX Push Ups: 5-10 reps
Chin Above Bar Holds: 5-10 reps
Bottom of Pushup Hold: 15-30 seconds
Push/Pull Workout
Pull Ups – 20 reps
Push-Press (65 lbs) – 20 reps
Deadlifts (135 lbs) – 20 reps
Push Ups – 20 reps
Dumbbell Walking Lunges (15-35 lbs) – 20 reps
Pull Ups – 15 reps
Push-Press – 15 reps
Deadlifts – 15 reps
Push Ups – 15 reps
Dumbbell Walking Lunges – 15 reps
Pull Ups – 10 reps
Push-Press – 10 reps
Deadlifts – 10 reps
Push Ups – 10 reps
Dumbbell Walking Lunges – 10 reps
---

Nutrition
Healthy Eating
Sarah places emphasis on eating clean foods which contribute to a healthy way of living. In turn, this allows her to stay lean all year round, alongside fueling her intense workouts. In regards to her dieting methods, Sarah had this to say:
"My diet typically consists of lots of protein, green veggies, salads, eggs, and some complex carbs. During the off-season, I try to stay along the same guidelines but I add more healthy fats in my diet and a little more variety. Also I measure less, and I am less strict on my portion sizes".
---

Idols and Influences
Former American football star Brendon Ayanbadejo is a huge source of inspiration for Sarah. As one of Sarah's former training partners, Brendon kept Sarah motivated to achieve greatness in her own fitness career. As Sarah said: "I truly enjoyed training with Brendon. He inspired and motivated me!".
Ava Cawan is another bodybuilding icon who Sarah looks up to. Sarah greatly admires the incredible physique of Ava, as well as her achievements in her competitive bikini career.
---

What we can learn from Sarah Grace
What we can learn from Sarah Grace is; she's shown us that it takes hard work, consistency, and dedication to become successful within fitness. She encountered roadblocks along the way, such as a her knee injury, but Sarah kept pushing forward to become the best possible version of herself.
As Sarah says: "It's not the size of the dog in the fight, it's the fight in the dog" – Sarah Grace