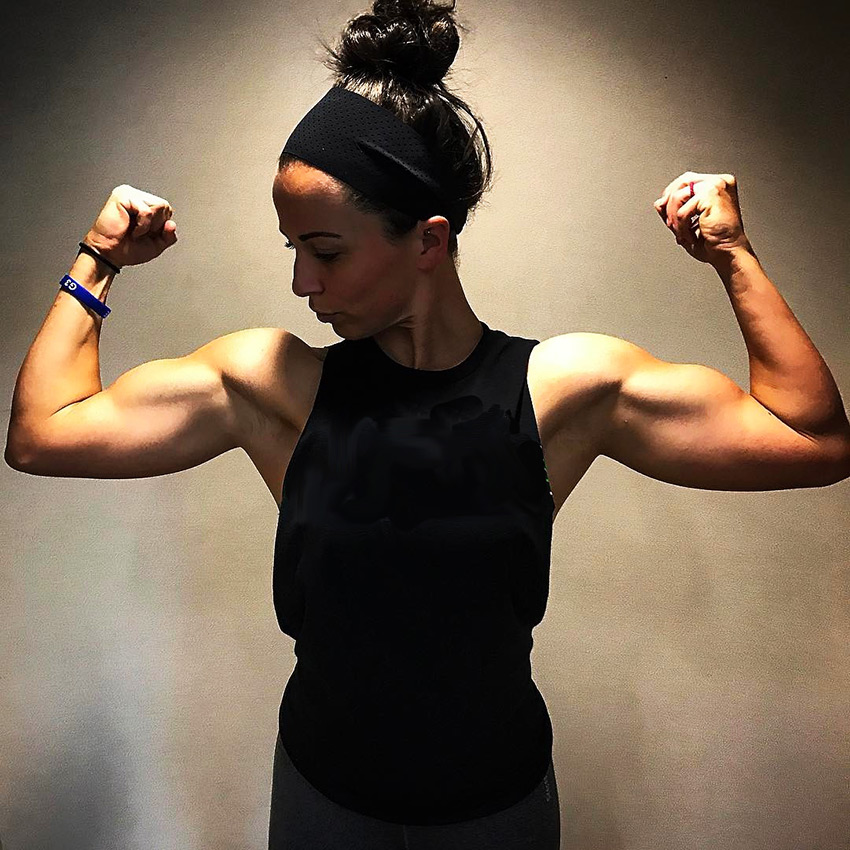 Sarah Bowmar
Personal Trainer, Fitness Nutrition Specialist, Entrepreneur
Sarah Bowmar is an American personal trainer, fitness nutrition specialist and entrepreneur. She propelled to fame after sharing her fitness journey online with others. In the process, she became a social media celebrity.
She found fitness after becoming unhappy with her slim physique – wanting to add lean muscle mass to her skinny frame. Eventually, through hard work and dedication to her training in the gym, Sarah was able to build the physique she had always wanted.
Further down the line, Sarah set up her online coaching and nutrition business with her husband, that has gone from strength to strength since day one. Now, Sarah aims to inspire others to achieve their full potential in fitness – just like she has.
This is her story:
---

Athlete Statistics
Full Name: Sarah Bowmar
Weight
Height
Age
Date of Birth
135 - 145lbs (61.2 - 65.8kg)
5'3" (160cm)
34
February 11, 1989
Nationality
Profession
Era
American
Personal Trainer, Fitness Nutrition Specialist, Entrepreneur
2010
| | |
| --- | --- |
| Weight | 135 - 145lbs (61.2 - 65.8kg) |
| Height | 5'3" (160cm) |
| Age | 34 |
| Date of Birth | February 11, 1989 |
| Nationality | American |
| Profession | Personal Trainer, Fitness Nutrition Specialist, Entrepreneur |
| Era | 2010 |
---

Accomplishments
Career Achievements
Certified Personal Trainer
Sponsored Athlete
Entrepreneur
Fitness Nutritionist
Social Media Celebrity
---

Biography
Start of Her Fitness Career
Sarah Bowmar was born in South Bend in Indiana in 1989. She moved around the country a lot throughout her childhood, eventually settling with her family in Ohio – where she has spent her life ever since.
Throughout her time in high school, Sarah always had a skinny physique. During this period, her goal was to stay as slim as possible, so she regularly performed cardio, thinking this would be the best way for her to achieve a great physique.
However, she eventually became unhappy with her figure. From this point, she then took the steps necessary to earn a physique that could improve her confidence. She then began weight training to supplement her cardio workouts – quickly becoming hooked.
Soon enough, her hard work training in the gym led to solid results. She started to build lean muscle mass, improving her physique at a fast pace. It was at this point, she began competing on the bodybuilding stage to take her fitness career to the next level.
Discovering Hunting and Giving Up Competing
Sarah met her husband Josh who later became her business partner. Josh had a keen interest in bow hunting, regularly taking part in hunting activities. Sarah quickly became involved in hunting herself after taking influence from Josh.
Eventually, Sarah reached new heights when she became sponsored by a well known clothing line. In addition to this, she set up an online coaching and nutrition business with Josh as a way of providing their fitness expertise, forcing her to follow a busy lifestyle.
As a result of this, Sarah found it difficult to compete on stage, so she decided to give this up. Instead, she began to focus on her new business venture, as well as hunting with her husband.
However, things took a turn from the worse when an incident involving Sarah and her husband began to gain widespread attention for all the wrong reasons.
---

Controversial Incident
In 2016, Sarah hit the headlines when her husband Josh killed a black bear with a 7 ft arrow. A picture of Sarah and her husband quickly circulated online, much to the horror of her fans.
Shortly after, a petition was set up to remove Sarah's sponsorship from a well-known sports clothing line. As a result of the incident, the clothing company cut all ties between them and Sarah. A spokesperson for the company stated:
"We are ending our relationship with Sarah Bowmar. The method used to harvest this animal was reckless and we do not condone it. We are dedicated to the hunting community, support hunting practices that ensure a responsible and safe harvest of the animal, and support hunting that is conducted in compliance with all regulatory laws".
This left Sarah absolutely devastated as a result of the negative publicity. Sarah and her husband protested their innocence, stating that the bear was killed in a humane way and was not left to suffer a long, painful death.
Eventually, Sarah was able to rebuild her reputation, overcoming the negativity in her life after the bear killing incident. At this point, she could then continue to move forward in her fitness profession. While in the process, helping others achieve their dreams.
Present Day
Sarah's career in fitness has gone from strength to strength, with the exception of being dropped from a sponsorship deal with an internationally known clothing line.
Her nutrition and personal training business has grown consistently since Sarah and her husband created it. They aim to have a positive influence in other people's lives, helping them to achieve things they never thought they could.
Eventually, Sarah became an online celebrity as a result of documenting her fitness progress online, inspiring others to achieve their fitness goals. Sarah stated the following regarding her love for helping others:
"It's beyond humbling. I did not start my Instagram for the "fame" or to gain hundreds of thousands of followers. It is however, beyond humbling knowing that my progress motivates others to be a better version of themselves".
---

Training
Sarah lists glutes and shoulders as her favorite muscle groups to train. Performing these exercises on a regular basis allows her to maintain her physique while continuing to build lean muscle mass.
Two example workouts that Sarah follows on a regular basis are listed below:
Sarah Bowmar Workouts
Glute Workout
20 Walking Lunges Holding Plate Overhead – 35 lbs Olympic Plate
10 Hip Thrusts on Bench with Straight Bar – 60 lbs bar
Repeat Circuit 5 Times
10 Donkey Kicks Both Legs On Pulley Machine – 15 lbs
10 Bulgarian Split Squats Holding Plate Overhead – 10 reps each leg using 25 lbs plate
Repeat Circuit 3 Times
20 Glute Pushdowns on Assisted Pull Up Machine – 115 lbs
20 Walking Lunges Holding Plate Overhead – 35 lb Olympic Plate
Repeat Circuit 3 Times
Shoulder Workout
Overhead Dumbbell Press: 4 Sets of 5 Reps
Lateral Raises: 4 Sets of 12 Reps
Dumbbell Upright Rows: 4 Sets of 10 Each Arm
Shoulder Bombs: 3 Sets of 10 Reps
Mountain Climbers 3 Sets of 12 Reps
---

Nutrition
Sarah stays on track with her fitness by prepping her meals at the start of the week. By doing this, she is able to continually progress while reaching her fitness goals. She used to be a vegetarian in her earlier life, but she now eats meat as part of her diet.
In more recent years, Sarah has removed dairy from her diet, instead deciding to use dairy free alternatives including butter, milk and cheese.
Sarah's diet consists mainly of lean proteins, complex carbohydrates and healthy fats. However, to satisfy her sweet tooth she regularly makes her own healthy versions of the sweet treats that could quickly lead to her falling off track.
An example recipe of Sarah's is listed below:
Low Carb, High Protein Cinnamon Rolls Recipe
4 Cups of Almond Flour
6 Tbsp of Granulated Sugar Substitute
1 Scoop of Vanilla Whey Protein
4 Tsp of Baking Powder
2 Tsp of Baking Soda
1/2 Tsp of Salt
1/2 Tsp of Xanthan Gum
4 Large Eggs, Lightly Beaten
1/2 Cup of Dairy Free Butter
Ground Cinnamon
1 Container Dairy Free Cream Cheese
---

Idols and Influences
Sarah trains regularly with her husband who is an IFBB professional bodybuilder. Sarah cites him as one of her biggest influences in her fitness career.
Together, they set up an online coaching and fitness nutrition business. They quickly found success in their business venture, offering them a platform to push forward, achieving their goals along the way.
But, things weren't always so great for Sarah. After finding fitness, she made several mistakes. It took a while for her to find a method of training that worked for her body.
However, she was able to overcome this to start earning solid results in the gym. At this point, she became self-motivated after seeing the progress she was making. In regard to her fitness journey, Sarah stated:
"I conducted trial and error on myself in terms of diets and training. There were a lot of mistakes made. A LOT. Slowly but surely, I figured out what worked for me and my body. I learned to get over the scale, how to fuel my body for my goals of gaining. I learned how to train. And learned how to have patience".
---

What we can learn from Sarah Bowmar
Sarah Bowmar discovered fitness and it offered her the chance to completely transform her life, while earning the physique she had always dreamed of. Eventually, she was able to begin providing her own fitness expertise to others.
She set up an online coaching and fitness nutrition business alongside her husband – quickly finding success. This offered her a way of helping others achieve their fitness goals, while at the same time achieving her own.
What we can learn from Sarah is; sometimes fitness takes a lot of trial and error. But, once you commit yourself to reach your goals, you'll eventually find a method of fitness that works for you.