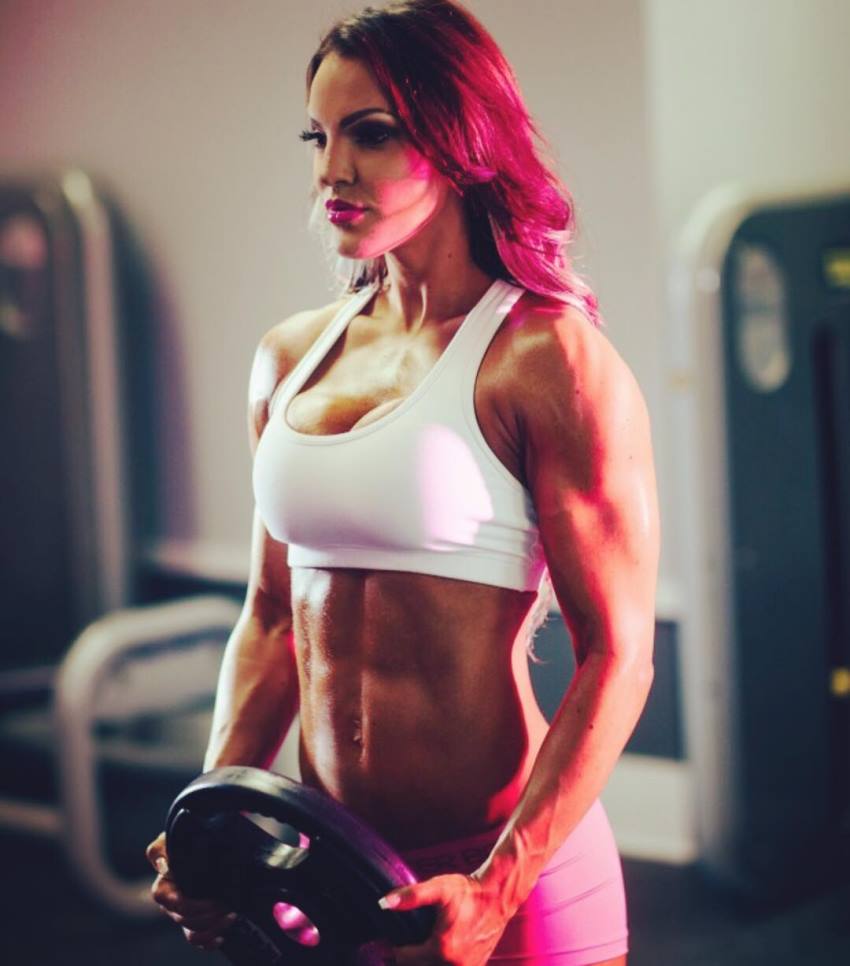 Sarah Allen
Bikini Competitor, Fitness Model, Personal Trainer
Sarah Allen is an Australian fitness model, bikini competitor, and personal trainer who lives in Las Vegas, Nevada. She competes for the highly esteemed IFBB, where she earned her Pro Card.
Sarah became interested in fitness through glamour modeling – initially, she just wanted to tone up her physique for modeling photo shoots. But, Sarah became inspired by fitness so much over time, she gave up on modeling – deciding to start a career out of fitness.
She's since become one of the most recognized Australian fitness models, landing numerous magazine covers.
However, it wasn't an easy process for Sarah. She admits that it was difficult to keep up with her diet. Saying; "The psychological part of dieting and training and realizing every little bit matters was one of the hardest obstacles." Despite these difficulties, she came out on top – becoming an inspiration for everyone.
This is Sarah's story:
---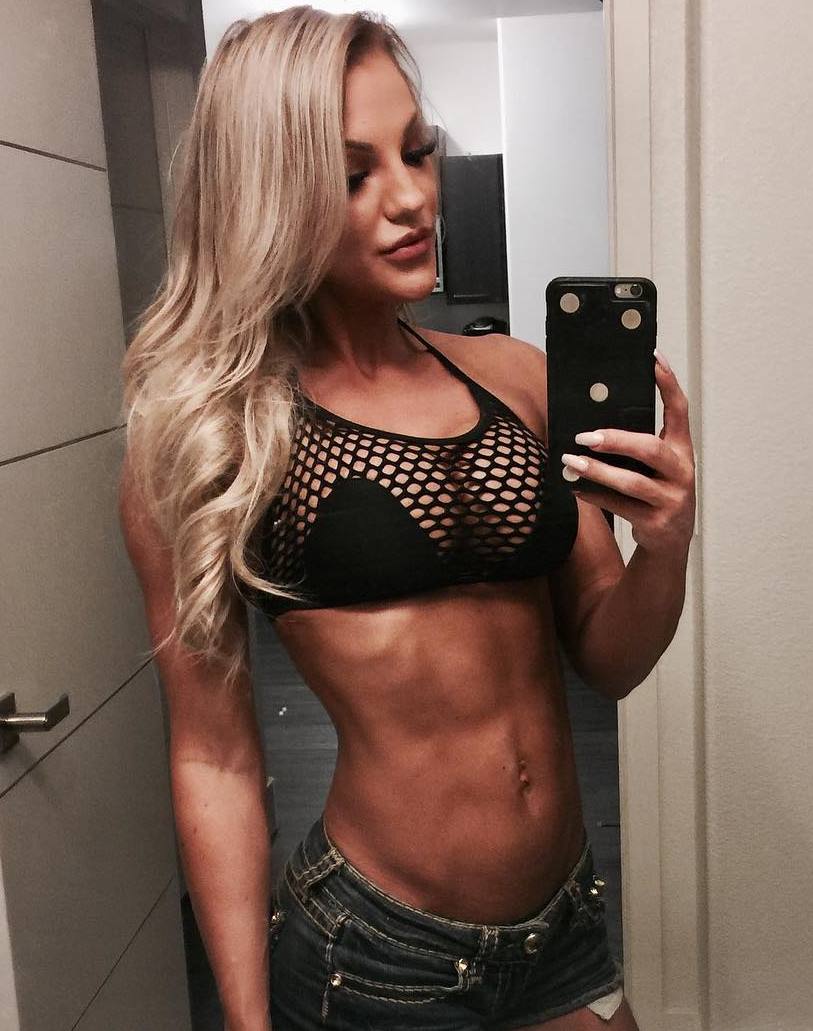 Athlete Statistics
Full Name: Sarah Allen
Weight
Height
Year of Birth
Nationality
115 - 125lbs (52.2 - 56.7kg)
5'4" (162.5cm)
1985
Australian
Profession
Era
Bikini Competitor, Fitness Model, Personal Trainer
2010
| | |
| --- | --- |
| Weight | 115 - 125lbs (52.2 - 56.7kg) |
| Height | 5'4" (162.5cm) |
| Year of Birth | 1985 |
| Nationality | Australian |
| Profession | Bikini Competitor, Fitness Model, Personal Trainer |
| Era | 2010 |
---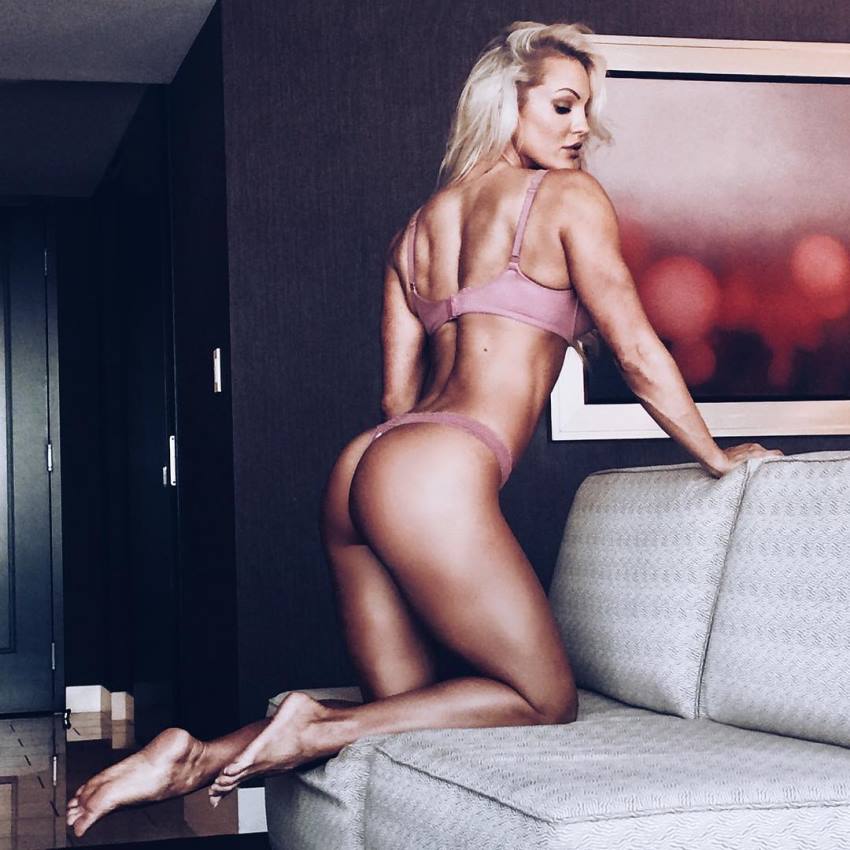 "Through the years trying to battle the mind on dieting, living healthy, eating clean, building muscle, building shape, endurance, lifting, performance. Never once was there just a simple answer or even a set way that 'works' for me. Every time is different, different goals, different stage of life and different starting points. What really had to transform was the way I think, each time there was a little more understanding."
Accomplishments
2015
IFBB Dallas Pro, 15th
IFBB Musclecontest Pro Bikini, 13th
2014
IFBB Arnold Amateur, 11th
2013
IFBB Australasian Open Bikini Tall, 2nd
IFBB All Female Classic Open Bikini Tall, 2nd
FitX IFBB Open Bikini Tall, 2nd
2012
IFBB QLD State Championships, Open Bikini 2nd
IFBB Australasian – Open Bikini 4th
FitX Melbourne IFBB – Open Bikini 4th
2011
IFBB QLD championships, Open Bikini 2nd
---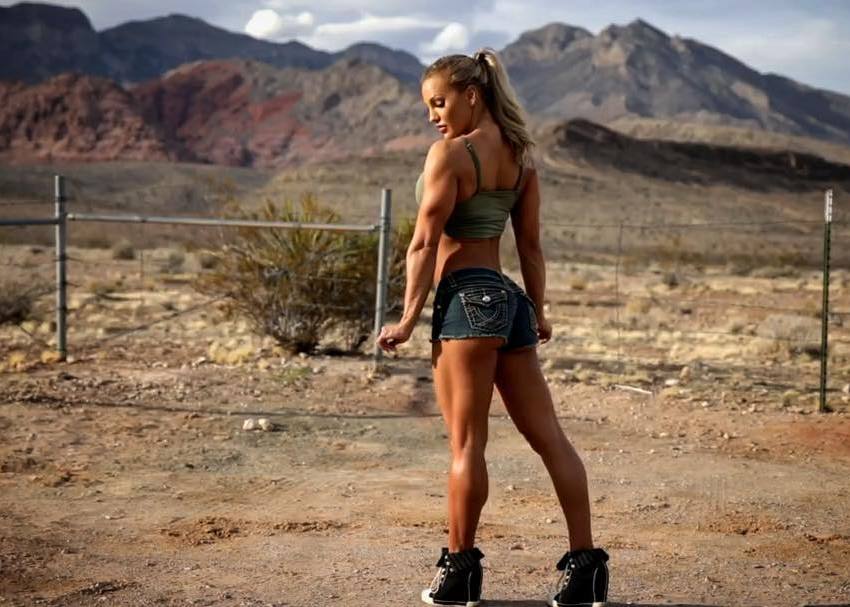 Biography
Sarah's Early Days
Born in Australia, Sarah Allen was a competitive horse rider in her youth. Throughout middle and high school, she would partake in horse riding competitions on the weekends or whenever she had the free time.
Sarah says; "High school was pretty much made up of waking up, feeding and rugging both horses, and possibly training one in the morning before school. Then, coming home from school, training the other horse, feed, rug, and clean the stables then some homework and bed."
Modeling and Fitness
As Sarah's high school days drew to an end, so did her career in competitive horse riding. She then went on to try something completely different – glamor modeling.
This was a whole new world for Sarah – she quickly realized she needed to adopt certain habits to succeed as a model. One of those habits was a daily fitness routine.
She started training in the gym so she could be in top shape for her photo shoots. However, over time, Sarah began gaining more and more affection towards fitness. The whole process of lifting weights and changing her physique was something that fascinated her.
In fact, this whole process amazed her so much, she decided to quit modeling, and chase a career in fitness instead. But, Sarah's modeling days weren't completely over. In reality, she just transitioned to a different kind of modeling – she became a fitness model.
---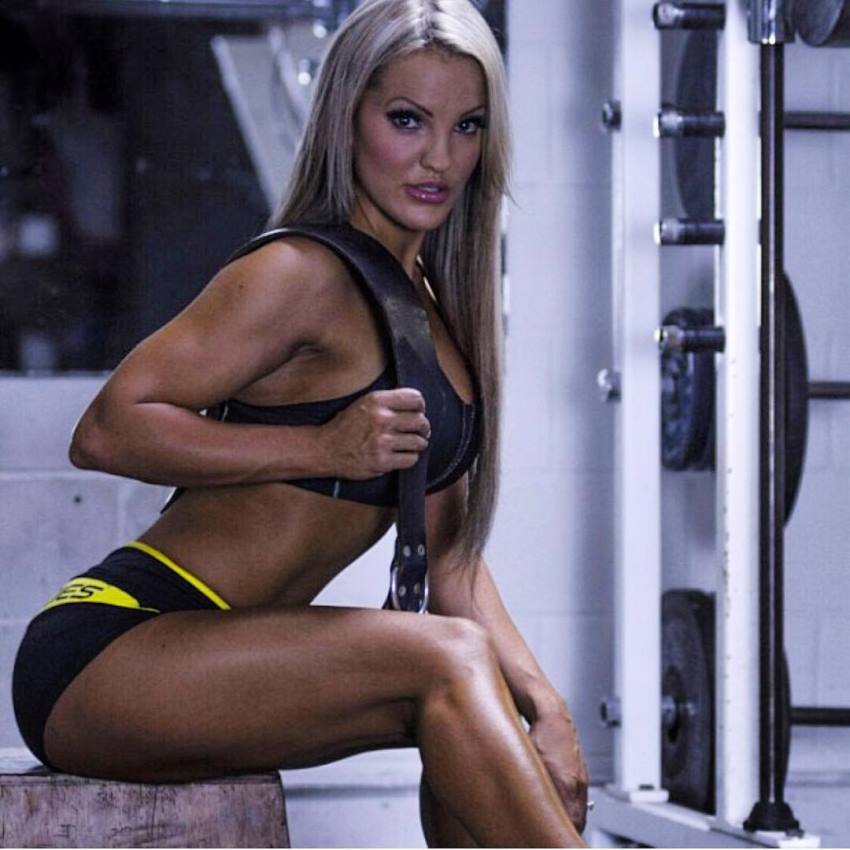 ---
Exposure in the Industry
Sarah's potential in fitness grew over the years, to the point she started getting recognized by high-profile modeling agencies in Australia.
Within time, she began modeling for these very agencies – gaining even more exposure in the fitness industry.
Bikini Competitions
Around this time, Sarah also started gaining an interest in fitness competitions. She says; "I started watching Olympia and the Arnold, and saw they had a bikini section. 'These girls are amazing!' I thought to myself. I now had my new goal!"
Not long after, she stepped on the bikini stage for the first time. She loved the feeling of being on the stage, and decided to continue competing professionally.
She eventually won her Pro Card, after which she started appearing on the IFBB Pro stages. Including the 2015 IFBB Dallas Pro, and 2015 IFBB Musclecontest Pro Bikini.
Spreading her Influence
As she was competing, and enjoying her modeling career, Sarah also started posting pictures of her journey on social media.
A lot of newcomers came to her profiles, and asked Sarah how she managed to sculpt such an amazing physique. Sarah says this inspired her to become a certified personal trainer, and give back to the fitness community – helping others sculpt their own awesome physiques.
Since then, Sarah has grown even more recognition; these days, she's recognized as one of the biggest fitness icons from Australia.
---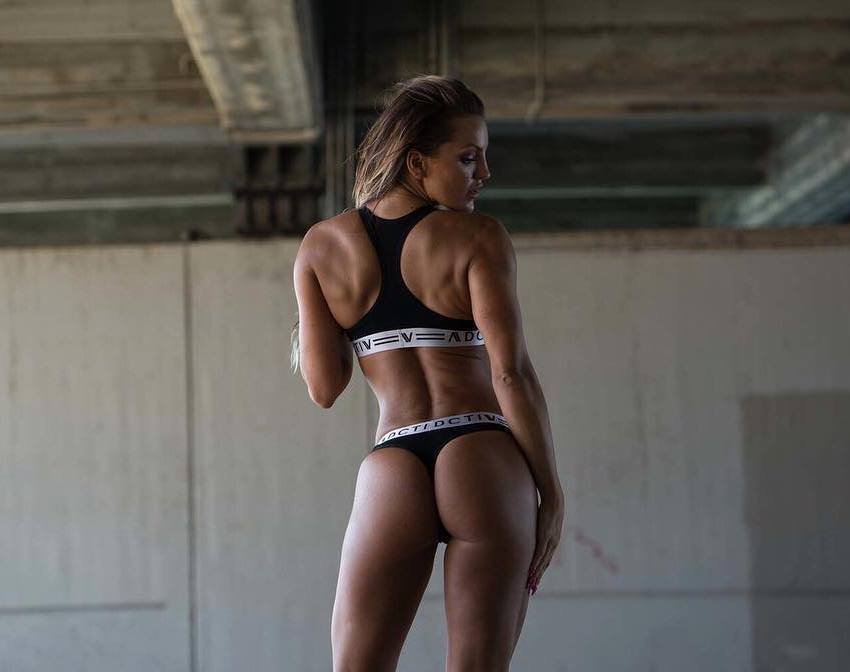 "Inhale confidence, exhale doubt. Sometimes we need a mental break or 'mental holiday' just as much, if not more than a physical one."
Training
Types of Cardio
Sarah prefers doing normal cardio over HIIT. She'll usually have one cardio session every day, which lasts between 30-60 minutes.
As she comes closer to the day of her competition, she'll add in one more cardio session per day. This means, Sarah will do cardio once in the morning, and once in the evening.
Sometimes, she'll do HIIT instead of regular cardio. As she says; "just to mix it up and keep it interesting."
Sarah Allen's Workout Routine
Monday: Shoulders
Shoulder press – 10-12 x 4
Rear raises – 10-12 x 4
Side raises – 10-12 x 4
Front raise with cable – 10-12 x 4
Tuesday: Legs
Leg press – 10-12 x 4
Squats – 10-12 x 4
Deadlift – 10-12 x 4
Walking lunges – 10-12 x 4
Sumo squats –10-12 x 4
Wednesday: Back & Chest
Wide grip pull down – 10-12 x 4
Narrow grip pulldown – 10-12 x 4
Wide grip row – 10-12 x 4
Narrow underhand row – 10-12 x 4
Incline bench flys – 10-12 x 4
Thursday: Abs, Cardio
Intervals on stepper or treadmill 45 mins
20 of each, repeat 4 times.
Basic crunches
Superset
Leg raises
Superset
Plank 1-2 mins
Friday: Legs – High rep
Leg press wide – 20×5, superset with, Leg press narrow – 20×5
Leg curl – 20×5, superset with, Leg extension – 20×5
Step ups- 20×5, superset with, Walking lunges- 20×5
Saturday: Back and Arms
Rear delts – 20×5
Wide grip row – 20×5
Triceps dips – 20×5
Bicep curls – 20×5
Sunday: Rest
---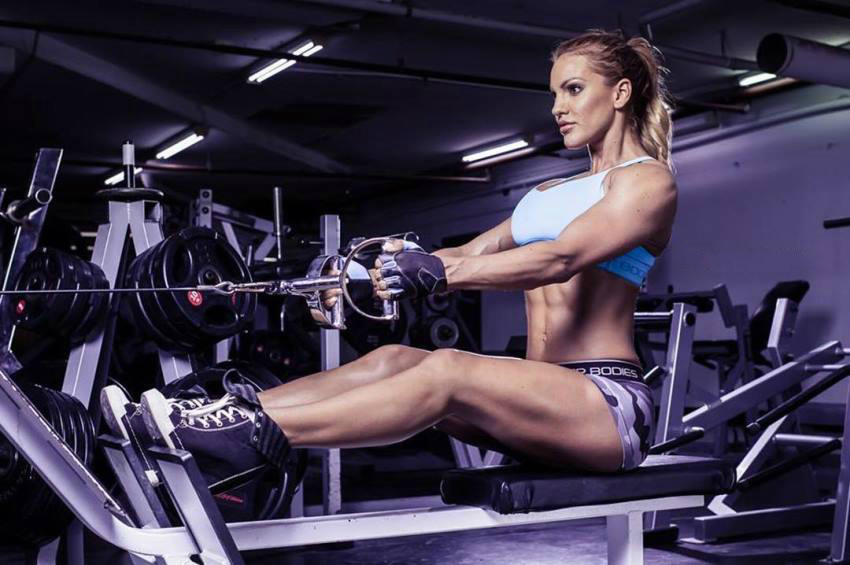 ---
Sarah's Best Exercises
Lunges – This is Sarah's favorite exercise for glute development. She says it's also efficient in building overall leg muscle mass.
Reverse Fly's – Sarah believes this one works her shoulders like no other exercise. It gives her a great pump, and even greater results.
Bent Over Rows – Alongside building an awesome back, Sarah says this one is important for building rear delts as well.
---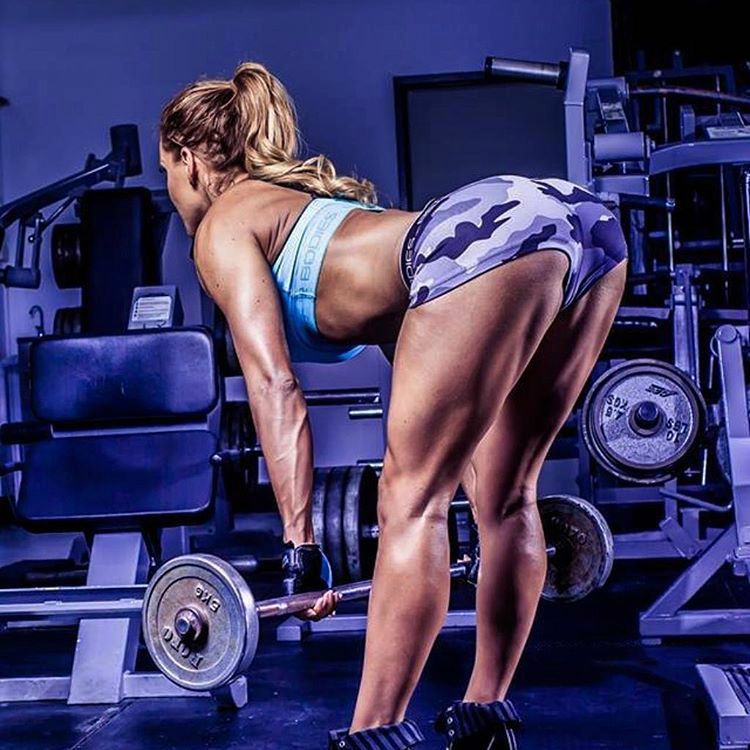 Nutrition
Clean Eating
Sarah tries to keep her diet healthy and balanced throughout the year. Avoiding soft drinks, alcohol, sugars, or any processed food.
She's found that both her body, and her mind respond best to this kind of dieting – especially when it comes to preserving muscle, and losing fat.
Sarah's Meal Plan
This how a typical day of eating looks for Sarah;
1st Meal: 3 Egg Whites & Oats
2nd Meal: Protein Shake
3rd Meal: Lean Beef or Turkey Mince, Capsicum, Onion and Brown Rice
4th Meal: Chicken with Sweet Potato and Broccoli
5th Meal: White Fish and Spinach
6th Meal: 10 Almonds and a small Light Yogurt
Another variation of her diet;
1st Meal:

Oats, 4 egg whites, a handful of blueberries with some green or herbal tea.

2nd Meal:

Chicken, greens (mix of beans, peas, and broccoli), brown rice and a bit of avocado

3rd Meal:

Chicken, greens (mix of beans, peas, and broccoli), brown rice and bit of avocado

4th Meal:

Kangaroo, greens (mix of beans, peas, and broccoli), sweet potato

5th Meal:

Fish & greens (Spinach)

Snack:

Almonds, Protein shake, seasoned cucumber slices, strawberries/blueberries
Supplements
Alongside regular bodybuilding supplements like whey protein, glutamine, and BCAAs. Sarah also takes supplements for overall health.
They are calcium, iron, wild fish oil, vitamin D, folic acid, and magnesium after training.
---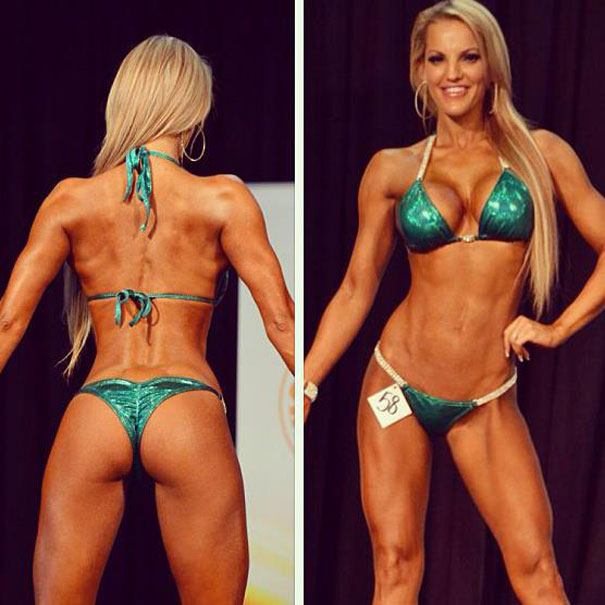 Idols and Influences
While Sarah doesn't mention anyone in particular as her inspiration. It's clear that she had to be her own motivator for her own fitness journey.
She said there were times when she wasn't sure if she could keep up with her demanding diet – the finer dieting, along with her training exhausted her mentally.
However, with her strong willpower, she was able to overcome every obstacle on her way, and become an IFBB Pro.
---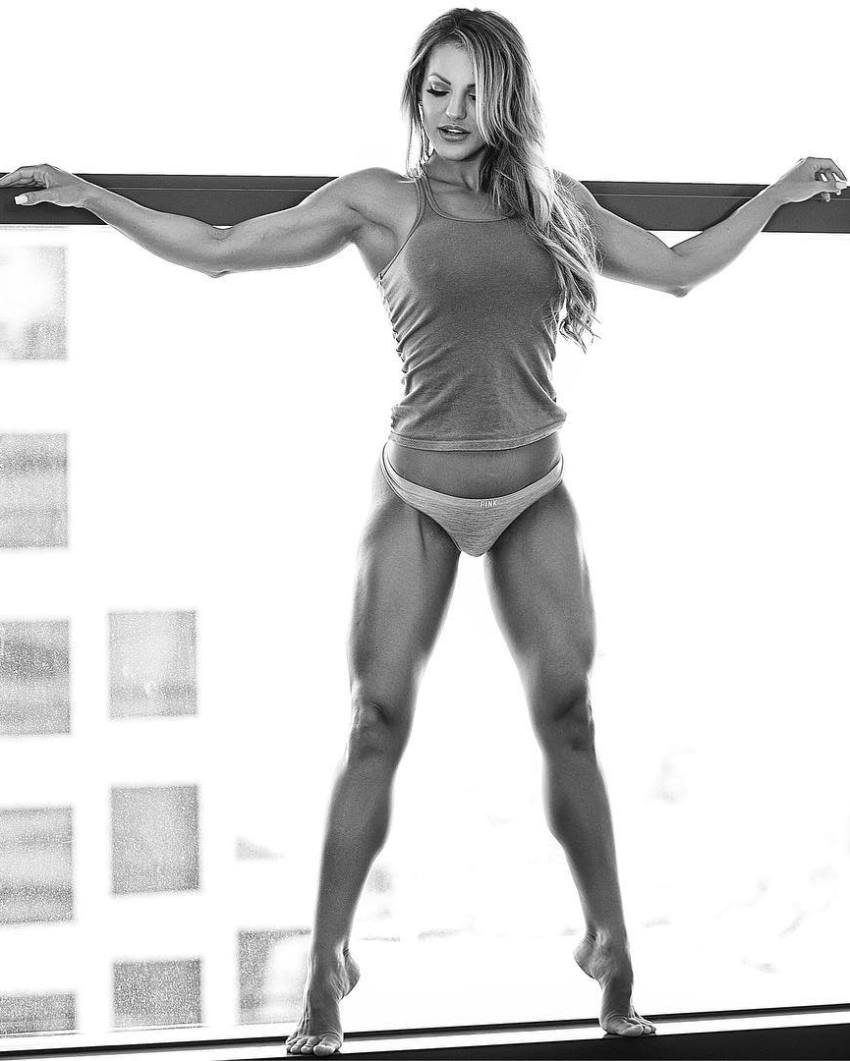 What we can learn from Sarah Allen
Sarah's ability to push through difficult moments in her career is something we could all learn from. There were moments when her diet became so tough, she thought of breaking her own rules.
However, Sarah knew that the temporary pleasure of indulging in a cheat meal was not worth it. This is something that kept her going throughout her competitive journey.
What we can learn from Sarah Allen is; if you want to reach great heights, like Sarah, you might have to sacrifice some things on your way towards your goals.
However, if you manage to push through those moments, you'll be able to realize any goal your set for yourself – just like Sarah Allen.