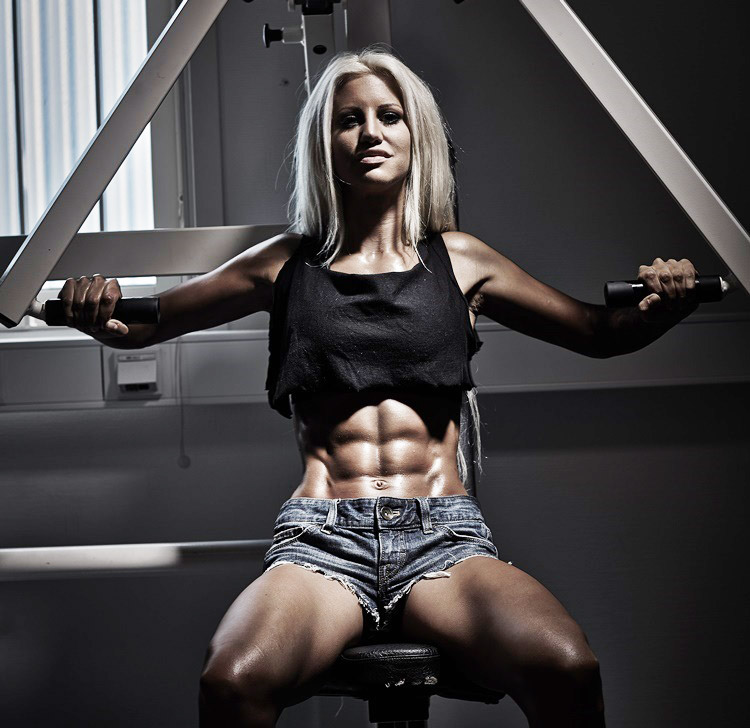 Sandra Reiche
Bikini Athlete. Personal Trainer, Singer, Model.
From party girl in Sweden, to international fitness icon, Sandra turned her life around to develop into a Bikini Athlete with an awesome physique.
At the age of 25, in 2012, after growing tired of constantly drinking and eating junk food, she decided to embark on her journey. By 2016, after years of following a strict diet and training plan in the gym, Sandra had won numerous competitions and emerged as an online sensation.
This is her story:
---

"Lifting heavy 4 days a week has worked best for me. I hit two muscle groups a day."
Athlete Statistics
Full Name: Sandra Reiche
Weight
Year of Birth
Nationality
Profession
Under 115lbs (52.2kg)
1987
Swedish
Bikini Athlete. Personal Trainer, Singer, Model.
Era
2010
| | |
| --- | --- |
| Weight | Under 115lbs (52.2kg) |
| Year of Birth | 1987 |
| Nationality | Swedish |
| Profession | Bikini Athlete. Personal Trainer, Singer, Model. |
| Era | 2010 |
---

"I've always been a competitive person, and I decided pretty fast that I wanted to compete in Bikini Fitness."
Accomplishments
Competitions
2014 December Cup, Bikini Fitness, 2nd
2014 Luciapokalen, Bikini Fitness, 1st
2014 Nordic Fitness Open, Bikini Fitness, 1st
2015 Svenska Mästerskapen, Bikini Fitness, 2nd
---

"I started weight training about 3 years ago. Before that, I worked as a model and hostess. I travelled a lot throughout Sweden working in various night clubs. I ate too much bad food and drank alcoho.l"
Biography
Party Girl
Born in Värmland County, Sweden, Sandra was blessed with good looks, becoming a model at the age of 18. However, her job meant that she had to travel around the country and make appearances in numerous night clubs. This led to an existence based around drinking and eating junk food.
She was stuck in a rut, with no easy way out.
Although the future Bikini Athlete looked fit and healthy, she knew that she was damaging her body through her party lifestyle. Sandra started to become unhappy with her situation, and knew that she had to make a change if she was to turn her life around.
 Start of her Journey
In 2012, at the age of 25, after being inspired by fitness stars on social media, Sandra decided to pursue her new dream – becoming a Bikini Athlete. She entered the gym and began training hard.
But she soon realized that her efforts weren't adding up to results. The future Bikini Athlete knew that she had to improve her routine if she wanted to achieve her goal.
Early Mistakes
At this point, Sandra took a step back to analyze her training plan and realized that she was making a big mistake. By focusing too much on her training intensity in the gym, she didn't realize that nutrition had such a big impact on her physique.
Sandra had neglected her diet, but she wouldn't let this setback affect her.
It wasn't long until she had educated herself in nutrition, and she began seeing serious results soon after. Sandra was back on track to reaching her ambition.
Becoming a Social Media Star
2 years after entering the gym, Sandra had sculpted an incredible physique. She was proud of how far she had come since starting as a party-loving teenager, and began posting pictures of her fitness journey on Instagram.
Before she knew it, Sandra had become an online sensation, becoming known internationally for her shredded 6-pack. This motivated her to begin competing and enter her first competition as a Bikini Athlete.
First Competition
In December 2014, at the age of 27, Sandra stepped on the stage of the December Cup in her home country. Although she didn't win, she was still rewarded for her years of intense preparation – she walked away with a 2nd place medal.
This made her more determined than ever to take home the trophy.
Only a couple of weeks after her debut show, Sandra fulfilled her ambition of winning a competition as a Bikini Athlete. She placed 1st in the 2014 Luciapokalen. But she was only getting started.
More Success and Personal Training
That same year, she won the 2014 Nordic Fitness Open, and continued her success into 2015 by placing 2nd in the Svenska Mästerskapen contest. Sandra had gained more recognition with every show that she entered.
It wasn't long until she had become a fitness icon. After gaining a mass of followers on social media, she was asked for tips on nutrition and training.
Inspired by her fans, the Bikini Athlete began a new quest; she wanted to give back to the industry and started helping others to achieve their ideal physiques.
---

"I would recommend heavy lifting and complex exercises like squats, deadlifts, hip thrusts and lunges. Just try it out and your booty will thank you"
Training
Sandra has always kept the weights heavy, but unlike other athletes, she only trains in the gym 4 times per week. She gives herself two days to recover, believing that this works best for her body.
She hits two muscle groups per session to develop her physique, except for when she trains her legs.
Day 1: Legs
Barbell Squats 4 x 10-12
Deadlifts 4 x 10-12
Leg Extension 4 x 10-12
Leg Curl 4 x 10-12
Hip Thrust 4 x 10-12
Day 2: Shoulders/Chest
Standing Barbell Military Press 4 x 10-12
Side Lateral Raises 4 x 12
Reverse Machine Fly's 4 x 10-12
Machine Bench Press 4 × 10-12
Day 3: Back/Abs
Band Assisted Pull Ups 4 x 15
Wide Grip Pulldown 4 x 12
Seated Cable Row 4 x 12
Back Extensions 4 x 12
Ab Crunch Machine 4 x 12
Hanging Leg Raise 4 x 12
Cable Crunch 4 x 12
Day 4: Biceps/Triceps
Alternating Hammer Curls 4 x 12
Cable Preacher Curl 4 x 12
Decline Dumbbell Extensions 4 x 12
Dip Machine 4 x 12
Pushdowns 4 x 12
Day 5, 6 & 7: Rest Day
---

"I have modeled in Glamour, Lingerie and bikini over the years but have recently focused more on fitness. Training is something I'm really passionate about!"
Nutrition
Sandra splits her diet into 4 smaller meals a day, as she believes that this provides her with the best results. She plans her meals around lean protein, complex carbs and healthy fats.
Diet Plan:
Meal 1: ¼ cup Oatmeal, 1 ounce Whey, 1 tablespoon Almonds and ¼ cup Frozen Raspberries
Meal 2: 1 ounce Whey
Meal 3: 5 ounces Chicken Breast or 4 ounces 5% Ground Beef, 5 ounces Shrimp or 7 ounces Cod, ¼ cup Plain Rice or 1 cup Potatoes and 5 ounces Vegetables and 1 ounce Whey in water
Meal 4: 1 ounce Casein, ¼ cup Almonds and 2 ounces Frozen Raspberries
Supplements Stack:
Protein
Casein
BCAA's
Fish Oil
Vitamin C
Multivitamin
Fat Burner
Vitamin D
Magnesium
---

"Work hard, dream big."
What we can learn from Sandra Reiche
Sandra has taught us that you should always change your lifestyle if it's damaging your body. She began her journey as a party girl who loves drinking and binging on junk food, but she turned her situation around and became a Bikini Athlete.
One thing we can take away from Sandra's story, is that anything is possible – she went from being completly unknown, from a small village in Sweden, to becoming an international fitness icon.