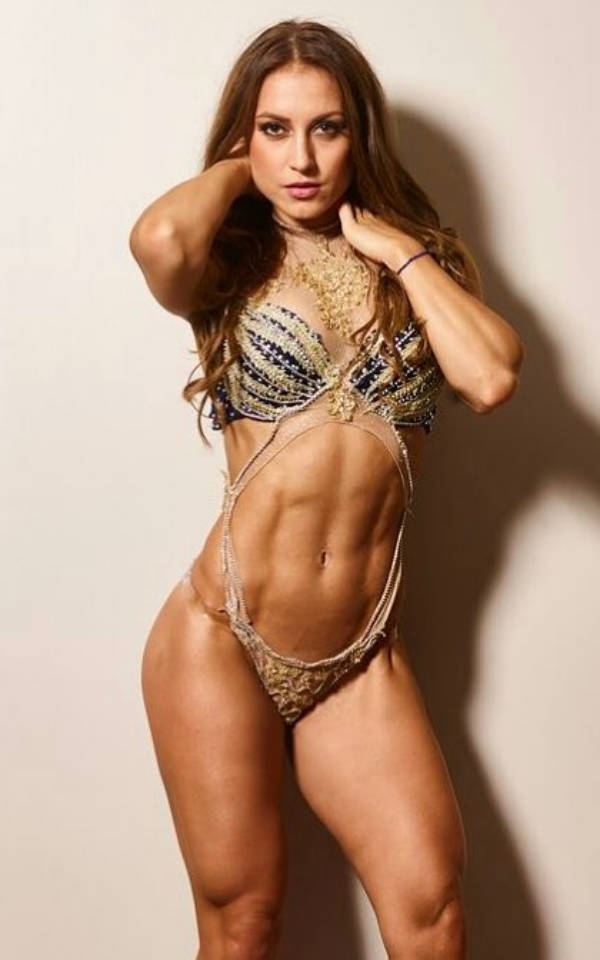 Sandra Radav
Bikini competitor, Zumba Teacher, sponsored athlete
Sandra Radav is a WBFF Pro Bikini Champion, sponsored athlete and Zumba teacher from Lithuania. She's attracted a lot of attention on social media through her motivational posts and professional advice.
Before her move to the UK, Sandra was a Master Trainer and choreographer for Zumba fitness. She was always extremely passionate about staying healthy and fit growing up, so this career allowed her to combine her passion with her livelihood.
This passion for improving her own fitness levels and physique, lead to her becoming interested in competing in 2006. She became a bikini competitor and won two major shows at the 2012 Miami Pro and the 2013 WBFF UK European Bikini Fitness.
Sandra aims to help as many women as she can. She teaches a popular Zumba class and posts as many informative posts as she can – hoping to inspire women to build their best physique.
---

Athlete Statistics
Full Name: Sandra Radav
Height
Age
Date of Birth
Nationality
5'3" (160cm)
35
October 2, 1987
Lithuanian
Profession
Era
Bikini competitor, Zumba Teacher, sponsored athlete
2010
| | |
| --- | --- |
| Height | 5'3" (160cm) |
| Age | 35 |
| Date of Birth | October 2, 1987 |
| Nationality | Lithuanian |
| Profession | Bikini competitor, Zumba Teacher, sponsored athlete |
| Era | 2010 |
---

Accomplishments
Career
Bikini Competitior
Cover girl for Zumba fitness.
Stage Presence Coach for fitness bikini girls. One of the main WBFF recommended coaches in UK.
National TV Advert Lead Fitness Instructor Nintendo Wii Advert – 'Zumba Nintendo.'
Competitions
2012 Miami Pro Bikini, 1st
2013 WBFF UK European Bikini Fitness, 1st
2014 Las Vegas Bikini Fitness pro, 2nd
---

Training
Cardio Choices
When it comes to Sandra's cardio workouts, she loves to mix it up. Her main choice is Zumba fitness which she has taught for many years. When she isn't dancing, she loves to get outside and complete morning jogs to start her day right.
Training Routine
Her weekly routine is split between her own personal workouts, and the fitness classes that she teaches. She loves the opportunity to continue building her physique while being paid to help others build theirs.
Her routine is detailed below:
Monday
Legs: walking lunges, leg press, hamstring curls, stiff legged deadlift.
Abs and cardio: crunches, dancing, running
Tuesday
Cardio: Dancing, jogging, treadmill
Wednesday
Upper Body: chest press, tricep dips, shoulder press, tricep pushdowns, crunches, hanging leg raises
Thursday
Teaches 3 cardio classes.
Friday
Saturday
Sunday
Favorite Exercises
If Sandra had to choose 3 favorite exercises, they would be the walking lunge, knee lift, and hip thrust.  These exercises are perfect for sculpting the beach body that she has built.
The hip thrust is also a really fun exercise that Sandra took a long time to learn. She loves how it shapes her glutes and she can really feel it the next day.
The Importance Of Music In Her Gym Sessions
Sandra loves to listen to music throughout her workout. She says that music is a big part of her life, so including it in her sessions makes sense.
When she is completing a particularly grueling workout, she likes to listen to trance, house, Ministry Of Sound, Armin Van Buuren, Calvin Harris, Avicii and the Ibiza sessions. She prefers dance music to rock music.
---

Nutrition
Simple And Healthy
Sandra says that she loves to eat healthy and nutritious food. Al her food is relatively simple and wholesome and "hits the spot" in terms of satiety.
She wants food that is both filling, and low in calories, so she loves to eat dishes such as chicken curry with rice.
In terms of meat and fish, Sandra will eat meals such as chicken and rice, or salmon steaks with fresh vegetables. As long as these meals fall within her daily macronutrient needs, she will cook and eat them.
Occasional Cheat Meals
While she eats as healthily as possible throughout the year, she does like to "spoil herself" occasionally with some sweets. She usually schedules these meals in during her off season, in order to avoid adding weight prior to a photoshoot.
Dealing With Cravings
Prior to a competition, Sandra's follows a diet created by her nutritionist. She says that "the more healthily you eat on daily basis, the less you crave," so she focuses completely on her diet above everything else.
When she wants to eat something sweet, she usually makes a snack to replace it. She choose rice cakes with some cottage cheese and agave syrup, or some mango sorbet.
Supplements
Supplements are a vital part of Sandra's diet. She has experimented with a wide range of products, but now focuses on whey protein, CLA and branch chain amino acids.
---

What we can learn from Sandra Radav
Sandra loves what she does. She's focused on creating a life for herself which allows her to share her interests with others. Her passion for Zumba in Lithuania, inspired her to move to the UK to build a career for herself.
She proves that if you follow your passion in life, you have more chance of succeeding. If you have your own passion for fitness, why not see where it could take you?