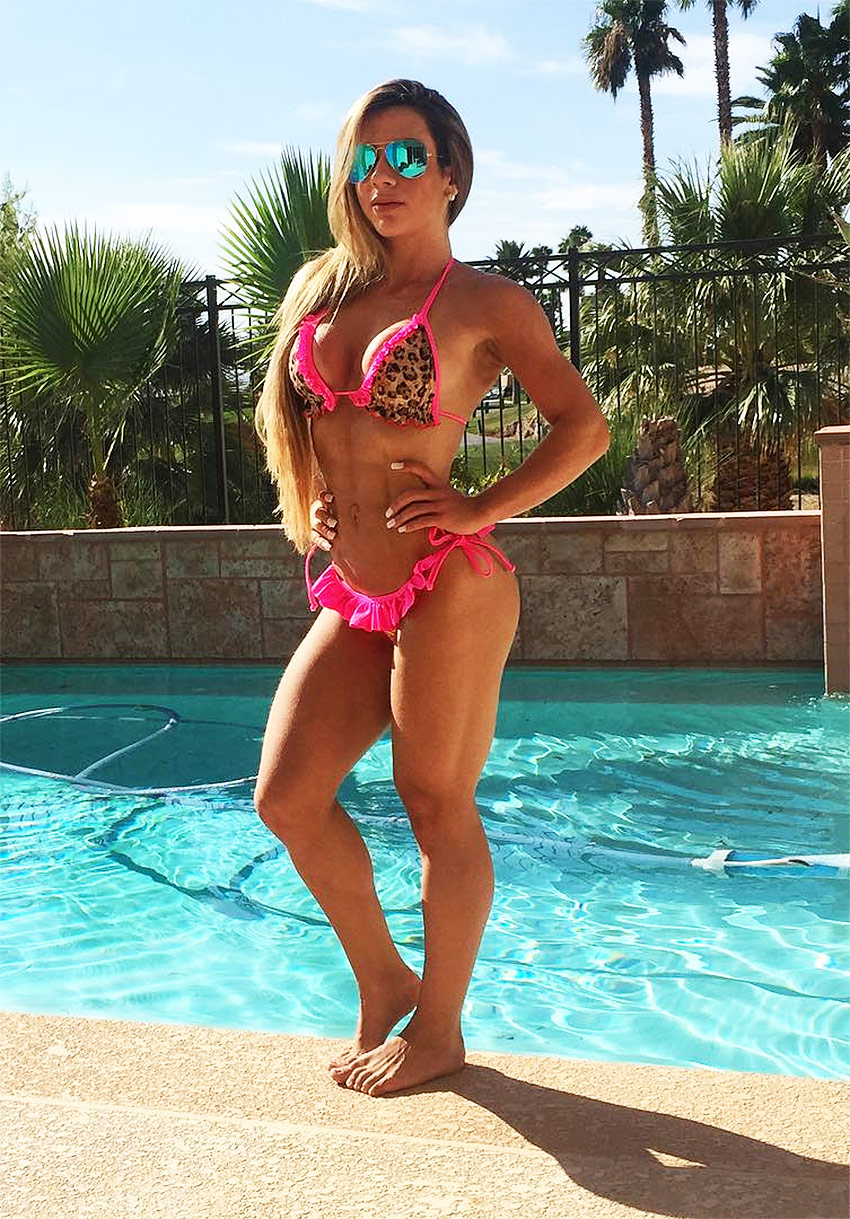 Rebecca Ferrari
Fitness Model, Bikini Athlete
Rebecca Ferrari was born and raised in Belém, Brazil. She began lifting weights at 16, and soon fell in-love with fitness.
After years of intense training, the Brazilian entered her first show at 19-years-old – going on to earn her Pro Card in 21, at the 2015 WBFF Las Vegas Championships.
This is her story:
---

Athlete Statistics
Full Name: Rebecca Ferrari
Weight
Height
Year of Birth
Nationality
Under 115lbs (52.2kg)
5'1" (155cm)
1988
Brazilian
Profession
Alias
Era
Fitness Model, Bikini Athlete
rebferrari
2010
| | |
| --- | --- |
| Weight | Under 115lbs (52.2kg) |
| Height | 5'1" (155cm) |
| Year of Birth | 1988 |
| Nationality | Brazilian |
| Profession | Fitness Model, Bikini Athlete |
| Alias | rebferrari |
| Era | 2010 |
---

Accomplishments
Competition History
2014 Arnold Classic Brazil, Wellness Division – 4th
2014 Copa Para, Wellness Division – 1st and Overall
2015 WBFF Las Vegas, Diva Fitness Model – 1st (Pro Card)
2015 WBFF Hollywood, Diva Fitness Model – 1st
---

Biography
Early Years
Born in 1988, Belém (Brazil), Rebecca participated in numerous sports in her childhood; such as soccer and volleyball. 
As a result, she grew up naturally lean – but it wasn't until 2004, at the age of 16, when Rebecca began lifting weights in the gym.
Start of Fitness Journey
With the goal of sculpting a toned figure, Rebecca didn't take long to make strong improvements on her body.
Over the next 5 years, she dedicated much of her time to training in the gym. Fitness became her passion, and she began idolizing bikini athletes for their hard-work and aesthetics.
---

---
First Competition
By 2014, at 19-years-old, Rebecca entered her first competition – the Arnold Classic in her homeland, Brazil.
After years of preparing for her moment in the limelight, she appeared alongside more experienced athletes. Although she didn't manage to start her career with a victory, she placed a very respectable 4th in her debut.
This made the Brazilian even more determined to succeed in the industry.
First Trophy
After tasting life on the stage, Rebecca couldn't wait to enter her next show – the 2014 Copa Para.
She spent the next few months training rigorously; preparing to compete and fulfil her ambition of taking home a trophy.
And she did just that.
By the end of the show, Rebecca had placed 1st in her second competition – even winning the overall title.
---

Rebecca competing at the 2015 WBFF Las Vegas Show.
---
Pro Card
Riding high from her victory, Rebecca stepped her game up in the gym; she's set herself a new goal – to earn her Pro Card.
By this point, the bikini athlete had set her focus completely on fitness. She travelled to the USA, to train and prepare for her biggest contest yet – the 2015 WBFF Las Vegas.
During this period, Rebecca lost an impressive 10lbs, sculpting a figure capable of competing in the big leagues.
She surpassed all expectations by following in the footsteps of fellow coutrywoman, Sue Lasmar; Rebecca left the 2015 WBFF Las Vegas as the Diva Fitness Model Champion.
But that wasn't all.
By taking first place, the Brazilian was awarded with a Pro Card – at the age of 21, she'd realized her dream of becoming a professional athlete.
---

Training
Rebecca trains using a 5 day split routine, so she doesn't allocate certain days to specific muscle groups.
Workout Routine
Here's an example of what Rebecca's training plan looks like:
Monday – (Legs) Quads and Calves
Tuesday – Shoulders, Triceps, and Abs
Wednesday – Rest
Thursday – Core and Glutes
Friday – Back, Biceps, and Abs (end of 5 day split)
Saturday – (Legs) Quads and Calves (Start of 5 day split again)
Sunday – Shoulders, Triceps, and Abs
---

Nutrition
Rebecca eats clean all-year-round, planning her meals around:
High protein sources
Low carbs
Healthy fats.
The fitness model changes her calorie intake and macros according to her goals – when preparing for competitions, she'll cut down her carbs to a minimum.
---

Idols and Influences
Rebecca was inspired by the numerous fitness models that have come from her homeland, Brazil.
In particular, she names Sue Lasmar as a big influence; her compatriot earned a Pro Card just a year before Rebecca.
---

What We Can Learn From Rebecca Ferrari
One thing we can take away from Rebecca's story, is to never give up at the first hurdle – she didn't have the dream start to her competitive career as a bikini athlete, but she stepped up her game to win her second show.
Set your aims high, and work hard to reach them. Rebecca earned her Pro Card, at the age of 21, after only 1 year of competing on-stage.