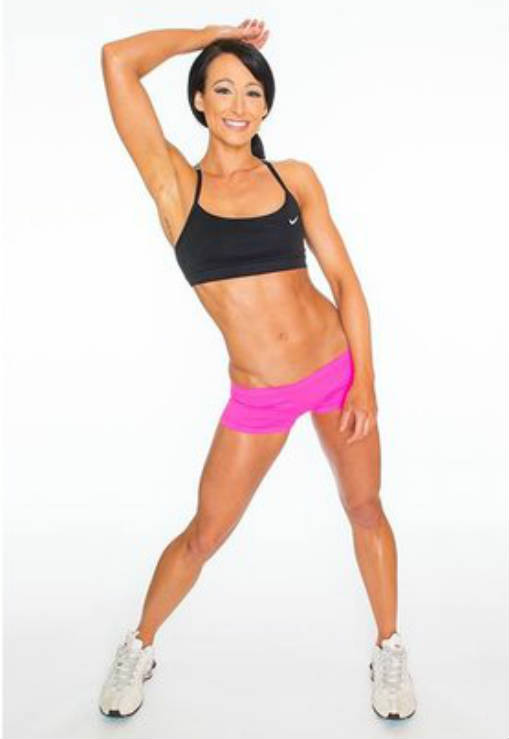 Rachel Morrissey
Figure Competitor, Nutritionist, Personal Trainer
Rachel Morrissey is a Figure Competitor, student of nutrition and Personal Trainer from the USA. She is popular on social media due to her inspirational posts, nutritional advice and workout guides.
Growing up, Rachel was extremely passionate about running and athletics. She was told by her teachers that she could make a name for herself in the sport, so she stuck at it throughout high school and college.
After suffering from a serious spinal injury, Rachel battled to get back into the sport – doing so in record time. She also completed a personal training qualification before deciding to get into fitness competitions.
Since 2011, she has been taking steady top 3 medals, including a 1st at the 2011 Bikini NPC North Star. She loves to help other women with their fitness goals and has an online personal training service. This is her story:
---

Athlete Statistics
Full Name: Rachel Morrissey
Weight
Height
Year of Birth
Nationality
125 - 135lbs (56.7 - 61.2kg)
5'6" (167.5cm)
1987
American
Profession
Era
Figure Competitor, Nutritionist, Personal Trainer
2010
| | |
| --- | --- |
| Weight | 125 - 135lbs (56.7 - 61.2kg) |
| Height | 5'6" (167.5cm) |
| Year of Birth | 1987 |
| Nationality | American |
| Profession | Figure Competitor, Nutritionist, Personal Trainer |
| Era | 2010 |
---

Accomplishments
Career
Qualified Personal Trainer (ISSA)
AFPA Holistic Nutritionist
Sponsored Athlete
Competitions
2011 Bikini NPC North Star, 1st
2012 Figure NPC Fargo, 3rd
2012 Figure Gopher Classic, 3rd
2013 Figure NANBF Ms MN Novice, 3rd
2013 Bikini: Jr Nationals
---

Biography
Getting Started In Bodybuilding
In middle school, Rachel says that she was always active and passionate about running.  Her teachers made sure that she pursued running in high school and their words stuck a chord with her. The encouragement they gave her would ultimately be some of the most powerful advice of her life.
At the age of 13, she wrote her first workout routine. Rachel says that she wanted to get in the best shape of her life, so hung it up on her garage wall. She included "push-ups, pull-ups, jump rope, jumping jacks, layups, free throws and some random army drills" – saying it made her feel alive to be working her body to its limits.
Suffering From An Injury
From the ages of 14-22, she ran competitively and would ultimately take up the sport at college.
In college, she chronically injured her spine during a 1000-meter interval workout a few weeks before the nationals. With "lots of chiropractic visits, lifting and building a solid core and of course never giving up", she was out racing again within a year.
Securing A Personal Training Certificate
This love for exercise and athletics, inspired Rachel to get involved in a spin class to stay fit. In this class, the group instructor would keep her behind regularly to talk about fitness and nutrition.
He would ultimately help Rachel to work towards and receive her personal training ISSA certificate. This course would be a great experience for Rachel, as it allowed her to decide on her new career outside of her running past.
---

Rachel's transformation
---
Competing In Fitness Contests
When she was 24, she decided to make a permanent switch from running to fitness competitions. Her business partner at her local gym said that, in order to keep training his clients, she would have to start competing. He saw the potential in her, even if she didn't see it herself.
He told her over and over that she had the genetics and needed to "prove him right". She researched competing for a few months then agreed to compete, choosing bikini contests as a starting point.
After taking 1st place at the 2011 Bikini NPC North Star, she knew it was the sport for her. She loved every aspect of it; the training, the posing and the dieting. In 2012 and 2013, she placed in the top three at every competition she entered – making a name or herself in the female physique world.
Studying To Become a Nutritionist
While Rachel works out hard in the gym for these competitions, she knows that she has to work just as hard in the kitchen. Because of this, she has discovered a great interest in Holistic Nutrition. She has taken a course and has become a qualified AFPA Holistic Nutritionist.
In his role, she can help people with their diet. She says that she had learned a lot on the course and applies it everyday in her personal training work.
---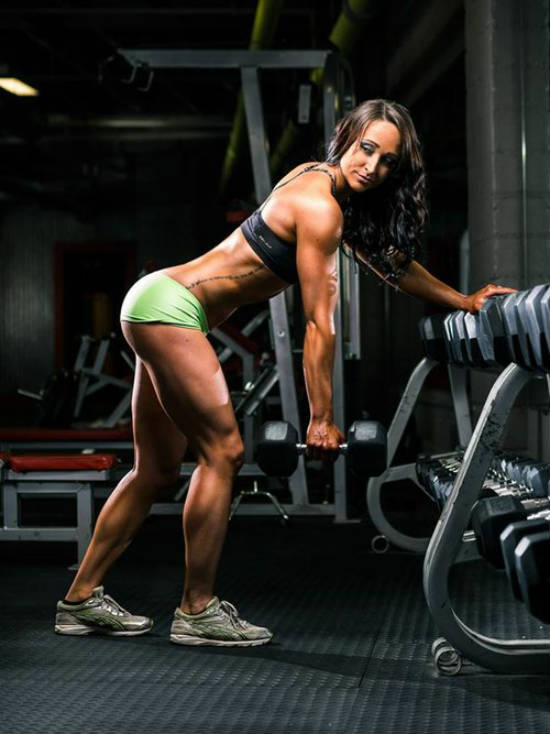 "What you look like doesn't define you; however a healthy lifestyle will help you live a more fulfilled and content life".
Training
Training Routine
Rachel focuses on including a lot of bodyweight and cardiovascular exercises in her workout. She splits her week into major muscle group days and includes weight lifting, as well as long runs and abdominal sessions.
She aims to build and keep as much mass as possible. She finds it hard to put on a lot of weight, so when she has some, she wants to keep it.
Monday: Back/abs (Sprints)
Tuesday: Chest/Shoulders (4 mile run)
Wednesday: Legs/abs
Thursday: Rest or Cardio
Friday: Biceps/triceps (Sprints)
Saturday: Legs/abs (Light)
Sunday: Rest
 Cardio
When it comes to completing cardio workouts, Rachel says that there is mo better alternative to sprints, hill runs and sled pushes. She says that "they build mass, definition and abs without making you too skinny."
Favorite Exercises
If Rachel could pick three exercises, they would be the front squat, bicep curl and dumbbell lateral raise. She completes the front squat with a light bar and drops down deep into the squat to stimulate her quads as much as possible. She says that there are few better exercises for hitting this area.
Similarly, when she hits her biceps she picks the best exercise for the job – the bicep curl. She completes this exercise with dumbbells and the barbell; stimulating the bicep a much as possible with concentration curls to start.
For Rachel, the dumbbell lateral raise is ideal for adding definition to her delts. She uses light dumbbells – seeing no need to add much weight as the form is what is important.
---

Nutrition
Dieting Philosophy
When it comes to her diet, Rachel loves variety. She is constantly changing her carbohydrate and vegetable choices, but stays true to staples such as chicken, eggs, oat bran, avocados and nut butter.
She chooses to eat two meals including meat every day, but likes to drop her carbs and fat occasionally to lose weight. Rachel loves vegetables though, so includes them in every meal.
Favorite Snack
For a quick and delicious snack, Rachel likes to eat one scoop of coconut butter, with another of peanut butter and a final scoop of raw honey covered in dark chocolate. She loves the taste, saying it "blows her mind" every time.
Avoiding Junk Food Cravings
Rachel's dedication to eating delicious clean food means that she no longer craves any junk options. She says that keeping her meals varied, nutritious and filling, ensures that there is no space for fast food.
Supplements
The only supplement that Rachel takes is garlic extract. She saw a naturopathic doctor who told her that this was all she was lacking in her diet. She takes a regular pill to supplement the extract daily.
---

Idols and Influences
One of Rachel's favorite fitness models and athletes is Andreia Brazier. She respects Andreia for the hard work she has put into her physique, as well as the respect she shows for her large fan base.
---

What we can learn from Rachel Morrissey
At a number of points in Rachel's career, she has been pushed by others to achieve her goals. The first assistance she received was at school, when her teachers told her she had what it took to be a professional runner. Following this, the trainer at her spin class encouraged her to become a personal trainer, then her personal trainer colleague pushed her into fitness competitions.
We all need helpful individuals during our fitness journey. If there is someone there who can help you out, why not speak to them and see what advice they can offer?