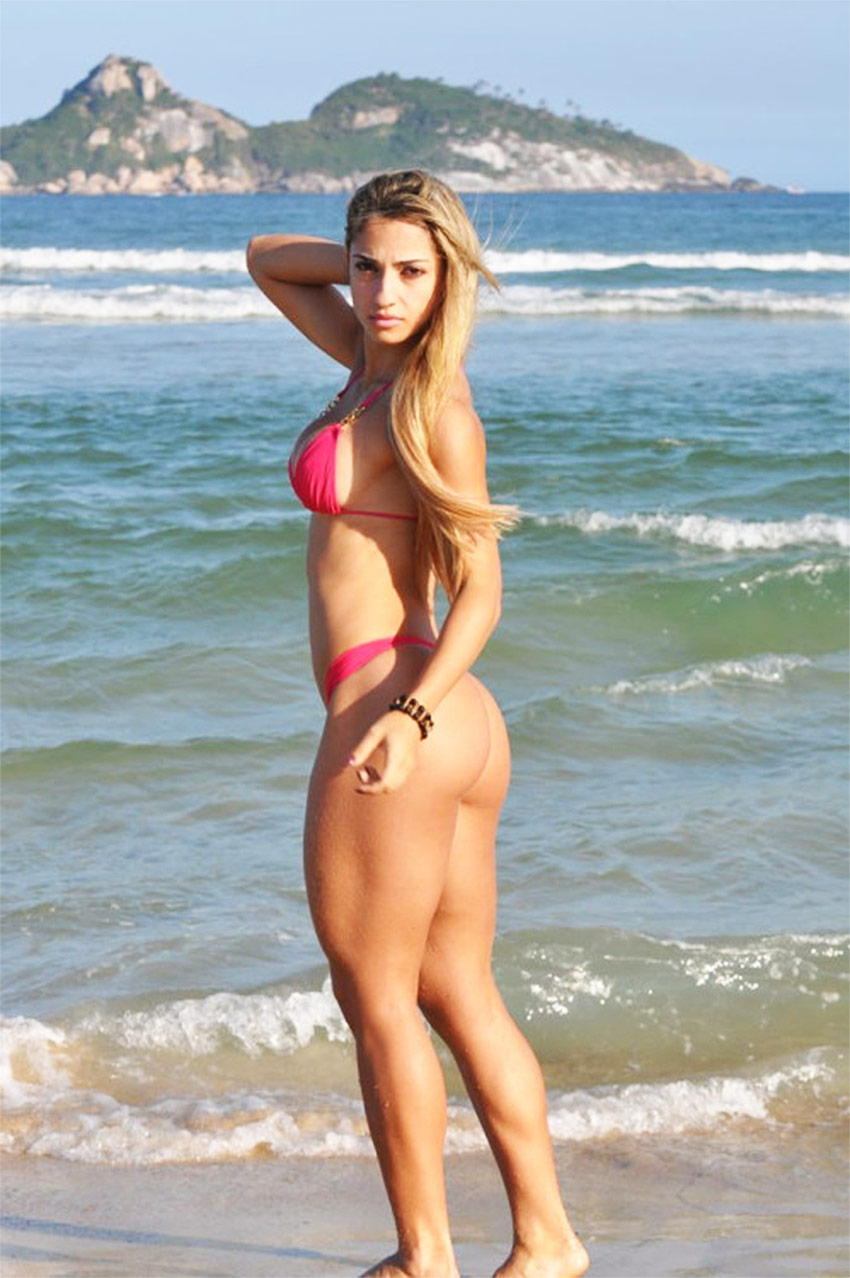 Priscila Freitas
Fitness Model
Priscilia Freitas is a fitness model and online sensation from Brazil. She began exercising from the age of 13 after joining a dance group in her hometown (Rio De Jeneiro) – later joining a bodybuilding gym, after developing an interest in fitness.
By the age of 29, in 2016, the Brazilian had realized her dream of becoming a fitness model; even going on to inspire aspiring athletes around the world through her social media profiles.
This is her story:
---

Athlete Statistics
Full Name: Priscila Feroni de Freitas
Weight
Height
Year of Birth
Nationality
135 - 145lbs (61.2 - 65.8kg)
5'3" (160cm)
1987
Brazilian
Profession
Era
Fitness Model
2010
| | |
| --- | --- |
| Weight | 135 - 145lbs (61.2 - 65.8kg) |
| Height | 5'3" (160cm) |
| Year of Birth | 1987 |
| Nationality | Brazilian |
| Profession | Fitness Model |
| Era | 2010 |
---

---

Biography
Early Years
Born in Rio De Jeneiro, Brazil, Priscila began exercising from an early age; from the age of 13, the youngster began dancing in an axe dance music group, becoming fascinated by the physiques of the experienced athletes.
This motivated her to begin training in the gym, hoping to sculpt a similar figure to her older friends in the dance group. Over the next 3 years, Priscila became highly skilled at dancing – managing to lose body fat and gain lean muscle mass in the process.
---

---
Bodybuilding
At the age of 16, in 2003, the future model decided to join a bodybuilding gym; at this point, attaining her dream figure became her main focus.
Priscila was the only female in her new environment, but she didn't let this stop her from working out. After a few years of intense training, she gained the respect of numerous bodybuilders – becoming encouraged by them to make a name for herself in the industry.
---

---
Fitness Modelling
By the age of 20, Priscila had sculpted an incredible figure – she gained attention for her body, and was invited to represent fitness brands in numerous photo shoots.
The Brazilian continued making progress on her physique, and in the fitness industry; becoming recognized as a leading fitness model by the age of 26.
---

---
Online Sensation
After featuring on the cover of numerous fitness magazines and posters, Priscila's reputation as a model had drastically increased. She became the subject of online forums, being admired for her trademark glutes and tight waist – becoming an inspiring for many aspiring female athletes around the world.
As a result, Priscila found the desire to reach out to her fans; in late 2016, at the age of 29, the Brazilian created an Instagram profile to share her journey with her fans.
It wasn't long until Priscila had attracted masses of followers on social media, gaining her status as a fitness icon.
---

Training
When it comes to gym training, Priscila names 3 exercises as her favorite lifts; squats, cable hip extensions, and dumbbell lunges. The Brazilian aims to work out in the gym up to 5 times per week, allowing herself the weekend to relax, recover, and socialize with friends.
In terms of cardio, Priscila runs on the treadmill or cycles on the cycling machines twice a week – she relies on her strict diet to keep her body fat percentage down to a minimum.
---

Nutrition
Priscila follows a strict diet all-year-round, with her goal to gain muscle while adding minimal body fat. She plans her meals around lean proteins, complex carbs, and healthy fats.
One thing that Priscila does differently to other athletes, is only cook her food in water – she stays away from frying any of her meals in oil, as well as keeping her sugar intake to a minimum.
However, like other fitness models, the Brazilian aims to consume a meal every three hours; to keep her body topped up with the optimal nutrients needed to maintain or develop.
Macros
Here's some of Priscila's daily macros:
Carbs: 100g
Protein: 150-200g
Supplements Stack
Whey protein
Glutamine
Safflower
Zma
Multivitamin
Collagen
Casein Protein
Glutamine
Caffeine
Hmb
Arginine
Vitamin B complex
---

Idols and Influences
Priscila was initially inspired to begin exercising by the figures of her fellow dancers. However, as she became more interested in the fitness industry, she found herself numerous idolizing Brazilian fitness models.
Here's a list of Priscila's main influences:
Juju Salimeni
Aghanta Fernandez
---