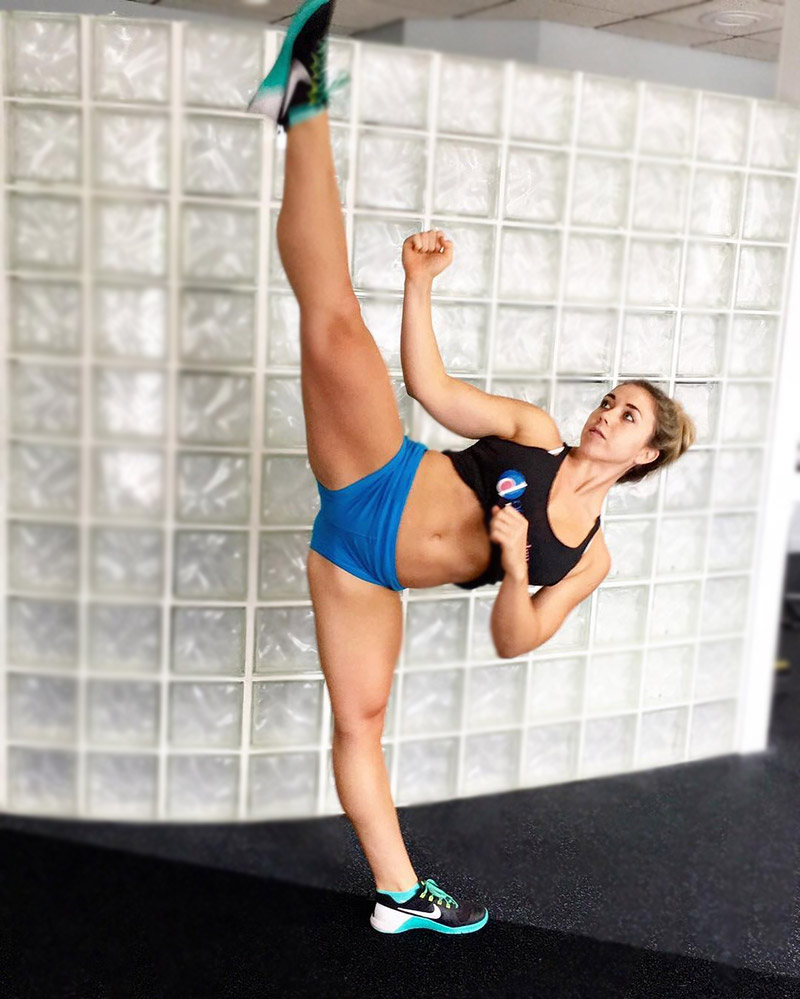 McKenzie Flinchum
Bodybuilder, Personal Trainer
McKenzie Flinchum's been known as a Karate expert, gymnast, personal trainer and flexible dieter. Her life's revolved around fitness since the age of three.
Each year she's come back stronger than before. And with every coming year and new skill learned, she's always willing to share her knowledge with her endless number of online followers.
The certified personal trainer and fitness addict continues to represent a healthy lifestyle to this day.
This is her story:
---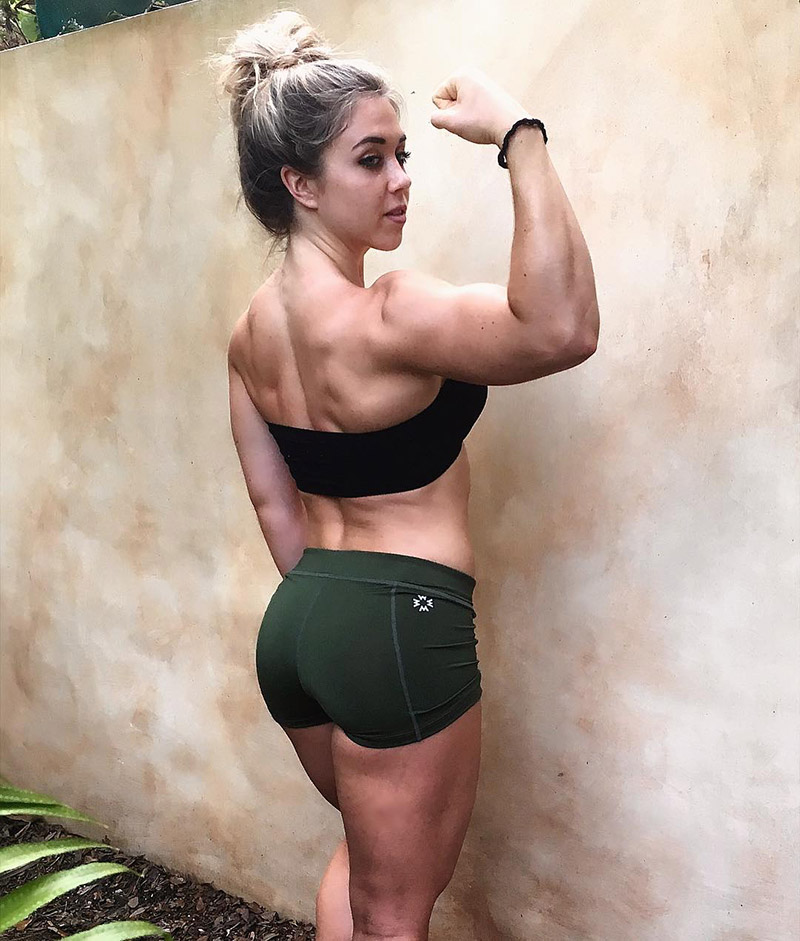 Athlete Statistics
Full Name: McKenzie Flinchum
Weight
Height
Nationality
Profession
135 - 145lbs (61.2 - 65.8kg)
5'5" (165cm)
American
Bodybuilder, Personal Trainer
Era
2010
| | |
| --- | --- |
| Weight | 135 - 145lbs (61.2 - 65.8kg) |
| Height | 5'5" (165cm) |
| Nationality | American |
| Profession | Bodybuilder, Personal Trainer |
| Era | 2010 |
---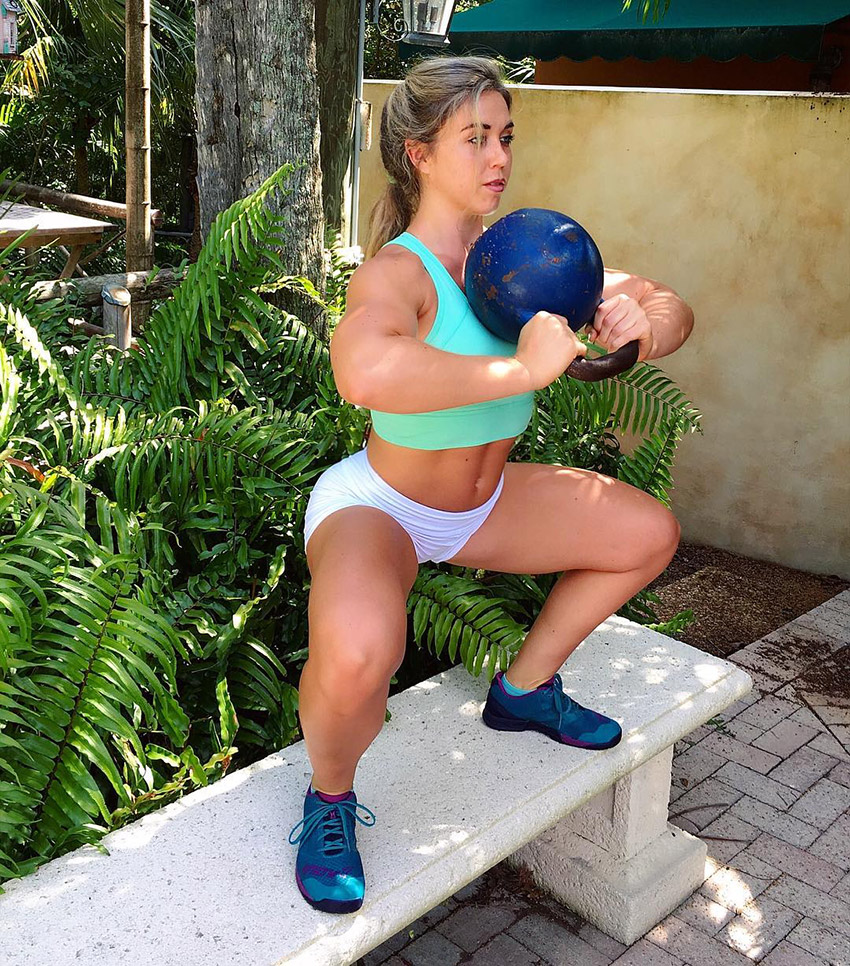 Accomplishments
Professional Career
McKenzie Flinchum is a registered and licensed dietitian nutritionist. She studied at the University of Florida, then later enrolled in the didactic program at the University of North Florida. She successfully graduated with a Bachelor's degree in Dietetics and Nutrition.
---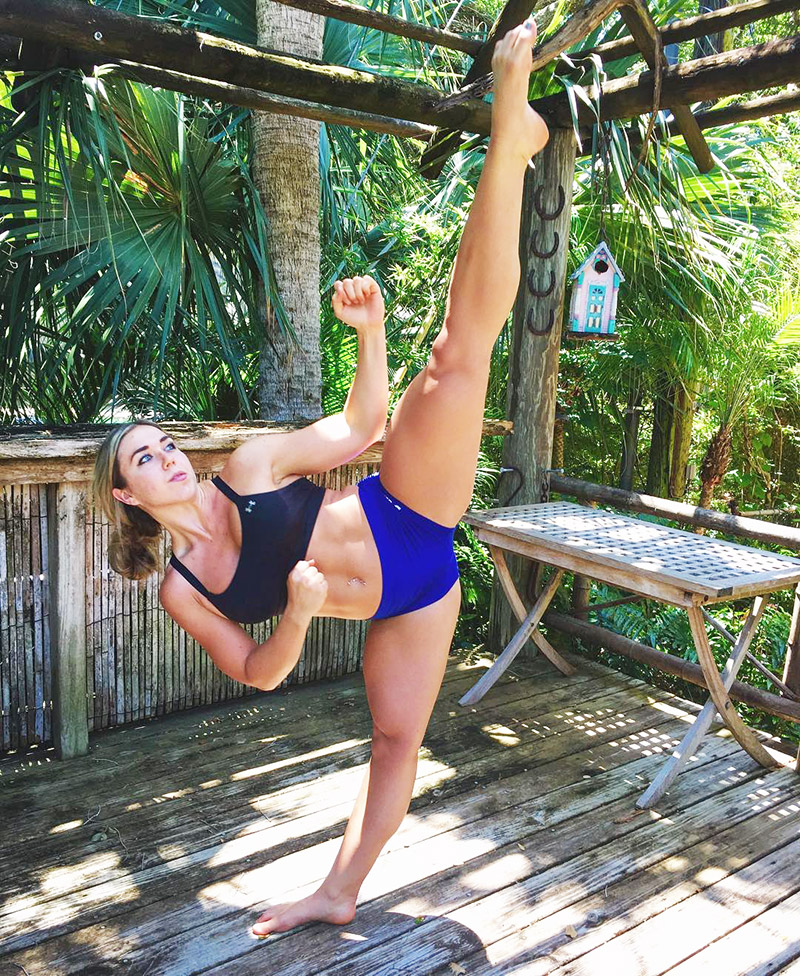 Biography
Gymnastics And Karate
McKenzie has always been interested in fitness and training. When she was only three years old, her mother sent her to gymnastics and she took to it right away.
Enjoying the feeling and the positive results it would bring, McKenzie's mother saw this and decided to enroll her in Karate when she was only 6 years old.
After being involved in two high-level sports for so many yeas, McKenzie says she couldn't image her life without fitness.
McKenzie also has three brothers Morgan, Dylan, and Gunnar, who she's very close with. They have all achieved their 2nd and 3rd-degree black belt, including her mother.
---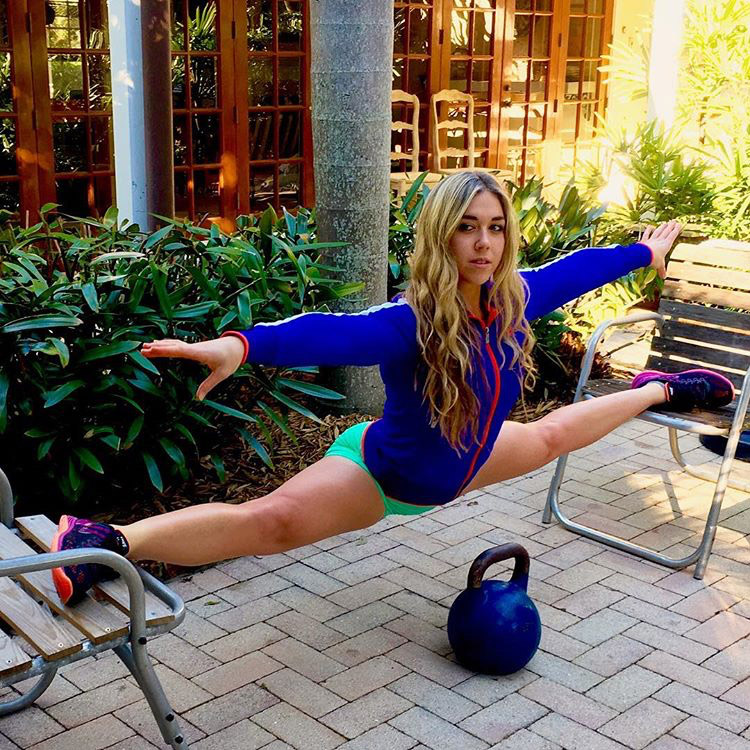 "My flexibility makes my body feel better. There are days when I am so sore and stiff that it hurts to walk. However, stretching through that stiffness helps my body loosen up faster. "
Training
McKenzie's Flexibility
Being known for her incredible flexibility, she says it makes her feel better after heavy workouts being able to stretch her muscles to the limit.
By being able to have a full range of motion and flexibility in her hips allows her to perform squats and other exercises at a higher level.
"I am constantly being asked what to do to become more flexible. Many people say they used to be flexible, but no longer are, and they would like to get their flexibility back. "
Knowing the importance of flexibility for improved performance and increased mobility, McKenzie has always tried to maintain it even though she hasn't trained gymnastics for years.
"Sometimes I stretch for almost an hour at a time. If you want to increase flexibility, like anything else, you must practice. Maybe choose just a couple stretches a day, but hold each of those stretches for a few minutes at a time."
---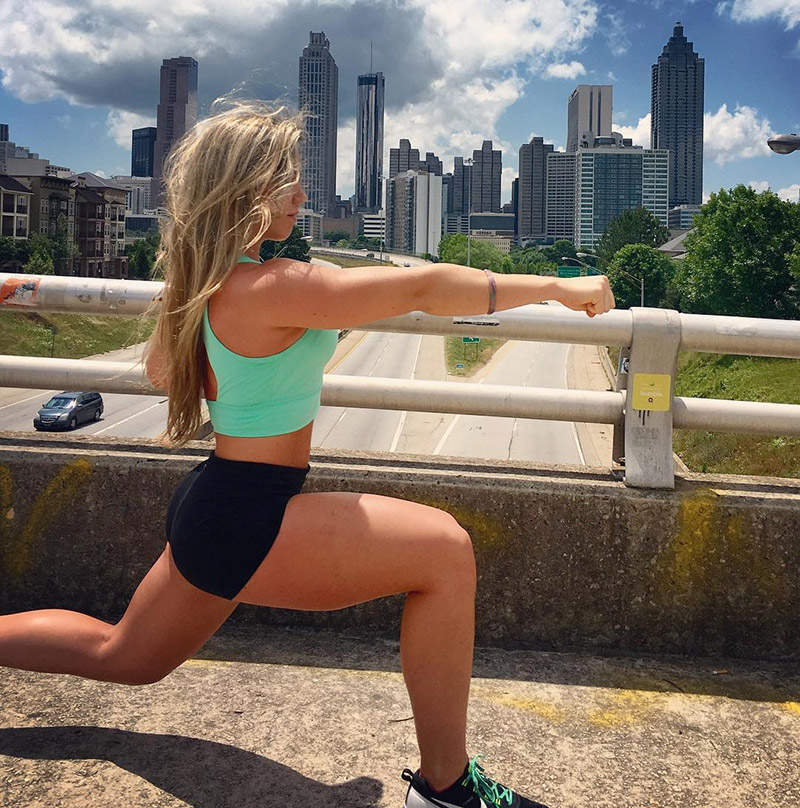 "Being consistent is key, and practicing regularly will lead to improvement."
---
Consistency Is Key
Like all great athletes, McKenzie says consistency is key, especially with her workouts. She'll work out on the same time and same day every week. This, as McKenzie says, is what works best for her.
Just like her working week, her workouts are scheduled into her daily routines. Her training sessions will vary to keep as much variety in her training schedule as possible.
---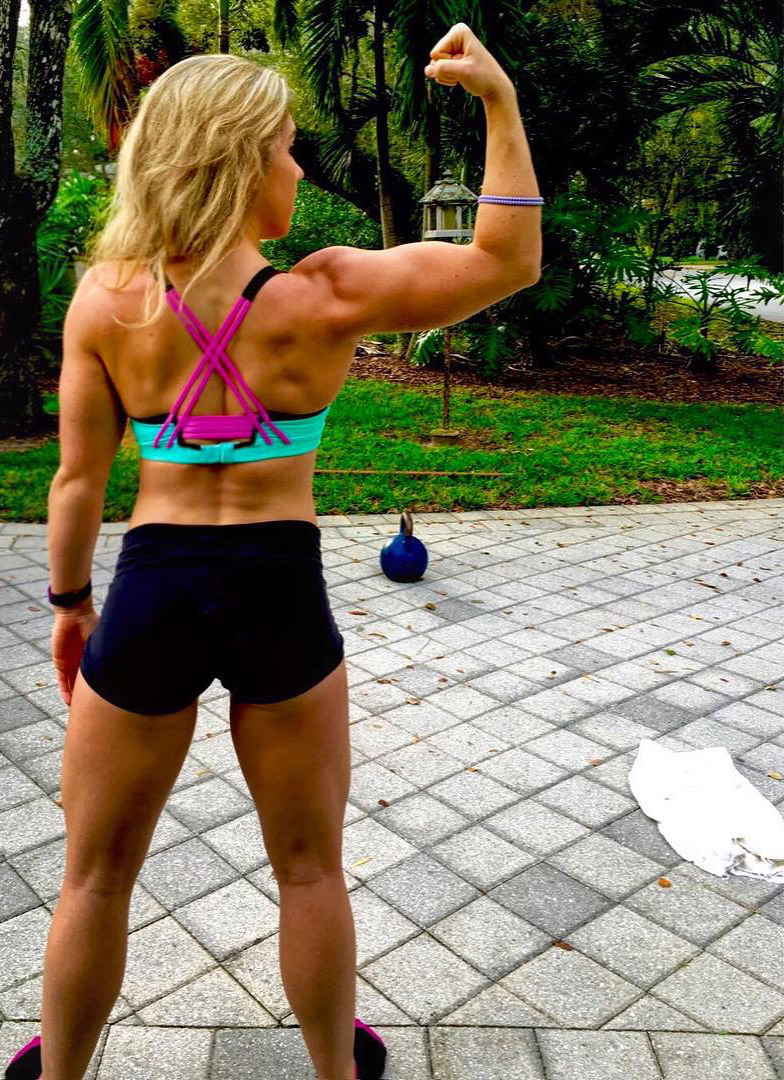 "I like to change things up to keep it fun while challenging my different muscles."
---
Top Three Exercises
There are three main exercises that McKenzie can't live without. These are;
Squats: "I love squats! It is fun to improve on them over time and to add more weight to the bar. I love to hit new PR's that seemed impossible the previous year, and I also love quad muscles!"
Burpees: "Burpees are so difficult and a full body workout. I love them because they are very challenging."
Handstands: "Handstands require extreme focus and full body strength. I have a fun time setting new goals of how long I can hold a handstand without moving or how far I can walk in a handstand without falling. (Laughs) Handstands require a lot of skill and full body strength which is why they are one of my favorite exercises."
McKenzie's Workout
Monday: Cardio/Full Body
A.M.
2 Mile Run
Air Squats 100
Dumbbell Lunges 50 (per leg)
V-Ups 100
Handstand Push Ups 10
Barbell Good Mornings 2 x 25
P.M.
Power Clean/Squat Clean 2 x 12
Pull Ups (5 second holds at top) 3 x 5
Single Dumbbell Rows 3 x 10
Front Rack Lunges 3 x 14
Handstand Hold (1 minute)
Flexibility/Stretching (30 minutes)
Tuesday: Cardio/Endurance
Assault Bike
Double Unders 50
Row 5 x 250 meters
Flexibility/Stretching (20 minutes)
Wednesday: Cardio/Full Body/Metabolic Conditioning
A.M.
2 Mile Run
Dumbbell Squat Hold 1 minute
Tricep Pulldowns 3 x 10
Lateral Shoulder Raises 3 x 10
Dumbbell Side Crunches 3 x 15
Single Leg Curls 2 x 15
Hanging Knee Raises 100
P.M.
Handstand Push Ups 10
Burpee Box Jumps 10
Toe to Bars 4 x 10
Flexibility/Stretching 30 minutes
Thursday: Cardio/Yoga
A.M.
Rowing/Assault Bike x 1 hour (switching every 5 minutes)
P.M.
Friday: Cardio/Full Body
A.M.
2 Mile Run
Hollow Body Rocks 100
Front Squats 3 x 10
Calf Raises 3 x 25
Leg Extensions 3 x 12
Back Extensions 3 x 12
Bicep Curls 3 x 15
P.M.
Barbell Snatches 12 x 2
Good Mornings 3 x 15
Kettle Bell Swings 3 x 10
Handstand Hold 60 seconds
Flexibility/Stretching 20 minutes
Saturday: Metabolic Conditioning
A.M.
1 Mile Run
Double Unders 80
Wall Balls 60
Burpees 40
Front Squats 20
Flexibility/Stretching (45 minutes)
Sunday: Recovery
---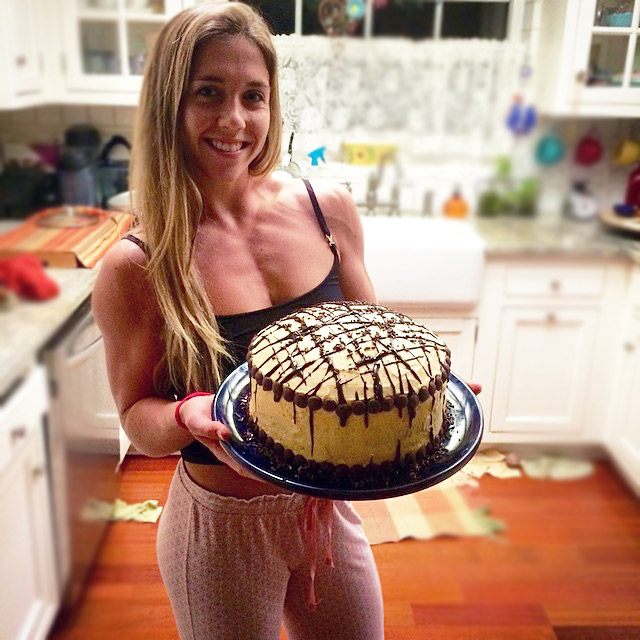 "I have learned to eat intuitively and follow a flexible dieting approach while making sure I get the most 'bang' for my buck, as far as nutritious calories."
Nutrition
Flexible Dieting
McKenzie follows a flexible dieting approach, she's learned to listen to her body and give it what it needs depending on, how much, or, how little she's training.
Her diet, however, will remain fairly consistent throughout. She'll eat every 2-3 hours. Immediately after her workouts, she makes sure to eat a whole variety of foods and high-density nutrient rich sources of carbs, proteins, and fats.
Vegetables, fruits, yogurt, peanut butter, and chicken are also big on McKenzie's diet, she'll eat a ton of veg every day. She also uses protein bars to keep her feeling strong throughout the day.
Her favorite food is; "Peanut butter! My snack meals usually consist of peanut butter in some way, shape, or form. As far as food cravings go, I view food as 'fuel' for my body and for my training."
Food For Fuel
With the hours of training McKenzie does each day along with her busy schedule, she's in tune with the way food makes her feel and energizes her through her workouts.
"I view food as 'fuel' for my body and for my training. If I overeat, under-eat, or eat a lot of added sugar or calories without much nutrition, I do not feel my best. I feel groggy, my workouts become sluggish, and I do not perform as well as I know I am capable of."
She makes a conscious decision every time she eats something that isn't prepared before had.McKenzie  will weight up the benefits and what to eat and what it will provide.
---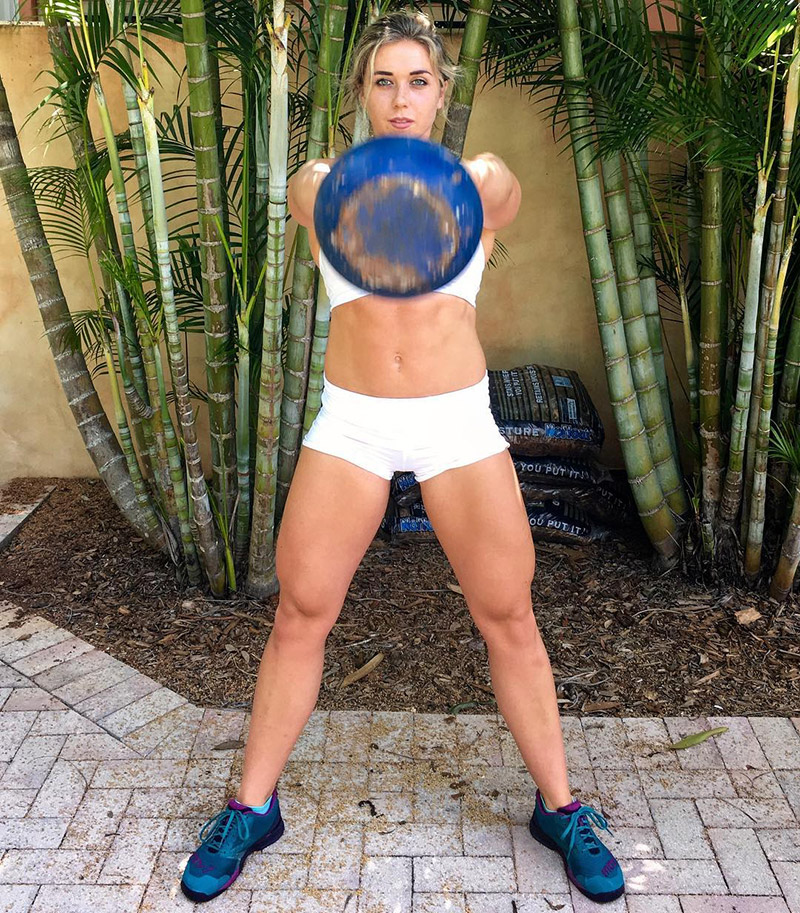 ---
"If I want something, I always make a conscious decision in my head, will this fuel my body or am I just mindlessly eating? Fortunately, I love vegetables, and I can eat an entire bag of steamed Brussels sprouts; it helps to crave nutritious foods!"
However, she does have a sweet tooth, but she likes to make high protein, high fiber desserts that are low in sugar with healthy fats.
McKenzie's Diet
Meal 1: 1 poached Egg, 2 slices Ezekiel Bread, 2 tablespoons Fat-Free Cream Cheese, Lettuce, Sriracha Sauce, and 1 cup Coffee with half a cup Soy or Skim Milk
Meal 2: 4 ounces Chicken and 1 large baked Sweet Potato
Meal 3: 2-3 tablespoons Peanut Butter and 3-5 Rice Thins
Meal 4: (Post afternoon workout) Protein Bar
Meal 5: 4 ounces Chicken or Fish, large Salad, 1-ounce Nuts, ¼ cup Dried Fruit, 1 cup starchy Vegetables or ¼ cup Grains, and Vinegar Dressing
Meal 6: Frozen light Greek Yogurt or 1 scoop Juice Plus Complete Powder mixed in Water
---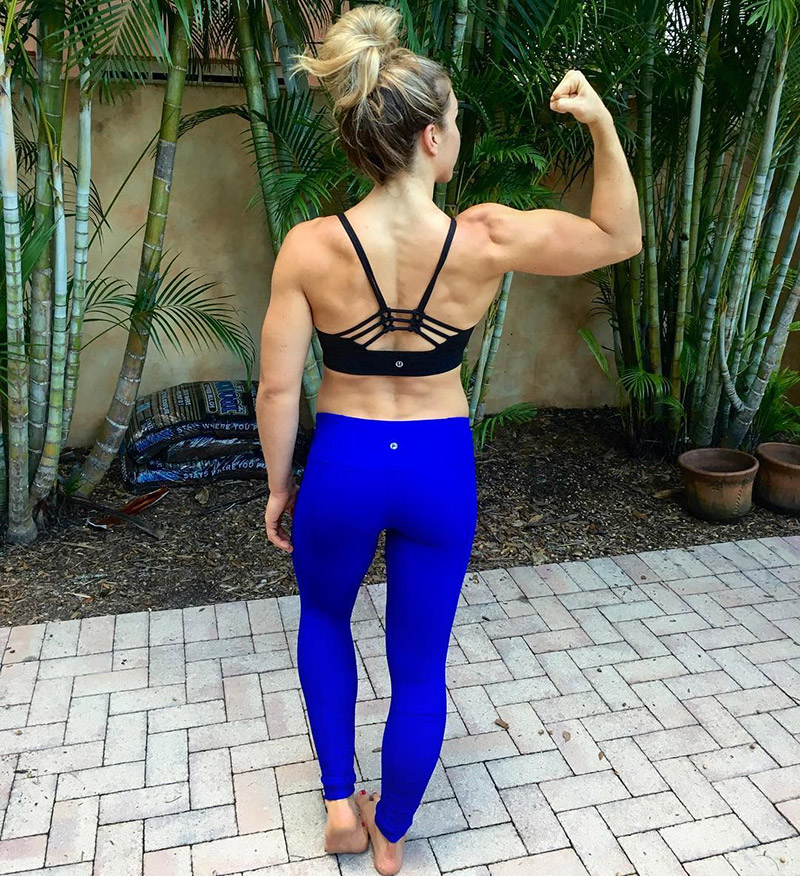 Idols and Influences
Her motivation and influences come from within to do better than the day before.
"I get a real sense of satisfaction and an incredible feeling of accomplishment when I am able to achieve and surpass my own goals; it's something that I just cannot put into words. I also love helping others through both fitness and nutrition."
McKenzie also says that inspiring others is also something that motivates her to keep living a healthy lifestyle.
---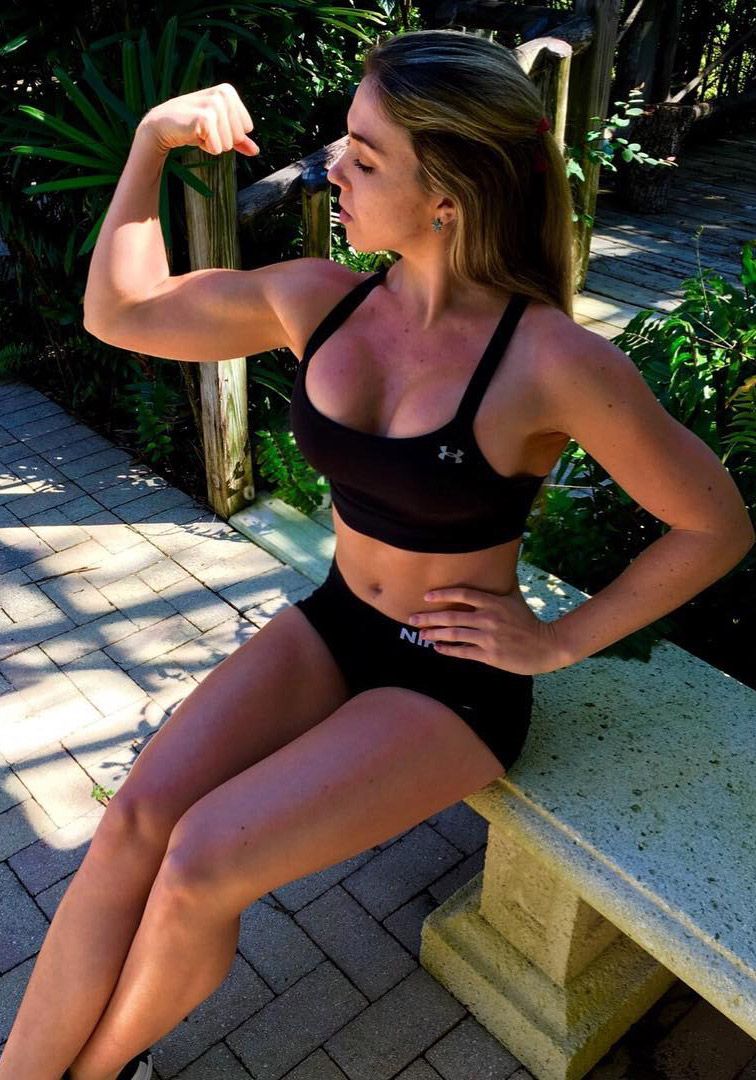 What we can learn from McKenzie Flinchum
McKenzie has always been into fitness and health ever since she was three years old. She's taken part in high-level sports such as karate and gymnastics with the help and support of her family.
Even though she's been training for the majority of her life, she always points to steady-progression and variety with flexible dieting as her cornerstone of success. Taking McKenzie's advice, you too can achieve a life of strength and fitness.