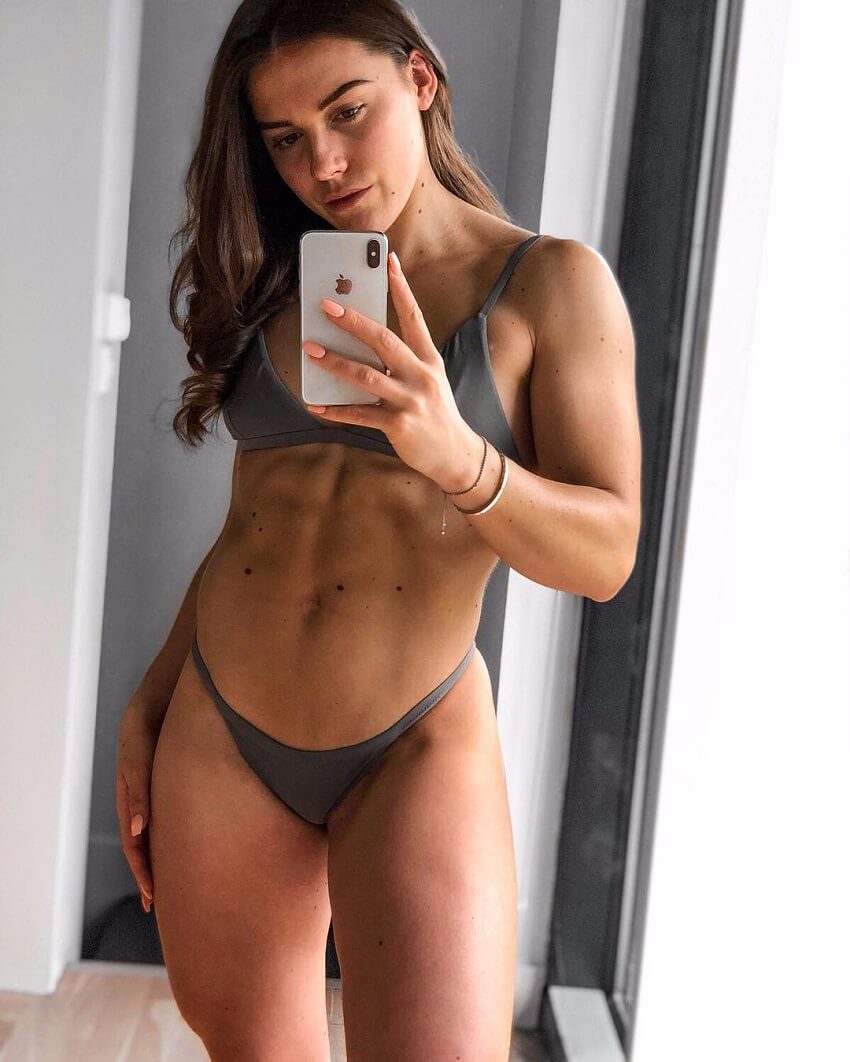 Lucy Davis
Fitness Spokesmodel, Personal Trainer
Lucy Davis is a fitness model and former professional swimmer from the UK.
Throughout her childhood and teens, Lucy was a competitive person and loved to partake in swimming contests. However, she was never satisfied with her slim body.
After realizing that swimming was draining her both mentally and physically, Lucy decided to quit the sport and focus on weightlifting instead. Ever since then, she's gone on to not only transform her body but career too – establishing herself as a fitness icon in England.
This is her story:
---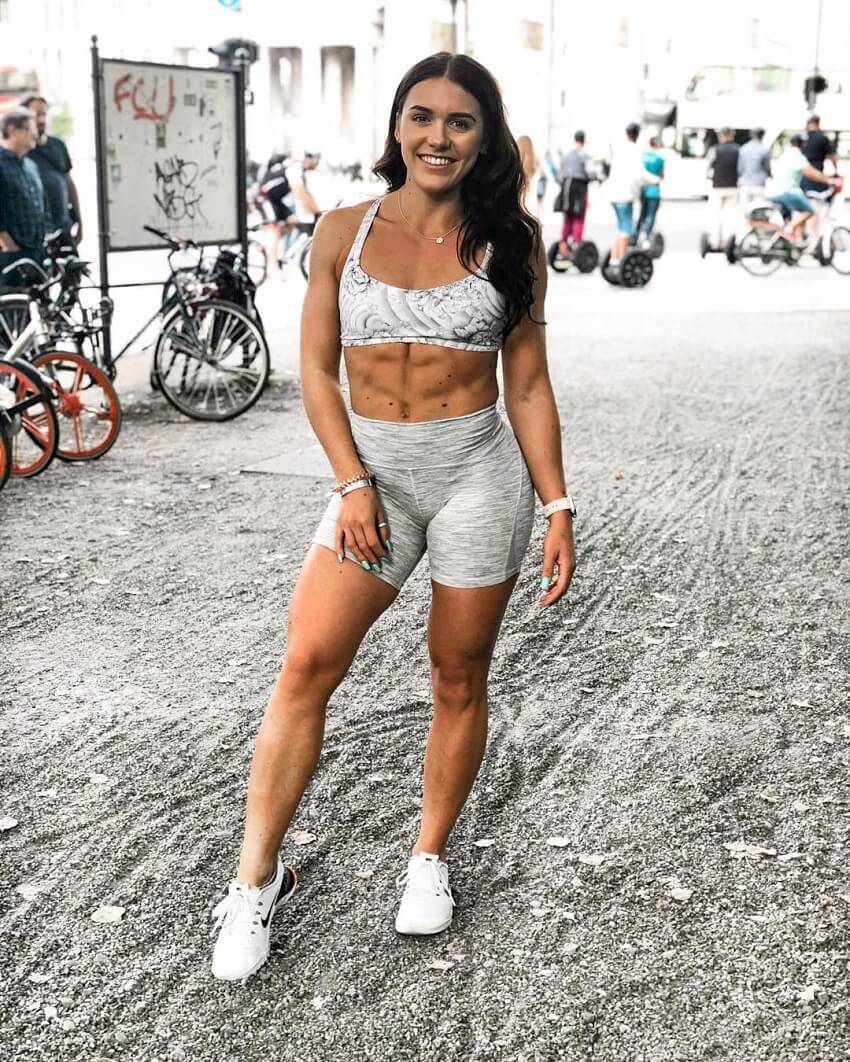 "When training body parts, I nearly always start with multijoint moves first as my energy levels are highest. These compound exercises engage the greatest degree of muscle mass because two or more sets of joints are working simultaneously."
Athlete Statistics
Full Name: Lucy Davis
Weight
Height
Bust
Waist
145 - 155lbs (65.8 - 70.3kg)
5'5" (165cm)
34B
26''
Age
Date of Birth
Nationality
26
November 10, 1996
British
Profession
Alias
Era
Fitness Spokesmodel, Personal Trainer
lucydavis_fit
2010
| | |
| --- | --- |
| Weight | 145 - 155lbs (65.8 - 70.3kg) |
| Height | 5'5" (165cm) |
| Bust | 34B |
| Waist | 26'' |
| Age | 26 |
| Date of Birth | November 10, 1996 |
| Nationality | British |
| Profession | Fitness Spokesmodel, Personal Trainer |
| Alias | lucydavis_fit |
| Era | 2010 |
---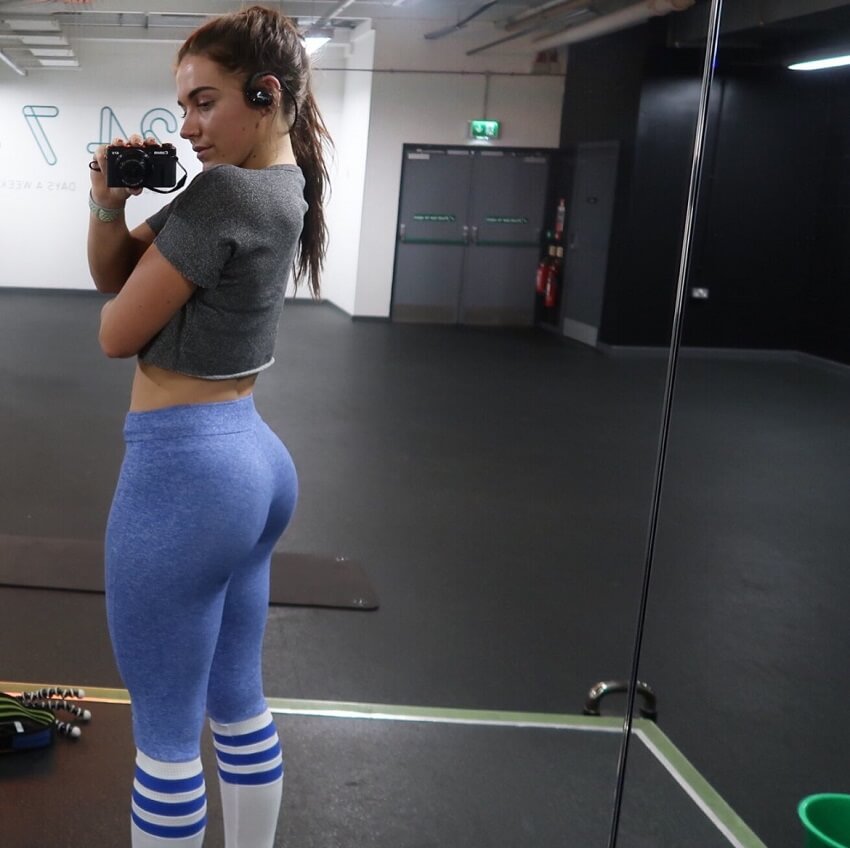 Accomplishments
Fitness Model
Online Entrepreneur/Coach
Ex. Professional Swimmer
---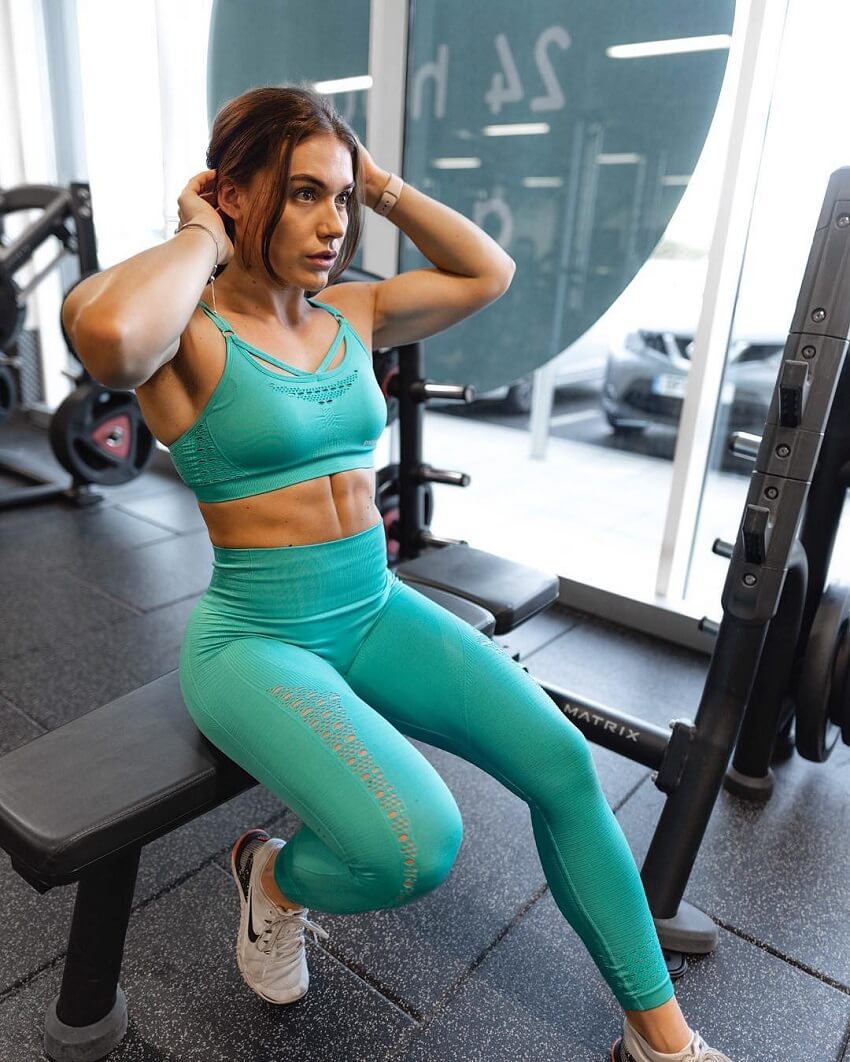 Biography
Early Life in Sports
Hailing from Manchester, UK, Lucy Davis has had a knack for sports since early youth. She practiced everything from athletics, ballet, skiing, gymnastics, cross country, to her biggest passion – swimming.
By the age of 10, Lucy's sole focus became swimming as she started practicing it 4 times per week.
---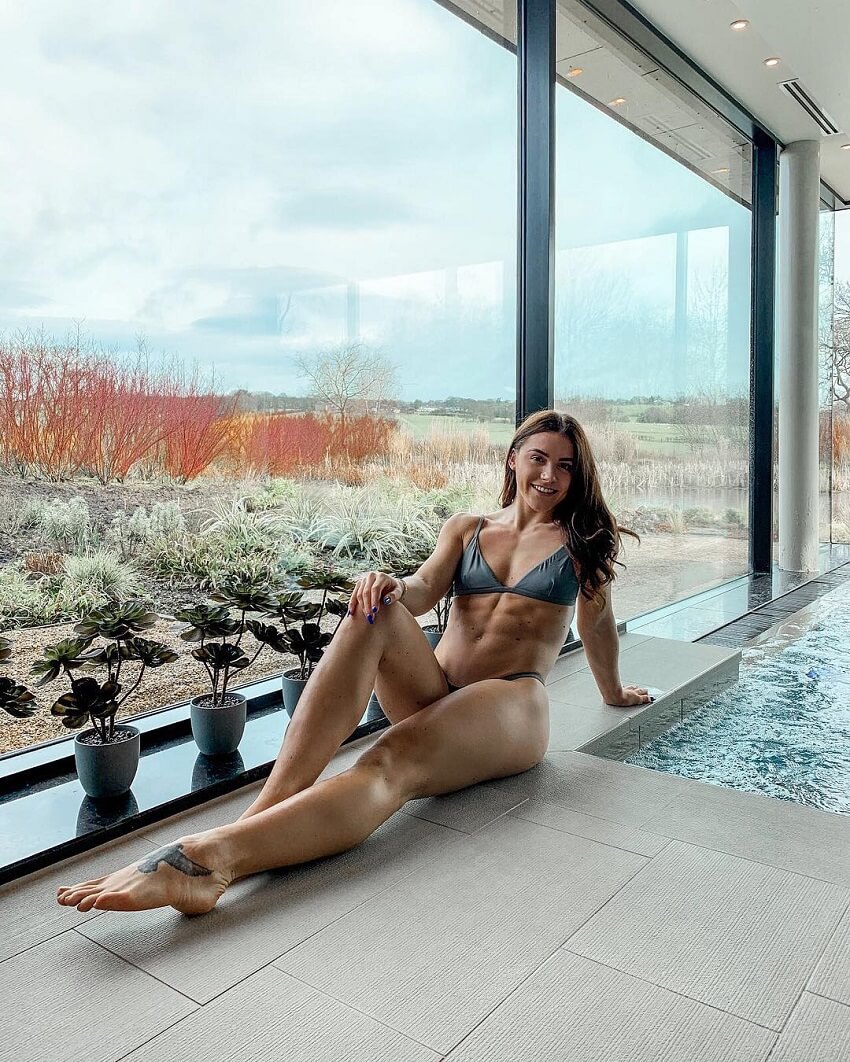 ---
Success in Swimming
Thanks to Lucy's focus, she improved leaps and bounds in swimming and soon reached an international level. She then started representing England in swimming contests around the world.
Driven to improve her results even further, Lucy began training for contests 9 times per week. She did this in conjunction with studying for her A levels in college.
Because of so much physical activity, it wasn't long before Lucy went from 55 to 50 kg of weight. She was already slim prior to this, but after losing weight, she became ripped 'to the bone'.
Plateau
Lucy didn't like the weight loss that came with her intense training, admitting she felt too skinny.
What's more, Lucy's results in swimming weren't improving, despite her training hard. All of this led Lucy to slowly lose her passion for the sport. She said:
"In April 2015, after the British Championships in London, where I came seventh in the woman's open two-hundred individual medley, I decided that swimming was no longer something I wanted to put all my time and energy into."
Although she'd quit swimming, Lucy's passion for physical activity remained, which led her to start weight training. The gym soon became her new favorite hobby.
---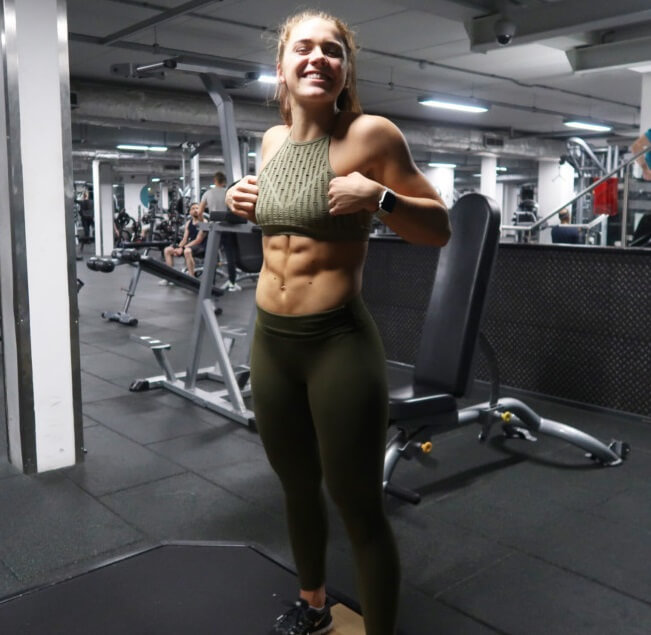 ---
From Swimming to Weightlifting
From swimming 9 times per week, to working out in the gym 5-7 times per week, Lucy's goal now was to attain a healthier and stronger physique. As she stated:
"Essentially, I went from one lifestyle to another – two completely different in fact. When I was taken out of the swimming environment, I wanted to grow and shape my swimming physique into something bigger and better."
However, the road to her goals proved to be much longer and more difficult than she initially expected.
---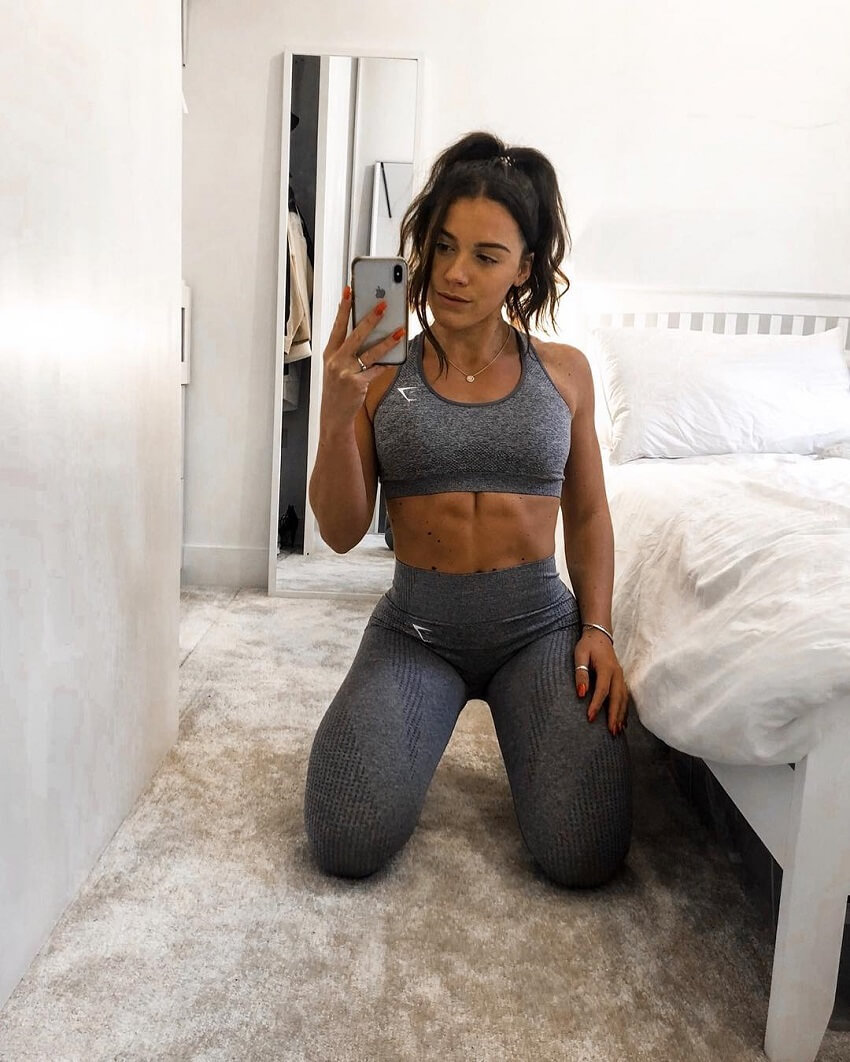 ---
Trial and Error
Since she wasn't familiar with the concepts of bodybuilding, Lucy thought that the more she trained in the gym, the better the results would be, just like in swimming. Not realizing she was overtraining, Lucy started losing weight instead of gaining it.
"I would do cardio in the morning and weights at night for most days, but then I realized that I was actually dropping the weight and leaning down more rather than growing." – Lucy Davis
It took Lucy many months of trial and error before she figured she needed to allow her body to recover from intense gym training.
Not only that, she also started researching more about nutrition. She soon found that she needed to increase her calories from protein in order to tone her muscles. Taking this new information to practice, Lucy went on to make 'gains' in the months that followed.
"The more I switched up my lessons, the happier I was feeling in the gym and I strongly believe that if you're happier with what you're doing, you will achieve better results," said Lucy.
---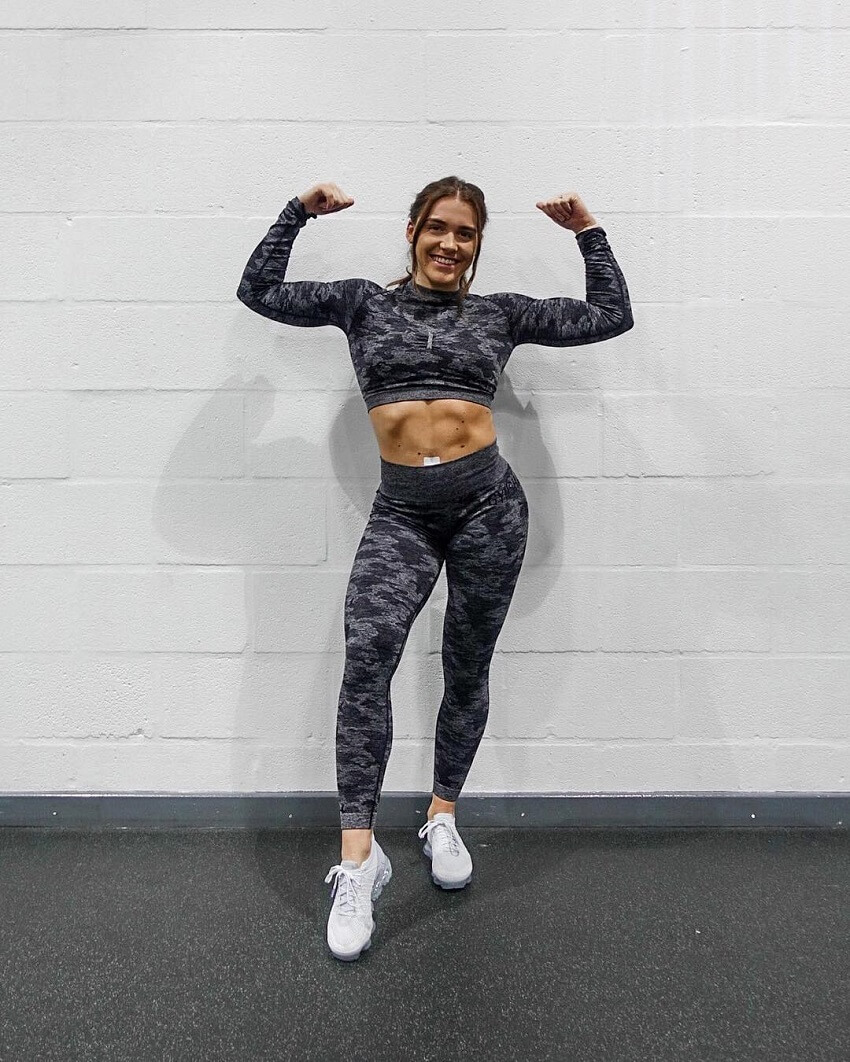 ---
Lucy Davis Now
Lucy says fitness has completely changed her life for the better. She was always known for being slim in high school and college, but now, she's sculpted the physique of her dreams.
Furthermore, Lucy has also grown a career from her passion for lifting weights. She now shares fitness advice to her fans and clients from every corner of the internet, helping them reach their fitness goals.
Lucy says this new lifestyle is very rewarding for her. Although people doubted her decision to leave swimming initially, she says she'd always listened to her own gut instinct and is very happy she did it.
---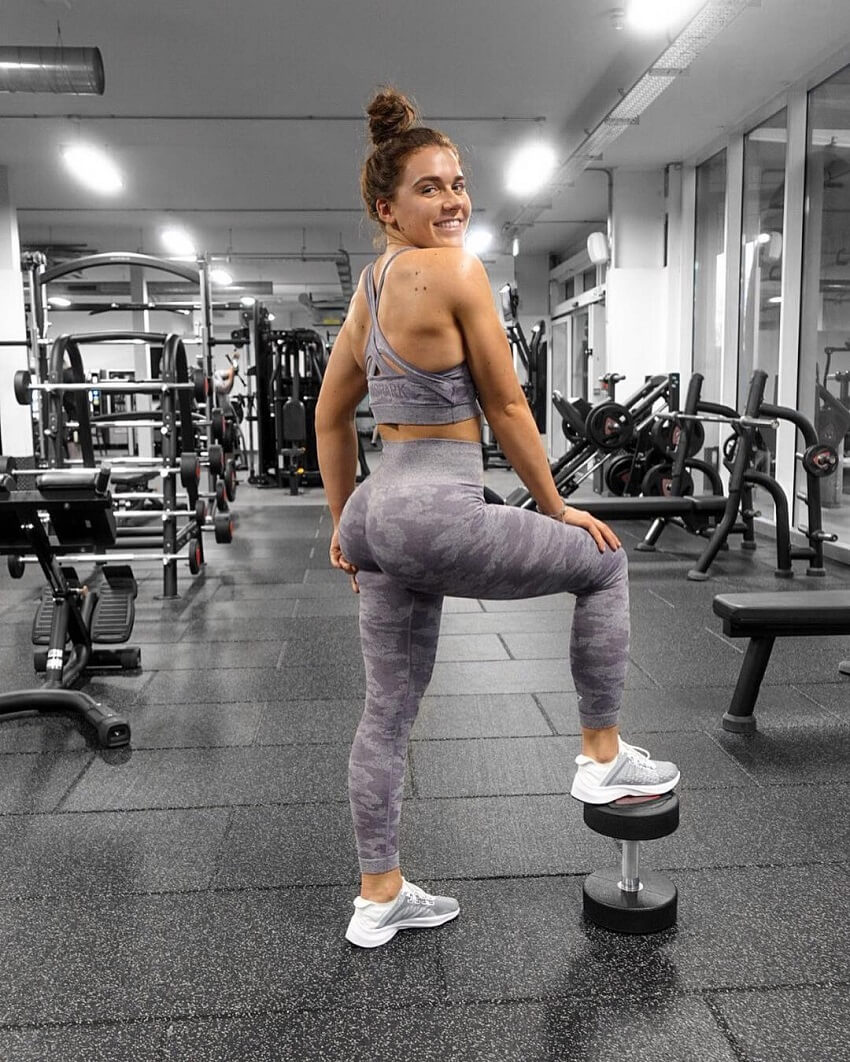 "If you feel like you're getting nowhere with your upper body, and yes girls it's tough, keep consistent and make sure you are actually training your upper body!"
Training
Planned Training
Lucy likes to keep her training sessions organized and planned in advance. In other words, she knows exactly what she'll train, how many reps she'll do, and how long her workout's going to last once she enters the gym.
She trains with weights 6 times per week. And every workout is dedicated to a different muscle group.
Lucy also does cardio separately, 3-4 times per week. She doesn't like long and monotonous cardio sessions such as treadmill running; instead, preferring quick and intense HIIT such as sprints.
Here's how Lucy's week of training looks:
Week of Training For Lucy Davis
Monday: Back + Cardio
Tuesday: Hamstrings
Wednesday: Arms + HIIT
Thursday: Glutes + Chest
Friday: Shoulders + HIIT
Saturday: Legs
Sunday: Rest/Active Recovery
Optional Rest Days
While she usually has only one rest day per week, Lucy will skip more training sessions if she feels her body needs recovery.
Thanks to her experience from swimming, Lucy has learned that more is not always better. By letting her body recover, she actually improves her results compared to when she pushes herself too hard.
---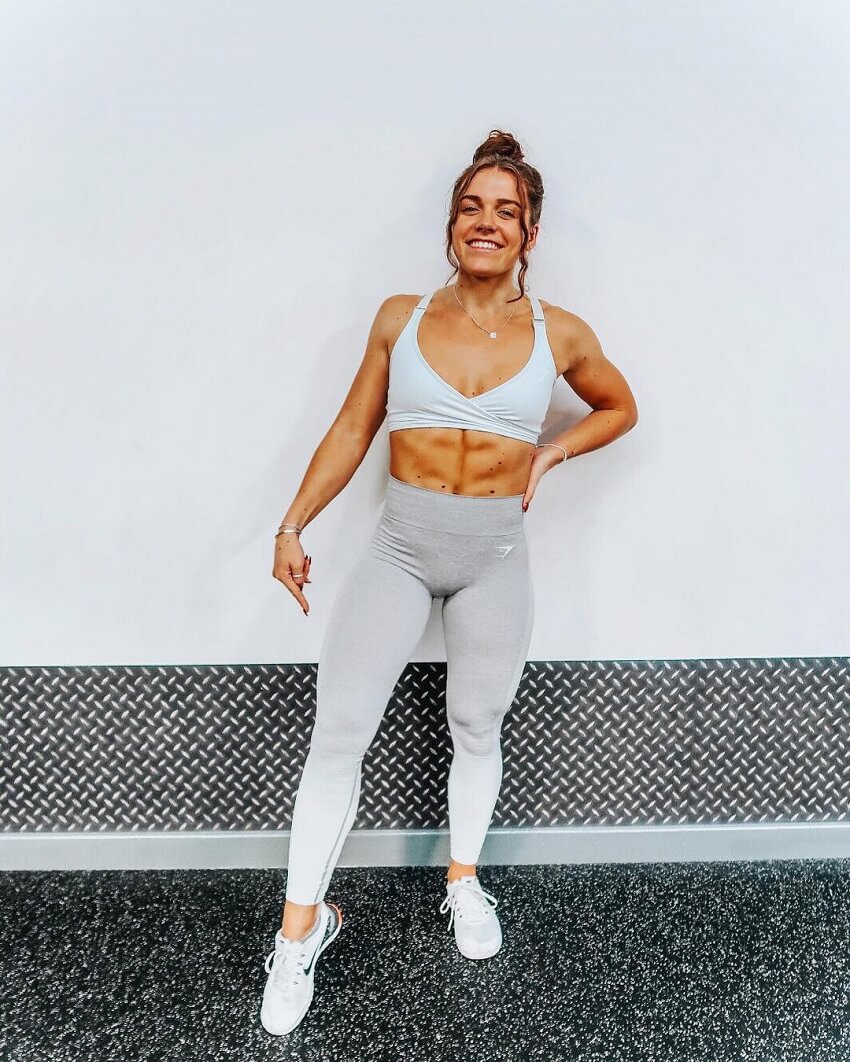 "Training for me isn't just about throwing the weights around, hitting PBs, changing my physique, it's about how it changes every aspect of my life. It's feeling unstoppable, it's feeling strong mentally and physically."
Nutrition
Intuitive Eating
Unlike with her training, Lucy doesn't keep a strict plan around her diet. She eats intuitively and listens to her body.
As for some general numbers, Lucy consumes about 2,000kcal per day. Roughly 40% of her calories come from carbs, 35% from proteins, and 25% from fat. This is a ratio that works well for Lucy, allowing her to stay at a lean body fat while sculpting her muscles at the same time.
She usually makes her own meals, but when too busy, she'll opt for a meal prep service.
Foods which Lucy eats on a regular basis include;
Eggs
Oats
Rice
Chicken
Peanut Butter
Blueberries
Almond Milk
Salmon
Avocados
One food group that Lucy avoids is dairy. Instead, she consumes plant-based alternatives such as almond milk.
---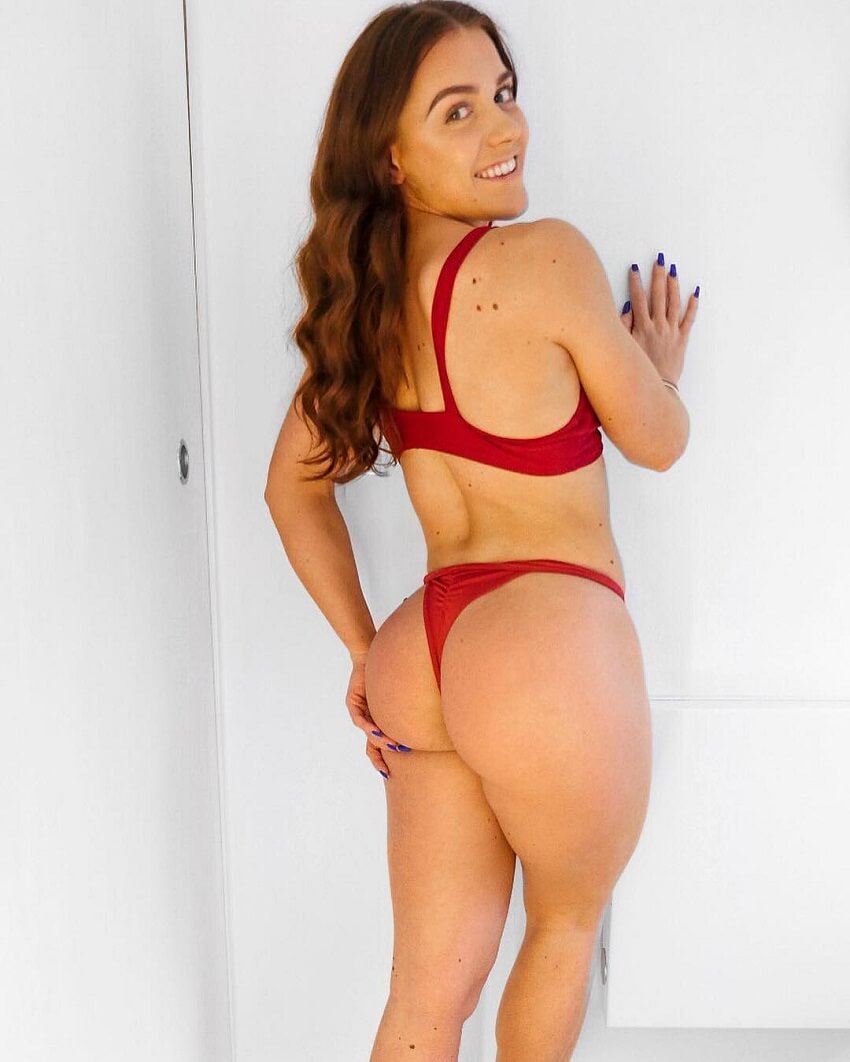 ---
Lunch Example
Here's how a typical lunch looks for Lucy:
Salmon
Avocados
Bacon
Vegetables
Bagel From Whole Grain Wheat
Total calories: 637kcal
---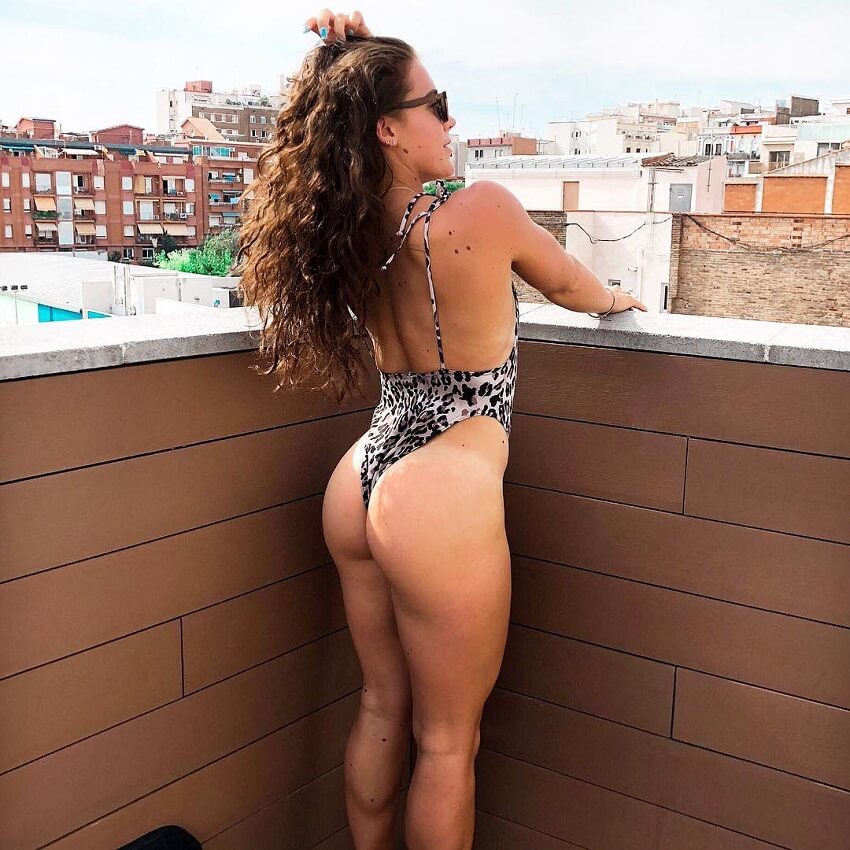 Idols and Influences
Initially, Lucy got her motivation from her swimming competitions and winning against other athletes.
These days, she draws her motivation from within, pushing her own limits in the gym and outdoing her previous self year after year.
She's also influenced by the results her fans achieve from following her fitness tips and advice.
---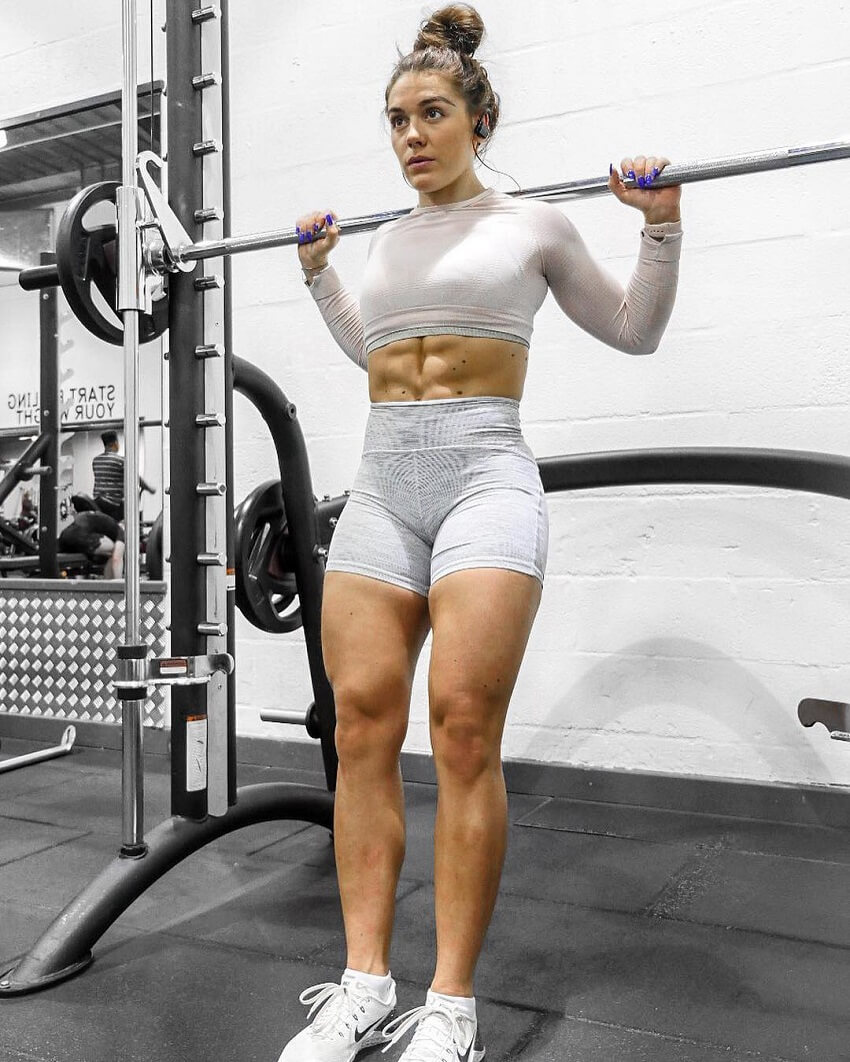 What we can learn from Lucy Davis
Lucy Davis was an excellent swimmer throughout her youth, representing England in international contests. However, after years of taking part in the sport, she grew tired of it, both mentally and physically. It was after this that she discovered fitness and started a new chapter in her life.
What her story tells us, is that sometimes you'll lose passion for things that you once enjoyed, and that's perfectly fine. You should follow your gut instinct and do what your heart tells you. Lucy's story has shown us that it's okay to welcome new opportunities in our lives because you never know where they could lead you.