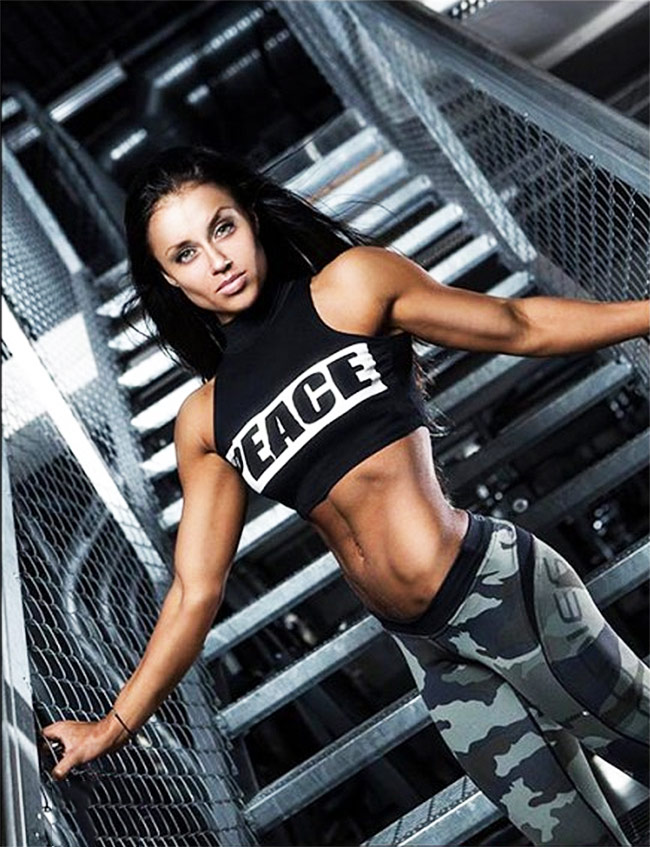 Lone Noras
Professional Bikini Fitness Athlete
Lone Noras is a Bikini Fitness Model from Norway. From an early age, she became fascinated by the physiques that bodybuilders and fitness models were able to achieve; as a result, Lone began lifting weights at the age of 16, aiming to sculpt her dream figure.
By 2014, the Norwegian had earned 4 trophies in IFBB competitions, paving the way for an impressive career in the fitness industry.
This is her story:
---

"To see what you can do with your body – Not just physically, but visually as well, is the best work of art."
Athlete Statistics
Full Name: Lone Noras
Weight
Height
Year of Birth
Nationality
125 - 135lbs (56.7 - 61.2kg)
5'2" (157.5cm)
1995
Norwegian
Profession
Professional Bikini Fitness Athlete
| | |
| --- | --- |
| Weight | 125 - 135lbs (56.7 - 61.2kg) |
| Height | 5'2" (157.5cm) |
| Year of Birth | 1995 |
| Nationality | Norwegian |
| Profession | Professional Bikini Fitness Athlete |
---

" I competed again the next year in 2013, and placed first in the Norwegian Championship. I also competed in two big international championships, Arnold Classic Europe in Spain and the IFBB World Championships in Ukraine."
Accomplishments
Competition History (IFBB)
2012 Amateur Norway Open, Bikini Fitness – 1st
2012 Nordic Championships – 1st
2013 Norwegian Championships, Bikini Fitness – 1th
2013 Amateur World Championships – 14th
2014 Arnold Classic Europe Bikini Fitness Jr – 1st
---

"My first meeting with the stage was when I was ten years old and since then it has been my canvas. A place where I can entertain and also express myself."
Biography
Start of Fitness Journey
Born and raised in Norway, Lone grew up with a desire to be on stage; she became highly skilled at dancing, and believed that she was born to entertain in the spotlight.
Although she's naturally developed a lean figure in the dancing studio, Lone became unhappy with her skinny appearance. At this point, she began researching and learning how to gain lean muscle mass – ultimately, this is what led her into the gym.
At the age of 16, in 2011, Lone had embarked on her fitness journey.
First Competition
Over the next year, Lone managed to sculpt an impressive figure – as she had a strong base to begin her muscular development, she was ready for the stage by the time she turned 17.
It wasn't long until Lone was standing in-front of the judges at the 2012 Amateur Norway Open, as a Bikini Fitness model. Although she was facing more experienced athletes, her hard work paid off – Lone walked away from the show with the trophy after placing 1st.
This dream start motivated Lone to comitt her future to the sport; at this point, the youngster was determined to make a name for herself in the fitness industry.
More Success
Only a few months after tasting victory at her debut show, Lone entered her second – the 2012 Norwegian Championships. But she wasn't finished yet.
Over the next 2 years, Lone appeared in a further 3 competitions; managing to replicate her success and add 2 more trophies to her early collection.
Personal Training
By this point, Lone had become known as a rising star in the fitness industry. She wanted to use her exposure to help others achieve their goals, and worked towards earning her personal training certifications.
In 2014, Lone created a website and social media profiles; using the internet to reach out to her fans and offer her services as a fitness coach.
---

"Fitness and bodybuilding is a visual sport and it is all about how you look. It's not easy, you need to train hard and stay focused."
Training
Lone has trained rigorously in the gym since she began her journey in 2011 – training 5 days per week. The Norwegian enjoys training multiple muscle groups, but chooses to isolate her leg days; she believes training her legs twice a week is the best way to develop her figure.
The bikini fitness athlete performs up to 20 reps per set, focusing on endurance exercises and lifts – to maintain her lean physique, while adding lean mass.
Workout Routine
Here's Lone's training plan:
Monday – Legs
Sumo Squats – 4 x 8-12
Lunges – 3 x 15
Glute Kickbacks – 3 x 15-20 (each foot)
Lying Leg Curls – 4 x 8-12
Stiff Legged Deadlifts – 3 x 15-20
Tuesday – Back & Biceps
Lat Pulldowns – 4 x 8-12
Seated Rows – 4 x 8-12
Pull Ups – 3 x Failure
Barbell Curls – 3 x 8-12
Hammer Curls – 3 x 15 (each hand)
Wednesday – Chest & Triceps
Incline Bench Press – 4 x 8-12
Decline Bench Press – 4 x 8-12
Pec Deck – 3 x 15-20
Push Downs – 3 x 8-12
Close-Grip EZ Bar – 3 x 15
Thursday – Shoulders & Calves
Barbell Military Press – 4 x 8-12
Side Lateral Raises – 4 x 8-12
Reverse Pec Deck – 4 x 8-12
Standing Calf Raises – 4 x 8-12
Seated Calf Raises – 5 x 15-20
Friday – Rest 
Saturday – Legs
Squats – 4 x 8-12
Leg Press – 4 x 15
Lunges – 4 x 15
Leg Extensions – 80-100 rep dropset
Sunday – Rest 
---

"I eat clean throughout the year and enough food in order to be able to gain some muscle!"
Nutrition
Unlike other bodybuilders or fitness model's, Lone grew up with a good knowledge of nutrition – due to her exposure into the dance industry as a child, she was encouraged to eat clean and healthy foods from an early age.
Lone plans her meals around lean protein, vegetables and complex carbohydrates – she tries to limit her fat intake, believing that this works best for her body.
The Norwegian chooses not to have weekly cheat meals, insisting that she doesn't crave junk food – instead, she eats clean food every 3 hours to fuel her metabolism and stay in-shape all-year-round.
Diet Plan
Here's a typical day of eating for Lone:
Breakfast – Oatmeal, Whey Protein, Multivitamins & Magnesium
Snack –  Chicken, Rice & Vegetables
Lunch – White Fish, Sweet Potato & Vegetables
Snack – Chicken, Sweet Potato & Vegetables
Dinner –  Steak, Sweet Potato & Vegetables
Snack – Salmon, Rice & Vegetables
---

"I know who I am and where I want to be, and no one is ever going to stop me. I always try to improve my weaknesses, to become a better athlete and human being."
Idols and Influences
Lone has always had a fascination with the physique of bodybuilders and fitness models – she was impressed by what the human body can achieve through intense training in the gym.
As a result, the Norwegian has always been self-motivated to stay lean and sculpt a figure capable of competing in bikini fitness competitions.
---

"If you want it bad enough, you will be willing to do whatever it takes to succeed."
What We Can Learn From Lone Noras
Lone has taught us that you can achieve success through discipline and hard work – while her friends were playing outside, socializing, drinking and eating junk food, Lone was constantly working towards earning trophies as a bikini fitness athlete.
The Norwegian stays disciplined all-year-round, focused on staying in peak condition to participate in photo shoots and competitions – avoiding the lure of cheat meals, choosing to eat clean wholesome meals to fuel her body.