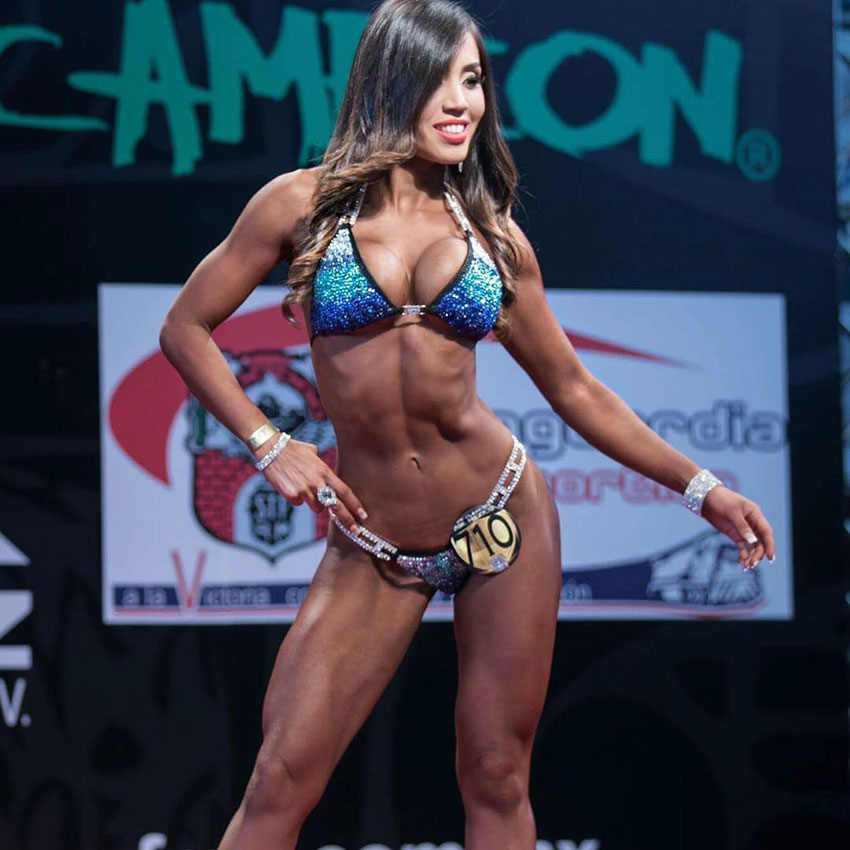 Liz Calles
Sponsored Athlete, Fitness Model, Online Coach, Crossfitter, Bodybuilder
Liz Calles is a fitness model, bodybuilder, online coach and sponsored athlete hailing from Mexico, where she has lived her entire life. Her determined attitude to earn a phenomenal physique meant that her career in fitness soon began to take off.
At the start of her fitness journey, she realized her dream was to one day obtain a pro card, and establish herself as one of the biggest female names in the bodybuilding profession.
She became a sponsored athlete, and took her career a step further by starting a new venture as an online coach. She aims to inspire others with her fitness journey, offering her the perfect opportunity to push herself further as her clients reached their goals.
---
 
Athlete Statistics
Full Name: Liz Calles
Nationality
Profession
Era
Mexican
Sponsored Athlete, Fitness Model, Online Coach, Crossfitter, Bodybuilder
2010
| | |
| --- | --- |
| Nationality | Mexican |
| Profession | Sponsored Athlete, Fitness Model, Online Coach, Crossfitter, Bodybuilder |
| Era | 2010 |
---

Accomplishments
Fitness Model
Online Coach
Bodybuilder
2016: Mr Mexico Bikini Competition – 3rd placed finish
---

Biography
Early Life
Liz Calles is a fitness model, bodybuilder, CrossFit athlete, online coach and sponsored athlete born in Mexico, where she has lived her life ever since.
She was determined to become successful in the fitness industry, so ensured she remained motivated to fulfill her ambition.
Her striking appearance meant that a career as a fitness model would be ideal, so she began taking the steps necessary for her fitness journey to come to life. It would one day become a huge part of her life, and she knew that with the right attitude, she had the potential to succeed.
Starting Out in Fitness
Liz turned to fitness after realizing that her dream was to one day become one of the most well-known female bodybuilders in the modern world. She began to train and maintain focus, and soon enough, the results quickly followed.
She gave it her all and started entering bikini competitions to gain some recognition. Her great figure would one day earn her a substantial following across her social media pages – where it continues to grow to this day.
Present Day
Liz's fitness career is yet to show signs of slowing down. She remains focused by attending bikini competitions that allow her to continually improve on her physique. Abiding by her belief that she always has room for improvement, she uses this as a basis to take her fitness journey to the next level.
By becoming a sponsored athlete and online fitness coach, Liz had given herself a platform to move forward in her fitness career. She was able to motivate herself further by seeing the fitness journeys of her clients progress, as they earned a physique they had always dreamed of.
She strives for continual improvement in her physique, and knows that by remaining on track, she has the potential to one day make a name for herself in the bodybuilding industry.
---

Training
Fitness is Liz's passion. It is her ultimate aim to obtain a pro card, so she stays on track by being consistent with her training. She stays motivated by regularly posting inspirational fitness messages to her online followers, which encourages her remain focused on her goal.
She places emphasis on training her lower body and abdominal region, and lists the squat as her favorite all round exercise for maintaining her physique. A workout Liz likes to follow when training her legs and glutes is listed below:
Inverted Hack Squats – 3 sets, 15 reps
Squat Jumps – 3 sets, 20 reps
Reverse Lunges – 3 sets, 10 reps
Lunge Jumps – 3 sets, 10 reps
High Leg Press – 3 sets, 20 reps
Leg Extensions – 3 sets, 15 reps
Mountain Climbers – 3 sets, 20 reps
Bridges with Barbell on Bench – 4 sets, 10 reps
Squat Jumps – 3 sets, 10 reps
Machine Glute Raises – 3 sets, 10 reps
Standing Machine Calf Raises – 4 sets, 30 reps
Seated Machine Calf Raises – 4 sets, 30 reps
---

Nutrition
Liz highlights the importance of sticking to a healthy, nutritious diet every day. She is a firm believer in the age old saying 'abs are made in the kitchen', and so sees nutrition as a crucial component of achieving a great physique.
She revolves her diet around lean protein sources, complex carbohydrates, healthy fats and supplements such as essential amino acids. By following this method of nutrition, she is able to maintain her physique.
Her meals are prepared in advance so she is able to stay focused, reducing the chance of falling off track. Here are just some of the foods she likes to incorporate into her diet:
Egg whites
Whey protein shakes
Protein pancakes
Fresh fruit and vegetables
Almond Milk
Oats
Brown rice
Protein Pancakes Recipe
3 Egg whites
1/2 a scoop of Protein Powder
Vanilla Extract/Flavouring
Add fresh fruit of your choosing.
---

Idols and Influences
Liz has managed to become a social media celebrity since starting out in fitness. She sees her online followers progress in their fitness journeys, and this enables Liz to remain motivated and stay on track.
Her fitness journey led her to eventually becoming an online coach. Through starting this, this offered her the perfect platform to provide her fitness expertise to her clients. Where she's seen their fitness journeys progress into solid results.
Liz's dream is to one day obtain her Pro bodybuilding card, taking her fitness journey to the next level. This would give her a reminder of how far she has progressed since fitness became a part of her life.
---

What we can learn from Liz Calles
Liz Calle's fitness journey has shown that hard work and a dedication are required when aiming to reach any fitness goals, and eventually the results will begin to follow.
Set-backs in her career means she remains in search of a first place finish, but her positive mental attitude shows that she has taken these within her stride.
She continues to move forward in her fitness journey, knowing she has a long way to go in her quest for a pro card. But Liz knows she is capable of achieving it, and so much more.