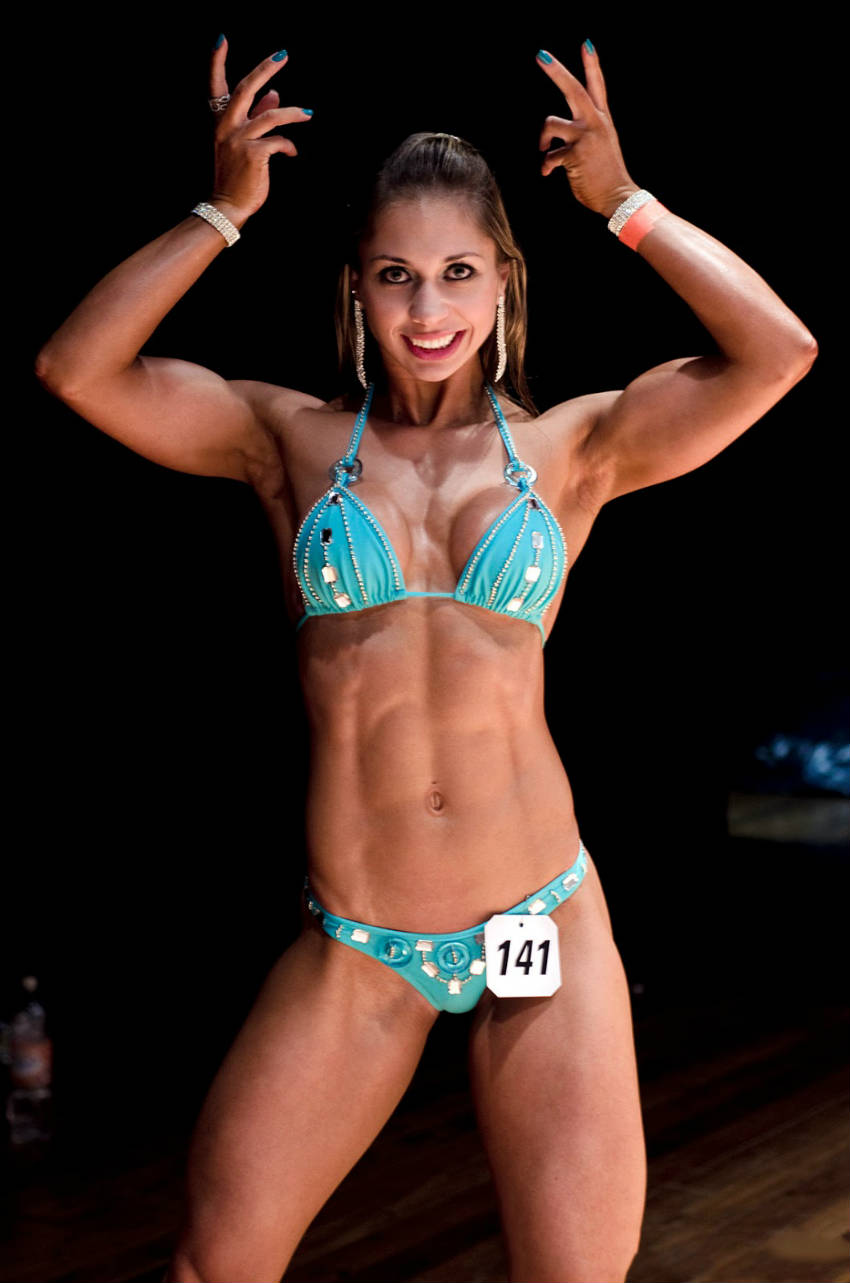 Leticia Rapucci
Leticia Rapucci is a Brazilian NABBA figure competitor and sponsored athlete from São Paulo, Brazil. She's attracted attention on social media as a result of posting motivational videos to help her fans reach their goals.
While many sponsored athletes choose to make fitness their career, Leticia juggles her fitness ambitions with a separate career. Leticia works as a flight attendant on a popular Brazilian airline. To keep her physique in prime conditions, she schedules her workouts around her job to maintain the body that's taken her years to build.
After watching an National Amateur Body-Builders' Association competition on TV in 2012, Leticia became obsessed with the idea of competing. After training hard for 12 months, she took part in the 'Recém-chegados Championship.' With no hope of placing in the top 3, Leticia managed to land a third place trophy.
She sees her fitness journey as way to help others become better people; its not just about the aesthetics for Leticia.
---

Athlete Statistics
Full Name: Leticia Rapucci
Year of Birth
Nationality
1991
Brazilian
| | |
| --- | --- |
| Year of Birth | 1991 |
| Nationality | Brazilian |
---

Accomplishments
Competitions
2012 Paulista Beginners Championship – 3rd place
2012 Paulista  – Vice – Champion
2013 Paulista – Vice – Champion
2013 American South – Vice – Champion
---

Training
Compound Lifts
Leticia enjoys building her body as big as she can. Because of this, she focuses on hitting major muscle groups hard, and completes compound lifts. She uses exercises such as bench press, squats, dead lifts, barbell curls and military presses. Leticia also likes to use several machines for her lower body such as the leg press machine.
Abs and Cardio
For her abdominal definition, Leticia completes crunches, sit-ups, planks, and leg raises. Before competing, she increases the intensity of all her cardio sessions, including high intensity interval training sessions to maximize her fat loss.
She sees cardio as ultimately crucial for her when burning fat and revealing her abs. She enjoys her pre-competition cutting periods in particular, as this cardio allows her to see the true tone of the muscles she's been building for years.
---

Nutrition
Healthy Eating
Leticia eats a healthy diet which combines local Brazilian meals, with other internationally influenced plates. She focuses on hitting her daily macro-nutrient needs, preparing meals a day in advance so that she can focus entirely on her workout, as opposed to cooking preparation.
In a typical meal for after the gym, Leticia may have rice cakes, Brazilian fruits such as papaya and passion fruit, and a post-session protein shake. One of her favorite meals is her breakfast omelette, which is mixed the night before and put in the fridge ready to eat the next day. Her recipe is below:
Breakfast Omelette
100 ml of egg whites

1 chopped banana

Cinnamon 

Turn in the pan to cook both sides.
Supplements
Leticia also sees supplements as a crucial part of her diet. She says that she needs these products to add vitamins and minerals to her diet where needed, and to help with her daily protein intake.
---