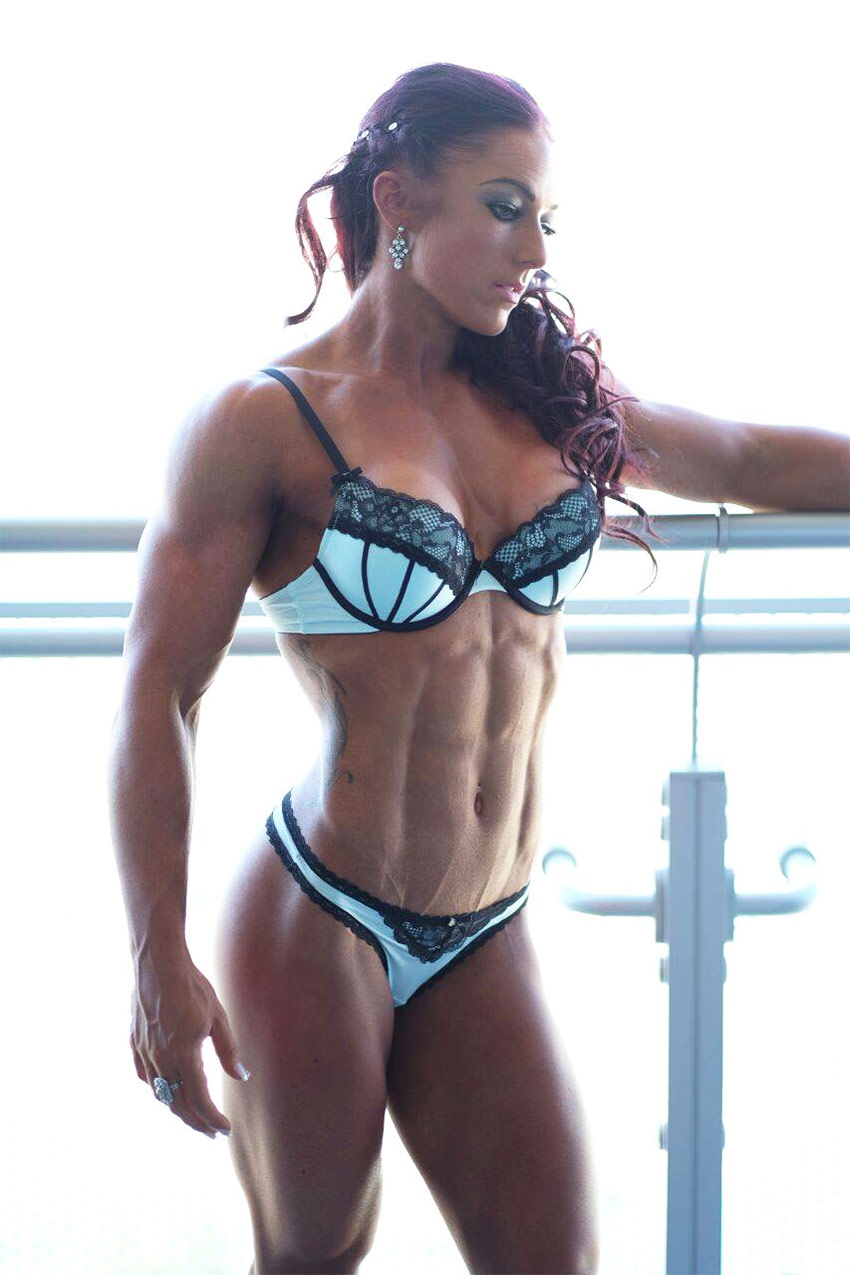 Laura Leeson
WBFF Pro Bikini Athlete, Personal Trainer
Laura Leeson is a WBFF Pro Bikini Athlete. She earned her Pro Card during her first 2 years of competing, by winning the WBFF World Championships in 2014.
But it hasn't been an easy ride – Laura's suffered from self-image issues, which caused unhealthy eating habits and over-training.
This is her story:
---

"Sport and training have always been a massive part of my life since such an early age and I wouldn't have it any other way, it's a lifestyle."
Athlete Statistics
Full Name: Laura Leeson
Weight
Height
Nationality
Profession
135 - 145lbs (61.2 - 65.8kg)
5'6" (167.5cm)
English
WBFF Pro Bikini Athlete, Personal Trainer
Alias
Era
Laura Madge
2010
| | |
| --- | --- |
| Weight | 135 - 145lbs (61.2 - 65.8kg) |
| Height | 5'6" (167.5cm) |
| Nationality | English |
| Profession | WBFF Pro Bikini Athlete, Personal Trainer |
| Alias | Laura Madge |
| Era | 2010 |
---

"I take regular progress pictures as I find this is the best way to see improvements."
Accomplishments
Competition History
2013 UKBFF MuscleTalk Championships, Bedford – 1st
2014 WBFF World Championships, Las Vegas – 1st (Pro Card)
---

"I was a gymnast from ages 5 to 23, I had to retire due to a tear in my rotator cuff – I was utterly devastated by this, so I turned my focus to the gym."
Biography
Early Years
Born and raised in England, Laura began practising gymnastics from the age of 5. She grew to love this sport, and dedicated all of her teenage years to developing her talent.
By the time she was in her early twenties, Laura had become a high-level gymnast; at this point, her family believed that she would become a professional.
Injury
At the age of 23, Laura suffered an accident during a gymnastics performance. She tore her rotator cuff, unable to continue her passion.
Devastated, Laura turned her attention to training in the gym – hopeful of rehabilitating her shoulder to return to gymnastics.
---

---
Bodybuilding
After focusing her energy into recovering from her injury, Laura soon fell in-love with weight lifting. Although she'd always had a lean figure due to the demanding nature of gymnastics, she added muscle mass and toned her body.
Not long after, her friends began to notice her incredible progression in the gym; they started encouraging her to consider entering bodybuilding shows.
With this in mind, Laura stepped up her game, in order to get ready for life as a bikini athlete.
First Competition
After a year of intense preparation, Laura was ready for her first competition. She entered the 2013 UKBFF MuscleTalk Championships at Bedford, in the Bodyfitness category.
Laura's determination and hard work paid off. Her figure impressed the judges, and she placed 1st in her debut show.
This victory made the former gymnast realize that she could make a name for herself in the fitness industry.
---

---
Pro Card
Laura spent the next 6 months continuing her fast progression in the gym, beginning to lift bigger weights – intent on bringing a better package to her next competition.
Her success in her first competition had gained her access into the WBFF World Championships – and also a chance at winning the elusive Pro Card.
Almost a year after her debut performance, Laura stepped on stage at the 2014 WBFF Worlds in Las Vegas; with her sights set on becoming a professional bikini athlete.
She surpassed all expectations for a new-comer by beating more experienced bodybuilders, and placing first. But that wasn't all.
By winning the international competition, Laura earned her Pro Card.
---

---
Taking A Break
The former gymnast had become a professional WBFF athlete during the first 2 years of her competitive career – an impressive achievement. But the rigorous preparation and mental stress took it's toll on Laura.
She began suffering from self-image problems, becoming depressed that she couldn't maintain her stage-ready figure all-year-round. Laura became obsessive about eating clean, and for a short period, her life was swallowed by her dedication to bodybuilding.
At this point, Laura's partner began to realize the extent of her issues, and started to help her overcome her problems.
---

---
Personal Training
Over time, Laura recovered from the toxic period of her life – thanks to the help of her partner. She stopped weighing food and allowed herself cheat meals once a week.
Now that she was back-on-track on her fitness journey, Laura wanted to help others get fit and prepare for shows in a healthy manner; she didn't want anyone to make the same mistakes as herself.
In 2015, the WBFF Pro began coaching aspiring bikini athletes, using her website as a tool to reach people around the world. By 2016, she's successfully prepped numerous competitors, even helping them earn Pro Cards themselves.
"I have stopped taking so many 'selfies'. This was a massive part of my problem as I was using these pictures to get positive attention and feedback which was a massive part of what was fueling my negative behaviour towards my bodyfat and nutrition."
---

"I only listen to music whilst doing cardio as the beat of the music helps me to keep going, whilst helping me to "zone out'."
Training
Laura aims to lift weights in the gym 5 days per week to further develop and maintain her incredible figure. Her favorite exercises are; deadlifts, squats, and pull-ups.
In terms of cardio, Laura mixes things up so she doesn't get bored of a certain exercise. She'll perform LISS (low intensity steady state) cardio on an empty stomach, or HIIT (high intensity interval training) to keep her metabolism high.
---

"I have stopped weighing and prepping my food. I still eat healthy 90% of the time but if I want a biscuit I can now have one without beating myself up."
Nutrition
Laura knows the importance of eating healthy and clean, but also the negative effects that a seriously strict diet can have. She aims to eat 4 meals a day, to keep her body fuelled to grow – however, she lets herself enjoy some treats, when she has cravings.
Her diet consists of mainly lean proteins, green vegetables, complex carbs, and healthy fats. Here's a list of the foods she eats on a daily basis:
Chicken
Salmon
Eggs
Brocolli
Asparagus
Oats
Almond Butter
---

"I take progress pictures to remind myself of where I have come from in such a short space of time."
Idols and Influences
Laura's main influences are her friends, family, and partner – she credits them, especially her partner, in helping her to overcome difficult situations in her life.
However, she states that her main motivation comes from within:
"I take progress pictures to remind myself of where I have come from in such a short space of time."
---

"Yes I do set myself goals, I think this is so important as it gives you drive and motivation."
What we can learn from Laura Leeson
Laura's story has taught us to never take anything too seriously. She made her diet too strict and over-trained herself in the gym, to the point of exhaustion; this caused her self-image issues.
However, Laura's determination to succeed is inspirational. Her work ethic resulted in her winning the WBFF World Championship and earning her Pro Card during her first two years of competing.