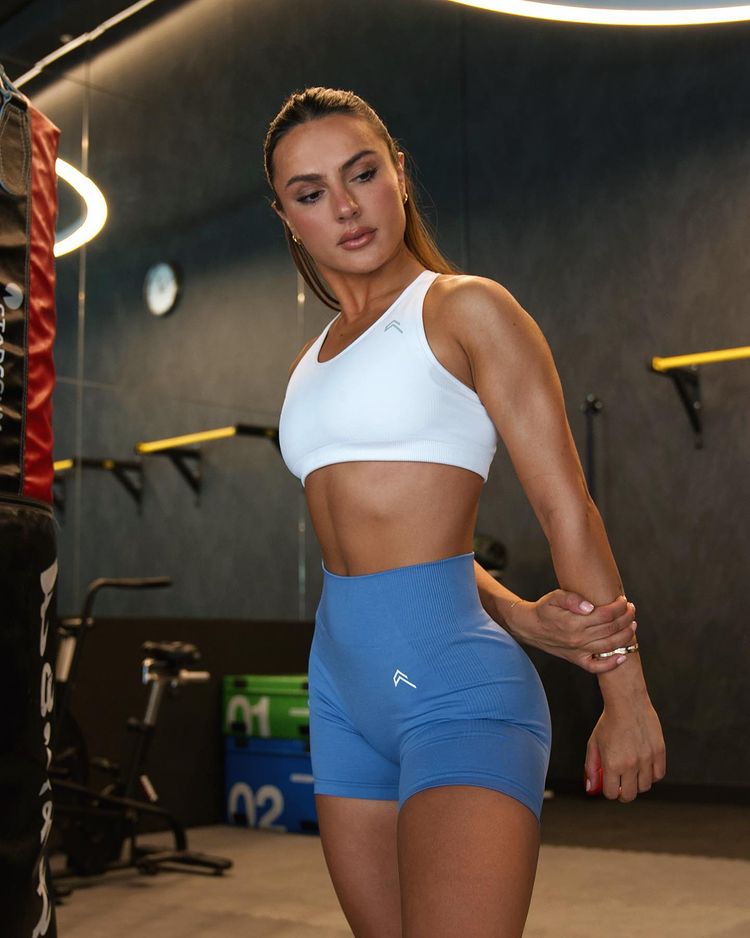 Krissy Cela
Fitness Influencer, Fit Tech Entrepreneur, Personal Trainer
In just a few years, Krissy Cela has laid the foundations for her fin tech empire on the back of her social media success sharing her fitness journey as she tried to cope with the stresses of life.
Early Years
Krissy Cela grew up in the United Kingdom but emigrated there from Albania when she was just four years old. Her upbringing was far from easy. Krissy's parents had to hold down several jobs at a time to make ends meet.
This taught her the importance of hard work and determination though, which ultimately helped her land a place at university reading law.
It was at university that Krissy first started taking fitness and nutrition seriously. Her demanding coursework coupled with the need to work 30 hours a week shifts as a waitress to pay for her studies left her feeling stressed. The fact that Krissy's long-term partner cheated on her around this time didn't help matters either.
So, Krissy decided to take matters into her own hands and started doing what gave her satisfaction: going to the gym and taking care of her health.
Social Media Success
She started sharing her workouts and progress on Instagram and soon built a loyal following. Even though, as Krissy admits herself, she didn't have a great deal of fitness experience at the time and wasn't sure exactly what she was doing or hoped to achieve, her popularity soon exploded.
Her Instagram account now boasts more than 3 million followers and features glimpses of her daily life as well as no-nonsense training tips.
Krissy also has a successful YouTube channel with 1.22 million subscribers. Here she creates and posts more in-depth content detailing workout routines, nutritional advice, and insights into her fitness journey and philosophy.
The Krissy Cela Approach to Exercise
Krissy believes that finding health and fitness success is different for everyone. It isn't helpful to aspire to look like someone else. You have to want to be the best version of yourself.
And it is important to recognise this is a long-term process. For this reason, you have to find an approach you can incorporate into your daily life otherwise, the results won't be sustainable.
Krissy is a big fan of full-body morning workouts two or three times a week that take around 30 to 40 minutes and require no equipment. This gives all your muscle groups the attention they need, doesn't take up a lot of time or energy, and is good for those starting on a new fitness regime.
For those who are ready to take things a step further, she recommends incorporating weightlifting and cardio routines.
Krissy's Approach to Nutrition
Krissy Cela is a big fan of protein and amino acid powders as dietary supplements, and she likes to avoid eating dairy and gluten.
She doesn't, however, believe in prohibiting an entire food group from your diet or following a restrictive dietary fad. Instead, she advises ensuring you get plenty of protein, fruits and vegetables while supplementing these with complex carbs and indulging your sweet tooth every now and then.
Fit Tech and Apparel Businesses
The next logical step for Krissy to take with her social media popularity was to launch her own fitness business ventures aimed at women in particular.
So, she worked on developing a fitness app called Tone & Sculpt. It contains more than 600 exercises with the input of five world-renowned personal trainers. Users can mix and match training methods and styles with expert input to find an approach that works best for them. It includes video demonstrations, as well as weight, workout, and calorific trackers to help you monitor your progress.
For Krissy Cela, Tone & Sculpt is more than just a fitness app. It is also a community of more than 250,000 people who can interact to share tips and motivate each other.
After Tone & Sculpt, Krissy decided to launch her own line of fitness apparel, Oner Active. After just a few years, Oner Active is already one of the most striking fitness apparel brands, with sleek, simple designs that are practical and look great.
What's Next for Krissy Cela?
Still, in her 20s, Krissy Cela has achieved a lot but is a naturally ambitious person driven to do more. She wants to continue developing her fit tech company, EvolveYou, as the lead trainer and creative director while her partner, Jack, handles the business's day-to-day operations as CEO.
She also wants to do more large-scale in-person fitness events, having enjoyed much success with a sold-out training session with hundreds of participants.
With her loyal following, down-to-earth advice, and determination to succeed, Krissy Cela will no doubt continue to be an empowering fitness icon to keep an eye on.