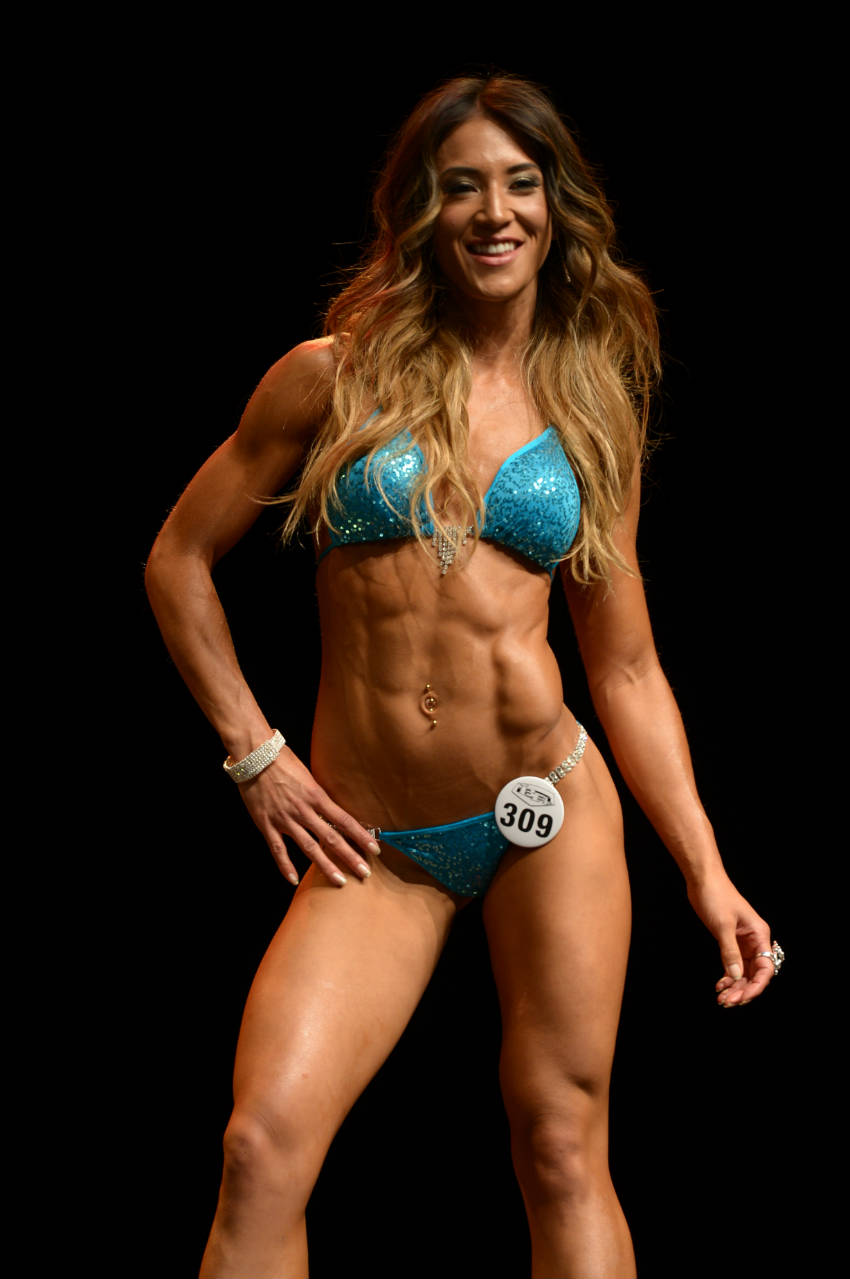 Kimberly Hoogendoorn
Bikini Competitor
Kimberly Hoogendoorn is a professional bikini competitor from Vancouver, Canada. She is well known across the bodybuilding scene, and is admired by her fans for her hard work and dedication to the sport.
Kimberly grew up on a dairy farm and rode quad bikes with her brothers, trying to beat them in races every weekend. She has always been extremely dedicated to her personal fitness and spent a long time trying to build the body she has today.
As she entered adulthood, she wanted to pursue cardiovascular fitness- based sports. She began to run marathons in 2009, but suffered from an injury which put her out of the sport for a while. This encouraged her to enter the weight room to keep her strength up, and her love of bodybuilding was sparked from there.
Today, Kimberly competes in bikini competitions and has dedicated herself to helping others reach their fitness goals. She aims to inspire as many women as possible to start working out in the gym. This is her story:
---

Athlete Statistics
Full Name: Kimberly Hoogendoorn
Weight
Height
Year of Birth
Nationality
115 - 125lbs (52.2 - 56.7kg)
5'4" (162.5cm)
1987
Canadian
Profession
Era
Bikini Competitor
2010
| | |
| --- | --- |
| Weight | 115 - 125lbs (52.2 - 56.7kg) |
| Height | 5'4" (162.5cm) |
| Year of Birth | 1987 |
| Nationality | Canadian |
| Profession | Bikini Competitor |
| Era | 2010 |
---

Accomplishments
Competitions
2013 WBFF Vancouver – 2nd Place Bikini Diva
2013 WBFF Worlds Las Vegas – Top 10 Bikini Diva Pro
---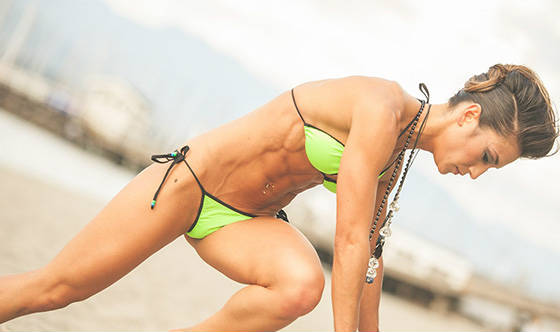 "Stop wearing make up to the gym, you're there to sweat and work hard! Step out of your comfort zone (the women's only section) and take it to the weight room floor, and for the love of god ladies… start hammering weights! They're not gonna get you huge, they're gonna get you sexy! Lift eat and destroy!"
Training
Weekly Training Routine
Kimberly's routine consists of four days a week of weight training and one day of cardio. She takes the weekend off, so calls the gym her "office". She completes 4 sets per exercise usually – lifting 20 reps per set on occasion to push her body to its limits.
Pushing to failure on almost every set has been a hallmark of Kimberly's routine since she started. She says that she is there "to work", not to look good.
Day 1: Chest/Quads
Pike Push-Ups
Bosu Ball Single-Leg Push-Ups
Bosu Ball Spiderman Push-Ups
Wall Stand Push-Ups
Cable Flyes
Squats
Single-Leg Press
Weighted Walking Lunges
Bodyweight Bench Squats
Barbell Squat
Day 2: Back/Hamstrings
Wide-grip Pull- Ups
Standing Reverse Cable Flyes
Seated Single-Arm Cable Rows
Dumbbell Deadlift
Lying Leg Curls
Single-Leg Press
Low Cable Kickbacks
Day 3: Arms/Calves
Dumbbell Alternating Curls
Rope Press-Downs
Standing Cable Curls
Dumbbell Extensions
Dumbbell Hammer curls
Dumbbell Kickbacks
Seated Calf Raises
Standing Calf Raises
Jumping Split Squats
Day 4: Full Body
Close-Grip Upright Barbell Rows
Deadlift
Clean And Press
Barbell Rows
Weighted Sumo Squats
One-Leg Windshield Wiper Push Ups
Close-Grip Barbell Rows
Alternating Single-Arm Landmine Shoulder Press
Pile Squats
Squat Jacks
Curtsy Jacks
Curtsy Lunges
Mountain Climbers
Planks With Cross Kicks
Donkey Kicks
Day 5: Cardio
---

---
Cardio
In her early years in fitness, Kimberly used to complete a number of cardio sessions per week. She saw that, through doing this, she would build an ideal beach body.
In the end, this relentless cardio simply made her too thin. She had lost lots of fat, but had also lost muscle and was not eating correctly or lifting any weight to build the tone she wanted.
After learning from these mistakes, Kimberly now concentrates on HIIT (High Intensity Interval training) workouts. She loves how this workout can build her body while giving her a hard cardiovascular workout at the same time.
Favorite Exercise
If she had to choose one exercise, it would be the 185lb barbell squat. The squat is a staple exercise in her routine , as it's a full body movement which hits her quads, glutes and calves hard.
As she wants to build a toned, beach-body aesthetic, the squats glute toning capability makes it her go-to exercise.
---

Nutrition
Kimberly Eats Clean
Kimberly eats as clean as she possibly can. She is gluten sensitive and lactose intolerant, so has to eat healthily in order to avoid complications.
She loves to eat vegetables regularly, and tries out different options as often as possible. Fruits are also central to her diet, and she eats a variety of tropical and citrus fruits – including a banana before her workout everyday for added energy.
Dealing With Cravings For Junk Food
In terms of dealing with cravings for unhealthy foods, Kimberly creates healthy alternatives for herself which satisfy her sweet tooth. She cooks meals such as protein pancakes and eats a lot of sweet fruits to take care of her need for sugar.
As for salty things, she chooses to stay away from salt. There is a long history of heart disease on both sides of her family, so she doesn't want to develop the condition herself by eating too much. Her meal plan, which includes a number of alternatives to sweet and salty snacks is below.
Meal Plan
Meal 1
Kale
Almond Butter
Banana
Strawberries
Almond Milk
Chia Seeds
Whey protein shake
Meal 2
Meal 3: (Pre-Workout)
Meal 4: (Post-Workout)
Meal 5
Turkey
Dark Green Vegetables
Meal 6
Supplements
Vitamin Supplements
Pre-Workout Powder
Creatine
L-Carnitine
ZMA
---

Idols and Influences
Two athletes that inspire Kimberly and push her to train harder are Dana Linn Bailey and Andreia Brazier. She has always respected how hard these two women work to build their physique everyday.
---

What we can learn from Kimberly Hoogendoorn
Kimberly has shown how important a good diet is in the fitness journey. She is lactose intolerant and has issues with gluten, so has to keep her diet as clean as she possibly can. This clean diet, full of protein and healthy vegetables and fruits has allowed her to build the body of her dreams.
While you are on your fitness journey, never forget that diet will be central to your success. Without adequate protein and healthy carbs, you will never build the body you aim for.