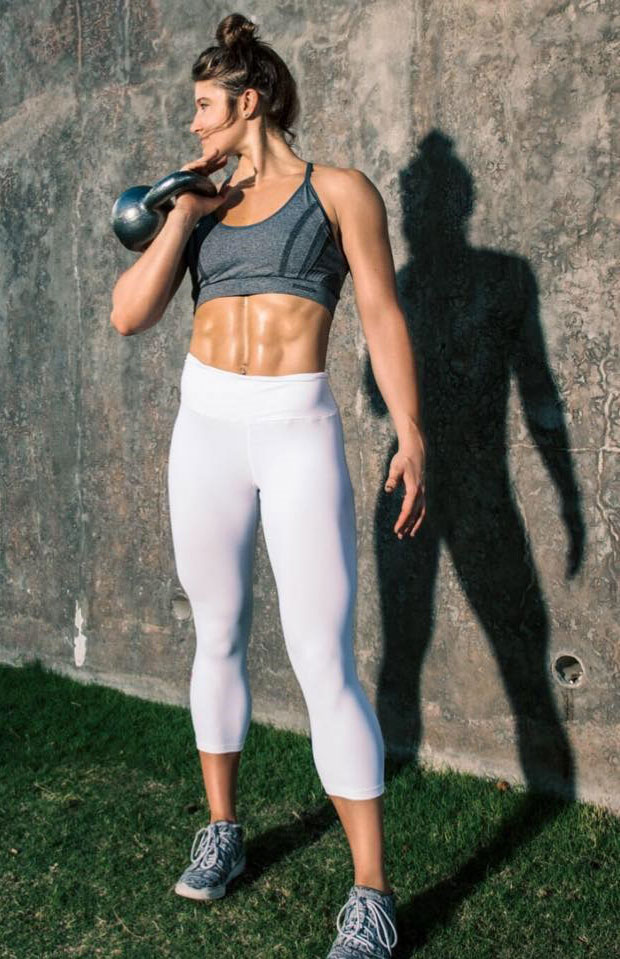 Katie Sonier
Kinesiologist, Personal Trainer, Fitness Coach
Katie Sonier is an American personal trainer, famed across social media for her lean, sculpted physique and intense training methods. From taking part in gymnastics to playing lacrosse in her high school years, Katie established herself as an impressive athlete from an early age.
However, by the time she reached college, Katie craved a new physical challenge. From then on, she began to lift weights in the gym – building a great physique with her hard work and determination.
Eventually, Katie's love for fitness was turned into something so much more. After becoming a qualified kinesiologist, Katie started a new venture as a personal trainer and fitness coach. Since then, she's helped others achieve all of their fitness goals – just like her.
This is her story:
---

Athlete Statistics
Full Name: Katie Sonier
Height
Year of Birth
Nationality
Profession
6' (183cm)
1992
American
Kinesiologist, Personal Trainer, Fitness Coach
Era
2010
| | |
| --- | --- |
| Height | 6' (183cm) |
| Year of Birth | 1992 |
| Nationality | American |
| Profession | Kinesiologist, Personal Trainer, Fitness Coach |
| Era | 2010 |
---

Accomplishments
Career Achievements
Kinesiologist
Personal Trainer
Fitness Coach
---

Biography
Athlete from the Very Start
Katie Sonier's passion for an active lifestyle dates back to her time playing competitive sports throughout her days in high school – playing lacrosse and taking part in gymnastics.
Playing competitive sports throughout her teenage years taught Katie to always remain focused, work hard, and stay committed to reach all of her fitness goals. Because of this, she was able to build a reputation as a formidable lacrosse player.
However, between the ages of 16 and 18, Katie's height soared from 5 ft 3 to 6 ft. Because of this, Katie felt self-conscious about the way she looked. During this time, her self-esteem dropped to an all time low. Ultimately, she reached a point where she began to battle against depression.
But one day, Katie sought a way to improve her self-confidence. It was at this point, she turned to the weights room to achieve just that.
---

Becoming Passionate about Fitness
By working hard to gradually build up her strength and physique, Katie quickly made progress with her weight training sessions. As a result of her hard work, she was able to form the foundation to build a great physique.
Because of her quick progression, Katie became fascinated with fitness and the results that came along with consistent training. Because of this, she soon realized that she wanted to take a different direction in her academic career.
It was at this point, Katie made the decision to change her major at university from Economics to Applied Psychology and Kinesiology. From this moment, Katie kept pushing on to pursue a career in fitness.
Ever since then, Katie has earned a degree in something that she's passionate about – becoming a qualified kinesiologist in the process. After realizing that fitness totally transformed her life, she set out to help others follow in her footsteps – becoming a personal trainer to inspire others to reach all of their fitness goals.
Soaring to Fame
From a teenager who was insecure about her looks to becoming an influential personal trainer, Katie has turned her passion for fitness into a successful career.
After reaching all of her fitness goals, she's gone on to achieve social media fame. Because of this, Katie has been able to inspire people all over the world to achieve their full potential in fitness – just like her.
---

Training
Katie has become renowned on social media for her intense training sessions and flexibility. Speaking of the importance of flexibility, Katie stated:
"When you improve flexibility, you improve your range of motion. Which then means you can move more optimally, meaning more opportunity for making progress and building muscle and puts you at a lower risk of injury".
She regularly displays her training methods across her social media pages, such as performing barbell shoulder presses, while in the 'splits' position.
Katie places focus on training her lower body, in particular her hamstrings and glutes – her favorite muscle groups. Some of the exercises that she performs regularly are listed below:
Katie's Lower Body Exercises
Cable Pull Throughs
One Arm Kettlebell Swings
One Leg Stiff Legged Deadlifts
Handstands
Stiff Legged Deadlifts
One Leg Reverse Lunges with Dumbbell
Jump Squats
Burpees
Elbow to Knees Ab Crunches
---

Nutrition
Katie stays on track with her nutrition by preparing her meals in advance. Sticking to lean protein, complex carbohydrates, healthy fats, alongside a variety of fruit and vegetables, Katie prefers to focus her nutrition on eating clean foods. As a result of this, Katie is able to stay lean throughout the year.
---

Idols and Influences
Katie helps her clients achieve all of their fitness goals in her personal training business. Watching them progress to achieve things beyond their wildest dreams motivates Katie to push herself further day by day.
Finding fitness was one of the most important things that occurred in Katie's life. Because of this, she was able to transform her body, while becoming more self-confident. Speaking of the power of fitness, Katie stated:
"Lifting weights is the most empowering thing ever. It teaches you discipline, commitment, independence and hard work. It teaches you how to overcome daily struggles and challenges". 
---

What we can learn from Katie Sonier
What we can learn from Katie Sonier is; she took full advantage of her sporting beginnings to build a successful career in fitness. Because of this, she's had a positive influence in the lives of many people across the world.
However, she encountered roadblocks along the way. After her height saw a dramatic rise between the ages of 16 and 18, Katie's self-confidence took a downwards tumble. This meant that for some time, she suffered from insecurities about her looks.
But then one day, that all began to change. Katie found fitness, quickly finding that it enabled her to live her life in a positive way. By the time she reached university, Katie turned her interest in fitness into a passion.
Because of this, Katie became a successful personal trainer and fitness coach – inspiring people to achieve all of their fitness goals. If you follow the same mentality as Katie, you might just achieve the same.