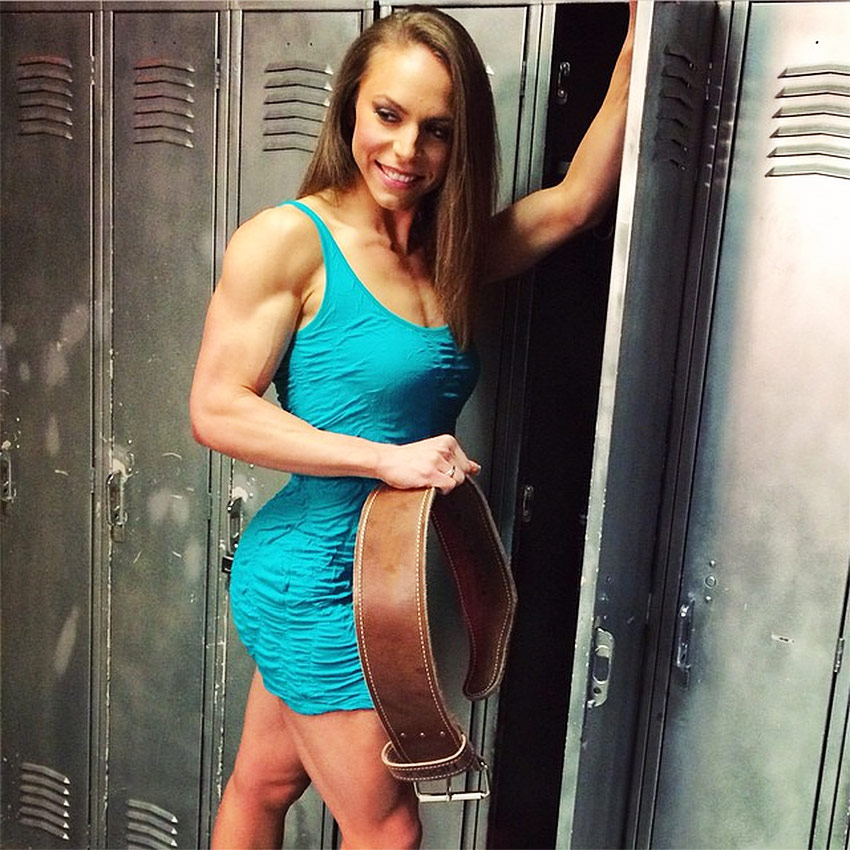 Katie Anne
Katie is one of the few athletes that has competed in both powerlifting and bodybuilding. From Columbus, Ohio (USA), she embarked on her fitness journey after becoming unhappy with her appearance during college.
Since then, she's realized her dream of sculpting her dream figure – winning trophies as a powerlifter and gaining respect within the industry in the process.
But it wasn't always easy for Katie; she struggled with extreme, restrictive diets, only to gain the weight she'd lost after rebounding and binge eating afterwards.
This is her story:
---

Athlete Statistics
Full Name: Katie Anne Rutherford
Weight
Height
Year of Birth
Nationality
135 - 145lbs (61.2 - 65.8kg)
5'7" (170cm)
1992
American
| | |
| --- | --- |
| Weight | 135 - 145lbs (61.2 - 65.8kg) |
| Height | 5'7" (170cm) |
| Year of Birth | 1992 |
| Nationality | American |
---

Accomplishments
Powerlifting
2015 USAPL Raw Nationals 72 Junior Nationals – 1st
2016 Arnold Sports Festival – 1st
---

Biography
Early Years
Born and raised in the heart of Ohio (USA), Katie had always been involved in athletics from an early age – due to being part of a sports-obsessed family.
With her two older brothers playing tennis at college, she was motivated to follow their footsteps and reach reach a high level. As a result, from the age of 12 in 2004, Katie began playing tennis, entering tournaments across the country.
---

---
Restrictive Diets
Although Katie had participated in numerous sports throughout her childhood, she still found herself overweight. After enrolling at The Ohio State University to study finance, she became unhappy with her appearance.
This led to Katie following extreme, restrictive diets – in an attempt to lose body fat and reach her ideal body shape. However, it wasn't long until she gave up on her diets, experiencing the negative 'rebound effect' and gaining even more weight.
At this point, the youngster knew she needed help.
"I had disordered eating, mainly resulting from the desire to be thinner and run faster in my sport. 
I was not nourishing my body – I was punishing it with long sessions of cardio and low calorie diets – only to rebound with binges after feeling deprived.
This is something that so many Americans struggle with and is often not talked about – the rebounds following restrictive diets." – Katie Anne
---

---
Start of Fitness Journey
Over the course of her time at college, Katie attended numerous seminars to learn about health and nutrition. She educated herself on the importance of following a balanced diet plan – learning that carbs weren't the problem, as long as she counted her calories.
It was at this point when she met a respected nutritionist and exercise expert – Dr Layne Norton. He offered to help kick start Katie's journey into fitness, and began training her soon after.
---

---
Powerlifting and Bodybuilding
After a year of intense training, Katie made strong progress under the guidance of Layne. She lost 20lbs and had sculped an aesthetic figure, while building her strength.
During this period, she became fascinated by bodybuilding and powerlifting, setting her sights on entering competitions in both sports. However, this wasn't an easy target for Katie to reach – this meant she'd have to lost body fat and weight, while still maintaining her strength.
She began cutting her calories and weight, determined to succeed in both contests.
---

---
Competing
In 2015, Katie had managed to achieve her ambition of entering both powerlifting and bodybuilding shows within the same week. At the weight of 72kg, she managed to deadlift 192kg (423lbs) while placing highly as a figure athlete.
At the age of 23, Katie had accomplished her target of succeeding in the fitness industry – walking away with the 1st place trophy as a powerlifter in her debut show.
---

Training
Katie is a big advocate of DUP (Daily Undulating Periodization); this means that she performs high frequency training, working muscle groups up to 4-5 times per week.
To do this, she squats 3x per week, bench presses 4x per week, and deadifts 2x per week – placing an emphasis on gaining strength while staying lean (to continue competing in the 72kg weight classes).
Workout Routine
Here's Katie's weekly training plan:
Monday – Deadlifts, bench press, & arms
Tuesday – Squats, bench press, back & shoulders
Wednesday – Arms & back
Thursday – Squats, deadlifts & glutes
Friday – Bench press, shoulders, back & arms
Saturday – Squat, bench press & glutes
Sunday – Rest day
---

Nutrition
In terms of diet, Katie eats aaround 2800 calories per day. Her macros are 160g protein, 350g carbs, 80 grams fat.
The powerlifter knows the importance of following a well-planned diet, after giving up on extreme diets that didn't help her make progress.
Diet Plan
Breakfast – 3 whole eggs, ezekiel bread, almond milk, fat-free cream cheese, swiss cheese wedge.
Snack – 60g oats, fat-free cream cheese, 1 rice cake, 5g honey, 40g berries.
Lunch – Light ice cream, 5 rice cakes, 120 ham, ezekial bread, 400g green vegetables.
Dinner – 130g greek yoghurt, 3 whole eggs, 6 rice cakes, fat-free cream cheese, almond milk.
Supplements Stack
Whey Protein
Multivitamin
Fish Oil
Calcium
Magnesium
Biotin
BCAAs
Creatine Monohydrate
---

Idols and Influences
Katie credits her coach, Layne Norton with her progress as an athlete. However, her main source of inspiration is her parents; her mom and dad have pushed Katie to succeed from the beginning.
"I would definitely say my parents first and foremost. They both have incredible character and have always been my biggest supporters." – Katie Anne
---

What we can learn from Katie Anne
One thing we can take away from Katie's story, is that you won't succeed on extreme, short-term diet plans – Katie tried to follow restrictive eating patterns, but found herself quitting and binge eating on junk food afterwards.
However, since she changed her lifestyle and began eating clean meals that she enjoys, she's become a champion powerlifter.